40 Years After Entebbe, Israeli Hostages Reflect Back on a Saga of Survival
Not all lived to tell the tale of Entebbe, but the ones who did - from the youngest passenger aboard the Air France flight to newlywed kibbutzniks - still remember the harrowing experience and dramatic return home, also captured in rare footage.
An Israeli police officer clears the way for the hostages returned to Israel after their ordeal in Entebbe, Uganda in 1976.
Credit: Moshe Milner, GPO
Forty years ago this summer Israeli commando forces executed the most storied hostage-rescue operation of the 20th century. Sneaking into Entebbe airport in the dead of night, they freed close to 100 hostages, almost all Israeli, whisking them back to safety on board three Hercules aircraft. The date was July 4, 1976, and the stunning coup might have dominated world headlines, were it not slightly overshadowed by the bicentennial celebrations taking place in the United States on that very day.
The saga began a week earlier when an Air France flight bound for Paris from Tel Aviv was overtaken by terrorists – two Germans and two Palestinians – who boarded during a stopover in Athens. The flight was diverted to Benghazi for refueling before heading deep into Africa, where the terrorists received a hero's welcome in Uganda. In exchange for freeing the hostages, the terrorists demanded that Israel release a large group of Palestinian prisoners. Several days later, panic erupted when the Israelis, along with several Jewish hostages, were separated from the rest of the passengers – sparking memories of darker times in Jewish history – and put in a separate room. The other passengers were subsequently released.
The terrorists set a deadline of Sunday, July 5, for Israel to hand over the Palestinian prisoners. If Israel refused, they planned to begin executing the hostages one by one (though they never said it outright, this, at least, is what was feared). On Saturday night, with the clock ticking, Israeli troops stormed the terminal.
During the crossfire that ensued, three hostages were killed. So, too, was mission commander Yoni Netanyahu, the older brother of Israel's prime minister.
A formative moment in Israeli history, the daring Entebbe raid (later to become known as Operation Yonatan in honor of the dead commander) provided a great boost of morale to a nation still reeling from the blows of the Yom Kippur War. Reflecting back four decades later, half a dozen of the hostages share their thoughts and recollections with Haaretz.
Tzipi Gonen
Only eight-and-a-half years old at the time, Tzipi Gonen's recollections are somewhat blurry. One scene, though, will remain forever ingrained in her mind: "To this day, I can see my father sitting propped up in a chair in the Entebbe terminal, his shirt full of blood. That memory will always haunt me."
Tzipi, her 13-year-old brother, and her mother all survived Entebbe. Her father did not. Fifty-two years old at the time, Pasco Cohen, a family doctor, was accidentally shot when Israeli forces stormed the terminal. "He had gotten up to look for my brother, who had been separated from the rest of the family," relays Tzipi. "While he was standing, he was shot in the groin." Cohen later succumbed to his wounds in a hospital in Nairobi, where he was evacuated when the planes carrying the freed hostages back to Israel stopped to refuel.
The Cohen family had been planning a trip to Paris to visit Tzipi's aunt. "Unlike many Israeli families at that time, we used to travel abroad a lot, so I don't remember being especially excited about this particular trip," she recounts. "The first thing I remember about the hijacking is being woken up by my parents because I must have dozed. They whispered that I should put my hands behind my head."
Never once during the long days in captivity, says Tzipi, did she fear she might not make it out alive. "When you're a child, as long as you see your parents, and they seem OK, you don't get too worried," she reflects. "I knew something bad was happening, but my parents gave me confidence."
When her father was shot, Tzipi's mother, a professional nurse, removed her shirt and tried to dress his wounds with it. "That's another thing I remember very clearly," she says. "My mother was standing there in her bra, and one of the Air France stewardesses [the flight crew members stayed behind with the hostages] took off her own uniform shirt and gave it to my mom. Then they told us all to run to the plane. I remember my mother holding my hand so hard that it hurt."
To this day, I can see my father sitting propped up in a chair in the Entebbe terminal, his shirt full of blood. That memory will always haunt me.
On the flight back to Israel, she recalls her mother being in a state of shock. Only later did Tzipi learn that while they were in the terminal, her mother had suffered an early-term miscarriage. Her father the doctor had refused to allow his wife to be taken to the hospital, insisting that he would take care of her. "I often think about how lucky we were because of that," says Tzipi. "If she had gone to the hospital, she could have ended up like Dora Bloch, and we would have lost both our parents." (Dora Bloch, an elderly Israeli hostage, was taken to the hospital in Entebbe, after she began choking on a chicken bone. She was in the hospital during the IDF raid on the terminal, after which she was brutally murdered by Ugandan forces in an act of retaliation.)
Married with two grown children today, Tzipi and her mother owns and run a private medical diagnostic center. Tzipi's oldest child, a daughter, is about to enroll in medical school. "My father would have been very happy," she says. "And for me, there's also some closure in this."
Janet and Ezra Almog
She was a young American volunteer at Kibbutz Ein Dor in northern Israel, and he was the guy in charge of the field crops. They met by chance one day while she was walking through the fields, and it was love at first sight. Two years after they were married, the couple (she 27 at the time, and he 35) were on their way to Wisconsin to visit her parents. They were looking forward to a romantic night in Paris before embarking on their next trans-Atlantic flight when Janet sensed something was amiss. "She says to me, 'There are terrorists on this plane,' and I tell her, 'You're dreaming," recounts Ezra.
When the hijackers began storming the aisles with guns and grenades in their hands, Janet says she felt she was watching a scene from a movie. "I mean these sort of things don't usually happen to Jewish American Princesses."
He told me, 'don't turn around, don't look right or left, just look at my back,' and with that he spared me many other horrific sights.
Meanwhile, Ezra, the former combat soldier, began conspiring with some of the other Israeli passengers on board. One idea they had was to surprise the attackers by hitting them with Coca-Cola bottles, the only thing resembling a weapon they had available. "I told him, 'don't you dare,'" recounts Janet.
Passengers who needed to use the bathrooms were not allowed to go on their own, so Janet found herself being chaperoned to the stall by one of the German hijackers. "She wouldn't let me close the bathroom door. So there I was sitting on the toilet with her standing in front of me just staring at me. My muscles must have clamped up because I just couldn't bring myself to pee."
Several days after they arrived in Entebbe, when the hijackers started isolating the Israelis from the other passengers, Janet, who had an American passport, was separated from her husband. "Don't say anything, just go," he warned her. "We'll meet at your parents'." Janet became hysterical, and Dora Bloch's heart went out to her. "She wants to be with you. Let her come back," Bloch beseeched Ezra. Ezra refused. A loud argument ensued, and one of the Palestinian hijackers demanded to know what was going on. When he found out, he ordered Janet back into the room with her husband and the other Israeli passengers.
Rabbi Shlomo Goren told me that God sent the IDF to save us. I said, maybe so, but then who sent the terrorists to take us hostage?
Unlike many of his fellow hostages, Ezra knew the minute he heard gunshots outside that the IDF had come to rescue them. "All I had to do was look at the faces of the hijackers to understand that they had no idea what was going on and were just as surprised as we were," he relays.
Jean-Jacques Mimouni, a young French Jew held hostage with the Israelis, was shot dead on the spot, after being taken for a terrorist when he jumped to his feet to welcome the IDF special forces entering the terminal. "I remember seeing him lying in a pool of blood when we ran out of the terminal, "recalls Janet. "Ezra was standing in front of me, and when he saw my face he told me, 'Don't turn around, don't look right or left, just look at my back,' and with that he spared me many other horrific sights."
Over that long, awful week, she later learned, her parents and sister drove themselves sick with worry. The only reassuring words they heard were from a high-ranking U.S. State Department official, who asked whether Janet held an Israeli passport in addition to her American one. When they told him she did, he responded: "She'll be fine. The Israelis will come get her."
Janet and Ezra ended up taking their long-awaited trip to the United States a week later. To this day, however, she can't forgive Air France for demanding extra money because they had to change their original dates. While in the United States, she was invited to talk about her experiences at Jewish communities across the country. "For me, that was the best therapy ever," she says.
Janet and Ezra are grandparents today, happily retired in Ein Dor. A product of the secular and socialist Hashomer Hatzair kibbutz movement, Ezra still recoils when religious people tell him he was saved at Entebbe by the hand of God. "I once had an argument with Rabbi Shlomo Goren," he says, referring to the former chief rabbi of Israel. "He told me that God sent the IDF to save us. I said, maybe so, but then who sent the terrorists to take us hostage?"
Sarah Davidson
To celebrate their younger son's bar mitzvah, Sarah and Uzi Davidson had planned a joint party for him and his grandfather, who would have turned 70 around the same time. But his grandfather, Sarah's father, died a few weeks before. So as not to disappoint their child, the Davidsons decided to take a family trip instead to the United States, where Uzi's brother lived, accompanied by both their sons.
Before setting off for the airport, Sarah's mother came to deliver them a parcel that, little did they known then, would come very much in handy: It contained a handful of tranquilizers (Sarah had recently undergone surgery, and her mother thought the pills would help her relax on the trip), a hamsa (Jewish lucky charm), and a journal for writing.
Sarah was the first one in the family to notice a stewardess running down the aisle, white as a ghost. "'We've been hijacked,' I told Uzi, and he said 'You and your phobias.'" The first thing she did was retrieve the tranquilizers from her bag, pop one in her mouth, and give the others to her sons and a family friend sitting a row in front of her.
Like many of her fellow Israelis, Sarah felt relieved when the plane touched down in Entebbe, figuring that no harm could come to them since the Ugandan dictator Idi Amin was – or at least, had been – a friend of Israel's. "Pretty quickly, we understood how wrong we were," she says. (The conventional wisdom is that the Ugandan dictator collaborated with the terrorists because he was angry at Israel for not selling him warplanes.) During the time they spent in the old airport terminal, she recalls, "Every minute was like a week."
The whole time I just kept praying that they would kill me already and get it over with. We're not religious people, but I heard my son, lying underneath me, reciting the 'Hear O Israel' prayer.
What kept her sane during those long drawn-out days, when their lives hung in the balance, was writing. Sarah used the journal her mother had given her to document her deepest thoughts and events around her (it later provided the basis for a personal memoir she published).
On Saturday night, when the first shots were fired, Sarah and some of the other hostages were playing bridge (the deck of cards they used is among the artifacts on display at a new exhibition devoted to the Entebbe operation, curated by ex-Mossad operative Avner Avraham, at the Yitzhak Rabin Center). Her first thought was that the terrorists were making good on their threats to execute the Israelis. "I took my younger son and lay on top of him to protect him," she recounts. "The whole time I just kept praying that they would kill me already and get it over with. We're not religious people, but I heard my son, lying underneath me, reciting the 'Hear O Israel' prayer."
When she looked up, she saw an Israeli soldier standing in front of her talking in Hebrew. "If an angel had fallen out of the sky, I might have believed it more easily," she says. No matter how many she tells the story, she still chokes up when she recalls what he said: "We've come to take you home."
When they landed in Israel, a big surprise awaited them. Prime Minister Yitzhak Rabin, standing inconspicuously in a corner, motioned them over. "He told us he wanted to personally send us regards from Uzi's father," says Sarah. "It turns out Uzi's father had met with Rabin that week and begged him to negotiate with the terrorists. 'My whole family is there,' he told Rabin. 'I don't want them coming back in coffins.'"
A week later, the Davidson family headed off to the United States again, determined not to let the Entebbe experience ruin their summer plans. "For me it was a nightmare," recalls Sarah, "but for the children, it was the right thing to do." Sarah, 82 years old today, is a grandmother seven times over and lives with her husband in a retirement village outside Netanya.
Akiva Laxer
It was not his first brush with terrorism. In May 1972, Akiva Laxer happened to be at the Tel Aviv airport when a Japanese terrorist aligned with the PLO killed 26 people in a shooting massacre. Four months later, he was at the Munich Olympics, when 11 Israeli athletes were kidnapped, brutally tortured and murdered. He witnessed them being dragged away. That didn't stop Laxer from buying tickets to the summer Olympics held four years later in Montreal. And that was where the 30-year-old Tel Aviv lawyer was headed when terrorists hijacked his flight and diverted it to Entebbe.
A religious Jew, Laxer believes that while the IDF deserves most of the credit for saving him and his fellow hostages, "God was also there putting in overtime." His phylacteries, which he carried along with him (and are now on exhibit at the Rabin Center), were the subject of an unusual exchange between him and one of his hijackers, who discovered them while searching through his handbag. When Laxer was asked whether the long leather bands were special communications equipment, he responded: "Yes, they help me communicate with God."
When the non-Israeli passengers were released, Laxer secretly handed his business card to one of them with a note for his parents written on it, letting them know he was fine. He signed off with the following words: "See you soon. With love, Akiva." The optimistic tone belied his true feeling. "I spent that week living under the constant fear of death," he says.
Reflecting back, Laxer – by now a father of three with two grandchildren – believes he owes a great debt to the state of Israel and its army. "It's a debt I can never repay," he says. In particular, he feels indebted to Yitzhak Rabin, who approved the dangerous rescue operation.
It's not always apparent on a daily basis, says Laxer, but a key lesson he learned from his Entebbe experience is that "in difficult situations, Israelis are at their best."
Shay Gross
The youngest of three brothers, Shay Gross was the only child in his family to accompany his parents that summer on what supposed to be a visit to a relative in Los Angeles. That relative was Yaakov Ne'eman, a former justice minister and finance minister, serving then as an Israeli envoy on the West Coast. Since he would be celebrating his sixth birthday that week, his grandmother had packed along for him a loaf of his favorite cake (which his mother later refused to allow him to eat on his birthday, preferring to save the little food they had for an even worst-case scenario).
The youngest hostage aboard that doomed Air France flight, Gross remembers his mother shoving him onto the floor under her skirt when the hijackers began separating the children from their parents and moving them to Business Class. "Even after the children were allowed to return to their parents and sit next to them, I refused to budge from the floor the entire flight," he recounts. "I was simply paralyzed with fear." At one point, his mother reminded him later, he whispered to her from the floor: "Does it hurt to die?"
Once they arrived in Entebbe, Shay recalls, the young children were allowed to play outside near the terminal. "Apparently I was making too much noise because I remember one of the German hijackers slapping me."
Like most children his age, Shay wanted to know what was happening and when they would able to go home. "My mother explained to me that the situation was complicated and that as soon as there was something to report, she would. After that, she says, I stopped asking her questions."
One of the soldiers lifted me into his arms and covered my head with a blanket so I wouldn't be able to witness all the horrible sights around me.
Without any candles to light to welcome in the Shabbat, his mother stood by the window of the terminal on Friday night and made the blessing while staring at the stars. "And then, I'll never forget this," he says, "she began to cry."
The following night, when IDF troops broke into the terminal, Shay remembers his parents covering him with one of the mattresses on the floor. "Then, one of the soldiers lifted me into his arms and covered my head with a blanket so I wouldn't be able to witness all the horrible sights around me," he says.
On board the Hercules, he remembers seeing a body covered with a blanket on a stretcher. "My mother whispered to me that that was the commander, Yoni Netanyahu."
Married with four children today, Shay works as a real estate and capital markets consultant. In the clip below, he is the young boy in the yellow shirt descending from the plane in the arms of his father, Baruch Gross (the man with the mustache). This rare footage, filmed with an 8mm camera, was discovered by chance several years ago in the home of a relative of the Gross family, who had come, with hundreds of other Israelis, to greet them at the airport.
ICYMI
Ken Burns' Brilliant 'The U.S. and the Holocaust' Has Only One Problem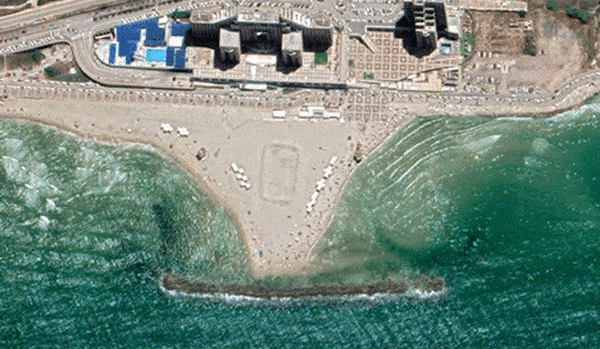 Facing Rapid Rise in Sea Levels, Israel Could Lose Large Parts of Its Coastline by 2050
As Israel Reins in Its Cyberarms Industry, an Ex-intel Officer Is Building a New Empire
How the Queen's Death Changes British Jewry's Most Distinctive Prayer
Chile Community Leaders 'Horrified' by Treatment of Israeli Envoy
Over 120 Countries, but Never Israel: Queen Elizabeth II's Unofficial Boycott