The Downsides of Lieberman Being the Weakest Defense Minister in Israel's History
The new, far-right civilian controller of the country's largest institution has a lot to learn and a lot to prove.
Defense Minister Avigdor Lieberman (center) shakes hands with the IDF's top generals at military headquarters in Tel Aviv on Tuesday, May 31, 2016.
Credit: Moti Milrod
On Tuesday afternoon, as the military parade outside the Kirya headquarters in Tel Aviv ended, the red carpet was rolled up and the generals and senior Defense Ministry officials headed back into the twin towers that house the IDF General Staff and the ministry, a long learning process began for new Defense Minister Avigdor Lieberman.
While he has been widely described as the man with the least military experience ever to inhabit the office on the 14th floor, he isn't totally ignorant of the issues he is now being informed about in a long series of briefings and meetings to take place over the next weeks and months. After all, he has been a member of cabinet under three prime ministers, served as director-general of the Prime Minister's Office, chairman of the Knesset Foreign Affairs and Defense Committee, and as both foreign and strategic affairs minister. But despite this CV, he has never been privy to the level of information he will now have daily access to, nor ever had to make the kind of decisions the defense minister has to take routinely.
Lieberman now has to take charge of the largest organization in Israel, both in terms of personnel and budgets. The generals briefing him will first inform on the readiness of the various branches of the IDF. He will be acquainted both with the daily intelligence briefing and the latest national annual intelligence assessment. Then he will be appraised of the IDF's new five-year plan, regarding both drastic changes in manpower levels, disbandment of units, junking of old equipment and acquisition of new weapons systems.
The officers of the coordination unit with the Palestinians will brief him on the situation in the West Bank over which he has control as the military occupier, and in the Gaza Strip, where he now regulates access through the crossings and the sea. He will have to study the national civil defense structure and the contingency plans for running Israel's economy during emergency periods, all of which he is now responsible for.
Then he will learn about the research in advanced technologies being developed to ensure Israel has a military edge over its neighbors and enemies for decades to come. He will also be told about secret ties the country has with official and unofficial allies, some of which don't even have formal ties with Israel. Before he leaves work this evening, communications officers will explain how to use the secure telephones a military aide will be carrying around for him wherever he goes and will have already been installed inside his home. By the end of this week, he will already have chaired his first operational meeting, in which the minister is required to sign off on classified operations and weapons tests.
Lieberman will be familiar with some of what he hears, but much will be new and of both a security clearance level and a detail he has never had before. He will find himself in the unfamiliar position of being at the mercy of a tight-knit professional corps, many of whom see him as a hostile presence and over whose promotion and appointments he has relatively little influence. Effectively, he is the weakest defense minister in Israel's history.
Since his appointment was first mentioned, Lieberman has been compared to Labor's Amir Peretz, the last "civilian" to become minister, but in many ways Lieberman is at a greater disadvantage. Not just because unlike him, Peretz at least served as a junior officer in the IDF. The affable Peretz wasn't seen as a threat by the general staff, but as a relative novice who was happy to learn from the experienced officers. He served under a prime minister, Ehud Olmert, who had only very recently been elevated in an emergency, following Ariel Sharon's stroke, and was also largely inexperienced in military affairs.
Lieberman's boss is Benjamin Netanyahu, who has been dealing with these affairs for over 10 years in total and will be closely scrutinizing his every decision. As will rival members of the security cabinet, especially Naftali Bennett, who sees himself as the next defense minister, and former general Yoav Galant. Peretz, as a former trade union leader, was also the kind of person with the patience to delve into the fine detail and listen to the opinions of professional advisers. Lieberman hasn't exhibited those qualities in his previous positions, often missing briefings or leaving in the middle. No one doubts his intelligence but that isn't enough to master the most complex and demanding brief in the Israeli government.
In the cabinet, Lieberman will find himself relying on his military staff to prepare and contend with the inevitable challenges from his political colleagues and rivals. They will already have monopolized his timetable and access to information. He lacks the knowledge and experience to know what to ask and how to ferret out details that the generals are less eager to show him. In previous years he could have exploited discord within the General Staff to play off the different factions against each other, but under Chief of Staff Gadi Eizenkot, he has one of the most harmonious high commands in the IDF's history.
Not that there is no internal rivalry, but even Lieberman will struggle to find the cracks. It won't be easy for him either to take advantage of the ministry's traditional civilian-military divide between the two towers. Newly appointed director-general Udi Adam is a straight-laced tank officer of the old school, not the kind of person to help his minister go behind the generals' backs.
Neither will Lieberman have much of a personal team that's loyal to him. Most of the minister's entourage is made up of serving veteran officers and officials, and there is only a small handful of spots for personal appointments. Even for these, Lieberman's people may lack the necessary security clearance. (Whatever their reservations about the new minister, the security chiefs will not be able to deny him access to secrets. His personal aides however are another matter.) One option Lieberman is expected to use is the appointment of former generals who are willing to join him and provide him their knowledge of the hidden corridors, but that will take time and their loyalties will never be certain.
Lieberman is the most controversial man to be appointed defense minister since Ariel Sharon in 1981. It is interesting to compare the two men. Sharon, like Lieberman, had a difficult relationship with his prime minister, Menachem Begin, who resisted appointing for him a long period, preferring to serve as defense minister himself. Begin was rumored to have said that if "Sharon is ever defense minister he will surround the prime minister's office with tanks."
When the old general finally got his coveted job, he lost no time building up his own faction within the officer corps of trusted lieutenants and planning a secret war in Lebanon. Begin by then was rapidly weakening both physically and mentally, and, having achieved both peace with Egypt and the destruction of Iraq's nuclear reactor, had made his mark on history. Whatever Lieberman's hidden designs will be, it will take him many months to begin discovering the hidden levers of power within the defense establishment that Sharon, and the other former generals who have served as defense minister, could locate instinctively. And no matter how long he remains in the Kirya, he will never have their following within the ranks. Sharon could get enough generals, an acquiescent prime minister and a docile majority within the cabinet to go along with his war plans. Lieberman, even if he wanted to, can do nothing similar.
But even as the weakest defense minister in Israel's history, Lieberman's potential for damage is still great. Not necessarily because of his hardline views. The cliché of being a radical in opposition and a moderate in government is largely true in his case. We have this from no less credible a source than senior U.S. diplomat Martin Indyk, himself a fierce critic of Netanyahu's policies, who tweeted last week that "Lieberman says reprehensible things but I remember that he supported Sec[retary of] State [John] Kerry's peace efforts when [previous defense minister Moshe] Ya'alon was insulting him."
And while everyone can quote Lieberman's threat to bomb Egypt's Aswan Dam, few remember how in November 2012, then-foreign minister Lieberman publicly praised and thanked the Muslim Brotherhood president of Egypt, Mohammed Morsi, for brokering a cease-fire between Israel and Hamas in Gaza.
The danger in Lieberman's appointment is not in his politics, but his utter cynicism, complete lack of scruples and murky connections to alleged criminals and powerful figures in the former Soviet Union. In the clash over the last few months between his predecessor Ya'alon, who backed up the IDF generals, against most of the right wing in an acrid debate over the army's values in fighting terror, Lieberman, who chose to make an appearance in court sitting behind Sgt. Elor Azaria, could not have made his position clearer. His support for the soldier now facing manslaughter charges for executing point-blank a wounded Palestinian assailant in Hebron is now an unmistakable message to every man and woman in uniform daily confronting Palestinian civilians.
The stabbing of a soldier Monday in Tel Aviv, just outside the Kirya, by a Palestinian teenager, was a reminder just how tense the situation still is, despite the army's cautious assessments of a lull in the violence. Tacit approval from the man at the top of the pyramid for trigger-happy conduct is the last thing needed now.
Not one to relish his own weakness, Lieberman may be compelled to show forcefulness in other ways. During the 2014 Gaza conflict, risk-averse Netanyahu needed the backing of his defense minister Ya'alon to face down ministers, including Lieberman, demanding an expansion of the ground offensive deep into Gaza. Lieberman, of whom Netanyahu's spokespeople said "the closest thing that ever whizzed by him was a tennis ball," may not be able to resist the urge to claim glory as a wartime leader next time the cabinet has to make such a decision.
There is one area of responsibility in the Defense Ministry about which Lieberman is not inexperienced. The minister has ultimate discretion over security ties with unsavory regimes around the world and licensing arms sales. A minister who is known to have vacationed in disreputable places such as Belarus and Republika Srpska, and to have high-level contacts in questionable regimes, is hardly the best guardian for Israel's secret and sensitive trade relations. It is those connections that will also cause his counterparts in the Pentagon and other Western defense ministries, places where it is crucial that Israel's defense minister is treated as a trusted ally, to be guarded in Lieberman's presence.
There remain two glimmers of light in his appointment. The first is that in his cynical ambition to one day reach the very top and become prime minister, he will calculate that it is in his interest to confound expectations and not clash with the custodians of Israel's most respected institution, the IDF. He could decide that it is in his best political interest at this point to join forces with the generals who are now the main, perhaps only remaining moderating influence on the right-wing government and a polarized Israeli society.
The second glimmer is even slighter. If Netanyahu, whether by choice or as a result of concerted diplomatic pressure, does somehow embark on the crucial stages of a two-state solution, his best partner for the inevitable dismantling of at least part of the West Bank settlements is Defense Minister Lieberman, himself a settler. While Ariel Sharon's period in the ministry is mostly infamous for the first Lebanon war and the ensuing tragedies, it is usually forgotten why Begin reluctantly appointed him: It was Sharon, the hardliner favorite of the settlers who as minister directed the traumatic evacuation of the Israeli settlements in Sinai. Just as he would do 23 years later in the disengagement from Gaza.
As unlikely as it may seem today, this, ultimately, is where the weakest defense minister may one day show he is every bit as ruthless as Israel's all-time most unscrupulous general.
Click the alert icon to follow topics:
ICYMI
Ken Burns' Brilliant 'The U.S. and the Holocaust' Has Only One Problem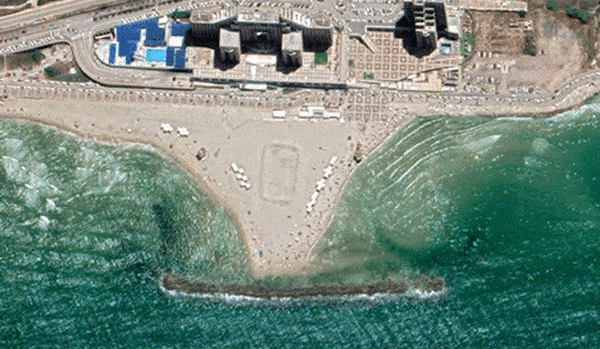 Facing Rapid Rise in Sea Levels, Israel Could Lose Large Parts of Its Coastline by 2050
As Israel Reins in Its Cyberarms Industry, an Ex-intel Officer Is Building a New Empire
How the Queen's Death Changes British Jewry's Most Distinctive Prayer
Chile Community Leaders 'Horrified' by Treatment of Israeli Envoy
Over 120 Countries, but Never Israel: Queen Elizabeth II's Unofficial Boycott