Who Is Behind the Underhanded Maneuver to Expand Israel's Right-wing Coalition?
Moshe Ya'alon has been dumped, Avigdor Lieberman won the lottery, the best-laid plans of Herzog and some of his fellow Zionist Union members exploded in their faces, to the delight of their detractors – and Benjamin Netanyahu has achieved his principal goal: staying on top.
Illustration.
Credit: Amos Biderman
Even in terms of Israel's shameless, amoral politics, this Wednesday – which began with talk of a regional peace conference under the management of Zionist Union/Labor Party leader MK Isaac Herzog, and ended with the appointment of the neighborhood bully, Yisrael Beiteinu leader MK Avigdor Lieberman, as defense minister – was wild and unpredictable.
It recalled, for example, the last coalition talks, when, 36 hours before the deadline, Lieberman left Prime Minister-designate Benjamin Netanyahu with the support of a mere 61 MKs. Of course, it wasn't "personal," just as all the mud and barbs slung relentlessly by Lieberman at Netanyahu since then weren't "personal," either. Maybe they were a metaphor.
And on Wednesday evening we learned of Moshe Ya'alon's removal from the Defense Ministry, leading to his resignation from politics a couple of days later. "Lieberman wants your ministerial portfolio," Netanyahu told him over the phone at the time. The most professional, judicious, responsible and moral minister in the government payed the price of cynical politicking.
Ya'alon may not have been aware of it, but he's been living on borrowed time for several weeks already. It was outgoing Immigrant Absorption Minister Zeev Elkin, the crafty, sly, clever politico who whispers in Netanyahu's ear, who laid the trap for Ya'alon. His sidekick was Natan Eshel, who was pulled out of wherever to play the deal-maker again.
A month ago, Elkin realized that Netanyahu was determined to expand the coalition before the Knesset resumed its business after the spring break. Netanyahu cast his eyes on Zionist Union and Herzog. He explained to ministers and coalition leaders that the twilight zone in the United States – between the presidential election on November 8 and the inauguration on January 20 – would be a period of great diplomatic danger for Israel. To soften the blow Israel can expect from President Obama, the premier said, it's essential to make Herzog foreign minister.
Elkin explained to Netanyahu that coopting Zionist Union into the government would be suicidal. The Tekuma faction of Agriculture Minister Uri Ariel (within Habayit Hayehudi) would bolt, leaving Netanyahu without his right-wing majority. Elkin added that the rest of Habayit Hayehudi would also pull out, in order to enter the next election campaign from the opposition. The result would be that Netanyahu's electoral base would turn against him. He would have a hard time getting those voters back after betraying them – in their view – and without them he can't win. Unity with Zionist Union is just too great a gamble, Elkin warned.
Instead, Elkin suggested, they should try to rope in Lieberman. If Likud goes into the next election with a vengeful Lieberman in the opposition, joined by Naftali Bennett, head of Habayit Hayehudi, Likud will probably not form the next government, he said.
Forget it, said Netanyahu. Lieberman hates me, he's always vilifying me. He's in cahoots with Yair Lapid (leader of Yesh Atid). There's no way he'll come on board.
Elkin said he wanted to give it a try, and asked Netanyahu about the defense portfolio. Without that, there's nothing to talk about, he added. Netanyahu gave him the go-ahead. Elkin got to work, via both direct and indirect channels, including mutual friends of his and Lieberman's from the Russian-immigrant community. In the meantime, Netanyahu, skeptical about the Lieberman option, started to move ahead in negotiations with Herzog.
For his part, Lieberman, too, was suspicious at the outset. He thought Netanyahu was manipulating him cynically (and he knows a thing or two about cynicism) to get Herzog to lower his price.
One way or the other, the prime minister became obsessed with the desire to open the Knesset's summer session, next Monday, with a bigger coalition. He couldn't bear the thought of continuing to be at the mercy of Likud MKs like Oren Hazan and David Amsalem, with a mere one-seat majority.
The mutual suspicion and hatred between Netanyahu and Lieberman persisted until almost the last minute. That's why Netanyahu was ready to strike a deal with Herzog on the night between Tuesday and Wednesday – but Herzog had justified reservations.
Lieberman started to take the coalition option seriously after Independence Day. Elkin knew about his planned, conciliatory Wednesday press conference in advance; he told Netanyahu that Lieberman would express good will and would not reiterate earlier demands that parts of the coalition agreement with the ultra-Orthodox parties be cancelled. The Haredim are Netanyahu's strategic allies and he will not hurt them.
It turns out that even Lieberman is able to make compromises when needed. He's bored after a year in the opposition wilderness. Getting the Defense Ministry is like winning the lottery. The fulfillment of a dream. And a huge achievement for a faction with just six MKs.
Still, on Wednesday, Netanyahu told Elkin he wanted to hear Lieberman in his own words. Lieberman delivered the goods at the press conference, and Netanyahu called him within minutes to arrange a meeting. Ahead of that meeting, Likud activists, major and minor, bombarded Lieberman with good-luck wishes. Elkin was behind that "spontaneous" initiative, too. The Likudniks were doubly delighted: They didn't want Zionist Union, but above all they rejoiced in the fall of Ya'alon, who was never one of them.
Netanyahu's dumping of Ya'alon, one of the most impressive and highly respected defense ministers we've had, in favor of Lieberman shows what Netanyahu is really after: to dwarf and restrain the defense establishment, with the aim of preserving his rule.
There's also another school of thought in the political arena, which holds that Netanyahu did not actually want to hand Lieberman the powerful defense portfolio. He did want Herzog, and needed his services as defense counsel and PR man in the international arena. But, according to this version of events, Netanyahu was dragged into this situation under the magical influence of Elkin, Eshel, Minister Yariv Levin and other senior Likud figures whose top priority has been to get Ya'alon out of the Defense Ministry.
Try, try and try again
Isaac Herzog's office in south Tel Aviv was unusually quiet on Thursday. Besides him, only his advisers were on hand. If the story with Bibi had had another ending, the activists and the supporters and the job seekers and the advice givers would have streamed to the office in large numbers. But failure is always an orphan.
Relative to his situation, Herzog had a vital air about him, even if he was exhausted and thinner than usual. He's saddened by the missed opportunity. He believes that if he had become foreign minister, a regional conference would have been convened, according to the plan that he had helped cook up in recent months, and that he, with his best lawyerly, political and human skills, would have produced wonders. In the end, the Palestinians would have shown up, and there would have been negotiations. No, he doesn't have any illusions about Netanyahu, but he would have held up his end.
The serious talks with Netanyahu got under way a few weeks ago. The immediate, automatic demand to put in writing a commitment to the principle of two states for two peoples was summarily rejected by the premier. The reason: Naftali Bennett. At the same time, claims Herzog now, Netanyahu agreed to freeze construction in the territories, understanding that eventually such a move would lead to the resignation of Habayit Hayehudi from the coalition.
Netanyahu also agreed to grant the Labor Party veto power over any right-wing legislation, before withdrawing that agreement and then reinstating it again. The two discussed the drafting of a political plan that would include the convening of a regional conference, and Herzog's own plan for Israeli-Palestinian separation. To this too, Netanyahu initially agreed, then changed his mind, and then possibly agreed again.
Overall, the talks centered around four basic parameters: 1. A diplomatic plan that was to begin with a regional conclave; 2. A socioeconomic agreement that would include larger allocations for weaker populations and retirees, a plan drafted by Histadrut chair Avi Nissenkorn and Netanyahu confidant Yariv Levin; 3. A commitment to shelve bills of an exclusionary or racist character, a move that Levin, an enthusiastic supporter of such laws, tried to torpedo; and 4. Assignment to Labor of the foreign affairs, economics, agriculture, environmental, Negev and Galil-development ministries – plus the cherry on top: in early 2017, the Defense Ministry.
"I was the price which the world demanded that Netanyahu pay to demonstrate that he was serious, as proof that he was intent on initiating diplomatic negotiations and calling a peace conference," Herzog said on Thursday. "It's not by chance that [Egyptian] President Sissi said what he said. He wanted me in. And not just him."
"Bibi and I concluded that with the entry of a new administration in the United States, we [Labor] would also receive the defense portfolio, so that we could work with the Americans simultaneously on two fronts – foreign affairs and defense."
I told Herzog that this was very impressive. "Nu?" he asked, "is that called 'groveling'? We were going to be appointing four of our own to the security cabinet. This would have weakened Bennett completely. What power would he have to threaten them? Do you know how many times Netanyahu tried to get the cabinet to pass measures that would have eased things for the Palestinians, measures he had committed himself to, but didn't implement out of fear of Masters Bennett and Elkin? With us inside, this wouldn't have happened anymore."
So why didn't it happen, I asked: If Bibi has committed himself in the eyes of the world, and he wants to advance processes – why didn't the two of you sign in the end?
Herzog sighed. "Because a lot of issues remained open and pulled the talks in other directions – Elkin, Levin, [Natan] Eshel. And because he decided to play with Lieberman at the same time. And yes, because at certain points he began to drive everyone crazy.
"I asked him several times: What if, four days after I enter the government, Bennett comes to you and threatens to quit over something. How will you respond? At the beginning he said that he would have to respect Bennett. In the final days, he began to speak differently."
Herzog is willing to acknowledge one blunder: not including others in the process. "Because I wanted the process to succeed, I didn't share details with other senior party members. It may be that this was a mistake."
I asked Herzog if, in his opinion. Netanyahu would still go to a regional conference, something Lieberman had talked about in the past. "It's possible," he said, "but it will be much harder for them, because of the great suspicion the Arab world has for Yvet [Lieberman]."
How is it that in the end, the prime minister entered the chuppah with Lieberman? Did he trick you?
"No," said Herzog forcefully. "He didn't trick me. He intended to bring us in, and he was completely serious. But the 'Elkin types' pulled him in the other direction. In general, I was facing a huge front of settlers and right wingers who worked against us. When the press conference with Lieberman was suddenly called, [Netanyahu] called me beforehand. I have to answer Yvet, he explained. I said: Listen carefully. If you go with Yvet, you should know that it's either him or us."
How did he respond?
"He said, I don't know what will come of the meeting with him. I asked him: If he says he agrees to be appointed defense minister, what will you do? I will have to start negotiating with him, he said. He let me understand that he was intending to pull off a maneuver, some kind of fancy footwork vis-à-vis Lieberman, in order to shake him off, and then to resume talking with us."
I told Herzog that it was there that Netanyahu lied to him, for sure. Clearly, everything had already been wrapped up, courtesy of Messrs. Elkin and Eshel. Herzog sighed again. The name "Elkin" upsets him. He added that Yacimovich collaborated with Elkin, and played the role of double agent in an attempt to torpedo the deal with Netanyahu, even though she also "begged to enter" the government.
Failure is indeed an orphan, and it's damn depressing.
"It's a national tragedy," said Herzog, "the two camps are imprisoned within themselves. I truly wanted to try my utmost, I wanted to do good. Would this have been a 'blood wedding'" – as Yacimovich put it in one of her posts – "or would this have prevented the shedding of blood?"
How did it end up with Netanyahu?
"He called me after Yvet left him and said he was going to begin negotiations. I said to him, then you're revealing your true face – and that was it."
Really, what was Herzog thinking? That the inflammatory, divisive Netanyahu, who tramples every governmental norm, would suddenly change his spots and allow him, "Bougie" Herzog, to recreate the world in his image? Even Nissenkorn, Herzog's ally in the coalition-expansion saga, abandoned him after learning of the Netanyahu-Lieberman meeting: He left Herzog bleeding in the field and ran for his life, realizing that Labor's entry into the coalition without Yacimovich and MK Amir Peretz would endanger him. In such a scenario, the latter two would have time to coordinate a joint move in which one would run for Labor leader and the other for Histadrut head, supporting one another.
Nissenkorn made his decision himself, but was urged to do so by his close friend MK Itzik Shmuli (Zionist Union/Labor). Shmuli had been promised the Senior Citizen Affairs Ministry in an expanded government, but he decided to torpedo the move quietly, without crossing Herzog outright.
Another erstwhile Herzog ally in Labor who secretly abandoned the battle was MK Eitan Cabel. In late March, Netanyahu sent attorney David Shimron to Herzog with a detailed unity-government proposal. "I need Eitan with me on deck," Herzog informed Netanyahu. Cabel went to the Prime Minister's Residence on March 30 and met with the boss. He left the meeting convinced the prime minister was serious this time. But on that very day it was reported that Herzog was being investigated for allegedly accepting an illegal contribution during the Labor primary against Yacimovich. The talks were broken off with Netanyahu until three weeks ago, when the media reported that the police were going to recommend closing the case against Herzog.
Netanyahu then launched a marathon of meetings – separately – with Herzog, Cabel and Nissenkorn. He spent countless hours with them, and they assumed he was determined. He even promised Cabel that he would be able to initiate a new natural-gas deal.
"Ten days ago, I thought it was going to happen," Cabel said this week. "I would get up at night and say to Noa, my wife: You won't believe what he's ready to give us – a veto over legislation, a building freeze in the territories, the defense portfolio in another 11 months in addition to the Foreign Ministry, a new gas deal. After every meeting with him, I would tell myself: Wow, the guy is going to tear the right wing apart. My impression was that he loathed Lieberman and Bennett, though he didn't intend to dump Bennett."
The last meeting between Netanyahu and Cabel was on the eve of Independence Day. They talked about taking the agriculture portfolio from Uri Ariel but leaving him the land-settlement department, so he wouldn't resign. Cabel says he didn't accept that, because Ariel would then be able to build as much as he wanted in the West Bank. They agreed on a "committee of three – Bibi-Bougie-Bogie (Ya'alon) – that would have the final word on construction in all the settlements.
Netanyahu refused, however, to revise the government's Basic Guidelines, to ensure that Habayit Hayehudi would not leave the government. He suggested that he and Herzog sign a paper about construction in the settlements. Cabel and Herzog declined. Cabel said in his interview with the Ynet news site this past Wednesday morning, "between the lines you could understand" that it was all over. Immediately afterward I called Bougie and told him it was finished, that Lieberman was on the way."
Herzog asked him not to say anything until Lieberman's press conference, and Cabel agreed.
Cabel has nothing good to say about Yacimovich. "More than a week ago, the three of us – me, she and Bougie – met. She said that basically she wanted to enter [the coalition], but with conditions, which I also supported. I told her that if it's not going to be true unity and partnership, genuine influence, I would be against it and it won't happen. But she didn't restrain herself. She had to rip into him [Herzog]. I was supposed to get the Economy Ministry, but I said that if Shelly decided to join, I would give it up for her."
I asked Cabel, who sounded totally wiped out, what would happen now. "We will postpone the primary and see," he said. Did he think the damage to the party was irreparable, that the party was almost moribund? "No!" he almost shouted. "What happened, for God's sake? Did the sky fall on our heads? We tried. All told, we tried. It didn't work. That's it, we go on."
Dream catcher
On Thursday morning, Yacimovich gave a series of interviews to numerous media outlets. Her victory was greater than she expected. She doesn't deny that initially, she was willing to enter the coalition, but her terms were known: revising the Basic Guidelines, making various far-reaching policy changes, specifying stages for launching negotiations with the Palestinians, and so forth.
Six weeks ago, Herzog showed her Netanyahu's proposal, according to which she would be economy minister and a member of the security cabinet. "And what about joint Basic Guidelines?" she asked. "Bibi won't do it," Herzog replied, "because that's a red line for Bennett. They will leave." "Excellent," Yacimovich exulted. "Let them leave. That way we'll get the justice and education portfolios."
Herzog said that was not going to happen. Yacimovich asked about a written commitment in the coalition agreement to promote the two-state idea. "No," Herzog replied, "Netanyahu won't do it. He will deliver a speech in which he reiterate his support for two states."
"For that, we're going to enter the government?" Yacimovich said. "For a speech?"
After that, partly because of the investigation against Herzog, the issue faded. Ten days ago, Herzog invited Yacimovich and Cabel to a meeting to show them new details from the talks. She says there was nothing new; the agreement was still void of content, there was nothing in writing. She told Herzog what she thought, sparing no words to describe how "humiliated" he would be if he dared enter the government on those terms.
They met a few times to discuss the agreement that was taking shape; Yacimovich was unwilling to consider entering the government under the existing conditions. At one point, she told Herzog that irreversible damage was being done to Israeli society in three ministerial realms: justice, education (held by Habayit Hayehudi) and communications (held by Netanyahu). "We have to get those three portfolios," she said. Impossible, Herzog replied. It was later claimed in Herzog's circle that Yacimovich hinted that if the justice portfolio was taken from Ayelet Shaked and given to her, she would tone down her opposition. She denies this now.
I asked her whether she didn't regret the unseemly language she used against Herzog in interviews and Facebook posts (such as comparing him to a dog that was had been thrown a meager bone). "No," she said, "I had no choice. Until Tuesday I said nothing. I made do with the talks between us, in which I made clear, in language even tougher than what I wrote, what I thought of entering under those circumstances. When I realized that the closed talks weren't helping, and that he might be taking my silence as a type of tacit agreement that I would comply if the party's convention ratified the move – I was compelled to launch a fierce battle. It wasn't spontaneous; it was very calculated. And the fact is, that helped."
Herzog will never forgive you, I told her. She said I was right. "Obviously. He sees me as a stumbling block, a troublemaker. I'm the one that robbed him of his dream," she said, sounding satisfied.
Click the alert icon to follow topics:
ICYMI
Ken Burns' Brilliant 'The U.S. and the Holocaust' Has Only One Problem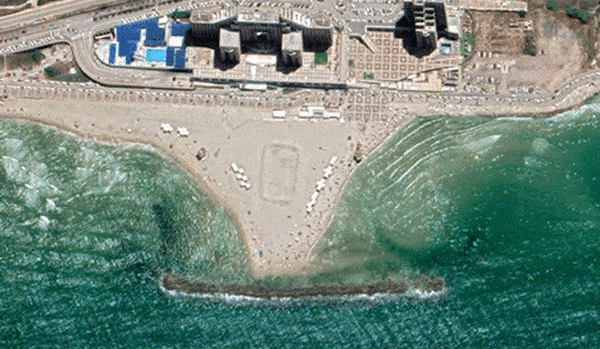 Facing Rapid Rise in Sea Levels, Israel Could Lose Large Parts of Its Coastline by 2050
As Israel Reins in Its Cyberarms Industry, an Ex-intel Officer Is Building a New Empire
How the Queen's Death Changes British Jewry's Most Distinctive Prayer
Chile Community Leaders 'Horrified' by Treatment of Israeli Envoy
Over 120 Countries, but Never Israel: Queen Elizabeth II's Unofficial Boycott