Ai Weiwei: Israelis and Palestinians Have Gotten Used to Living With a Chair Tied to Their Leg
The Chinese dissident and world-renowned artist, whose documentary on refugees took him to Gaza and West Bank, tells Haaretz what he thinks of the refusal by Israeli state officials to meet him, what's unique about Tel Aviv Museum's cancellation of his art show and who's his favorite artist.
Artist Ai Weiwei in Jerusalem.
Credit: Merav Ben Lulu
At 7:30 A.M., dissident Chinese artist Ai Weiwei was sitting at a modest breakfast in the dining room of an East Jerusalem hotel, ready for filming another day's journey on the lives of refugees. He arrived in Israel on Sunday evening May 8 on what was supposed to be a discreet visit – at least as discreet as an 11-person crew can be when every minute of their doings is filmed and uploaded to Instagram.
Ai is one of the best-known and most controversial artists in the world, and his fame long spread well beyond the art world. He cultivates and enjoys this celebrity, so his visit was guaranteed not to pass quietly.
This was Ai's first visit to Israel, though he says he knows many Israelis from when he lived in the United States from 1981 to 1993. He came to film for a documentary on refugees around the world, an issue that has troubled him in recent years.
Israeli company Highlight Films, which was hired to organize his trip to Israel, the West Bank and Gaza, was initially unable to secure Ai a permit to enter the Strip. The army said the company had submitted its entry request on very short notice, and just before the Independence Day holiday. In any case, Ai received a permit to enter Gaza the next day.
Ai publicized the delay; this may have been what got him into Gaza so quickly. The following Tuesday afternoon he entered the enclave through the Erez crossing to film through Friday. When Ai returned from the Strip, the NGO Breaking the Silence gave him a tour of Hebron and the South Hebron Hills. Before his flight out Saturday, he visited the Israel Museum in Jerusalem and met with the museum's director, James Snyder.
Ai spoke with Haaretz the morning before he went to Gaza. He was surprised by the speed with which he got the entry permit. In any case, he says he was always curious about Israel and the Palestinian territories.
"I can see I am quite ignorant about this area; I know very little," he says. "But this is a land of the earliest civilization and of a very colorful history of conflicts that have been continuous.
Still, the refugees were the main reason for coming here. He and his team visited more than 20 refugee camps in Turkey, Lebanon and Jordan. They interviewed not only refugees but also politicians, activists, doctors and priests – over 100 people.
"And we are making a documentary film on the situation of refugees in Jordan and in Lebanon, [where] there are major camps from Palestine, and so this once again brought attention to this land, to this people," he says.
"As a director, as a documentary maker, I have no excuse not to come."
"As a director, as a documentary maker, I have no excuse not to come. Of course I have a strong curiosity about Israel, about the culture, about Palestine, this whole land."
Ai intended to come to Israel earlier and was supposed to show an exhibit alongside the work of photographer Miki Kratsman at the Tel Aviv Museum of Art. The event was delayed a number of times and finally canceled.
Kratsman said in February he suspected the cancelation stemmed from reservations in the museum's board and management about pictures of Palestinians he planned to show. The museum strongly denied this and said it was strictly a problem of budgeting and scheduling.
Either way, it's a shame. Ai's most recent exhibition at London's Royal Academy of Arts was described as 2015's most popular art exhibition at art institutions that charge an entrance fee. Some 373,000 people showed up.
So they said the cancellation wasn't political. Do you believe that?
"It depends what is meant by political .... I have no proof whether it is political or not. I think that from Miki's point of view it is political; I didn't have much [to say] about it.
"But I think that's the only show among the 400 shows that I have done so far – the only show canceled by the museum," he says, adding that the museum is once again eager to help with an exhibition.
Was it difficult for you to consider exhibiting in Israel? Many artists don't want to come here.
"Well, it's hard to answer really, I don't know. They invited me, I accepted. Of course there are a lot of questions, arguments, but I still don't know. First it depends on what you are showing. If you really have a message, I think it's fine to show anywhere, because you're an artist, you express through your work and every opportunity is a chance for you to express yourself."
In addition, he says, "this documentary could be an opportunity to fulfill my curiosity about not only here, about the whole area. It is the first time I have traveled to Turkey and other nations like Lebanon. So I have seen a lot."
All around Gaza
Typical for Ai, from the moment he set foot in Israel he didn't stop filming everything he saw and the people he met. He uploaded the pictures to Instagram so his visit could be followed on the fly.
On the second day he met with MK Ayman Odeh, the chairman of the Joint Arab List, and Hagai Elad, the head of the B'Tselem rights group. He also visited two refugee camps in the West Bank near Bethlehem – Dheisheh and Aida.
On Tuesday at 5 A.M. he uploaded to Instagram a picture of the sky at sunrise as seen from his hotel window. Later he met with Hanan Ashrawi in Ramallah and posted a picture of them on Instagram. He went to Gaza and visited the fish market and beach. He photographed young women near an UNRWA school and Hamas activists, not to mention animals at the Gaza zoo that had died of starvation.
Ai says he wanted to meet Israeli politicians and officials, not just Palestinians and human rights activists, but there was no cooperation.
"Of course we try to meet everybody. We had made requests to government officials; we made a lot of contact – but no answer," he says.
"I was kind of surprised because this film is for anybody to speak about anything and I was filled with regret because the view may be not balanced because I only heard from basically one side – Palestinians. They want to talk, but the Israelis don't want to talk.
"I was filled with regret because I only heard from basically one side - Palestinians. They want to talk."
"But maybe not wanting to talk is also a point of view; it is also a position, a conscious position . I very specially asked that we have to interview officials, politicians from the Israeli side, but maybe I'm kind of naive, I don't know.
I would say they are not even aware of the importance this film might have. It's probably more out of ignorance or neglect than a real decision that they don't want to do it. And maybe arrogance.
Maybe they thought "it's a small thing, it's just a film. It's just artists making a film, it's nothing big. From my side, I still need to be more accomplished," he says with a laugh.
At the end of the interview, Ai's assistants come to tell him that MK Stav Shaffir (Zionist Union) is interested in meeting him, so at least someone on the Israeli side has woken up. But that meeting never came off.
Ai's film is not intended for museums; it's a full-length documentary meant to be shown to the general public in movie theaters. Over 50 people are producing it, divided into eight teams that have been filming for months in various locations.
The film is an attempt to give as broad a perspective as possible on what it is to be a refugee, Ai says. That's why he didn't just film Syrian refugees and the camps in Jordan and Lebanon, but also came to the Palestinian territories.
"So we also plan to go to Africa, Asia. We have refugees in China also. I think Tibetans, they're being pushed out, or by choice, I mean a long time ago in the 1950s, they went to India and still even today most Tibetans cannot get a passport to leave. I think if you're being held somewhere, stuck somewhere and your condition is against your will, I think you're a refugee. So that's my understanding," Ai says.
"So my project, or my involvement, or rather my curiosity always brings me into difficult areas and I don't want to make a judgment, but I always have to put myself into those kinds of conditions."
"My curiosity always brings me into difficult areas and I don't want to make a judgment."
The conditions of the Palestinian refugee camps in the West Bank are better than those in most refugee camps he has seen elsewhere.
"If I can make a comparison, from my very limited contact, camps here are better than most camp conditions. The camps have been established in different locations; here it seems they still have a strong community here, but of course it's under occupation, and of course the people here are very, very desperate," he says.
"I think I can sense it; this is a very strong feeling – the feeling is very clear and strong. There is this very high wall dividing; I mean so [symbolically]. I mean a nine meters high wall, almost three times as high as the Berlin wall; very symbolic.
"Some young boys told me they grew up in there, they have no rights for travel, and they don't know what's on the other side. It is like modern mythology; it's hard to imagine generations growing up like this.
"But it is a reality. On the other side of the wall there is no more war, it's like anywhere, it's like Santa Fe or like Miami. Everything is super-civilized and comfortable. I think it's very hard for both sides of the wall to exist in such a condition. But, of course, I can also realize that both sides take it as a normal condition."
They do? Because they've gotten used to it?
"Yes .... This is understandable." Ai says it's as if someone tied your leg to a chair and you started to walk. After a while you'd feel as if the chair were part of your leg. The situation is possible because you have to walk and you still can.
"So it's just a little bit funny, you know," he says. "And other people look at it very funny. If anybody came here or if anybody knows about it, they would say 'what is that?'"
What's your impression so far from what you've seen here, from the meetings you've had?
"I have been here for four days. This morning I opened my door; the sky is so beautiful, the landscape is so beautiful. I had no chance to go to the shore; I think the people here are very contemporary."
Making a living from gambling
Ai was born in Beijing in 1957. His father was the Chinese poet Ai Qing. When he was 1 his family was sent to a labor camp and then to 16 years of exile in Xinjiang in 1961. This came after his father was denounced by the Communist Party during the Cultural Revolution for the family's opposition to collectivism and support for capitalism. After Mao Zedong's death and the end of the Cultural Revolution, they were allowed to return to Beijing in 1976.
In 1978, Ai began studying animation at the Beijing Film Academy. In 1981 he went to New York and studied briefly at the Parsons School of Design, but he left and supported himself by drawing portraits of tourists and doing odd jobs.
He began creating conceptual art from ready-made objects and later started with photography. He also played blackjack professionally and often visited Atlantic City casinos. Gambling became his main source of income.
In 1993, after his father fell ill, Ai returned to China to be part of the capital's contemporary art scene. In 1999 he built his own studio in Beijing, his first architectural project. In 2003 he and his wife, the artist Lu Qing, founded an architecture and design firm.
In the early 2000s, he worked with the Swiss architecture firm Herzog & de Meuron in planning Beijing National Stadium, also known as the Bird's Nest, which was built for the 2008 Beijing Olympics. After that his relations with the Chinese authorities soured.
You said you always try to put yourself in the place of the people you meet. Is that why you started doing art in the first place?
"No. The motivation for me doing art is the opposite of what I'm doing today. I tried to escape in China. I grew up in a very political society, so I said okay, if I'm doing art I can be learning something which is different, and I can have another point of view which is different from political restrictions.
"So I was trying to escape the political situation, but very ironically, I later became a political artist – as people called me. I don't really want to accept that name. I think it's too long – political artist. Artist is already too long. Now they call artists activists; you know it's too long.
"I also think all art is political because all art is about the definition of esthetics and moral conditions, so it's political anyhow."
"All art is political because all art is about the definition of esthetics and moral conditions."
You said you started doing art as a way to escape reality, so what brought you back to reality? Today you're dealing with reality in a very intense way.
"I think two things. First, you recognize that you can help. Everything happened when I started to use the internet. Before, I used to be an architect and an artist and I wasn't very interested in either. But I was very successful. As soon as I got on the internet I realized that I can easily give out my opinions and start to write.
"I love writing; My father is a writer so I was always jealous about it. I wanted to see if I can write. I think everybody can write; it takes some time to get into that part of you, to own that feeling. It is a difficult task, but also it's like the first time you use chopsticks; it's difficult."
Ai gradually became famous on the internet.
"I had a lot of people talking, following, and I started to do a lot of online activity, which scared the authorities. But I think I can help out young people, just give out my opinions daily," he says.
"I became one of the most popular bloggers in China before they shut my blog. So then I got involved in the judicial system to fight, and the more you fight the more you get into this kind of position, so I'm still struggling."
In conflict with his homeland
In May 2009 the Chinese authorities closed Ai's blog after he harshly criticized the regime. In April 2011 he was arrested on tax fraud allegations at the Beijing airport when he was about to fly to Hong Kong.
Ai was in prison for 81 days, during which support for him sparked a diplomatic crisis. The United States and European Union filed protests with China, while artists all over the world held protest marches and rallies, and international museums launched petitions and signed up more than 90,000 people.
That year, the magazine Art Review crowned Ai the most influential artist in the world. He was released after almost three months, but was forbidden to leave China and his passport was confiscated – the authorities said he was also suspected of bigamy and distributing pornography. In July 2015 he got his passport back and left China, where he still has family.
Can you go to China today; are you allowed to visit?
"Yes, I think so."
Do you miss China?
"I don't miss it that much actually. I try to keep myself very occupied, not to have so much sentimental feelings."
Is there a place you feel is your home today?
"I have got used to hotels more and more."
Do you miss the sense of home?
"I miss the sense of quietness or being alone. This I miss. But I have never had a sense of home in my life. Now I have a son and a girlfriend and we're living together. I tried to pace it. It was a lot."
Ai now lives in Berlin; his son in 7.
Will you take him to China at some point?
"I decided not to because it was dangerous for him. We are followed, we are being pushed and we have been tagged and all those kind of things. So I said okay, if my life is dangerous, it's not fair to put you here. You should be in a safe place."
Ai's son and girlfriend left China before he got his passport back. "I said now I should bring you back to see your grandmother and he said, 'no, I won't go, this is not a place I want to go.'"
No private life
A few months ago, Ai caused an uproar when he was photographed lying face down on the shore of the Greek island Lesbos. The pose mimicked the famous picture of the Syrian refugee child Aylan Kurdi, who drowned after he fell out of a boat packed with refugees being smuggled from Turkey to Greece.
Ai was accused of cynically using the tragedy. He says the picture was made as part of an interview with an Indian newspaper but was immediately considered one of his own works.
As to the anger about the photo, Ai says: "I imagine people get angry when the work touches what they protect, their line, and their conditions. I'm not defending the work but I think only that kind of feeling makes that work valid. Any work, if it doesn't receive some negative attention or feeling, I don't think it's a valid work.
"Art is about new definition. I don't think a human has an excuse for not breaching a certain area .... I can view form as a Jesus or as a beggar or as a dead body or whatever. You know, this is totally in the realm of freedom of speech, the realm of expression.
"It all depends on what kind of message you're carrying. To set up myself in the same condition is to try to reach a kind of consciousness every day that there are two children who drown in this ocean. It's never just one child. Don't try to become naive. Not only one child was drowning every day. Two children were drowning in this migrant situation. People pretend they don't know it."
But why did you say you're not defending the work?
"The work isn't my work. It really comes from a magazine, you put in a camera presence, they make a story, they want to take some photos, I said okay. I respond to their requirements."
So it wasn't something you initiated?
"No .... I think it should partly be my work because I acted on it, but they said no, it's not your work. It's an Indian magazine and I don't know, Indians maybe have very different rules about those things, but we can't accept it because if it's my work or not my work, it becomes my work, because the argument is proving why I'm doing that.
"Of course, all the newspapers don't understand it or don't know it. People are very superficial with these kinds of things, they don't want to go to another level, but they always could go to another level .... There can be different meanings."
Do you feel comfortable with today's money-oriented art world?
"I don't pay much attention. I am always very surprised – do you know this artist, do you know this show – and I don't really know. But I do have a few friends in the art world. I think I can easily say that the art world has become as it is today because of two things. One is that in contemporary life we definitely need art."
Why?
"Well, art today replaces philosophy; it directly reflects our feelings and our understanding of who we are and how we want to show the world. It shows our relationships, and even those positions are always in question. That makes art become more important to release those tensions, but at the same time art has become very, very commercial.
"Any kind of mythology, any type of symbolic needs a very big price to support it and to free this kind of feeling. For museums, collectors and people think 'oh so unique so special,' which is not really true. Most works we see in museums a child can do it, but it's just very different reasons so they very much appreciate this kind of symbolic gesture.
"It's like someone saying I just drew a line without anything else, which makes some statement in the humans' struggle since a very early time. The caveman for instance used rock, made a line on the cliff, or put some color on it."
"The art world has become as it is today because of two things. One is that in contemporary life we definitely need art."
People would say that today, art for itself has no meaning, it's only
"I don't think it has no meaning, I think it does have meaning .... I mean if you see all of the money, art has become too expensive, then that's just numbers. Of course it's not related to daily struggle.
"But if you talk to people who buy art they will not think it's expensive because their logic of money or numbers is very different from the everyday struggle. It's an empty work. Everything is defined by how much it's worth, who wants it, and that touches on very essential questions about value, judgment of value, real or fake, unique.
"All those things relate to human nature. So if we argue about those things, there's a very big pattern. A big pattern. It's like why these actors are so expensive, why this sportsman is so expensive. It's about the same kind of argument, I think; it doesn't make that much sense but that's part of reality."
And as a successful artist it's something that allows you to do this refugee project. Who's financing it?
"Yes, it allows me to do many things which would be impossible to think about, such as the refugee situation. We have been spending a lot a lot of effort, resources and money on it – which is what we want to do."
But for you it's like two sides of the same thing? You're part of the market and part of the
"It's not the same thing. The market is always questionable; it's not the same thing. It's always questionable. But of course you can say, okay, I don't like that, I don't need money, I can donate my work to anybody, they would not even accept it. Even with my name in many museums, they will cancel it, right? Not many, just one."
Ai says this with a laugh. He's hinting at the canceled show in Tel Aviv.
"Yesterday I was thinking, if I was not [famous] today, I'm not going to be able to get into Gaza; you wouldn't be talking to me."
Maybe I would, but probably not in Gaza.
"Yes, maybe you don't know, maybe we would spend the evening together, but not this kind of conversation. So we are living a strange world I think. And also if I did not get into trouble with the Chinese authorities, and they did not keep me in detention, the world would be very different."
A lot of art critics don't like your work. Does that bother you?
"I don't know. I don't really think they're serious enough to be really paid attention to. I don't think that today we have any very, very serious art critics out there. Most people are entertaining and their opinion comes too easily and it never goes to a deeper level.
"Why bother even to pay attention or to argue, you know. I always like to have a serious discussion, but it's not there. Even if you talk, let's say for one or two hours, you don't reach anywhere, it's just very superficial. It seems people have no time to really be ready for conversation."
"It seems people have no time to really be ready for conversation."
Are there any artists that you appreciate today?
"Yes, myself. Every day I appreciate myself. I wake up, I feel like I follow my instinct into conditions. It may hurt me or it may bring me to a very strange area, but I like that. I think that's why I'm an artist."
What do you think will be your next project after the refugees?
"I don't really know, maybe I will become a refugee after the project. It's very possible."
Do you wish to change something about this situation?
"I wish to change myself really."
How?
"Well, I will learn and become exposed to so many emotions and I talk to so many people, so I share their feelings. So many people refuse me so I cannot get into their world."
But you've gotten to a point where you have no personal life anymore, so you only deal with other people all the time.
"Andy Warhol once said he wanted to be a machine."
A machine?
"Yes, I understand that."
How do you understand that?
"I think my personal life may be what I think the other people's life is about. I will never think I have a personal life. I don't know, maybe Jesus had a personal life? .or, I don't know, Mohammed or [Buddha]? ... Do they have a personal life? I think they don't have a personal life."
But real people have personal lives.
"So I'm not a real person .... I don't have much personal life. My assistant knows how much personal life I have."
Does he have a personal life?
"Not much," says Ai's assistant.
Ai says: "Today we are going to visit the zoo. The zoo has hungry animals there. That's my personal life. In Gaza they have hungry animals or dead animals there. I think it very much will become a personal life.
"It is very hard to understand. I think it will be all what we see, what we experience, that's our life. Of course if you don't see anything, you don't experience anything, maybe you have a better personal life. But once you see it, it has become part of you; you can never get rid of it. We all know that."
"If you don't see anything, you don't experience anything, maybe you have a better personal life."
Now you're going to Gaza and you're going to see things that will probably be very difficult from a human point of view. It's a hard place you're dealing with.
"Have you been to Gaza?"
No, but I imagine that it's horrible.
"I don't really know. I think many places we think are horrible; when we are there it is not so horrible because we are all humans. We all have little need. A child would run and say, 'Oh, what kind of camera is that? How does that work?' .... Or if you offer a candy she will say: 'Oh, I don't want that.' Even if she's hungry she will say 'I don't want that.'
"There you sense what kind of parents, education she has. Those things are very touching to me. I think I understand those things better than I understand myself. I understand why I pay attention to that.
"People say it's dangerous. I don't think it's dangerous, I think the only danger in life is when we shut ourselves off. We start not to look at the others. There is no other danger."
It seems Ai's optimistic viewpoint was a bit dimmed after returning from Gaza. Kratsman met with him a few hours before he left the region and the two went to the Qalandiyah crossing between northern Jerusalem and the West Bank.
As Kratsman put it, "He was particularly affected by the visit to Hebron, where he saw settlers who shouted at him and his crew. He told me that in Hebron he managed to identify the DNA of the entire conflict. He came back shocked from the way we relate to the Palestinians, and Gaza he described as a horror."
This interview has been edited and condensed.
Click the alert icon to follow topics:
ICYMI
Ken Burns' Brilliant 'The U.S. and the Holocaust' Has Only One Problem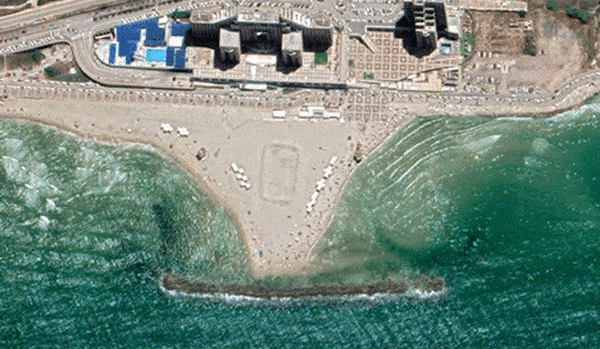 Facing Rapid Rise in Sea Levels, Israel Could Lose Large Parts of Its Coastline by 2050
As Israel Reins in Its Cyberarms Industry, an Ex-intel Officer Is Building a New Empire
How the Queen's Death Changes British Jewry's Most Distinctive Prayer
Chile Community Leaders 'Horrified' by Treatment of Israeli Envoy
Over 120 Countries, but Never Israel: Queen Elizabeth II's Unofficial Boycott