Then and Now: Tracking Down the Ethiopian Jews Who Moved to Israel
A new exhibition provides a fascinating insight into how members of the Ethiopian-Jewish community acclimatized to Israel – some more successfully than others – following Operation Moses in the mid-1980s.
Itzik Tamano in first grade at an Israeli elementary school in the 1980s, after immigrating to Israel from Ethiopia at age 4.
Credit: Doron Bacher
For over 30 years, Doron Bacher documented the immigrants who came to Israel from Ethiopia in Operation Moses (in 1984-1985). His camera captured moments in their absorption and acclimatization to Israel when the operation was still secret and it was forbidden to publish photographs of them. It followed them in school, bar mitzvah ceremonies, the army, weddings, workplaces, and as they moved into permanent housing.
One of the new immigrants who caught his eye was Zehava Mahari, a beautiful 3-year-old girl whom it was impossible to ignore. Bacher met her at the Mikhmoret absorption center in central Israel. She had arrived there with her mother in 1985, at the end of a dangerous, harrowing journey from Ethiopia to Israel.
Mahari's tale is part of the mosaic of personal stories presented in the exhibition "Operation Moses: 30 Years After," which opens at Tel Aviv's Beit Hatfutsot (The Museum of the Jewish People) on May 25.
"Immigration from Ethiopia was a very, very new thing, and people didn't know how to process these 'black Jews.' But I knew I was photographing history," recalls Bacher, 61, at the time a young photographer working at Beit Hatfutsot. When he photographed Mahari, someone from a window in the adjacent building threw an orange at her. She managed to catch it with her dress, which she lifted up slightly with two hands. Bacher says that even now, three decades on, he can't forget her captivating expression and the innocent face that hid those big eyes and an embarrassed smile.
Mahari's picture remained in Beit Hatfutsot's photo archive in Tel Aviv and over the years became iconic. It featured prominently in articles, books and exhibitions, without Zehava having a clue about the fame she had garnered. Over the years, Bacher tried to locate her, but in vain. "I looked for her for 30 years," he says.
Three years ago, ahead of the 30th anniversary of Operation Moses, Neta Harel – a graphic artist from Beit Hatfutsot's Visual Documentation Center – had an idea for a new exhibition. She was familiar with the rare photo collection of 10,000 images – the fruit of Bacher's labor – that was kept in the museum archive. She randomly pulled out some photos and proposed that Bacher try his hand at locating the subjects.
Orly Malessa, an independent filmmaker and member of the Ethiopian-Israeli community, also lent a hand to the project. Together, they launched a Facebook page under the name "Searching for ourselves 30 years after," and invited the photo subjects to identify themselves in the pictures uploaded to the page.
Within a short space of time, they had succeeded in closing many circles. And so, in late 2014, Bacher had the privilege of being reunited with Zehava Mahari, who had grown from being that little girl to a mother with children of her own. Only then did Bacher realize why he had failed to find her in Israel. It transpired that in 1991, six years after immigrating to Israel, she moved to the United States. She now lives in Sacramento, California.
When Mahari saw her photograph as a child, she burst out crying. Addressing Malessa's camera for an accompanying film, she said in Hebrew, with an American accent, "My eyes haven't changed. And my nose is as it was. The truth is that the person doesn't change. He develops, but always remains the same person."
Thirty years before, though, she barely survived her journey to Israel. "I was very small. I barely ate and suffered from malnutrition," she recounts in the film. "There was a moment in Sudan that my mother almost lost me because we didn't have food or water. It was a matter of survival, but we survived."
In an email exchange with Haaretz, Mahari adds: "I miss my childhood experience in Israel – the place where I experienced for the first time my first home, birthdays, holidays, school, first bikes and first friends.
"I have no memories from Ethiopia because I left at such a young age, as a toddler," she says. "Israel is always home for me, even if I live elsewhere."
She moved to the United States to join her father, who never came to Israel because he believed America was the better choice, she says. There, on the other side of the ocean, she fulfilled her parents' dreams and attended university, obtaining an MA in English with a specialization in multiculturalism. She found work and is raising a family.
Mahari tries to get her children to speak Hebrew, but admits that it's not easy. "Here in the United States there's a community of Ethiopian expats and, separately, a Jewish community," she says. "You'll only find an Ethiopian-Jewish community in Israel."
Shattered dreams
Some of the photographs in the Beit Hatfutsot archive highlight difficult stories, like that of Rehovot resident Nane Negate, who Bacher photographed in the Ashkelon absorption center.
Her father was a respected figure in his village in Ethiopia, and for years dreamed of immigrating to Israel. However, after fulfilling his dream, he was forced to see it shattered in bits. A diligent worker, he was unable to find work in Israel and didn't receive the respect he was accustomed to. He eventually committed suicide.
"It took us eight months to try and meet with Nane," says Michal Houminer, the exhibition's cocurator along with Assaf Galai. "It was hard for her to tell this difficult story, which had not been told before."
Another sad story lies behind the photograph of Amnon Sahlu, 52, a divorcée and father of six who lives with his elderly parents in Jerusalem, where he shares a bedroom with his 6-year-old daughter, Bereishit. Losing Ethiopian traditions and values has taken its toll on him, as well as the fact his marriage failed. When he looks at his parents' married life together, which survived despite the difficulties of immigration and absorption, he feels he somehow missed the boat and his dreams are shattered.
Other stories were considered too sad to pursue. For example, an archive photo that caught Malessa's eye featured a boy holding a flag "and looking very happy," she recounts. "When we discovered that he had died, we stopped investigating."
Connecting to roots
During a preview of the exhibition earlier this month, Beit Hatfutsot chief curator Dr. Orit Shaham-Gover said, "We would rather give up on the Jewish habit of looking back with sorrow and seeing riots, decrees and persecution.
"When we look back, we also see a lot of creativity and growth," she added. "My motto is that instead of saying 'Gevalt!' we say 'Hallelujah!'"
One of the exhibition's success stories is that of Itzik Tamano, 39, of Tel Aviv. Tamano emigrated from Ethiopia at age 4, and Bacher first documented him at his elementary school. "I remember that a photographer came to the class in first grade," recalls Tamano now. At first he lived with his parents at the Atlit absorption center, and they later moved to Sderot. He met his future wife, Mor, in high school.
"We are a mixed couple. She is half-Yemenite and half-Sephardi," he says. His parents had no problem with the fact that he wanted to marry someone who didn't belong to the Ethiopian community, but it was harder for his wife's parents.
"At first, they refused to accept me into their family – especially because of the image tied to Ethiopians that they knew from negative television reports," he says.
A professional DJ, Tamano owns a music company that works mainly at Ethiopian community events. He lives in the north Tel Aviv neighborhood of Ramat Hahayal with his wife and three children.
"At first [the neighbors] were sure I was a sanitation worker," he recalls. "When they saw me in the window of my home, they yelled from the street, in English, 'Clean? Clean? Looking for work?'" He says they had a hard time believing it when he said he actually lived there.
"I feel Israeli in every respect," he says. "I never felt different. Racism here comes mainly from people who don't know us. Israeli society was once more tolerant and loving, but it changed over the years."
Tamano refuses to talk about "success" when he reflects on his life. "I prefer to call it self-fulfillment," he says. "It's a term that seems more appropriate to me."
Another mixed couple discovered via the Facebook hunt are Shay and Efrat Yossef, who live in the West Bank settlement of Har Bracha with their four children. Bacher photographed Yossef and his family on their first day in Israel in 1984: Shay was 5 at the time and had come to the Ashkelon absorption center straight from the airport.
Yossef studied engineering in Israel, but initially could only find work as a security guard in a settlement. Later, though, he was promoted to being in charge of quality control for a food company. Soon, he tells Haaretz, he will start a new job at the Agriculture and Rural Development Ministry.
In Malessa's film, Yossef demonstrates the cultural gaps between Ethiopia and Israel in the kitchen, where he cooks and cleans. "This would not happen in Ethiopia," he smiles to his wife.
Another inspiring success story is that of Redai Tessma, 46, of Be'er Sheva. Tessma, married with four children, is a social worker. He immigrated to Israel in 1984 "after a long, exhausting, complicated journey" that took four years, but was "one full of hope." He appears in an archive photo as a 14-year-old boy belatedly celebrating his joint bar mitzvah with other youths from Ethiopia. He received a new name in Israel, Ezra, but after his military service decided to return to his given name, Redai (which means "to help").
"I realized that someone who's not connected to their own and their community's roots, origins, background and history cannot integrate into a new culture and place," he says. "This revelation was the background to my decision to return to my original name. Indeed, it is my story and there's a reason my parents gave me this name. It has a meaning I must recognize and learn. You can't erase yourself to fit into a new place," he adds.
Tessma draws on his own absorption experiences now as a mental health officer in the army reserves, especially when helping soldiers from families in distress. "I use my experience as a new immigrant with soldiers who are experiencing difficult conditions in life," he says. "I explain to them that real, lasting change only takes place when you take responsibility and aspire to move forward. I tell them that even if there are limits and barriers, each person can still realize his abilities."
Death, unemployment, racism, homesickness and other difficulties are expressed in the stories behind the images. However, none recall the violent demonstrations that erupted a year ago when Ethiopian Israelis protested against discrimination and racism in Israel.
"Each of our heroes is pulling in a different direction, so the ultimate statement reflects a wide range of experiences," says Malessa, adding, "After all, this community, like every other community, is a collection of individuals, each of whom has a different experience."
She herself prefers to see the glass as half-full. At age 1, she embarked on a long journey to Israel and after three years in a Sudanese refugee camp, arrived here in 1983.
"I started as a daughter of immigrants, a resident of the periphery and woman of African origin. The choice I make every day is to fight for my place, to work harder, create and defeat preconceived notions," she says.
Click the alert icon to follow topics:
ICYMI
Ken Burns' Brilliant 'The U.S. and the Holocaust' Has Only One Problem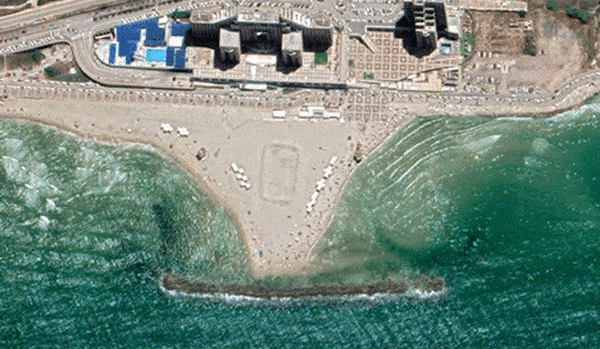 Facing Rapid Rise in Sea Levels, Israel Could Lose Large Parts of Its Coastline by 2050
As Israel Reins in Its Cyberarms Industry, an Ex-intel Officer Is Building a New Empire
How the Queen's Death Changes British Jewry's Most Distinctive Prayer
Chile Community Leaders 'Horrified' by Treatment of Israeli Envoy
Over 120 Countries, but Never Israel: Queen Elizabeth II's Unofficial Boycott