How a New York Play Links Black Lives Matter to Palestinians' Suffering
An American playwright has penned a gripping tale about an Israeli Arab killed in the October 2000 events — and his steadfast sister.
From the play "There is a Field," New York, April 2016.
Credit: Jen Marlowe
Near the end of the play, the New York audience choked back its spontaneous protest when the judge, played by Alan Ceppos, said: "We can determine that police fire caused the fatal injury to Aseel. And we can also determine that there was no justification for the police to fire at him. He did not represent any danger to them. However, we cannot point to any particular officer as the one who fired the shot."
To the American audience this sounded like one of the outrageous judicial decisions that set off the protest wave of recent years and spawned the Black Lives Matter movement.
But the play is "There is a Field" by the playwright Jen Marlowe. It tells the story of Aseel Aslih, a 17-year-old from the town of Arabeh, one of the 12 Palestinian citizens of Israel (and another Palestinian, a Gaza resident who was staying in Umm al-Fahm) who Israeli police officers killed during the demonstrations of October 2000.
The judge was Theodor Or, the head of the committee set up to investigate the events.
With a few chairs and boxes, a flowing text and a lot of personal involvement, the actors excelled in navigating the audience through the life of a Palestinian family in Israel: both individual and representative.
This Friday, Aslih would have celebrated his 33rd birthday. Everyone predicted a bright future for him. Already as a child, he built a Lego spaceship, while his sister Nardeen, four years his senior, built a banal house.
This picture of their Lego-playing is weaved into the performance in one of Nardeen's many reminiscences that give the play factual continuity, as well as emotional and political depth.
They grew closer with time and continued to argue; for example, about Aslih's joining the American NGO Seeds of Peace. Israel's Education Ministry sent him to the group's summer camp in the United States.
"Seeds of Peace sounded like one of those programs with Palestinians and Jews together and singing that doesn't touch the root of the problem," Nardeen, played by the actress Amel Khalil, told her dead brother in the play.
"But I saw how it had become the center of your life – sitting in front of your computer after camp, contacting everyone, making plans with them. I didn't want to ruin your excitement by criticizing it. But when you got invited back to camp, I loved hearing how happy you sounded in your emails home."
Aslih, who is portrayed by the actor Kesav Wable, wrote her in real life: "This planet has gone mad and it's going to blow up. It's only a matter of time until it happens, but the only ones that can stop it are young people like us, Seeds. Do you realize how important we are for the adults; for those who have only witnessed war and sorrow?
On stage, Nardeen/Khalil answered: "You should save all the energy you're putting in Seeds of Peace into the bigger and more difficult struggle –defending the rights of Palestinians."
Aslih was a camper of Marlowe's at the Seeds of Peace summer camp in 1999. Marlowe, herself a Jew, continued to work for the organization for another four years after he was killed, and after she closed down a theater group for children she ran. Immediately after his killing, she knew she wanted to give expression to her pain and anger through the theater.
She says that today she would have immediately thought about a documentary film. In recent years she has made, among other artistic works of social activism, two documentaries about other conflict areas: Darfur and Bahrain
In "Witness Bahrain," which was screened in New York two weeks ago, she used a hidden camera. In "Darfur Diaries," Marlowe interviewed refugees from the region; she made the film with an American she had met in Seeds of Peace: Adam Shapiro. Their acquaintance with the Israeli occupation taught them what had been overlooked in the Seeds of Peace agenda: that there is no symmetry between the occupier and the occupied.
Stuck with hatred and disappointment
But in 2000, high-quality filming wasn't available to just anyone, so for Marlowe, with her previous experience in theater, this was a natural venue. Marlowe immediately started interviewing Aslih's family, collected documents and followed sessions of the Or Commission.
The project was kept on a low flame: In between she embarked on other artistic expressions of social activism. Over the years she began to realize that Aslih would not be the main character in the play, but rather Nardeen. She was a medical student at Hebrew University at the time; today she's an obstetrician-gynecologist at Hillel Yaffe Medical Center in Hadera.
In the play, as her studies and residency progress, Nardeen apologizes to her dead brother. "I'm sorry, Aseel... but I can't tell people in the hospital about you. If I do, politics will come between us and ruin my working relationships," she says.
"If I keep fighting, I'll be stuck with sadness, hatred, disappointment. I will never be good at my job. I don't have the power to fight. I want to finish my residency, open a clinic. To have a husband who loves me. We'll take care of each other. We'll have a nice house, we'll raise kids together. I hope my children will have enough strength to fight."
In 2005, Nardeen married a lawyer who came to her brother's funeral, Ayman Odeh, now the head of the Joint Arab List in the Knesset. She tells her late brother: "Just by staying means that I committed to struggle every single day of my life."
Khalil, who plays Nardeen, is a Palestinian American actress born in Jerusalem. Her mother was from a refugee family from Lifta, on the city's western outskirts, while her father was from the Abu Tor neighborhood.
Khalil came to the United States when she was 3. A year and a half ago she began taking on small movie roles. In the middle of the night last January she received a text message from a friend telling her of a part that was just right for her: "a tough Palestinian girl."
Khalil hasn't had much experience in theater, but something told Marlowe and the director, Noelle Ghoussaini, that it was worth investing in her. And they were proved right, says Marlowe.
Khalil was amazed to discover an American play talking so much about Palestinians; it encouraged her to find out more details about her family and the history of her people. Khalil said that when she shared with her brother her fears of taking on the role, she got reminded of what their late mother used to say: When there's a will there's a way.
When Khalil's brothers read the part of the mother in the play, Jamila, they were amazed: She was just like their own mother – strong, able to run the world, "a bit crazy." In other words, she expressed her feelings with full force.
Turkish German actress Gamze Ceylan ("I've already played a dozen strong Palestinian women") leads the character from the pain-struck mother to the woman who with her husband runs the failed campaign to put the people responsible on trial.
The play makes its way through Nardeen's conversations with her dead brother. It's based on their emails and letters, Marlowe's interviews, media clips and the Or Commission's report.
Crying on the subway
The Black Lives Matter movement and the similarities between the contempt for the lives of blacks in the United States and Palestinians in Israel and the occupied territories – and between the two struggles – spurred Marlowe to put it on stage now.
The play was performed 24 times over six weeks around the United States, mostly at universities, some of which were black colleges during the segregation era. Amid the great demand in New York, two performances were added in mid-April at the SoHo Playhouse off Broadway. At the end of the performances, Marlowe took part in a discussion with the audience, African-American activists and Palestinian and Jewish spokespeople. (Disclosure: I participated in a panel in New York.)
A few of Ceppos' relatives and Jewish friends refused to see the play because they did not agree with the politics of some of the sponsors, whom they mistakenly thought were the donors, he said. The sponsors are a coalition of 10 university institutions, African-American, pro-Palestinian and Jewish organizations that provided media and organizational support.
Queens-born Ceppos is a fifth-generation American Jew. He began acting at 9 and studied theater in college, but his parents decided that this was no way to make a living. He went into business and lived in France, where he met his partner for the past 43 years. My husband, he calls him.
When he reached 60, Ceppos decided it was time to do what he really loved. His great interest in the play's message is among the reasons he was chosen to play Aslih's father Hassan – as well as Or.
When he came for his audition, he didn't know anything about the events, he said. At first he was still wondering what "Aseel did for him to be killed." On the subway on his way back home from the audition one day, Ceppos read how the father Hassan describes his son's killing, and he cried.
As he himself explains, he used to see things through the filter of a Jew whose grandmother always said the world hated Jews, or of a child who donated money to plant trees in Israel and believed Jews were a peace-loving people.
At the end of each performance, someone always came up to Ceppos and started speaking to him in Arabic. When he said he was Jewish and didn't speak Arabic, he followed the astonishment's turn into a hug.
Some 15 of his Jewish friends and relatives came to see the play, which made them too look at Israel in a different way. All his Jewish friends knew that the situation was difficult but didn't realize to what extent the Palestinians were treated as inferior citizens, he said.
At the Passover seder, they spoke about the play and what was behind it. They painfully mentioned the sentence Hassan tells his children: Agricultural subsidies are provided to help the Jewish farmers and destroy the Arab farmers. His hostess mentioned how she left before the end of the panel that followed the play, when one of the African-American participants repeatedly said "Palestine." "I can't bear it, the state is called Israel, not Palestine."
After the last performance at SoHo Playhouse, two members of the audience, Israeli sisters living in New York, said that what angered them most was the Israelis' crassness, entitlement and haughtiness. If only we could say the actors exaggerated, said the women.
They especially referred to one of the journalists in the play, performed so aptly by Jackson Goldberg, whose body language matched his words: "What was Aseel doing at that demonstration in the first place? You say he was a peace activist, how do you explain that he was taking part in a riot?"
Click the alert icon to follow topics:
ICYMI
Ken Burns' Brilliant 'The U.S. and the Holocaust' Has Only One Problem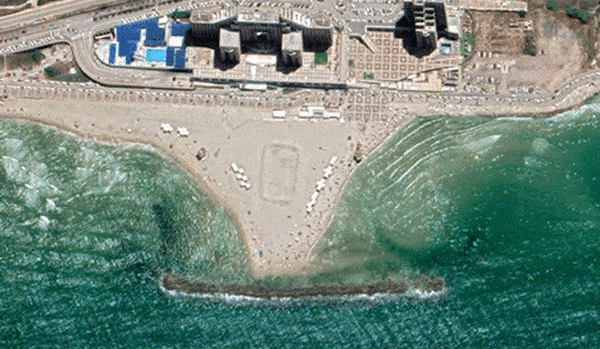 Facing Rapid Rise in Sea Levels, Israel Could Lose Large Parts of Its Coastline by 2050
As Israel Reins in Its Cyberarms Industry, an Ex-intel Officer Is Building a New Empire
How the Queen's Death Changes British Jewry's Most Distinctive Prayer
Chile Community Leaders 'Horrified' by Treatment of Israeli Envoy
Over 120 Countries, but Never Israel: Queen Elizabeth II's Unofficial Boycott