Israel's Opposition Leader Is Having a Very Bad Week
Isaac Herzog week's begins with a police interrogation and ends with a political misstep and a car crash; meanwhile, Netanyahu, feeling his political base is undermined, levels empty threats and accusations at his critics.
Illustration.
Credit: Amos Biderman
Never before was the Passover break so needed by our politicians. The past week was a wild roller-coaster ride: Prime Minister Benjamin Netanyahu branded MK Avigdor Lieberman (Yisrael Beiteinu) a leftist and threatened to fire Education Minister Naftali Bennett, who left-flanked MK Isaac Herzog – the Zionist Union leader complained that his party is perceived as "Arab lovers" – while MK Erel Margalit (Zionist Union) played the role of neighborhood bully.
Meanwhile, the lovefest for the army was celebrated in Tel Aviv's Rabin Square under the leadership of that well-known humanist Sharon Gal, with the participation of two of Likud's intellectual giants, MKs Nava Boker and Oren Hazan, along with 2,000 good burghers, including some from the anti-assimilationist Lehava organization and La Familia, the rabid supporters' group of Beitar Jerusalem. They cursed Defense Minister Moshe Ya'alon, the media, the Arabs and the lefties, may their names be blotted out, and expressed their support for an army medic who got confused: Instead of saving life, he shot a dying Palestinian in the head. Had gadya, had gadya.
The (almost) latest scandal to make the headlines belongs to Herzog – although, when you dig a little deeper, you discover that the headlines were misleading. On Tuesday, at a meeting of Labor Party activists in Ashkelon, one of the local bigwigs said, "Why did we get barely 10 percent of the votes in Ashkelon? Because, people tell me, you love the Arabs too much."
In his reply, Herzog, with fatal incaution, borrowed the phrase "Arab lovers." That's the whole story. To turn Herzog into a racist Arab hater is totally off the wall. But is he "veering to the right"? Definitely. That's a clear political interest. A party that is perceived as left wing, whose leading exponents are seen as being able to flourish in the more left-leaning Meretz or even Hadash, will never come to power.
The problem is that it's not working. Herzog keeps tripping up. When he declared in January that the two-state solution is not realistic at this time, because both leaderships are entrenched in their approaches, he was flayed mainly from within his party. The linguistic slip in Ashkelon reflects his frustration and the helplessness he feels in the wake of the terminal political collapse he's experiencing. He said this week that in public meetings, people frequently maintain that his party prefers the Palestinian interest over that of Israel.
"A week ago," he said, "I was at a parlor meeting in an important ultra-Orthodox city. I arrived late at night, after 11. I talked to them about everything, including the rights of the gay community. The first thing they asked me was, 'Why do you always take the side of the Palestinians?'
"I was at a parlor meeting in a Be'er Sheva neighborhood, an ultra-Likud bastion. I asked them why they boycott us. 'Because of the Palestinians,' they replied. After Zouheir [Bahloul, a Zionist Union MK] said what he did about the knifer from Hebron [that not every Palestinian who stabs an Israeli is a terrorist], I called him and said, 'Zouheir, it could be the son of your neighbor in Acre who will be murdered in Hebron. When you pay a condolence call to the neighbor, what will you say – that his son's murderer is not a terrorist?
"In the last election we got 800,000 votes," Herzog continued. "To win you need 1.2 million. I have to recruit those 400,000 others from circles that don't connect with us."
To a degree, Herzog is envious of MK Yair Lapid (Yesh Atid), a vacuous political robot who has made naked cynicism a way of life, turned principles and values into mush, and recast ideology as a sophisticated weather vane. Lapid was ahead of Herzog in discerning the rightist-nationalist atmosphere that has become dominant here, and like a human chameleon, Lapid switched his original hue to one that would curry favor with the consensus. In the meantime, it's Herzog who's footing the bill. The extra Knesset seats that Lapid's party has added in the polls all come from Zionist Union, the party Herzog coheads with MK Tzipi Livni. Herzog hopes that by navigating rightward, he will be able to recover those who jumped ship. But in contrast to Lapid, Herzog is trapped in a political and personal limbo, swirling in a lethal whirlpool that threatens to drown him, like all previous Labor party leaders in recent decades.
Ironically, Herzog's best day this week was Sunday, when he was questioned under caution by the police on suspicion of accepting illegal donations to his recent election campaign. Afterward, he appeared at a political event and was received warmly by the audience. His party rival, MK Shelly Yacimovich, was quick to declare that the interrogation changes the situation and that she would consult with senior party figures about what to do concerning the party leader. That was a mistake. Yacimovich misread the map and failed to note the mood among the party faithful, who felt compassion for numero uno. Yacimovich's potential putsch petered out. None of the "senior figures" (whatever that phrase means) came on board.
Then came the slip of the tongue, and on Wednesday another accident – this time a physical one. A vehicle slammed hard into the back of Herzog's armored car – which he gets as leader of the opposition – on the coastal highway (Route 2). Herzog, who wasn't wearing a seat belt, was thrown forward and suffered leg and lip injuries. The car was wrecked. "Yes," he sighed on Wednesday evening, "it was a pretty lousy week."
Short fuse
The security cabinet met on Wednesday morning in the Prime Minister's Office. Shortly before 8 P.M., Ynet reported that Netanyahu had threatened to fire Bennett when the latter forcefully demanded that the security cabinet discuss the talks Israel is holding with the Palestinian Authority about reducing Israeli security control in Area A of the West Bank (which is meant to be under full Palestinian security and civilian control).
The fuse that connects – or separates – these two gentlemen is short and very thin. This time, Bennett apparently went too far with his tone; he has no great respect for the leader. Security cabinet members say he actually shouted at Netanyahu, who promised him at the beginning of the week that the security cabinet would consider the matter, but didn't promise to keep that promise. The dismissal threat was hollow – its immediate effect would be the coalition's loss of its majority. And given that Zionist Union is not currently a potential partner because of Herzog's legal situation, the result would be an election – after which Bennett would certainly not recommend Netanyahu to the president as his choice for prime minister.
The incident in the security cabinet attests to a deeper process that Netanyahu is undergoing. His threshold of sensitivity to criticism from the right wing has fallen considerably. Last Saturday afternoon, Lieberman attacked the government, as is his wont, branding it "defeatist and kowtowing" for allowing Hamas to continue building its terrorist infrastructure unimpeded. (Lieberman knew – the information was still under a gag order at the time – about the discovery of the terror tunnel in southern Israel, near the Gaza border.)
Within less than two hours, at 3 P.M. on Shabbat, a response came from "Likud." It was clear to everyone who knows how these things work that the statement was formulated not by Likud's response team but by a few Likud members who happen to live in the prime minister's residence in Jerusalem (or his private villa in Caesarea).
It was the most extreme and vicious statement ever aimed at Lieberman – a fact some attribute to the people in Netanyahu's immediate vicinity on weekends. "Lieberman," the communiqué claimed, "is trying to make a career switch from failed political analyst to military analyst who doesn't meet the basic job description The only projectile to whistle by his ear was a tennis ball He has never led even one soldier on the battlefield He never survived one security cabinet meeting from beginning to the end a petty prattler."
The statement added that Lieberman intends to cooperate with the head of the Joint Arab List, MK Ayman Odeh, and with the other opposition leaders, in advancing legislation that would limit a prime minister to two terms. "At the moment of truth, Lieberman is hooking up with the left," was the conclusion.
Say what you will about Lieberman, he is not fond of leftists. Attacks from the left leave Netanyahu unfazed, but he gets badly rattled when sniped at from the right. When Lieberman sullies him from outside the tent and Bennett gets uppity in the armored personnel carrier, and both question his security authority, he feels his political base is under threat.
The polls show that his status as "Mr. Security" is less stable than it once was. A majority of the public thinks Lieberman is better suited to serve as defense minister at this time. Every jab to Netanyahu's security belly looms as a strategic threat that calls for a disproportionate response.
Netanyahu is going through a rough period. Two weeks ago, he launched something of a victory campaign to mark the apparent crushing of the so-called "intifada of individuals." In a photo-op at the start of the cabinet meeting, he welcomed the significant decrease in the number of attacks, attributing this to the government's "aggressive, responsible and systematic policy."
Last Sunday, he convened the weekly cabinet meeting on the Golan Heights, as an act of defiance to the international community, and declared that Israel would never leave the plateau. He knew the international community would not take this lying down, but who cares? Given the current situation in Syria, 90 percent of the Israeli public is with him on this issue. Netanyahu always makes the point that he and he alone safeguards the Israeli national interest, not the prattlers to his right. (In his first and second governments, let us remember, Netanyahu exchanged messages – with Hafez Assad and then Bashar Assad – on the return of the Golan Heights as part of a peace agreement.)
The angry international reactions played into his hands, as always. But on Monday afternoon, our volatile reality sent him reeling when a bomb exploded in a Jerusalem bus. On Wednesday, Hamas took credit for the attack, stirring fears that organized terror attacks are imminent. Turns out that the aggressive, systematic policy isn't really working.
Lieberman, though, is working – and working hard. One reason for Netanyahu's blistering tirade against him last Saturday was intelligence information about Lieberman's vigorous activity to end Netanyahu's never-ending term in power. According to Netanyahu's circles, the only reason Lieberman has for being in the opposition, along with the left and the Arabs, is his burning hatred for Netanyahu and his missionary-like fervor to depose him.
The latest info to reach Netanyahu's staff is that Lieberman is seeking an agreement with the leaders of all the relevant parties – Moshe Kahlon, Bennett, Lapid, Arye Dery and Herzog, too – that in the next election everyone will run with whomever they want, but that when the time comes to recommend a candidate to form the government, the watchword will be "ABB" – anyone but Bibi!
Who will they recommend? That can be discussed. Maybe two of them will agree on a rotation plan. Lieberman believes that his political and diplomatic experience make him a suitable candidate. But let's not quibble. The main thing is to get the obstacle, the stumbling block, out of the way.
Pearls before swine
There's an unmistakable resemblance between the horrific video that Erel Margalit unleashed this week and an ad run by Shas leader Dery in the last election campaign. In fact, in addition to hiring Moshe Klughaft, Bennett's former strategic adviser, Margalit also recruited adman Sefi Shaked, who worked with Dery in the last campaign. In both the Dery and Margalit videos, the politician gazes into the camera against a black backdrop and lets loose verbal volleys of accusations and allegations, promises and threats and warnings, while photographic stills illustrate the narrative. For Dery, the message was poverty and discrimination; for Margalit, a violent, nationalist right wing.
But who is Margalit aiming at? The repulsive, exaggerated use of foul language by a Knesset member who considers himself a candidate to lead the party and become prime minister was, above all, disgusting. It's the very last thing that's likely to speak to members of the Labor Party. It's a gimmick fit for an anarchist movement. But when resorted to by a candidate in a mainstream party, it looks like he's lost it.
Some likened Margalit to Donald Trump, he of the dirty mouth. Wrong. Margalit recalls Howard Dean, who in 2004 ran in the Democratic presidential race. After losing the Iowa caucus, Dean took to the stage to deliver a rabble-rousing speech, which ended with a tremendous scream to symbolize enthusiasm, determination and uplifted spirit.
That finished him. His speech was dubbed "I have a scream," and he entered the pantheon of blundering candidates. In subsequent polls, Democratic voters expressed concern about the judiciousness of the man who wanted to be president. He was forced out of the race in disgrace.
Margalit's video clip also ends with an embarrassing scream: "Give us back the country, kibinimat! [for hell's sake]." Well, we may get the country back one day, but Margalit will not get his campaign back on track.
Click the alert icon to follow topics:
ICYMI
Ken Burns' Brilliant 'The U.S. and the Holocaust' Has Only One Problem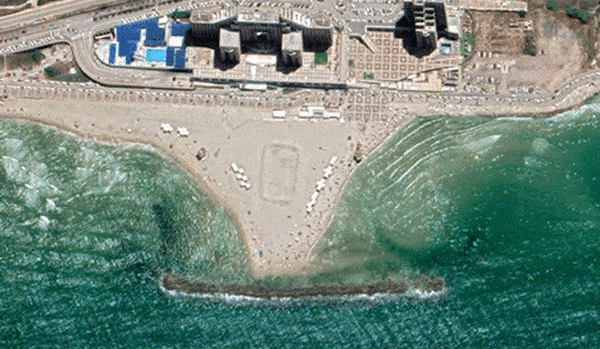 Facing Rapid Rise in Sea Levels, Israel Could Lose Large Parts of Its Coastline by 2050
As Israel Reins in Its Cyberarms Industry, an Ex-intel Officer Is Building a New Empire
How the Queen's Death Changes British Jewry's Most Distinctive Prayer
Chile Community Leaders 'Horrified' by Treatment of Israeli Envoy
Over 120 Countries, but Never Israel: Queen Elizabeth II's Unofficial Boycott