Israelis Have Had Enough of Netanyahu, Poll Shows
A Haaretz poll indicates the public is ready for a new political order, but no Big Bang will occur unless an alternative to Netanyahu wins over right-wing voters; IDF chief Eisenkot is crowned Israel's most popular leading figure.
IDF chief Gadi Eisenkot, President Reuven Rivlin and Knesset Speaker Yuli Edelstein are Israel's most popular public figures, Haaretz poll shows.
Credit: Amos Biderman
A year after the election for the 20th Knesset, and three-and-a-half years before the scheduled date of the next election, the local political map appears primed for another Big Bang. The country's senior politicians are surviving in office due to a lack of alternatives, but they are weak and their leadership is brittle. Most of the public is fed up with Benjamin Netanyahu, who this month marks seven consecutive years as prime minister (10 altogether). Israelis want something new.
Indeed, that is the message that comes through loud and clear in all the internal surveys conducted by the parties. Netanyahu will have chalked up at least eight consecutive years in power, maybe nine or 10, by the time the next election is held. He may be hungry for more, but the people have had their fill.
A few weeks ago, this column reported on initial feelers being put out by senior figures in both the coalition and the opposition, and outside them, concerning scenarios for future cooperation to bring about a change of power in the country. The working assumptions were: (1) The center-left camp in its present format is unattractive to voters and therefore not relevant; and (2) change will come only from the center-right camp. A parliamentary reshuffle that ends up with the ouster of Netanyahu can be fomented only from within his own camp, from the heart of the right-wing base.
This analysis is buttressed by a special Haaretz public opinion poll conducted this week. The poll, conducted under the supervision of Prof. Camil Fuchs, of Tel Aviv University, shows that if a national election were to be held this week, a new party headed by former chief of staff Gabi Ashkenazi, Finance Minister Moshe Kahlon (Kulanu) and former senior minister Gideon Sa'ar from Likud would win the largest number of Knesset seats.
The pollsters did not "appoint" a leader for the virtual new party; the names of the three top people were read out to the 504 survey respondents in rotating, random fashion. Still, the result is astonishing and reflects the current public mood, though it definitely does not purport to predict what will happen two or three years down the line. The weakness of today's leadership is apparent in the poll, along with a feeling of satiation with the existing political order.
It's a phenomenon not seen since Ariel Sharon created Kadima, which even without him won the largest number of seats twice (in 2006, under Ehud Olmert, and in 2009, under Tzipi Livni). Now, as then, Likud implodes. The right-wing bloc of Likud, Yisrael Beiteinu and Habayit Hayehudi shrinks from 44 seats, in the present Knesset, to a projected 37.
That's a scenario in which Netanyahu would not be able to form a government. In contrast, the new party would have little trouble cobbling together a coalition. From its point of view, all the parties, excluding only the Joint Arab List and Meretz, would be eligible candidates. The 23 seats that the triumvirate-led party is predicted to win come from the political center, the moderate "soft" right and also somewhat further to the right, from the secular fringes of Habayit Hayehudi. This, too, is a reprise of Kadima, which was a moderate version of Likud padded with Shimon Peres and Haim Ramon, both of whom bolted from Labor.
No right-wing or center party survives this hurricane unscathed. Likud, Habayit Hayehudi, Yisrael Beiteinu and Yesh Atid would lose between a fifth and a third of their voters (according to a poll conducted this week prior to the one that included the virtual new party).
Before respondents were asked in other polls about a possible new party, Yair Lapid's Yesh Atid had increased its current Knesset representation by no fewer than nine seats, all at the expense of bruised and battered Zionist Union. But when the new party is taken into account, Lapid loses most of these voters and Yesh Atid reverts to its natural size as a "trend party" with nothing substantial to offer the nation other than a talented media presenter.
But is this scenario feasible? Kahlon and Sa'ar are friends who stay in close touch. Their conversations deal in part with future political scenarios, even if nothing has yet been decided. Both would define themselves as "pragmatic right." This week on his Facebook page, Sa'ar suggested removing some East Jerusalem neighborhoods – such as Kafr Aqab and Shuafat, which are situated outside the security fence – from the municipal jurisdiction of Jerusalem (though they would remain under Israeli sovereignty).
Ashkenazi hasn't yet come out of the political closet. As far as is known, he is not in touch with Kahlon and Sa'ar. He is a moderate. Any political plan he might have would be to the left of the other two. Still, his image – and we live in a world of images – is that of security-right. If the three can agree on one vision and one program, and – no less important – can put their egos aside and agree on which of them should be candidate for prime minister, this political dream (or nightmare, depending on the beholder) can become reality. As of now, both Ashkenazi and Sa'ar see themselves as candidate for Israel's next prime minister; Kahlon will be content with the treasury. The combination offered by the three is lethal: Sa'ar and Kahlon dig deep into Likud; Ashkenazi gives the public an authoritative security figure, is tough looking and has a proven battlefield record.
The temptation to be rid of Netanyahu is hefty in itself. But the majority of the electorate is located on the right or center, not on the left. There is no way governmental change can come about without the walls of the right-wing bloc being breached. No Big Bang will occur unless a large number of right-wing voters, those who want Bibi and Sara to go home to Caesarea, please, feel comfortable casting their vote for someone else.
Eisenkot and Edelstein
It's not surprising that in Haaretz's annual spring poll, which examines the popularity of 15 leading figures, President Reuven Rivlin no longer gets the highest marks. The extreme and hard-core right abandoned him in protest of his liberal, tolerant approach. He received some support from the center and the left, but not enough to leave him as No. 1. Still, his popularity is impressive, given that he has been the chief target of all the curses and death wishes of the right-wing crazies.
Rivlin was supplanted by Chief of Staff Gadi Eisenkot. Though Eisenkot's public appearances are rare, each shows him to be a beacon of sanity, substance, forthrightness and modesty, in a sea awash with mediocrity, pomposity, militancy or just plain stupidity. Of course, a key part of the high marks Eisenkot gets is due to the fact that he is the commander of the sons and daughters in "everyone's army."
Knesset Speaker Yuli Edelstein maintains his place in the top three, thanks mainly to the distinguished post he holds. Previous speakers were also close to the top in Haaretz polls. Israelis don't like the Knesset but esteem the person who heads it, or maybe just empathize with his suffering.
The current spate of terrorism did not hurt the chief of staff in the poll: Eisenkot actually improved his position since last year. Defense Minister Moshe Ya'alon also emerges unhurt politically despite the deterioration people feel about their personal security. His score is almost identical to that in 2015.
Who is paying a price? The prime minister. A majority of those asked expressed dissatisfaction with his overall performance. His "Mr. Security" image is hardly being bolstered by the current situation. A majority of Israelis, 51 percent, wouldn't want to see him run again for prime minister.
The satisfaction rating received by Finance Minister Kahlon is almost unprecedented, given his complex, thankless job. Finance ministers are routinely despised and blamed for all our economic woes. Perhaps only Avraham Shochat, in his first stint as finance minister in the Yitzhak Rabin government of 1992, got scores like this. Kahlon's popularity is completely personal, far outstripping any desire to vote for his party. Kulanu gets only seven seats in the current poll (three fewer than what it has in the Knesset now), before disappearing in favor of the theoretical new political entity. Still, even people who have no intention of voting for Kulanu apparently believe that Kahlon is a good guy and that his heart is in the right place.
The poll has no good news for MK Isaac Herzog, leader of Labor and of Zionist Union. As in other polls published last month, this survey also gives the party 15 seats if elections were held today, the same as Labor got in 2013 under MK Shelly Yacimovich. Labor's voters don't consider it a governmental alternative and aren't satisfied with Herzog's performance as leader of the opposition. He gets a negative rating.
As we've already noted, with Netanyahu in big trouble and Herzog in even bigger trouble, the supreme interest of both of them is to save themselves in each other's arms. If Zionist Union joins the coalition, the two of them will move away from the abyss. Netanyahu will gain new legitimization from the center, and Herzog, as foreign minister, a post for which he's cut out, will be able to breathe easier.
But it's probably too late for that. With these data, Herzog would have a hard time persuading his party, and the public, that joining Netanyahu's coalition now is more than a mere effort to save his own skin. Netanyahu, too, who is perceived as weak and whose days are seen to be numbered, would come across as concerned only with political manipulations to help him survive.
Next week, the Knesset adjourns for its spring break. If any chance, however theoretical, remains for Netanyahu and Herzog to strike a deal, it will have to happen in the next six weeks. This is their last opportunity to make a "peace of the brave" or, perhaps more appropriately, forge an alliance of the weak.
Public be damned
Eli Groner, whom Netanyahu appointed director general of the Prime Minister's Office last May, is made of the stuff the PM likes: He was born in the USA, and lives in the Etzion bloc of settlements in the West Bank. This week he published an article in Haaretz (Hebrew edition) in which he outlined his views about public service and about the proper relations that should exist between the elected representatives and the civil service. His approach is legitimate and worthy of discussion. It reflects exactly the approach of Netanyahu, who is out to limit the influence of the search committees for candidates to fill senior management posts in government ministries.
In his article, the senior director general in the civil service chose to savage not only the "media" for interfering with the work of the ministers. We're already used to those howls from the Prime Minister's Bureau. Groner, though, is vexed with the whole Israeli public. There is "cynicism and a loss of trust within Israeli society," he wrote. "In the absence of trust, malicious intentions are attributed to every move and every initiative. An infinite effort is made to block them, but a far smaller effort is made to improve the services that the government provides to citizens and businesses."
Groner doesn't like the Hebrew word that's used to translate the term "checks" in "checks and balances." The Hebrew one, belamim, suggests curbs and brakes, whereas the English term refers to controls and the need to supervise. To thwart instead of to supervise is the mother of all sins, he maintains.
Let's say he's right. That's not the question. The question should be: Since when does a civil servant allow himself to complain about the public? About society? Is it perhaps Groner whose brakes have failed? The public is not only cynical, Groner adds, it also suffers from a cultural problem. "Regrettably, the suspiciousness that marks Israeli culture leads to a conception according to which the role of officials in the civil service is to block the elected representatives The result of this substandard culture is a rolling crisis of confidence: mistrust by the politicians of the officials, and mistrust by the public of its elected representatives."
Yes, the Israeli public isn't the apple of director general Groner's eye. He's displeased with "society" and with its "substandard culture," with its devastating suspiciousness. He must be waxing nostalgic for the American society in which he grew up and lived until around 30 years ago, when he immigrated to Israel and was forced to come down a notch or two on the cultural scale.
In Britain, a civil servant who dared to use that sort of language about the country's citizens would find himself on the dole by the end of the day. Here, thanks perhaps to the substandard culture to which the director general is referring, he will keep his job as though nothing happened. He probably also got a pat on the shoulder, accompanied by congrats in American English, from the boss.
Click the alert icon to follow topics:
ICYMI
Ken Burns' Brilliant 'The U.S. and the Holocaust' Has Only One Problem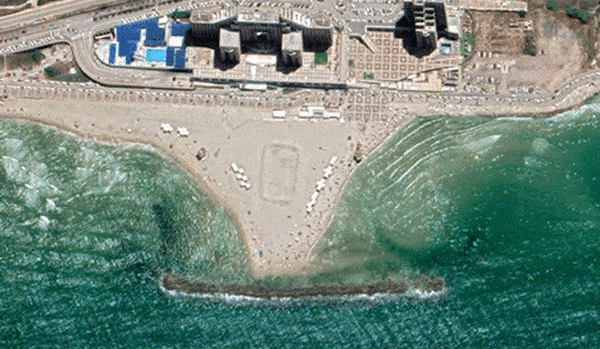 Facing Rapid Rise in Sea Levels, Israel Could Lose Large Parts of Its Coastline by 2050
Lapid to Haaretz: 'I Have Learned to Respect the Left'
The Mossad's Fateful 48 Hours Before the Yom Kippur War
As Israel Reins in Its Cyberarms Industry, an Ex-intel Officer Is Building a New Empire
How the Queen's Death Changes British Jewry's Most Distinctive Prayer