Benjamin Netanyahu's Shady French Connection
An unfolding investigative report details Netanyahu's affiliation with a family accused of stealing anywhere from 300 million to 1.6 billion Euros.
Benjamin Netanyahu with Arnaud Mimran. Monte Carlo, Monaco. 2003
Credit: Mediapart, all rights reserved. Published in Haaretz by special permission
PARIS – Two men are sitting on a beach. The place: Monte Carlo, Monaco. The time: August 2003. On the table are glasses of red wine, a bottle of choice pastis, tonic water and the remains of a Mediterranean meal.
The man on the right is easily identifiable: It's Benjamin Netanyahu, then-finance minister in Ariel Sharon's second government. A month before his vacation in Monaco, he slashed government allowances for single mothers and told Vicki Knafo to fold up the protest tent she had erected across from his office and get a job. Or in his words, "A woman who can march 200 kilometers to Jerusalem can get a job in packing."
In the photograph, Netanyahu certainly doesn't look as if he could march 200 kilometers. He's wearing a red Ralph Lauren shirt, open to the belly, the bold color emphasizing both the redness of his sweaty face and the blue tint in his hair. The French Riviera is hot in August, and alcohol doesn't help. Netanyahu seems to be speaking to the son of the man on the left, who is playing with a paddleball paddle and returns Netanyahu's look. The boy is embraced by his father, a tanned, athletic man of about 40 who is clearly the only one of the subjects who is aware of the camera. He stares into the lens like the archetype of a wealthy playboy, his eyes concealed behind big, dark sunglasses.
The boy's face is blurred, complying with French law on protecting the privacy of children of suspected criminals. His father is Arnaud Mimran, who is considered by French prosecutors to be the "brains" behind one of the biggest frauds in history. In Europe it has been called "the scam of the century."
The trial of Mimran, who denies all of the allegations against him, will begin in Paris on May 2. He is out on bail of 100,000 euros, after spending 10 months in jail awaiting indictment, on charges including extortion, in a different case. Police are also investigating his possible involvement in other cases, including the mysterious murder of billionaire Claude Dray, his ex-wife's father.
The photograph of Mimran relaxing with Netanyahu on the French Riviera was published this week by journalist Fabrice Arfi on the investigative website Mediapart, whose previous scoops include the Liliane Bettencourt scandal and the Swiss bank accounts of Jerome Cahuzac, a former junior budget minister in the French Finance Ministry. In a series of articles slated to be published over the coming weeks, whose details were shared with Haaretz, Mediapart will claim that Mimran benefited from wide-ranging connections that managed to delay his trial until now.
The first name Mediapart mentions is that of Israel's prime minister.
"From the evidence I have collected it is clear the Mimran family regularly donated money to the Likud movement in France, and Arnaud Mimran took care to tirelessly cultivate this connection," Arfi wrote.
How? According to the Mediapart investigation, since the early 2000s the Mimran family has loaned Netanyahu the use of an enormous apartment on Avenue Victor Hugo, in the heart of Paris' 16th Arrondissement. Throughout this period, and certainly at the time of their joint vacation in Monaco, Mimran was already suspected of many crimes. He was convicted of tax offenses in France in the late 1990s, and in 2000, three years before his vacation with Netanyahu in Monaco, he was investigated on suspicion of insider trading in the United States and agreed, together with his partners, to pay a fine of $1.2 million.
According to the current indictment, which will be read out in a Paris court on May 2, Mimran and his partners stole at least 282 million euros from the European Union over the course of 10 months, from summer 2008 to spring 2009. Let's pause for a moment over the fluid definition of the charge sheet, "at least 282 million euros." If that's the minimum, what's the maximum? According to a report by an investigating magistrate, a copy of which was obtained by Haaretz, the sum that went missing from the French republic's coffers is 1.6 billion (1,600,000,000) euros.
Why is Mimran being charged only now in a case that the French police began investigating eight years ago? The first explanation is that some of Mimran's possible partners in the conspiracy, including his former father-in-law, were murdered, and the crimes remain unsolved to this day. Another reason the French police had so much trouble getting their hands on Mimran's partners is that those who weren't murdered exploited the Law of Return to immigrate to Israel, even before Netanyahu urged Parisian Jews to leave France and move to Israel "for the sake of your personal security."
How did Mimran manage to steal hundreds of millions of euros in such a short time to begin with? According to the indictment, very easily.
In 2005, most of the nations of the world decided, as part of the Kyoto treaty for reducing carbon emissions, to allow industrialized states to trade carbon emissions permits. A country that had reached its allotted cap for carbon emissions could buy permits for additional emissions from countries that did not use their quota.
After this agreement — which Israel also signed — was concluded, France decided that all trades in carbon permits within its borders would be subject to value-added tax. Warnings by United Nations economists about the dangers of creating nonuniform conditions for global carbon trading had no effect; in 2007, the French Finance Ministry began collecting VAT on carbon trades carried out in France.
The trades were conducted on a special exchange called BlueNext, with brokers earning the standard 2-percent fee. People like Mimran had no trouble identifying the loophole that allowed them to turn 2 percent into 20 percent. "It was like leaving a Ferrari in a dark street with the key in the ignition," one of the accountants involved told the investigating magistrate.
According to the indictment, Mimran bought hundreds of tons of carbon emissions permits on credit from industrialized states that did not collect VAT on them, like Holland. He then sold them back to France with VAT added, through bank accounts in Dubai, Hong Kong, Beirut, Tel Aviv and the Virgin Islands — a huge carnival of fictitious deals that sometimes passed through over 100 shell companies that were opened and closed within the span of two days. When the swindlers received the sales payments from France, including the 18-percent VAT, that 18 percent disappeared into the banking labyrinth.
After 90 days, the maximum period for paying VAT on exchange trades, the tax authorities began going after the VAT, plus fines. But at that point, they discovered that the company which had signed the VAT receipt had gone bankrupt, and its directors were homeless people or people who didn't exist.
One of the partners who was arrested, and will stand trial alongside Mimran, is Marco Mouly, a Tunisian Jew with a long history of misdeeds. He opened many bank accounts in Tunisia and Cyprus that were used in the scam. Though he told investigators during questioning that his share in the fraud amounted to only 1.4 million euros, unexplained assets worth much more than that were found in his possession.
In 2012, Mouly loaned four million euros to one Thierry Leyne, a French-Israeli financier who was a business partner of former French finance minister and International Monetary Fund chief Dominique Strauss-Kahn. On October 23, 2014, Leyne leaped to his death from his 23rd-floor apartment in Tel Aviv's Yoo Towers.
Another Israeli who appears in Mediapart's investigation as one of Mimran's influential connections is Netanyahu's unofficial representative in Paris, Meyer Habib. A jeweler by trade, Habib is a member of the French Parliament and chairman of the Friends of Netanya Academic College. He has great influence over Netanyahu's schedule of meetings, both personal and official, in France.
According to the investigating magistrate's report, Habib's jewelry firm made a special rose-gold ring for Mimran that was embossed, intimidatingly, with a skull. On September 14, 2010, Mimran sought to give the ring as a gift to one of the key witnesses in the investigation against him: Sammy Souied, an Israeli from Herzliya who was a suspect in a 2005 case involving money laundering at Bank Hapoalim's Hayarkon branch in Tel Aviv.
Souied had a less romantic goal: He asked Mimran repeatedly for 30 million euros, his share in the scam according to Souied's own calculations. Souied flew to Paris for one day to convince Mimran to pay him the money without delay.
After an early-morning flight from Ben-Gurion International Airport, Souied met with Mimran twice, at two different Parisian cafes, but without success. The two agreed to meet a third time that evening, before Souied's return flight to Israel. The meeting was set for 8 P.M. in Porte Maillot, not far from the Arc de Triomphe.
Souied arrived on time. Mimran was three minutes late. He began walking toward Souied, holding the ring, when a motor scooter with two passengers pulled up. The man on the back pulled out a pistol with a silencer and fired six bullets at Souied, who died on the spot. Police found the ring with the skull next to his body, mute testimony to the rules of a criminal organization whose path, whether by chance or not, crossed that of too many other people, including the prime minister of Israel.
The Prime Minister's Office said in response that, "the innuendos in this report are false and ridiculous. For many years now, there has been no connection between the Netanyahu family and the Mimran family. The meetings in question, in France, occurred when Mr. Netanyahu was a private citizen. At that time, the Mimran family was well-known and respected in France and there were no legal allegations against it. Netanyahu didn't ask for anything from, didn't receive any contributions from and didn't give anything to the Mimran family. It goes without saying that he didn't intervene in any legal proceeding in which it was involved."
Click the alert icon to follow topics:
ICYMI
Ken Burns' Brilliant 'The U.S. and the Holocaust' Has Only One Problem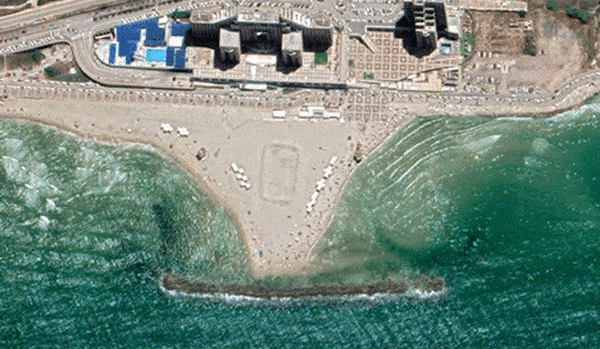 Facing Rapid Rise in Sea Levels, Israel Could Lose Large Parts of Its Coastline by 2050
Lapid to Haaretz: 'I Have Learned to Respect the Left'
The Mossad's Fateful 48 Hours Before the Yom Kippur War
As Israel Reins in Its Cyberarms Industry, an Ex-intel Officer Is Building a New Empire
How the Queen's Death Changes British Jewry's Most Distinctive Prayer