Netanyahu, Lapid and BDS All Win the Battle of the London Underground
The manufactured hysteria over a handful of posters on the Tube proves once again that anti-Israel activists are useful idiots for Israel's politicians.
One of the anti-Israel posters placed in London's underground trains.
Credit: Israeli Embassy
Israel Apartheid Week got off to a rocking start in London on Monday, all thanks to the ego-driven statements by Israeli politicians.
The annual jamboree of anti-Israeli agitation on campuses rarely concerns anyone beyond the usual awkward squad of malcontents and impressionable students (and of course Jewish students who find themselves targeted on campus for being "Zionists"). This time, however, a stunt was designed to gain wider attention.
On Sunday, activists put up in Underground carriages illegal ad posters denouncing Israel, not to mention the BBC for allegedly underreporting Israeli war crimes. They also took issue with the nonexistent British arms used by Israel to kill Palestinian civilians. (Israel only buys a few million pounds of electronics for military use and no British arms, but the facts don't bother them.)
The activists claim to have put up 150 posters, which probably means it was much less. And even if that number was close to accurate – since the posters were put up in groups of four and the Tube has around 4,000 train carriages – a typical rush-hour passenger's chance of seeing an anti-Israel poster was less than one in a hundred.
But of course the posters weren't the point – photographs on social media was. And it worked beyond the activists' wildest dreams.
As soon as images of the posters went up on Facebook and Twitter, they were seen by Israeli officials who monitor anti-Israel websites and social media. The Israeli Embassy in London was aware of it by Sunday night and notified Transport for London, which by Monday morning had verified that the posters were illegal, as the activists haven't paid for the advertising space. The posters were removed by TfL employees, as would happen for any unauthorized advertisement.
Beyond a brief stir on social media, the saga would probably have ended there if it weren't for the local Jewish media and a few London-based Israeli reporters who also follow anti-Israeli social media. They rushed to file breathless reports on how the Underground had been "filled" with the posters.
Monday morning being a slow news period in Israel, the reports featured prominently on websites and on the radio. Yair Lapid, leader of the Yesh Atid party and in the absence of a full-time foreign minister masquerading as Israel's unofficial one, rushed to boast at the weekly meeting of his party's Knesset members.
"Since the Israeli government as usual hasn't done anything about this, I approached London Mayor Boris Johnson, who's a great friend of Israel, and explained that the State of Israel will not accept this," Lapid said. He said Johnson had immediately made it his business to enquire about the matter and order the posters removed.
It's the EU, stupid
Lapid's account is risible on so many levels. For a start, the government, through its London embassy, had been on the case for hours already.
And if Lapid really had any idea of what was going on that day in London, he would have known that the last thing Johnson would have time for was a few posters on the Tube. Johnson was readying for the fight of his political life in the House of Commons against Prime Minister David Cameron, having the previous night announced he would oppose Cameron over the referendum on Britain's membership in the European Union.
Even if he had had time, the mayor of London's rather limited powers don't extend to ordering advertising removed from the Underground. But facts obviously didn't matter to Lapid in his pursuit of a headline, which of course mattered deeply to the man Lapid hopes to replace, prime minister and acting foreign minister Benjamin Netanyahu.
Stung by the accusations of inaction, Netanyahu quickly appeared on television saying he had spoken with the Foreign Ministry's director general, Dore Gold (who as luck would have it was in London for the annual strategic dialogue with the British government). Netanyahu "asked him to immediately approach the British government. Anyone who claims we're not acting isn't telling the truth."
Netanyahu's claims were every bit as ridiculous as Lapid's. The London embassy didn't need him or Gold to act. And the British government wouldn't concern itself with illegal advertising on the Tube any more than Mayor Johnson would. The exasperated Israeli diplomats in London who believed they had dealt with the issue quickly saw it balloon beyond their control into a fight between Netanyahu and Lapid over the honors for winning the battle of the London tunnels.
At that point the British media, alerted by their correspondents in Jerusalem, decided that a few posters on the Underground, the likes of which had appeared before, were hardly worthy of their attention. But a high-level Israeli political squabble over those posters was a juicy story that quickly featured on their websites.
A simple anti-Israel gimmick had succeeded beyond its perpetrators' wildest dreams and gained Israel Apartheid Week the kind of publicity it had never enjoyed – just what the Israeli diplomats had almost prevented.
Manipulating the hysteria
Netanyahu and Lapid of course didn't care. They both got headlines in their favorite papers the next day – Netanyahu in Israel Hayom and Lapid in Yedioth Ahronoth – for forcefully challenging "Israel's haters underground," as one headline put it. Everyone could claim victory.
One thing that the farcical battle for the Underground tunnels demonstrates very clearly is that the boycott, divestment, sanctions scare has very little to do with the actual Israel-Palestine conflict. And it isn't really about the activists on the streets of London and other Western cities.
It's all about the hysterical Israeli media and the Israeli politicians manipulating that hysteria to further their agendas. Except for a few Jewish students who've been victimized on campus under the guise of "anti-Zionist activism," a handful of Israeli academics who've had problems winning research fellowships at certain British universities, and of course hundreds of Palestinians who've lost their livelihoods when Israeli companies under pressure moved their factories from the West Bank to inside the Green Line, BDS hasn't caused lasting damage to Israeli interests.
Governments in America and Europe have either passed, or are in the process of passing, anti-boycott legislation and have come out forcefully against it. And even without this government intervention, it's not having a major impact beyond the small circles of radical-left cyberactivism.
So why does the Israeli government dedicate upwards of 120 million shekels ($31 million) annually to "fighting BDS" and this week convened an "emergency" and "secret" conference with Jewish representatives to discuss ways to face a challenge no more than a mirage conjured up on the Internet?
The answer is that BDS is just a convenient foil for the Netanyahu government to fuel the "entire world is against us" narrative that's the ultimate excuse not to address the lack of a solution to a nearly 48-year occupation. And it's not just the right-wing government that needs to keep the phantom demons of BDS in business.
For the Israeli left, BDS is an essential threat to Israelis, just like the "international isolation" and "diplomatic tsunami" that they are forever warning is about to crash down on us if we don't get out of the West Bank settlements. The left, which has failed to engage with the wider Israeli public, prefers threats about external pressure over trying again to convince the only ones who can ever end the occupation – the Israeli voters.
BDS is a godsend to Israel's jaded politicians and will continue during Israel Apartheid Week and every other week to serve as extras in this country's tragedy, the useful idiots of its failed leadership.
Click the alert icon to follow topics:
ICYMI
Ken Burns' Brilliant 'The U.S. and the Holocaust' Has Only One Problem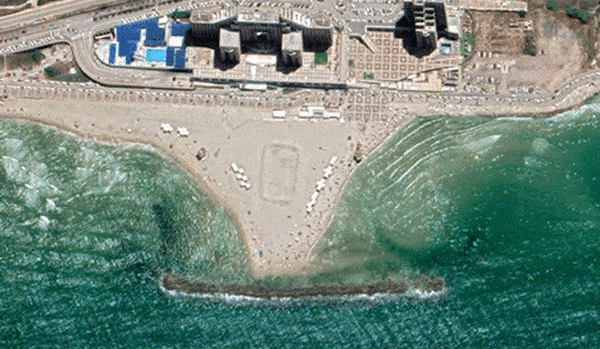 Facing Rapid Rise in Sea Levels, Israel Could Lose Large Parts of Its Coastline by 2050
As Israel Reins in Its Cyberarms Industry, an Ex-intel Officer Is Building a New Empire
How the Queen's Death Changes British Jewry's Most Distinctive Prayer
Chile Community Leaders 'Horrified' by Treatment of Israeli Envoy
Over 120 Countries, but Never Israel: Queen Elizabeth II's Unofficial Boycott