Samir Kuntar in 1995 Interview: We Have to Accept Israel as a Fact
After his release from prison in 2008, Kuntar set up terror cells against Israel. But in 1995, he said the decision to attack civilians was a mistake. Following Kuntar's assassination, we republish the interview he gave Haaretz.
Samir Kuntar attending a rally at Ain al-Tineh village on the Syrian side in the Golan Heights, opposite Majdal Shams, in November 2008.
Credit: Reuters
This interview was first published in Haaretz (Hebrew edition) in 1995
Sixteen years after the terror attack in Nahariya that killed Danny Haran, his 4-year-old daughter Einat and policeman Eliyahu Shahar, Samir Kuntar says, "The decision made in the 1970s regarding attacks against a civilian population, based on the claim that the residents are part of the military apparatus, was a terrible mistake."
The other victim of that attack, 2-year-old Yael Haran, was accidentally suffocated to death by her mother Smadar, who was trying to keep her from crying while hiding from the terrorists. The four terrorists, led by Kuntar, sailed from Lebanon in a rubber dinghy to the northern Israeli coast on April 22, 1979, seeking to take hostages. They were hoping to delay implementation of the Camp David Accords and exchange the hostages for prisoners jailed in Israel.
Two of the terrorists were killed and the other two – Ahmad al-Abras and Kuntar – were captured. After they confessed to belonging to the Palestine Liberation Front and infiltration with the goal of taking hostages, they were both sentenced to five consecutive life terms and 47 years in prison. The two men never confessed to murdering Danny Haran or his daughter. Kuntar testified in Haifa District Court that he and his comrades took Einat Haran as a hostage to ensure their safe return to Lebanon. He claimed the Israeli army was responsible for her death and that an Israeli solder hit Einat with two bullets.
Abras was one of 1,150 terrorists released from jail in the 1985 Jibril deal. Kuntar, a Druze with Lebanese citizenship, remained in a Be'er Sheva jail. He committed the Nahariya attack at age 18. He claimed his parents had both been killed in Israeli airstrikes when he was 12 – his mother in Tripoli, his father in Beirut.
Kuntar testified in court that the goal of his organization was to fight the Zionist enemy until the expulsion of the final Jew. "Of course I will try to kill every Israeli," he said. "We are at total war – until we destroy the Zionist entity and establish a Palestinian state from the sea to the river."
But his outlook has changed radically in recent years. Kuntar started studying political science at the Open University and his introduction to the Jewish Holocaust changed his worldview. "I started that mission with this enormous baggage of hate," he said this week in fluent Hebrew, talking to Haaretz from his Be'er Sheva prison.
"This is your biggest mistake," he declares: "Theology enlists people to hate blindly – both on the Israeli and the Arab side. If instead of talking about the Promised Land you would find a way to introduce into the Palestinian education system – for which you are responsible – the horrors of the Holocaust, the history of Jew-hatred from the days of the Romans until the Nazi era, I have no doubt everything would be different. We never recognized Jewish suffering. We saw an entire people being thrown out, and a prosperous country thriving at its expense."
Were you willing to open up to something that would change your mind about the Israelis?
"Absolutely not. I didn't want to listen, and I didn't want to know. I continued my struggle in jail. I learned Hebrew, that's true. I read newspapers. I heard the radio. I watched television. I learned a lot about Israeli society. I felt great anger and great hatred, which I had no intention on ever giving up."
But you started seeing a shared destiny between Jews and Arabs?
"To some extent. I also see that what happened to the Jews in Europe in the 1920s and '30s is happening today to Moroccans and Algerians in France, and Turks in Germany. This indicates that the process can be repeated against other Semitic peoples.
"You have to accept Israel as a fact, in order to move on and not return to the cycle of losses. The message to the coming generations, especially the Palestinians, is that you have to include presenting the suffering of the Jewish people. Without this, it's impossible to develop any empathy toward Jews."
You could be saying these things to secure an early release, the cynical assumption being that Israel cannot remain indifferent to such talk about the Holocaust.
"I am well aware that such claims will not help me get released. My release depends strictly on certain processes tied to the continued implementation of the peace agreement."
Did this change happen of your own volition, or did someone else inspire you?
"It was a process of self-indoctrination. I read to understand, not to get a degree, but I was influenced. And if the impact is positive, then why not?"
But it took away your hatred.
"It's fine. We, the Palestinian people, need to do some soul searching. The decision taken in the 1970s to carry out attacks against the civilian population was a terrible mistake. Once we decided to hurt the civilian population, that gave our youth the legitimacy to murder many innocent Palestinians during the intifada. As a result, a norm of indiscriminate murder developed among us."
Did you condemn the terror attacks on Dizengoff Street [1994], the Beit Lid junction [1995] and Kfar Darom [also 1995]?
"I don't deal in condemnations, but my opinion is well known. I organized prisoner signatures calling for the immediate release of Nachshon Wachsman." [Wachsman was an IDF soldier kidnapped by Hamas in October 1994 and murdered six days later during a failed Israeli rescue attempt.]
In 1985, the Achille Lauro cruise ship hijackers demanded your release. Would you be prepared to be released from jail as a result of such terror activities?
"Under no circumstances. I hope to be released as part of the peace process, not the result of a terror attack. Shame if prisoners get out of here because of an act of bargaining. Prisoners who get out of here as a result of bargaining will tell Arafat, 'Go to hell, you and your peace process.'"
Are you aware of the distinction between regular prisoners and those with blood on their hands?
"I find this a very cynical distinction. There are people here who have been imprisoned for 20 years, members of Hamas, but they are enthusiastic supporters of the peace process. They have tremendous influence on the street."
Do you regret the action in Nahariya?
"It's not a matter of regret, and I don't like using these weepy terms. It is inappropriate for the subject. What you had then was a long, vicious cycle, which cost many victims on both sides. It needs to stop. Force didn't help. The conclusion everyone needs to reach is that the future is in the peace process."
Sixteen years ago, you said you didn't believe Yasser Arafat would ever recognize the State of Israel.
"That was 16 years ago."
What is your position regarding the demand to annul the section in the Palestinian charter calling for the destruction of Israel?
"Ultimately it needs to be annulled. In principle, the sting was removed when we recognized Israel. I support annulling this section as part of a process that would lead to establishing a Palestinian state. The clause calling for the destruction of Israel is not a sword that is killing people daily. It exists as a symbol, as a relic of the period of our poetic slogans, and it is a given that it needs to be annulled."
Danny Haran, may he rest in peace, was a left-winger. He managed the Gibor factory in Ma'alot [on the Lebanese border] and his dream was to establish a joint Jewish-Arab community. Did you know this?
"I am hearing this for the first time. It's too bad. I am shocked, it really saddens me."
If you knew these things then, would it have changed anything?
"The way my thinking was then, it would not have mattered. But now, it is very difficult for me to hear this. I'm not saying that we're righteous and didn't do anything. They didn't come to us in Lebanon, we came to them in Nahariya. We are guilty of a terrible thing that happened. But from here to accusations that we crushed a little girl's skull is a huge difference."
Click the alert icon to follow topics:
ICYMI
Ken Burns' Brilliant 'The U.S. and the Holocaust' Has Only One Problem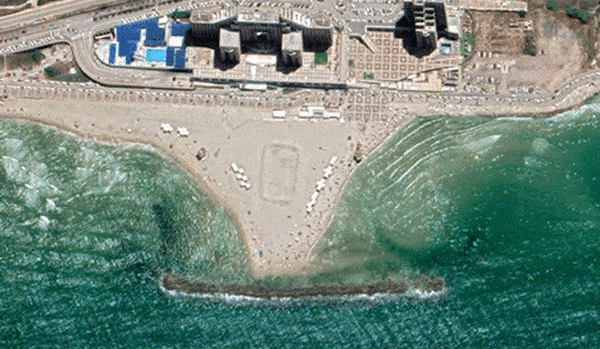 Facing Rapid Rise in Sea Levels, Israel Could Lose Large Parts of Its Coastline by 2050
As Israel Reins in Its Cyberarms Industry, an Ex-intel Officer Is Building a New Empire
How the Queen's Death Changes British Jewry's Most Distinctive Prayer
Chile Community Leaders 'Horrified' by Treatment of Israeli Envoy
Over 120 Countries, but Never Israel: Queen Elizabeth II's Unofficial Boycott