What Israelis Call Palestinians and Why It Matters
Some Israelis don't use the word 'Palestinians,' believing that doing so plays into Arab plans to destroy Israel.
Arab rookies lining up in a barracks square in Palestine, Dec. 28, 1940: Both they and the local Jews were called "Palestinian."
Credit: AP
The Israeli media is not uniform in their definition of the assailants behind the recent wave of stabbing attacks. Mainstream Israeli outlets identify the perpetrators as "Palestinians" but religious sources call them "Arabs." So, how did this shibboleth come about and what does it signify?
In British Mandate Palestine, all residents, Jewish or Arab, were called "Palestinians." Thus, the two groups were distinguished not by Israeli and Palestinian, but by "Jewish" and "Arab." This designation persisted after the State of Israel's establishment in 1948: Arab citizens of the state came to be called "Arab Israelis." The hundreds of thousands of refugees who either left on their own accord or were expelled were called "Arab refugees."
The refugee problem was the major diplomatic issue on the table during the state's first decade. The Arab states and the international community demanded that Israel repatriate the refugees - about 700,000 of them. Israel refused.
"The Arabs who fled across Israel's borders are not considered Israeli citizens by us - not in the past, not in the present, and not in the future," Israeli Foreign Minister Moshe Sharett stated in 1950. "We believe that the Arab war against Israel has permanently changed their status."
Note that Sharett called the refugees "Arabs," not "Palestinians." This was not due to bias: at the time, they were not called "Palestinians." The term used was "Arab refugees of Palestine," a term sometimes truncated to "Palestinian refugees." (When reporting on these refugees, Haaretz usually referred to them as "Arab refugees" too, though occasionally one can find reports using "Palestinian refugees.")
Only when the Palestinian Liberation Organization was established in 1964 did Palestinians began to be widely called "Palestinians" by the international community and world media. Israeli newspapers gradually began to follow suit during the 1960s.
What exactly are Palestinians?
When Israel gained control of the West Bank and the Gaza Strip in the Six-Day War in 1967, the people living there began to be called "Palestinians" as well, which started a debate in Israeli society lasting to this very day - What exactly are Palestinians?
Michael Asaf, one of Israel's first Arabists, dedicated an article to the subject in February 1968: "What is the nature of these Palestinians? Is there a 'Palestinian nation' like the Egyptian nation or even the Syrian, Iraqi or Lebanese nations? The answer is no. The only 'nation' one can liken them to is the 'Jordanian nation' whose history begins in about 1920. The Arabs that lived west of the Jordan up to the Mediterranean coast called themselves the sons of 'South Syria.' And even that designation was only a recent contrivance. The 'Palestinian entity' only begins with the approval of the British Mandate, that is, in 1923."
Prime Minister Golda Meir said much the same in 1969: "There were no such thing as Palestinians. When was there an independent Palestinian people with a Palestinian state? It was either southern Syria before the First World War, and then it was a Palestine including Jordan. It was not as though there was a Palestinian people in Palestine considering itself as a Palestinian people and we came and threw them out and took their country away from them. They did not exist."
The world was unconvinced. In December 1970, the General Assembly of the United Nations voted for Resolution B-2536, recognizing the "inalienable rights of the Palestinian People." Since then Palestinians nationhood is nearly universally accepted.
Eyes in his head
The Israeli government remained firm in its refusal to recognize the existence of a Palestinian people. Some opposition to this policy arose, notably by newspaper publisher-turned-lawmaker Uri Avnery and other left-wing intellectuals. But the opposition only became more mainstream after the 1973 Yom Kippur War. A notable example is Amnon Rubinstein, who in 1974 quit his job as dean of the Tel Aviv University law school to co-found a new centrist political party called "Shinui" ("change").
"Anyone with eyes in his head," Rubinstein wrote in an op-ed published by Haaretz, "knows that Palestinian nationalism is an existing fact, expressed in a hundred and one ways: in writing and orally, in action and in desire, in outward expression and in internal sentiment. It matters not whether this new nationalism has equal rights with ours, and it makes no difference if it is deserving of international attention or not. What matters is that it arose and came about and became a reality - and the fact that its existence was spurred mostly by our existence, and its conflict with the Zionist enterprise has no bearing whatsoever on its existence."
Menachem Begin, an outspoken opponent of recognition of Palestinian nationhood, was voted prime minister in the 1977 election and summed up his view on the subject in an article published in Maariv in 1970:
"If a Jew, or a Zionist, a minister or spokesman, acknowledges the Palestinization of the Jewish-Arab conflict, he still has no authority to determine that Israel ends here and Palestine begins there, or vice versa. He has accepted our enemies' main argument. He has betrayed that of his own people. If this be the Land of Israel we have returned to it. If it is Palestine, we have invaded it. If Eretz Israel it be, we have established legitimate rule throughout it; if it be Palestine, our rule is not legitimate in any area of it."
Come the 1980s, a growing number of Israelis began to accept Palestinian nationhood. Prime Minister Shimon Peres announced that he recognized the Palestinian people in April 1986, but Yitzhak Shamir, who would replace him as prime minister that October, saw things very differently.
To Shamir, "Palestinian nationhood" was a sophisticated invention by the "Arabs" devised to destroy the State of Israel. He elaborated the theory at a conference in 1989: "Is our problem Israel and the Palestinians? No, we would have settled it with them long ago. Who waged the wars? Who is the danger? The Arab countries. They used to talk about throwing us into the sea. Today they don't say that, they have become more sophisticated - self-determination for the Palestinians, and [world] favor goes to them. But if we look at reality, it hasn't changed. The Arabs are the same Arabs, controlling 22 countries, Israel is a small nation with many problems, and the sea is the same sea. The objective has remained the same - the destruction of the State of Israel, even if they call it 'self-determination,' which is a play on words."
In the 1990s, with Yitzhak Rabin at the helm, Israel began direct negotiations with the Palestinians. Many thought peace was at hand. But some Israelis saw this as exactly the betrayal that Begin warned of in 1970 – and one of them, Yigal Amir, took matters into his own hands and assassinated the Israeli premier.
Today, most Israeli newspapers (and literature) refer to the Palestinians as "Palestinians," as they have since the 60s; religious newspapers continue to cling to the old designation as "Arabs."
Does this mean that most Israelis have accepted Palestinian nationhood? That cannot be categorically stated.
An unscientific glance at social media seems to indicate that "ordinary" Israelis refer to Palestinians as "Arabs" more than they do as "Palestinians." That could indicate that the majority of Israelis still regard the conflict as a Jewish-Arab conflict, not one between Israel and the Palestinians. If that's true, it's worrying. The words people use to describe conflicts may determine the way they think about it.
If the conflict is between Israelis and Palestinians, a two-state solution seems reasonable. But if it's an Arab-Jewish struggle, it seems reasonable that Arabs get to keep their giant realm stretching 22 countries from the Atlantic to the Indian Ocean, and that the entire Land of Israel - a speck of dust in comparison - remain in Jewish hands.
The difference is not only spatial, but temporal too. An Israeli-Palestinian conflict could be seen as lasting 100 years, at the most, which means it is quite reasonable to see it ending soon. But a conflict between Arabs and Jews could be seen - and is by many - as lasting from biblical times, from the conflict between Jacob and Esau, through the time of Muhammad, to our very day. There is no reason to believe that a conflict spanning millennia should end anytime soon.
Prime Minister Benjamin Netanyahu's recent comments ("I'm asked if we will forever live by the sword — yes") and the Israeli public's apparent acquiescence to it, may be understood as the view through the Jewish-Arab lens. On the other hand, the chagrin of the ever-narrowing Israeli left and of non-Israelis could be understood as arising from their very, very different view of the same conflict through the Israeli-Palestinian prism.
Click the alert icon to follow topics:
ICYMI
Ken Burns' Brilliant 'The U.S. and the Holocaust' Has Only One Problem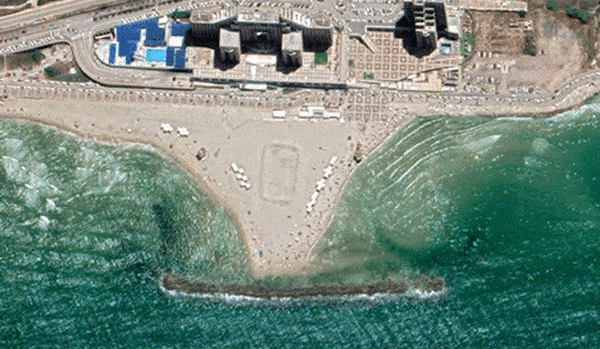 Facing Rapid Rise in Sea Levels, Israel Could Lose Large Parts of Its Coastline by 2050
As Israel Reins in Its Cyberarms Industry, an Ex-intel Officer Is Building a New Empire
How the Queen's Death Changes British Jewry's Most Distinctive Prayer
Chile Community Leaders 'Horrified' by Treatment of Israeli Envoy
Over 120 Countries, but Never Israel: Queen Elizabeth II's Unofficial Boycott