Yitzhak Rabin: A Soldier of Peace, but Not a Nice Guy
What was Rabin's vision? Yossi Beilin has no idea. One of the architects of the Oslo Accords reveals some of the less pleasant aspects of the prime minister's personality.
ARCHIVE – Yitzhak Rabin in Jerusalem, May 19, 1993.
Credit: AFP
A few weeks after Yitzhak Rabin was assassinated in November 1995, then-Econony Minister Yossi Beilin asked to meet with his widow, Leah. "I have to ask you something," he said at her Ramat Aviv apartment. "Perhaps you know what Rabin's political vision was and where he really wanted to go?" Leah laughed. "You are starting from a mistaken assumption," she told him. "At any given moment, Yitzhak saw only two weeks ahead."
Beilin was astounded to hear this from the widow of the Nobel Peace Prize laureate who was killed during his second term in office. Speaking to Haaretz from his Tel Aviv home, Beilin says he isn't sure if Leah Rabin was right, but it does sum him up rather well. Beilin also believes this is a characteristic shared by the current premier, Benjamin Netanyahu. "This is how leaders manage things, from one day to the next. Today, too, you can ask the people closest to the prime minister if they know what Bibi (Netanyahu) wants."
Twenty years have elapsed and Beilin has swapped politics for business. But the question remains, and he still doesn't have an answer to what Rabin's vision and legacy was. "It's terribly hard to say. Mostly, the courage to take a difficult decision, even if it looks unpopular. But beyond that? It's hard to say. [Rabin] had a thesis about dividing the land. That there would be a Palestinian state, probably. That it would have borders. At the same time, he never shared it with us."
Beilin did not like Rabin the man. "I don't want to color his life in a different way because of the assassination and tell myself a story that wasn't true," he explains. "I didn't like him as a politician and leader. He had a combination of shyness and bluntness. I don't know a lot of people like that – on the one hand, so bashful that when he comes to an event he doesn't know where to sit. And on the other, he could say the most awful things to you, straight to your face, without anyone understanding where this was coming from."
Beilin acknowledges that Rabin was "a soldier of peace who, toward the end of his life, took a historic and courageous decision," but qualifies that "this doesn't make him a different person in retrospect."
The first time Beilin met Rabin was in 1967, before the Six-Day War. At the time, Rabin was the IDF chief of staff and Beilin a soldier. "Those were the days of waiting. We were in the Wilderness of Sin and didn't know where this whole thing was going," relates Beilin. "I felt like the government didn't know what to do with us. We stayed there [Sinai] for weeks, which felt to us like years, putting up and taking down camouflage nets. We wanted there to be a war already, damn it. To get this thing over with and win."
One day, a helicopter landed nearby. Rabin emerged from it in a peaked cap. "I didn't get close to him. But even from a distance, the feeling was that at long last here was someone who knew what he wanted. That is my first memory of Rabin," recalls Beilin.
Six years later, before the Yom Kippur War broke out in October 1973, Beilin – by then a correspondent for the now-defunct Labor newspaper Davar – was sent to interview Rabin about labor relations. Rabin had just returned from Washington, where he had served as Israel's ambassador to the United States, and had joined the Labor Party. The interview was held in Rabin's home in the tony Tzahala neighborhood of Tel Aviv, in advance of the possibility that he might enter the next Knesset.
"He said to me, 'What questions do you have? Show them to me,'" recalls Beilin. "I said to him, 'Mr. Rabin, that isn't normal.' So he said, 'I am not going to give an interview otherwise.' I didn't have any secrets, so I showed him. He took a long time to read them, handed the piece of paper back and said, 'These are not good questions.' I didn't know what to do. I had been a member of the Davar editorial board for four years by then and had never encountered a situation like this."
In the end, Rabin relented. "'Ask,' he said, and made me feel like he was doing me a favor," says Beilin.
The questions were from Beilin's beat at the time, the Histadrut labor federation – trade unions, contracts, pensions and the federation's health maintenance organization. Rabin's answers, says Beilin, "were typical of the American right. He talked like a spokesman for today's Tea Party. I was astounded. It was a catastrophe for the Histadrut."
When the interview was over, Beilin told a journalist who had accompanied him that he hoped Rabin would not become a Labor Party MK. However, a year later, Rabin was elected to the Knesset and appointed labor minister. And after then-Prime Minister Golda Meir resigned in wake of the Agranat Commission report into the Yom Kippur War, he was appointed prime minister. Beilin does not have good memories of Rabin's first term. "It was a catastrophe," says Beilin, referring, among other things, to the prime minister's infamous statement about Israelis who left the country being the lowest of the low.
'Peres' poodle'
Beilin attributes this to Rabin's meager political experience. "He had barely been in the Knesset for a minute, held the position of labor and welfare minister for a few months, and already became prime minister. Chief of staff, ambassador, prime minister and a failure," reflects Beilin.
Subsequently, Beilin met Rabin in the political arena when, in the 1980s, he served as a Labor Party spokesman under then-Prime Minister Shimon Peres, and as director general of the Foreign Ministry, and then as deputy foreign minister. In 1990, Beilin was one of the architects of "the stinking maneuver," as Rabin called it, for Labor to topple the unity government with Likud and form their own with Shas. Rabin did not like this and dubbed Beilin "Peres' poodle."
In 1992, Rabin became prime minister again. "To the best of my knowledge," says Beilin, "Rabin did not want Shimon [Peres] in the government. But, apparently under pressure from his associates and fearing that Peres might subvert his moves if he weren't on the inside, he said, 'Better that he be inside the tent. He can be foreign minister.' Rabin's condition was that Peres would not deal with bilateral contacts with the Syrians or Palestinians. He could attend cocktail parties and multilateral talks. That would be enough."
Beilin's presence in the corridors of power didn't give Rabin any pleasure, either. "I was appointed deputy foreign minister with a demonstrative lack of enthusiasm on Rabin's part," he recalls. A short time later, Beilin began to pave the way for a move that changed the course of history – the Oslo Accords.
"Every evening, I would go into Peres' office to bring up a few of the points on the agenda. Appointments, promotions, that sort of thing," relates Beilin. One evening, he wanted to ask Peres to approve an official meeting between Beilin and Faisal Husseini, a Palestinian politician with whom he was friendly.
"I came to Peres at the end of the day," Beilin recalls. "[When I arrived] he was hopping mad. He told me he had asked Rabin to see Husseini, and Rabin didn't grant his approval. Suddenly the penny had dropped for Peres: Rabin meant what he had said and he, Peres, would have nothing to do with the bilateral move.
"It looks like there might indeed be a God," thought Beilin to himself, cynically. "I come to him to talk about Faisal Husseini, but I can't tell him that. I said to myself the only thing I could do was to open a back channel, which they wouldn't know about, and then to come with an agreement on something or other with the Palestinians. That's the story," he says.
Thus, according to Beilin, so began the process that ended in the signing of the Oslo Accords. "Today they present it as though the prime minister decided on a policy, went to Peres and said to him, 'You are my loyal foreign minister, please check it out.' And then Peres went to his loyal deputy minister and said to him, 'Look for a channel overseas.' That may be what should have happened, but Rabin's hatred of Peres, and the decision to keep him out of the process, led to it starting in a different way," says Beilin.
Dispatched by Beilin, Yair Hirschfeld and Ron Pundak began meetings with Palestinian representatives. At a certain stage, the Palestinians wanted to ascertain if the meetings had the approval of the Israeli government. Beilin went into Peres' bureau. "I thought to myself that this was just another attempt that would lead nowhere, that Peres would go to Rabin, and Rabin would throw him down the stairs. But I had to know," he recounts. "Peres went to Rabin and I waited at the ministry – waited and waited and waited – and then he came back and said, 'There's a green light to go ahead.' To my surprise, he did not say no to Oslo."
Get-out-of-jail card
What led to the change in Rabin's approach, to his agreement to hold talks in Oslo? Beilin believes Rabin was glad of the new channel, since he had not kept his promise to reach an agreement with the Palestinians within nine months. "Suddenly someone comes along and tells him there is a paper and there is a partner," says Beilin.
Another surprise awaited Beilin when Rabin agreed to his proposal to talk about mutual recognition between Israel and the Palestine Liberation Organization. "I thought he was very much against recognizing the PLO, but instead he said, 'Look into it on the margins of the talks,'" recalls Beilin.
To keep Rabin up-to-date on developments, a quartet forum was created consisting of Prime Minister Rabin, Foreign Minister Peres, Beilin and attorney Joel Singer. "Rabin didn't trust anyone," says Beilin. "He didn't bring the people [Eitan Haber and Shimon Sheves] into the room who worked with him from morning to night and saw us visiting him every week."
Beilin remembers one time when a disagreement arose about something Rabin had agreed to at a previous meeting and suddenly denied. "He was furious, went red and really attacked us," Beilin says. "With total self-assurance, [Rabin] picked up his James Bond briefcase, opened it, rummaged among the papers in it, fished a certain paper out of there, put on his glasses, and read. The three of us, like children in a classroom, waited for the teacher to finish reading. Then Rabin closed the briefcase and said, 'You are right.' That was unpleasant. However, he didn't play games. The moment he saw he was mistaken, he moved on. He had a kind of integrity accompanied by bluntness."
The rest, as the cliché goes, is history, which reached its public climax on September 13, 1993, at the White House ceremony that included the handshake between Rabin and PLO chairman Yasser Arafat. "Until the last moment I didn't believe Rabin would shake hands," recounts Beilin. "We thought it would be the signing of an agreement between the two heads of the delegations and that Rabin would tell Elyakim Rubinstein, the head of the Israeli delegation to the talks, 'Habibi, take the paper, sign it, don't ask questions,' and that Arafat would do the same with Faisal Husseini."
In retrospect, Beilin believes "the ceremony at the White House created the mistaken and problematic impression of a diplomatic earthquake and an Israeli-Palestinian peace, which isn't what happened. Oslo became much more dramatic than it really was. It wasn't an Israeli-Palestinian peace agreement, to my regret."
Click the alert icon to follow topics:
ICYMI
Ken Burns' Brilliant 'The U.S. and the Holocaust' Has Only One Problem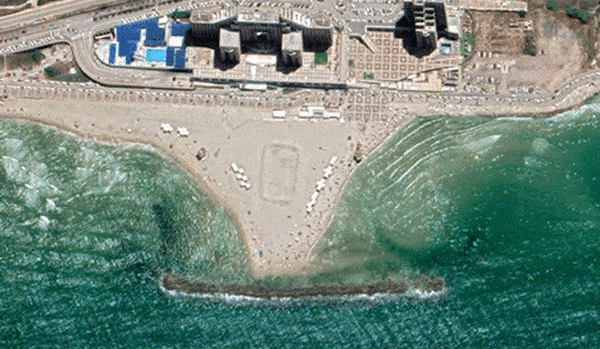 Facing Rapid Rise in Sea Levels, Israel Could Lose Large Parts of Its Coastline by 2050
Lapid to Haaretz: 'I Have Learned to Respect the Left'
The Mossad's Fateful 48 Hours Before the Yom Kippur War
As Israel Reins in Its Cyberarms Industry, an Ex-intel Officer Is Building a New Empire
How the Queen's Death Changes British Jewry's Most Distinctive Prayer