'A Hunger Strike Is a Deterrent Weapon Against Israel'
Khader Adnan, who staged a 54-day hunger strike, explains the difference between saving a life and force-feeding, and dispenses some advice to another striker.
Khader Adnan.
Credit: Alex Levac
We met in the same drugstore in the center of Nablus where we spoke with his wife, Randa, a month and a half ago, on the day he ended his 54-day hunger strike. Khader Adnan was released from prison on exactly the day he had insisted on being released, the night of the 27th day of the holy month of Ramadan (July 12).
Since then he has undergone a series of medical treatments, including hospitalization in four different institutions and one complex operation, in order to repair his body. This is our first meeting. During Adnan's two long hunger strikes, the first three years ago and the second just recently, we only could meet with members of his family – parents, sister, wife – who waged the struggle for his release from administrative detention (arrest without trial) from their home in Arraba, near Jenin.
Waiting for us in the drugstore, which belongs to his wife's family, was a gaunt, weary and pale individual with a weak voice, but one brimming with self-confidence and determination.
Sheikh Khader is convinced that he succeeded in vanquishing the occupation authorities. "The Khader Adnan failure is like the failure of 1973," he says hyperbolically, in a reference to the Yom Kippur War. "My strike showed the world the bad face of Israel, and they turned me into a symbol."
In one of his interrogations in the Kishon detention facility, a Shin Bet security service agent mocked him for having fathered only daughters. Last December, he became the father of triplets, all boys.
During his latest incarceration, Adnan says, he told a senior Israel Prison Service officer, "With God's help I will yet see my boys." The officer replied, "God is busy now in Syria." Immediately upon his release, he had his photograph taken with his six children, and he now says, "Look, Haim Murad [the IPS officer], I was released and I am with my children!"
He speaks a colorful Hebrew, apparently well aware of the role being played by the media in his struggle, and also of the fact that he's a local hero and also known throughout the world. Adnan was put in administrative detention nine times and brought to trial only once. As someone who is identified with Islamic Jihad, he ignores the advice of associates who think he should not be talking with an Israeli media outlet.
Adnan began our conversation by sending regards and thanks to the Israelis who supported the campaign for his release.
"I believe that the Israelis don't see much in the way of international news media," he says, "and therefore we need to break down the wall they have built around themselves, to break the media ghetto they live in. Hundreds of years ago there was a Jewish ghetto in Italy. Now there is a media ghetto whose wall is made not of concrete but of deafness and blindness – except when it comes to what the government wants [people to see and hear]. That is why Israeli society is moving farther right than right. It was the same in my hunger strike. Where was the coverage of the demonstrations? I was talked about in the whole world, and only the Israeli media were silent."
The hardest moment of Adnan's last hunger strike came on the Day 41, when he felt so ill he thought he was going to die. Throughout his hospitalization, his legs were shackled to the bed – except for four days when his condition deteriorated and the shackles were removed – and for part of the time his hands were, too. On the day after he ended his hunger strike, a few days before his release, and while he was still extremely weak, he was again shackled to the bed. Among other things, the shackles prevented him from kneeling in prayer.
"If they were so sure they're right, why didn't they allow me to be photographed in the hospital? Let people see a weak man in handcuffs vomiting, a neglected man, who wasn't even allowed to cut his fingernails for 40 days.
"It was not the room of a patient," he continues. "It was an operational headquarters. There wasn't a moment of quiet. A live audio broadcast the whole time, to four or five places in Israel. They never asked about my health...
"I would vomit blood, and they would only ask why I had to go the washroom. Security is the only thing that interests them. Every 20 minutes a report – at night, too, so I couldn't sleep. Every two hours a report to Central District and every five hours a report to the IPS. People were talking all the time. And eating next to me. Shawarma and pizza with strong smells, and cracking seeds. It went straight to my head and made me terribly nauseous.
"I like food, I like shawarma and pizza. I am a human being. God be blessed, I with my beard and my wife with her veil – we are human beings, like the Jews and the Christians. Hashem [God] gave me love. Love of freedom and dignity, of parents, children, land.
"They asked me what I would do if I were arrested again. I told them: Wait and see. A hunger strike is a deterrent weapon. That is why I was free for 27 months after the first strike. And when I was arrested again, I told them: Don't push me into a corner. I did a seven-day strike as a warning. And then I began the long strike.
"My hunger strike removed the mask and showed the bad face of Israel. The same is true of the force-feeding law, which is inhuman. Where else in the world do they do that? There is a difference between saving a life and feeding by force. When a prisoner says 'I don't want,' that must be respected. If he faints, he must be saved. Not by feeding, only by medical treatment. There is a difference. Three members of my people died in the 1980s from force-feeding in prison. The tube inserted by force into their stomach damaged their health."
Adnan says that once, at the Arab American University in Jenin, he met Mohammed Allaan, a prisoner who has been on a hunger strike for more than 50 days, . He advises him not to crack: "Today you are representing not only our people, you are representing all human beings in the world who love freedom and dignity. You are now an advocate not only for Palestinians, you are for everyone. I love life and so do you. To be released healthy or to be released as a martyr – that is freedom."
He adds, "I know that everyone wants Allaan to live. But we want him living in freedom."
Adnan goes on to give more advice: "Don't take salt or vitamins, that weakens your hunger strike. If you lose, it is not you who loses, the whole nation loses. That is what kept me going. The government sees you: If you are still strong, they won't give you a thing."
Allaan, he says, "needs to reach a critical point, between life and death, [stick] his finger in the mouth of the IPS and the Shin Bet. Whoever groans loses the battle. They have turned many prisoners into symbols of the people. What Palestinian organization would [otherwise] have published a photograph of Khader Adnan around the world? It was because of them."
He suggests comparing the achievements of his earlier hunger strike, of 66 days, in 2011-2012, versus the recent one of 54 days. His victory this time was more powerful, he insists.
Two days after his release he was rearrested, after entering Jerusalem in order to worship there. But he was quickly released. "There was a security breach: Khader Adnan entered Jerusalem. With a beard like Osama bin Laden. Without jumping over the [separation] wall or going under the wall. I also did not disguise myself. And I was not assisted by people from Islamic Jihad. I wanted to enter quietly and pray. I am connected in my heart to Jerusalem. They are afraid of Khader Adnan when he speaks. They are afraid of my tongue. They say I use harsh words. They are afraid of words.
"I talk about freedom. If there were 7,000 Israelis in prison for 'price tag' [offenses committed by Jews against Palestinians, supposedly in retaliation for other acts], I would say: Release 6,000. You are holding 7,000 Palestinians. There are prisoners who have lost their minds. There are sick people, amputees, cancer patients, diabetics who can't harm a soul. I saw a prisoner being lifted from his bed with a crane, like a sack of meat. They release them only when they have two months to live. Not one day more."
Finally, I ask Adnan how much weight he lost and he replies, "Don't ask how much weight I lost, ask how much dignity I gained."
ICYMI
Ken Burns' Brilliant 'The U.S. and the Holocaust' Has Only One Problem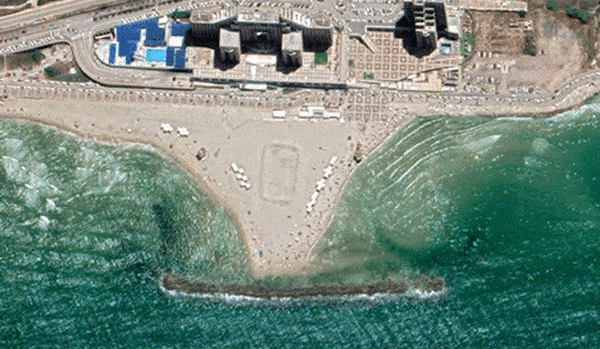 Facing Rapid Rise in Sea Levels, Israel Could Lose Large Parts of Its Coastline by 2050
As Israel Reins in Its Cyberarms Industry, an Ex-intel Officer Is Building a New Empire
How the Queen's Death Changes British Jewry's Most Distinctive Prayer
Chile Community Leaders 'Horrified' by Treatment of Israeli Envoy
Over 120 Countries, but Never Israel: Queen Elizabeth II's Unofficial Boycott