WATCH: Peter Beinart and Alan Dershowitz Spar Over 'Gaza Occupation'
Haaretz's Peter Beinart and Alan Dershowitz debate on CNN whether or not Gaza is currently under occupation and whether or not human rights and individual dignity are universal values.
I'm joined now by Peter Beinart, CNN political commentator and a columnist for "Haaretz," Marc Lamont Hill, CNN political commentator, Alan Dershowitz, longtime supporter of Israel and the author of "Taking the Stand: My Life in the Law."
You guys are back. And so I know it will be an interesting conversation again.
Welcome back. Thank you for joining us.
Peter, to you first. I want you to take a look at a recent CNN/ORC poll. Sixty percent of Americans have a favorable view of Israel. But if we break that down along party lines, Republicans sympathize with Israel more than Democrats. A difference of 18 points. Why is that, Peter?
PETER BEINART, CNN POLITICAL COMMENTATOR: I think it's because most Democrats support Israel's right to exist, Democrats are more willing to acknowledge that there are real human rights concerns about Israel's control of the West Bank, where Jews have citizenship, the right to vote, live under civil law, while Palestinians lack citizenship, lack the right to vote, and live under military law.
I think, because of their generally progressive points of view and sympathy for the underdog, I think Democrats, while still supporting Israel's right to exist, don't support -- are less likely to support Israel's undemocratic control of the West Bank.
LEMON: Yes. It's not -- it's not necessarily the same for elected officials. Because elected officials overwhelmingly, I think, support Israel, don't you think?
BEINART: Is that for me? Yes. I think -- yes. You don't find that same division, public division reflected amongst politicians. And I think that's largely because, for a very long time now, the safe political move has been basically to define being pro-Israel as supporting the positions of the Israeli government.
What I wish Democrats and Republicans would do is define being pro- Israel as supportive of the principles of Israel's declaration of independence, which call for complete equality of social and political rights, irrespective of race, religion and sex. That's the Zionism that I believe in.
LEMON: OK. I want to put up one other poll. Alan, I want to direct this to you.
This is according to Gallup poll, right? Younger Americans are far less likely to say Israel's actions in the Gaza Strip are justified. The younger they are, the less support that they have for Israel's actions. Why would that be?
ALAN DERSHOWITZ, AUTHOR, "TAKING THE STAND": Well, I think the hard left has taken on Israel as a project. And to be invited into the hard, hard left, mostly it's the anti-American, anti-western left, you have to hate Israel.
LEMON: But for younger voters?
DERSHOWITZ: You have to support Hamas.
This is true of people of the left. Now people who are younger want to be associated with the left. And so I think that the figures are very skewed.
I think average Democrats who are not part of the hard left support Israel overwhelmingly. But the Democratic Party is also home to the very hard anti-American left, anti-western left. And so when you include them in the Democratic Party, you see that skewed vote.
Almost every Democrat I know supports Israel as enthusiastically as Republicans do because Israel does in fact have Democratic values. Now if Peter was right, there would be a comparative analysis. Who is more Democratic, Israel or Gaza or Hamas? Who is more supportive of women's rights, Israel or Hamas? Who is more supportive of gay rights, Israel or Hamas.
BEINART: But Alan, none of those people support Hamas.
DERSHOWITZ: You would see people making -- you would see -- well, no -- you'd be surprised how many support Hamas. And let's talk about the Palestinian Authority.
LEMON: I was just going to...
DERSHOWITZ: The Palestinian Authority is not known for its support of these liberal democratic -- I think it's a hard left opposition.
LEMON: OK. All right. I got your point. You guys are -- you guys are sitting there, and you're being very well behaved there. Peter, you're trying to jump in, but Marc, go ahead, jump in there. What is your reaction to what he said? Younger people tend to want to be -- are more liberal and want to be Democrats? So therefore... MARC LAMONT HILL, CNN POLITICAL COMMENTATOR: He's saying -- he's
going a step beyond that. He's saying that they're hard left, that they're anti-west, anti-America, as if to say that to have a critical stance on Israel is to be anti-American.
DERSHOWITZ: It's true.
HILL: That's bizarre. It's a bizarre leap of logic.
LEMON: and is it to be anti-Israel, as well?
HILL: That's the other piece of this that's confusing to me. The truth is, is that you can have a support of Israel's right to exist, as I do. At the same time having a stern critique of Israel for human rights violation against the Palestinian people.
DERSHOWITZ: No, you don't have -- you don't believe in Israel's...
HILL: Alan, Alan.
DERSHOWITZ: You don't believe in Israel's right to defend itself.
LEMON: Let him finish.
HILL: Alan, please. I didn't cut you off once. Let's model democratic values right now and let each other talk.
I actually do agree with Israel's right to exist and to defend itself. But I don't -- I don't frame the argument purely as Israel defending itself. We have to think about Israel as launching an offensive attack.
Israel is launching a siege in Gaza. Israel continues to occupy Gaza by land, air, and sea. That's the issue here.
But to your question, Don, about why young people tend to do this, it's for a few reasons. One, because they have access to social media. If you look at all this data and this aggregated, you see the young people are accessing images of the gross human rights violation, the awful abuses, the awful atrocities that are happening in Gaza. And it's hard to see that and not have a more critical posture against the state of Israel.
It doesn't mean you don't want Israel to exist.
DERSHOWITZ: That's just wrong.
HILL: It doesn't mean you don't want Israel to thrive. It just means that you have a critical stance and you want Palestinians to also live and thrive.
LEMON: OK. All right, all right. Stand by.
DERSHOWITZ: If you want to see...
LEMON: Listen, guys. Alan, I have to get to a break. We're going to continue on with this after the break. Don't worry about it. And up next, we're going to talk about this, as well. The Israelis and Palestinians have been engaged in a conflict since, really, the day Israel became a nation back in 1948. And as we look at these live pictures now of the sun coming up in Gaza, we're going to say -- try to figure out why the tensions are higher than ever now. Why is that? We'll get to that next.
(COMMERCIAL BREAK)
LEMON: The breaking news tonight. Rockets found inside a U.N. school in Gaza. The U.N. has condemned the people who would endanger civilians.
So back with me now is Peter Beinart, Marc Lamont Hill and Alan Dershowitz.
So Alan, I wanted you to finish your thought. But listen, these new cache of rockets being found in a U.N. school, does this bolster the Israeli argument here?
DERSHOWITZ: Well, Israel doesn't need to have its argument bolstered. The facts speak for themselves.
I think almost all the commentators agree that Hamas wanted this war. It initiated this war for its own purposes. Israel didn't want this war. This is a purely defensive war.
If Hamas were to give up its arms, there would be peace. If Israel were to disarm, there would be genocide. That's the reality.
And Hamas hides in the U.N. It hides in schools. It uses its civilians as shields. It wants to maximize civilian casualties among the Palestinians so that Israel's enemies can paint those pictures on television and create the animosity that we talked about in the earlier segment.
The world has to come to realize that Israel is fighting this fight not only for its own survival, but for the survival of western values. This is a new tactic. Using civilian shields, using terrorism against civilians. We have to fight that in a united way. The United States must stand behind Israel and fight this terrorism.
LEMON: Alan -- go ahead, Pete.
HILL: I was going to say, Alan makes a really impassioned and compelling argument. Very little of it is true, though, and that's what I find problematic.
No. 1, this -- this current moment hasn't been initiated by Hamas at all. The pretext for this was -- for this attack was the killing of these teenagers, these three Israeli teenagers.
DERSHOWITZ: That's a pretext. That was a pretext.
HILL: Let me finish.
DERSHOWITZ: They weren't killed, right?
HILL: No, they were killed. But the day before, a Palestinian man and his child were killed. We could use that as a starting point. It's an arbitrary starting point to say that.
DERSHOWITZ: Who. There's a difference between whether Hamas and whether an individual is killed.
HILL: OK. OK. Let's deal with the by whom. According to Israeli intelligence, according to media, according to all credible sources, Hamas didn't kill the three Israeli teenagers. It was done by a lone actor. So if we're saying...
DERSHOWITZ: Hamas members did. They were acting as a local cell on behalf of Hamas, yes.
HILL: Is there a mute button or something here? I mean, Alan! So again, if we're talking about known actors, that's the thing. We can pick arbitrary starting points. None of this is about the killing of teenagers or about a man and his child. All that of is a pretext. At the core of this, again...
DERSHOWITZ: It's about tunnels.
HILL: No, it's about occupation, Alan.
DERSHOWITZ: No, it's about tunnels.
BEINART: Alan -- Alan...
HILL: There wouldn't be -- no, it's not about tunnels.
LEMON: OK, Peter, Peter, go ahead. Peter, go ahead. Go ahead, Peter.
(CROSSTALK)
LEMON: Alan, let him talk.
BEINART: Alan said something particularly disturbing. Human rights, human rights, dignity of the individual, is not a western value. It's a universal value. When people struggle for that...
DERSHOWITZ: I wish it were so.
BEINART: That is -- Gandhi was not from the west. People -- Nelson Mandela was not from the west. I think it's very disturbing to describe these things in civilizational terms.
Secondly, although I would love to see Israel get rid of all of Gaza's tunnels and weapons, it's simply not the case that you can credibly argue that, if Gaza were to be demilitarized, as I would like it to be, that in fact, Israel would be moving toward the two-state solution. Because we've seen -- we've played this out in the West Bank. We've had for several years now a Palestinian leadership in the West
Bank, Mahmoud Abbas and before him also Salam Fayyad, who did security cooperation with Israel, who recognized Israel's right to exist again and again and again. And, instead of getting serious negotiations towards a two-state solution, they have gotten the greatest settlement growth in Israeli history.
LEMON: OK.
BEINART: And that's what strengthened Hamas so dramatically. But you discredit people who practice nonviolence and you lead people into Hamas' hands.
LEMON: Let's look at these tunnels, though.
DERSHOWITZ: Let me respond to this. Let me respond.
LEMON: Hang on, Alan, you can respond. But let me get my question in here.
You mentioned these tunnels, right? Peter mentioned these tunnels there, as well. And this is from al Aqsa, saying that brigades there killed ten Israeli soldiers in this operations. These are the tunnels. Right? I'm trying to get these tunnels.
The Israeli -- the Israel newspaper, "Haaretz," is saying five Israeli soldiers were killed. And again, I have to give a caveat here, because it appears that this video has been edited. So we cannot independently confirm its authenticity.
So Alan, you said this was about -- you said this was about tunnels. But it certainly looks very threatening.
DERSHOWITZ: And rockets.
LEMON: And rockets. Go ahead.
DERSHOWITZ: Well, this is about tunnels and rockets. And when, you know, Israel abandoned and gave up the occupation of Gaza in 2005, there was no occupation. That was the response.
And then in 2007, Olmert offered a two-state solution, and Abbas did not respond. 2001, again a two-state solution was offered, and Arafat -- Arafat refused it. So Israel has repeatedly offered a two-state solution.
The process of negotiation toward a two-state solution is ongoing. But Hamas is sending rockets and sending tunnels. And this is a response to this form of terrorism.
Hamas is hiding its terrorists among civilians. The entrance to the tunnels has been hidden by -- among civilians. And I haven't heard either of these two advocates against Israel's position denying the fact that Israel must close the tunnels, must stop the rockets.
And Israel has offered over and over again, unequivocally, if the rockets stop and if the tunnels are closed, there will be peace.
LEMON: Can you guys agree with that? Can you guys agree with that?
(CROSSTALK)
LEMON: First Marc. First Marc.
BEINART: ... rockets are being fired is ridiculous. If Israel destroys the rockets and destroys the tunnels and yet maintains a blockade that produces more rage and despair amongst young Palestinians in Gaza, many of whose family members have now been killed, people will rebuild those rockets and rebuild those tunnels and visit more attacks on the Israel that you and I love.
LEMON: I do have to say -- I do have to say that you guys are the embodiment of what is happening and why it's so tough for -- to broker any sort of agreement there. It's even tough to just control the conversation. Imagine trying to broker a peace agreement. Thank you, I appreciate you gentlemen again this evening. I hope you'll join us again.
Click the alert icon to follow topics:
ICYMI
Ken Burns' Brilliant 'The U.S. and the Holocaust' Has Only One Problem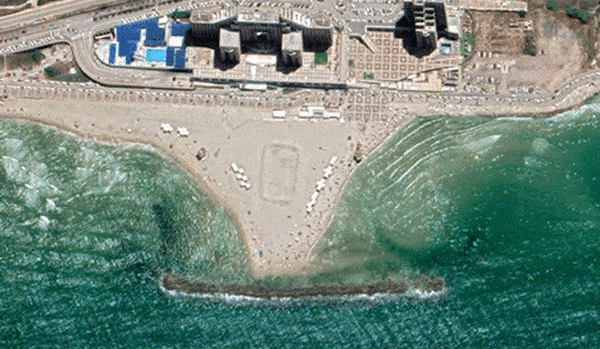 Facing Rapid Rise in Sea Levels, Israel Could Lose Large Parts of Its Coastline by 2050
As Israel Reins in Its Cyberarms Industry, an Ex-intel Officer Is Building a New Empire
How the Queen's Death Changes British Jewry's Most Distinctive Prayer
Chile Community Leaders 'Horrified' by Treatment of Israeli Envoy
Over 120 Countries, but Never Israel: Queen Elizabeth II's Unofficial Boycott