Return to the Wilderness: 'If Israel Doesn't Want Us, We Will Go Back to Egypt'
Gideon Levy and Alex Levac visit the place where hundreds of African asylum seekers protested the conditions at the Holot detention facility, desperately hoping to cross the border.
Nitzana forest, last week.
Credit: Alex Levac
On the morning after, the grove lapsed back into tranquility. A few Bedouin day laborers cleaned up the remains, cut the laundry lines that had been strung up between the trees, and collected the garbage.
Also at the site that morning, having come directly from the Holot detention facility – whose residents are permitted to come and go during the day, on condition that they show up to sign in three times during that period – was internee No. 654 of the Israel Prison Service, aka Mustafa Ramadan, from Sudan. He was at the grove at the request of his friends, who wanted him to try and salvage what he could of the scant belongings they had left behind. He wandered about by foot in the heat of the desert, amid the Ramadan fast, and when we encountered him he was glistening with sweat.
Ramadan hadn't found his friends' money, eyeglasses or cell phones – only a bottle of Abu Shaqra orange-flavored syrup, a few clothes, some blankets, biscuits, a bag of salt and a package of chocolate spread. He bundled it all into a backpack, which he also found at the protest grove. Everything else left behind by the demonstrators had been confiscated by the police before he got there.
Last weekend, Nitzana forest – which is actually a small clump of trees planted along the border with Egypt as "part of an attempt to grow trees in saline water," according to a sign at the site – was the site of a protest by hundreds of African asylum seekers who are incarcerated in the Holot detention facility. Their aim was to reach the Egyptian border and maybe also cross it, having despaired of the conditions under which they are languishing.
Government authorities hustled them toward the grove and gave them 48 hours of sweet freedom. But on Sunday evening, a large police force swept in and evacuated them with brute force. Social activist Haia Noach, who lives in Omer, an upscale Be'er Sheva suburb, wrote on her Facebook page: "This evening was one of my worst days in life. This evening I saw men hunters in action, their salaries paid by us … This evening I saw the ordinary men we meet in the supermarket or market behaving brutally and viciously. This evening I saw dozens of immigration policemen and policemen from the Yoav unit hunting their prey and maybe enjoying it.
"This evening I witnessed the nadir to which Israeli society has sunk, perhaps the lowest point ever ... This evening I saw people from the area who came to watch the horrible show as if it were a TV reality show … I wish I hadn't been a witness to all this."
Noach, who has been helping the Negev Bedouin in their struggle for recognition for years, says she never saw anything as horrific as the evacuation of the African asylum seekers last Sunday.
But nothing remained of all that on the morning after. Ramadan, who had actually opposed the protest action, scrounged around in the sand to find a jailed friend's eyeglasses. The Bedouin went on cleaning up.
Ramadan, 37, has been in Israel for a total of six years. "I have been in Holot for half a year now, but no one has asked me who I am and what I am," he says. "But where did they go, my friends? I said: I am not going to Egypt. Here at least we have food and water – not a lot of food, but there is not a lot in Africa, either. They say there is one person who died here yesterday – is that true? And that six entered Egypt?"
Ramadan clung to the false rumors he'd heard. Afterward, we drove him back to Holot. He was not allowed to take the remains of the food and drink he had found into the facility, and he'd forgotten his IPS No. 654 card among the trees.
"UN, we need freedom," someone has written at the entrance to the detention center.
Late the next morning, a few hundred of the detainees were moved to nearby Saharonim Prison, behind a dense thicket of barbed wire, leaving Holot looking more desolate than ever.
It's hot in this terrifying penal colony that Israel has built in the Negev. Broiling hot, in the expanse between Holot and Saharonim where Africans are incarcerated, and Ketziot, where Palestinians are locked up. The blue-and-white flag flutters proudly in the eastern wind, for the greater glory of the State of Israel, and air force planes scud across the sky. A commercial on the radio urges people to join the ranks of the prison service in the south – Israel needs more and more warders in the Negev.
G., from Darfur (he asked that we not publish his name), emerges from his unlocked cell to meet with us. Six years in Israel, two months in Holot, excellent Hebrew, impressive manner. He managed to escape from the forest just minutes before the Israeli forces rousted his friends. Spotting the convoy of security vehicles, buses and ambulances that was advancing toward the site, he warned the others to leave by phone.
During the two-day stay among the trees, he collected 10 shekels ($3) from each detainee in Holot and bought supplies for the protesters in the nearby Bedouin city of Rahat. On Sunday, too, he brought them hummus, tomatoes, tahini and bread. He had just completed his shopping list for Monday when the forces pounced. He told his friends not to resist arrest, he says.
"We lived in Israel six or seven years before the government decided to put us into Holot," G. adds. "I have friends who went back to Sudan and fled again, without a passport, to refugee camps in Chad, to South Sudan or to Libya. Some of them were arrested in Sudan. I did not consider entering Egypt. I have crossed enough borders in my life.
"The Interior Ministry tells us: Go to Holot," he continues. "In Holot, we are told, there is food, education, a doctor, and you can ask for asylum and we will examine your request. That is what the Interior Ministry told me. Four months I have been here. The food is bad. And a doctor? You go at 8 in the morning, wait until 4, and don't get to see him. Many people and one doctor. Education? There is one English teacher for 300 people and another teacher of art and one for drums, and that's it. This is for 2,000 detainees. They want to learn.
"And the worst is that [the authorities] are not examining our requests for asylum. They look at two-three a week. You're summoned to an interview of four or five hours, and then you never get an answer, only, 'Go back to Holot.' For how long? 'We don't know.' That is why people did demonstrations."
There's a television in the detention center's club. Those present are watching the World Cup games. G. is a Holland fan. Not Nigeria, not Algeria, not Cameroon or Ivory Coast. Why Holland? Because when he was a boy his father had a fine Dutch cow whose reputation spread far and wide among the local villages. "That is why I like Holland," he says nostalgically.
The cow died long ago, G. has been in exile for years, and only his fondness for Holland remains untarnished. And he knows full well that he will never get to Holland.
A friend of his, wearing a white "American Friends of the Israel Defense Forces" shirt, asks for a handout of 10 shekels. A handful of asylum seekers are sitting idly in the entrance plaza, faint from the heat.
In the Be'er Sheva central bus station, in the meantime, Andat Afwarki, who also participated in the protest, tells us, "If we are not wanted here, we will go back to Egypt and apply to the United Nations Refugee Agency. Maybe they will help us."
When the security forces arrived at the demonstration, he felt he was about to pass out. He's 43 and was previously diagnosed with type 2 diabetes by doctors from Physicians for Human Rights (there are two other diabetics incarcerated at the facility as well). The food at Holot is liable to endanger his life, but he has no alternative.
On April 24, the Hotline for Refugees and Migrants sent a letter marked "urgent" to the Interior Ministry's directorate of enforcement for foreign workers' residency laws, requesting that Afwarki not be incarcerated at the facility, because of his medical condition – but in vain. Some of the medicines he needs are unavailable at Holot, and friends buy them for him in Tel Aviv. He has a document listing nutrition recommendations; the menu at Holot consists of just about every forbidden food that appears on it.
Afwarki has been ill for a year and a half. Now he is also in despair – lost, broken and indigent, his speech barely audible. He has two brothers who were granted asylum in Canada, another in Britain and a sister in Holland.
On Sunday, when the forces arrived, he told the social activist Sigal Avivi, who was there with the asylum seekers, that he felt ill. She managed to get him into an ambulance before the violent evacuation began; he was hospitalized overnight in Soroka Medical Center in Be'er Sheva.
Now he's in the bus station, waiting for a bus to take him back to his prison, holding a can of chickpeas, which he will not be allowed to take inside. It's against the rules.
ICYMI
Ken Burns' Brilliant 'The U.S. and the Holocaust' Has Only One Problem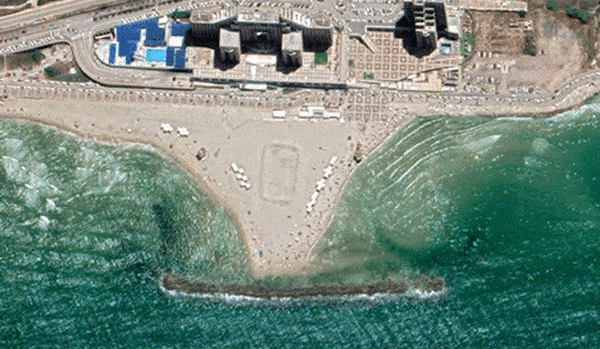 Facing Rapid Rise in Sea Levels, Israel Could Lose Large Parts of Its Coastline by 2050
As Israel Reins in Its Cyberarms Industry, an Ex-intel Officer Is Building a New Empire
How the Queen's Death Changes British Jewry's Most Distinctive Prayer
Chile Community Leaders 'Horrified' by Treatment of Israeli Envoy
Over 120 Countries, but Never Israel: Queen Elizabeth II's Unofficial Boycott