'Booming Culinary Scene': How Israel's Gaza Border Is Turning Into a Foodie Haven
The Israeli communities around the Gaza Strip are generally associated with air-raid sirens and war, yet a food culture has emerged over the past 18 months that is drawing diners from across the country
Clockwise from top left: Nitzan and David Boyman, Lian Mattar and Guy Magen.
Credit: Photos: Eliahu Hershkovitz. Artwork: Anastasia Shub.
For three days early last month, the Israeli communities along the Gaza border found themselves under intense rocket fire. As thousands of residents escaped to safer parts of the country, many of the kibbutzim and moshavim in the area turned into virtual ghost towns.
It wasn't the first time. Since 2008, outbreaks of violence between Israel and Gaza have become almost routine. For good reason, then, most Israelis associate this part of the country with air-raid sirens and war – certainly not food.
And yet, as if to defy this stereotype, a remarkable collection of eateries has cropped up around the region in the past 18 months. Initially, most set their sights on local communities. But as word has spread, they are increasingly drawing customers from other parts of the country.
They tend to keep unusual hours (some are open only one day a week, others just a few hours a day) – a sign, perhaps, that Israelis who live on the border, where life tends to be significantly more stressful, have a better appreciation for work-family balance.
"Most Israelis think the only thing that exists down here are Qassam rockets and mortar shells," says Adi Rozen, a resident of the agricultural community of Netiv Ha'asara who leads food tours of southern Israel. "They are completely unaware of the booming culinary scene until they come and see for themselves."
Rozen set up her company, Sippur Culinary (Culinary Story), four years ago, hoping to introduce out-of-towners to some of the more positive aspects of life on the border. "I felt that there was no better way of doing that than through food," she explains.
Based on recommendations from her and other locals, here are some of the places we visited on a recent culinary tour of the Gaza border...
Knafeh al Usul
True to its name, this Muslim-owned, kosher dessert shop specializes in knafeh – the popular Middle Eastern skillet cake made with threads of noodle-like pastry soaked in an orangey syrup, and mixed with salty white cheese and chopped nuts.
Located in the border city of Sderot, it opened 18 months ago and is the only place on the border to sell this delicacy. In the past, residents of the Gaza border communities would have to drive as far as the Bedouin city of Rahat, in the Negev Desert, if they were suddenly struck with an urge for this sticky dessert that needs to be eaten warm.
The owners are the Mattar family from Nazareth, who moved to Sderot 15 years ago. "My dad has a job with a trucking company at a nearby kibbutz, and so, for a while, he lived down here and we lived up north," relays 17-year-old Lian. "It wasn't a good arrangement, though, because we didn't want to be so far away from our dad, so the whole family ended up following him to the south."
Lian's grandparents own a sweets factory in Nazareth, and for many years Lian and her siblings would beg their father to let them open a place in Sderot where they could sell some of the desserts they had learned from their grandparents.
"The pressure finally got to him," says Lian, the middle of five children.
Lian and her siblings run the knafeh shop, located on a main drag in Sderot, under the supervision of their mom. For that reason, opening hours vary depending upon what time school finishes on any given day. On the day we visited – which happened to be the first day of the new school year – Lian showed up with her 8-year-old sister just after noon. The two girls immediately got to work making a fresh batch of knafeh.
When asked how business is going, she responds with a phrase often used by religious Jews. "Baruch Hashem" ("Thank God"), says Lian. "People warned us that it wouldn't be easy setting up a new business in this town, but you should see what goes on here in the evenings. It's absolutely hopping."
Knafeh al Usul, 36 Hertzl St., Sderot
Galiella Gelato
Hidden away in Kibbutz Urim, this adorable scoop shop opened nearly a year ago. Today, it is the only boutique ice cream place on the entire Gaza border, which explains the enormous crowds on evenings and weekends.
Guy Magen never dreamed that he would one day live on a kibbutz and make a living out of ice cream. (He named the shop after his two daughters, Gali and Ella.) When possible, he uses local products such as fruit grown on kibbutzim in the region. Otherwise, he relies on premium ingredients imported from Italy. The flavors here change frequently, depending on the availability of certain ingredients as well as Guy's mood. Among the exceptional flavors available on the day we visited were ricotta caramelized figs, blue vanilla (the unusual color derived from a crushed flower petal) and berries cheesecake. They were exquisite – not too sweet and not too heavy.
How a professional drummer, who spent many years living in London, ended up at this out-of-the-way kibbutz experimenting with new and exotic gelato flavors has a lot to do the COVID pandemic – as well as the violence that erupted in Israel's mixed Arab-Jewish cities last year.
Magen, who grew up in the Tel Aviv metropolitan area, bought himself an ice-cream maker about five years ago to better indulge his lifelong passion for the frozen treat. During the pandemic, when he was stuck at home looking for things to do, he began making ice cream and selling it. Much to his delight, he soon discovered that he could not keep up with demand.
"I bought another machine. And when that wasn't enough, I bought a third," he recounts.
Back in May 2021, when Israel's Arab-Jewish cities exploded in violence, Magen and his family were living in Shoham, not far from Lod, which had experienced some of the worst clashes. Hoping to keep his daughters safe and calm, Magen took them to friends on a kibbutz up north. It was there that he decided, almost on a whim, that kibbutz life was just what the doctor had ordered for him and his family. The following week, he and his wife checked out a number of kibbutzim around the country that were accepting new residents, and finally settled on Urim.
The plan was to move his ice cream delivery business down south with him. "Once we settled, in, I discovered, much to my surprise, that people were willing to come to me for ice cream and I no longer needed to go to them."
After searching around, he found an abandoned building on the kibbutz and turned it into a scoop shop.
Even when most of the area was under siege last month, Magen was working full time. "We had lots of reserve soldiers stationed here on the kibbutz, and they really liked my ice cream," he says.
Galiella Gelato, Kibbutz Urim (off Route 234)
Geula Bar
The Boyman home in the religious moshav of Tkuma overlooks the family-owned vineyards. Guests feasting on the Friday morning brunch served out on the lawn might easily imagine they were picnicking in Provence.
Geula Bar is not a bar in the usual sense. Rather, it is a family-run outdoor restaurant open just one day a week: Fridays, from 8 A.M. to 3 P.M. That's because the proprietors, David and Nitzan Boyman, work full time at other jobs.
Geula is their grandmother. Although she doesn't live in Tkuma or help out with the cooking, she was the inspiration for this place. "My grandmother raised 14 children – four of her own and 10 foster children," says David, who serves as the moshav's security coordinator. "There were always pots of food simmering on her stove top."
The menu features a caricature of his feisty-looking grandma decked out in a flowery dress and sporting sunglasses, a cigarette in hand.
Since the Boyman brothers insist on using only seasonal products, the menu here varies. Most weeks, though, it includes a selection of salads and sandwiches, homemade labaneh, cheese and breads, as well as a weekly special. This week's special was a bruschetta topped with homemade grape jam (made with pickings from the vineyard), feta cheese, a drizzle of olive oil and mint leaves.
David describes the Friday brunch crowd as "a mix of young parents with babies, couples out on dates, and more and more customers from other parts of the country who've seen our Instagram posts."
His wife Ruth and sister-in-law Ela are responsible for Geula Bar's apparently very successful social media campaign.
The latest eruption of violence in Gaza last month began on a Friday afternoon, an hour after Geula Bar closed. Since it is not open during the week, by the time it opened the following Friday, the mini-war between Israel and Palestinian Islamic Jihad was already over. The crowd that showed up that day, notes David, was even bigger than usual.
"After all the stress people were under, they clearly felt a need to get out and treat themselves to something like this," he says.
Geula Bar, 10 Haneyasdim St., Tkuma
Café Basivuv (Coffee at the Turn)
The Black Arrow memorial site, located near Kibbutz Mefalsim, commemorates an operation by Israeli paratroopers carried out against Egypt in 1955. The nearby lookout offers an expansive view of the nearby Gaza Strip. The recently renovated Armistice House, which is also part of the site, is where Israeli and Egyptian delegations held cease-fire negotiations, via UN intermediaries, in the 1950s and '60s.
It is not exactly the sort of place you'd expect to find a food truck.
But Hagai Horwitz, a kibbutznik from Mefalsim, had other ideas. "When I was growing up, many of us from the kibbutzim around here used to hang out at this building when it was still a dump," he says, pointing to the Armistice House. "We had this fantasy that one day we'd open a pub here. This is very close to fulfilling that dream."
Café Basivuv, which is open from 8 A.M. to 6 P.M. daily, offers espresso, fruit shakes, home-baked cookies and cupcakes, as well as made-to-order dishes. The house specialty is shakshouka, a Middle Eastern dish of eggs poached in tomatoes, onions, peppers and spices.
An agronomist by training, Horwitz spent 12 years in Nairobi – where he ran a seed company. After returning to Israel two years ago, he decided he wanted to try something new.
Business is good, he says. In fact, better than he expected.
"I get five to 10 busloads a day here – everything from young American Jews on Birthright trips who want to take in the view of Gaza and veterans of the Israeli Paratroopers Brigade."
Café Basivuv, near Kibbutz Mefalsim (off Route 232)
Oryosss
A career officer, Or Shukrun retired from the Israeli army 18 months ago. While she found her military service gratifying, her true passion has always been food – in particular desserts. Last year, Shukrun took third place in Israel's "Perfect Dessert" competition broadcast on Channel 12.
Judging from a recent visit to her retro-style café on Kibbutz Erez, French-style pastries and desserts are clearly not her only talent. The menu special on the day we visited was lahmajoun – a Middle Eastern flatbread – topped with her unique concoction of cheesy polenta, artichokes and arugula. We haven't stopped talking about it since.
Oryosss occupies what was once a sewing workshop and secondhand clothing store on the kibbutz. "As soon as I heard it was available, I grabbed it," Shukrun recounts.
The café offers both outdoor and indoor dining, the eating space inside featuring a huge picture window overlooking a lush grove. "I got the idea from a hotel where I once stayed in Costa Rica," Shukrun explains. "It had a window with a view like this in the bathroom, and you just didn't want to leave."
The chef and proprietor grew up in Kiryat Gat, a town halfway between Tel Aviv and Be'er Sheva. Her husband is from the north. They met in the army when, by chance, they were both on guard duty at this Gaza border kibbutz. When they decided to tie the knot, says Shukrun, it was clear to both of them that this was where they would make their home.
This gem of a place is currently only open three days a week – Thursdays, Fridays and Saturdays – for breakfast and lunch. But within the next few weeks, the plan is to open for dinner on Mondays through Thursdays as well.
Oryosss, Kibbutz Erez (off Route 3521)
Café Chella
The picnic tables near the food truck parked at Kibbutz Nir Am are more crowded than usual this morning. Rona Vardi, the woman behind this makeshift café, explains that it's because this is the first day of the school year.
"Lots of our customers here right now are parents who just dropped their kids off at school after the long break," she says. "They've come to chill."
Café Chella, which opened a few months ago, was named after a longtime member of the kibbutz who died last year and who used to be in charge of serving coffee at the Nir Am clubhouse. "We thought this would a nice way of honoring her," says Vardi.
The food truck café is open from 8 A.M. to 1 P.M. Sundays through Thursdays, and from 9 A.M. to 1 P.M. on Fridays. The menu consists of staples like coffee, sandwiches and baked goods, but there is a special on offer most days. The day we visited, there were two: a beet, Camembert and onion confit sandwich, and a croissant stuffed with artisan cheese and figs.
In its short existence, Café Chella has come to serve an important function in this rather remote part of the country: providing a work and meeting space for professionals who live on the border but have no office space of their own. "We discovered there was a real need for this," says Vardi.
The proprietor, 32, moved to Nir Am a year ago with her husband and baby daughter. Although she had worked as a bar manager in the past, it was never her dream to find full-time employment in the hospitality business.
Raised in the central Israeli city of Rehovot, Vardi earned her bachelor's degree in archaeology. After beginning a doctoral program in religion (her specialization is early Christianity), she had hoped to pursue a full-time career in academia. Her plans were upended by the pandemic.
"I haven't given up on the idea," she says, during a coffee break in-between customers. "If all goes well, I will finish my dissertation one day."
Café Chella, Kibbutz Nir Am
Kesem
The southern city of Netivot has a bit of an obsession with Paris. Indeed, the centerpiece of its recently opened Paris Center is a giant replica of the Eiffel Tower. It was only a matter of time, then, before someone came up with the idea of opening a Parisien-style café within walking distance of this landmark.
That person is Netivot native Kesem Uzan, whose bustling kosher café, with its pistachio-and-pink color scheme, opened in December. It draws its inspiration, the 21-year-old says, from Ladurée – the famous French producer of high-end pastries and sweets, best-known for its double-decker macarons.
"I've always loved being in the kitchen," says the young entrepreneur, who has 20 employees working for her at the moment. "So, I started out baking cakes and pastries at home. Slowly but surely, my clientele grew to the point that I needed a bigger place."
The glass display counters feature a colorful assortment of mouthwatering croissants, tarts, eclairs, macarons, artistically frosted cakes and fruit pies.
Uzan had to close the café last month while the Gaza border region was under rocket attack. It made her realize, she admits, that opening a business in this part of the country was a bit of a gamble.
"But now, thank God, everything is back to normal," she says, begging off so she can return to the kitchen and get back to rolling some dough.
Kesem, 1 Hamasger St., Netivot
Click the alert icon to follow topics:
ICYMI
Ken Burns' Brilliant 'The U.S. and the Holocaust' Has Only One Problem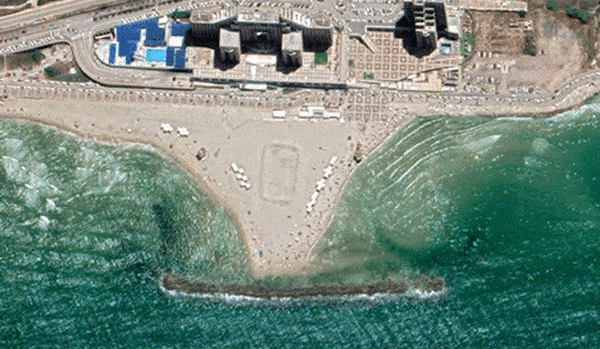 Facing Rapid Rise in Sea Levels, Israel Could Lose Large Parts of Its Coastline by 2050
As Israel Reins in Its Cyberarms Industry, an Ex-intel Officer Is Building a New Empire
How the Queen's Death Changes British Jewry's Most Distinctive Prayer
Chile Community Leaders 'Horrified' by Treatment of Israeli Envoy
Over 120 Countries, but Never Israel: Queen Elizabeth II's Unofficial Boycott