From Georgia With Love: A Rosh Hashanah Meal From the Silk Road
Temuri Yakobashvili and Yana Fremer, who come from a small Jewish community in Tbilisi, decorate their holiday table with a mix of Sephardi and Ashkenazi Georgian delicacies
Servings:
10-12 servings of stew, 20-25 medium matzo balls, 8 servings of cake
Temuri Yakobashvili and Yana Fremer will celebrate this Rosh Hashanah at their home in Washington, D.C., far from their hometown of Tbilisi, Georgia. And like others celebrating away from home, they will serve the food they grew up with - dishes like khenagi, stuffed fish, Kada Giuliani, as a way to keep them connected to their tradition.
Temuri Yakobashvili served as Georgia's ambassador to Washington for two years, until he resigned and left office last March. Before that, he held the post of deputy prime minister and state minister of reintegration in the Georgian government. He's now a senior transatlantic fellow at the German Marshall Fund in Washington, D.C. And to my surprise, he speaks fluent Hebrew.
We spoke last week over the phone, when I was trying to learn more about Georgian Jewish cuisine. The Georgian Jewish community is one of the oldest in the world and it goes back to the First Temple, about 2,600 years ago. "By the end of the 19th century, we had four indigenous community synagogues," Temuri said. "We had the Georgian Jewish community synagogues, the Persian synagogues, an Ashkenazi synagogue and the Tati [of Mountain Jews, Tats] synagogues." Most of the community is considered Sephardi, but a smaller Ashkenazi community immigrated to Georgia two centuries ago, though they do not speak Yiddish. Yana and Temuri's family is a mixed one: Georgian and Ashkenazi-Georgian.
Throughout the centuries, "The community interacted with many other cultures, like the Ottoman Empire, Persia, Europe, Russia and more," said Temuri. It was not an isolated community, but one that enriched itself through outside influences. Still, with all the influences, the Georgian Jewish community kept its own distinctive character "with its own nusach [prayer version], with its own nigunim [music], with its own cuisine," Temuri said.
The enrichment is evident in Georgian cuisine. "Georgia was on the Silk Road. Spices that were transported from China and India to Europe were reflected in Georgian cuisine. And Jews were heavily engaged in the trade, not only in the Silk Road, but also with the Middle East and Mediterranean nations. And all those reflected on Georgian Jewish cuisine," said Temuri. This explains the appetizing and interesting combinations of walnuts that grow bountifully in the country and are used to thicken and flavor many dishes, together with Persian influence demonstrated in the use of pomegranate molasses and fruit in stews, and spices from fenugreek to coriander and oregano, all are used in the Georgian spice mix called khmeli suneli.
"It's a very small country, but it has nine out of the eleven different climatic zones in the world," said Temuri (who is also a scientist). "This means different vegetation, and different cattle, different animals. You have a variety of supply that ends up in your everyday dishes."
"What will you eat for Rosh Hashanah?" I asked Temuri. "Whatever they put in front of me," he replied. So I called his wife, Yana.
"Since we're a mixed family, Ashkenazi and Sephardi, we always make both foods, including gefilte fish and khenagi," said Yana. Khenagi are Georgian matzo balls made with matzo meal, ground walnuts, onion and eggs and cooked in chicken broth. The gefilte fish, stuffed fish in Yiddish, is a different version from what we're used to seeing and is closer to the original stuffed fish recipe, but with a Georgian twist. The stuffing includes ground walnuts, pomegranate syrup, tamarindi and khmeli suneli spice mix. They will also serve a Jewish dish of fish in walnut and tomato sauce.
"It's like paradise here [in Washington], because in Tbilisi we had only two kosher shops and they sold only beef and chicken and not much else." said Yana. The family always celebrates all the holidays here, as they did back in Georgia, and go to the local Chabad for services.
Georgia's Jewish community is about five-thousand-people strong today, with three synagogues, a school and a community center. In Tbilisi, Yana worked for the Joint Distribution Committee where she became friends with co-worker Sophie Levinson who made aliya to Israel about ten years ago, but stayed close to Yana "like a sister." Sophie and her mother, Liana Ajiashvili, are true foodies and Georgian cuisine experts, Yana said, and suggested I called them for some recipes.
In excellent Hebrew, Sophie told me about the Georgian cooking she keeps on making at her home in Holon, a suburb of Tel Aviv. "The spices are not exactly right," she said, but she gets by with what she can find and with occasional deliveries from Georgia.
One of her family's favorite recipes is Khenagi, but it is a very different version from the dish by the same name that Yana and Temuri both mentioned. While their dish is a matzo ball soup style, Liana has a different take on the dish. She starts by cooking chicken gizzards in water, then she adds ground walnuts and beaten eggs, and some salt and pepper. She mixes it all well and cooks until the water evaporates (which can take a couple of hours). This unique dish comes out as something between a torte and porridge. The aroma of the walnuts after the long cooking is too good to resist.
"One way to keep a traditional Jewish family is to keep the traditional Jewish cuisine," said Temuri, "to keep kashrut, to keep Shabbat dinners." We've seen that throughout history all over the Jewish world. And it still works today.
Ingredients
Kada Shaqarguliani (a sweet-filling Georgian cake)
Adapted from Sophie Levinson
A super easy, parve cake, that's made especially for Rosh Hashanah with a wish for a sweet new year.
If you want the cake to be parve, make sure the puff pastry you're using is parve. Otherwise, a butter-based puff pastry tastes best.
1 lb. puff pastry, divided into two sheets (such as Pepperidge Farm's)
2 cups sugar
1¼ lb. all-purpose flour
14 tablespoons cold parve margarine (for parve cake) or unsalted
butter
1 egg yolk
Khenagi, Georgian matzo balls
Prepare these Georgian matzo balls as you would any matzo balls, and serve in your favorite chicken soup.
4 eggs, lightly beaten
1½ cups ground walnuts
cup matzo meal
¼ yellow onion, finely chopped
1½ teaspoons kosher salt
½ teaspoon black pepper
Chicken broth for cooking and serving
Khenagi stew
Adapted from Liana Ajiashvili
This aromatic and delicious dish comes out as something between a torte and porridge. Use a serving spoon to serve to each of the guests.
1 lb. chicken gizzards, cut into three sections
2 quart water
12 eggs
1 lb. ground walnut
4 teaspoons kosher salt
2 teaspoons black pepper
Preparation
Kada Shaqarguliani (a sweet-filling Georgian cake)
1. Oven to 350 degrees
2. Line a baking sheet with parchment paper. Put one sheet of the puff pastry on the parchment paper.
3. Put sugar and flour in the bowl of a food processor. Cut margarine into small pieces and add to the bowl. Pulse to make crumbs. Spread the crumbs over the puff pastry sheet, leaving ¼ inch frame all around. Cover with the second puff pastry sheet. Press the side to seal.
4. Lightly beat the egg yolk with a tablespoon water and spread with a pastry brush over the cake. Using a knife, gently cut diamond shape slices on the top. Bake for about 25 minutes, until the cake is golden and puffed. Serve warm.
Khenagi, Georgian matzo balls
1. Mix all the matzo balls ingredients in a large bowl. Let sit in the fridge for 30 minutes.
2. Warm chicken broth in a large pot. Form 1 inch balls from the walnut mixture using wet hands, and add to the boiling broth. Bring to boil, then cover the pot, reduce the heat to low and cook for 30 minutes. Serve in the chicken broth.
Khenagi stew
1. Put gizzards and water in a one gallon heavy bottom pot and cook over medium heat until the gizzards are cooked, about 20 minutes. Remove any foam.
2. Lightly beat the eggs in a large bowl. Add walnuts, salt and pepper and mix. Add the mixture into the cooked gizzards in their water, mix well and bring to boil, then reduce the heat to medium-low and cook until the water evaporates almost completely, about 2 to 2.5 hours. Do not cover the pot. You will get a dish that resembles a dark-crusted loaf. Serve with a serving spoon.
Click the alert icon to follow topics:
ICYMI
Ken Burns' Brilliant 'The U.S. and the Holocaust' Has Only One Problem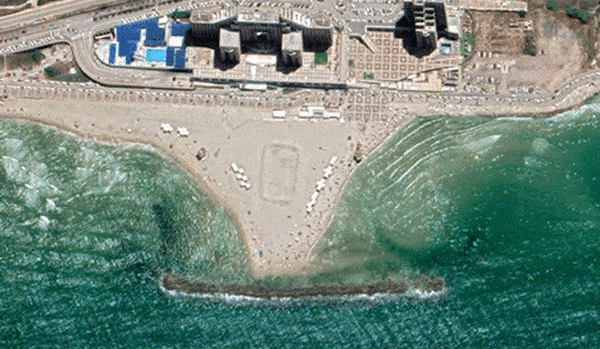 Facing Rapid Rise in Sea Levels, Israel Could Lose Large Parts of Its Coastline by 2050
Lapid to Haaretz: 'I Have Learned to Respect the Left'
The Mossad's Fateful 48 Hours Before the Yom Kippur War
As Israel Reins in Its Cyberarms Industry, an Ex-intel Officer Is Building a New Empire
How the Queen's Death Changes British Jewry's Most Distinctive Prayer