Make Food, Not War |
Israeli and Iranian Culinary Stars Embrace Collaboration (And Pomegranate Molasses)
Mutual admiration was on the menu when Ottolenghi met the author of 'Salt Fat Acid Heat' Samin Nosrat in California recently to share secrets from the kitchen
Samin Nosrat, whose "Salt Fat Acid Heat" is a hit cookbook and Netflix show. "I have looked up to you for so long," she told Israeli cook Yotam Ottolenghi when they shared a stage in October.
Credit: Netflix
SAN FRANCISCO – Iran and Israel may not be sitting down for a diplomatic summit anytime soon. But Iranian-American and Israeli-British cooks? That's a different story.
Samin Nosrat is the current "It girl" of the culinary world with a hit Netflix series, best-selling debut cookbook and New York Times food column. Yotam Ottolenghi is an acclaimed London restaurateur, veteran cookbook author and Guardian columnist. Yet neither would ever let politics get in the way of good food.
The two food pros – both prefer to be called cooks rather than chefs – oozed mutual admiration as they shared a stage at the San Francisco Jewish Community Center at the end of October. Nosrat interviewed Ottolenghi before an audience of starstruck local foodies as part of a tour celebrating the publication of his latest cookbook, "Ottolenghi Simple."
"I have looked up to you for so long," confessed Nosrat to the Israeli, who has authored no fewer than six cookbooks. "My family is from Iran. I came up in very Western and elite kitchens. You were a very bright light for me by using the ingredients and tastes of my childhood, and bringing them and elevating them to the world stage."
Before Ottolenghi came along, she noted, "Nobody knew what pomegranate molasses was – and it is a taste I grew up with. I am so appreciative of what you have done for the people of my culture and so many cultures," she told him.
Ottolenghi has indeed been a pioneer when it comes to helping make Middle Eastern and Asian ingredients staples of Western pantries. Thanks to his recipes, many more cooks in Europe and the United States are now comfortable using tahini, harissa, sumac, preserved lemons and za'atar (aka hyssop), and preparing dishes like shakshuka and siniya.
Ottolenghi returned the compliment, praising Nosrat's creative and unconventional food writing in "Salt Fat Acid Heat: Mastering the Elements of Good Cooking" – which has swept every cookbook award over the past year. Her book is based on the premise that "good cooking around the world is more similar than it is different. We humans seek the same things in our mouths, and deliciousness is defined universally."
The pair's spirit of camaraderie and enthusiastic endorsement of international cross-pollination is refreshing in an era of "hummus wars" and seemingly endless food fights over cultural appropriation in the culinary realm.
Ottolenghi is all too familiar with such controversy. The Jerusalem-born chef worked as a journalist and academic before deciding to abandon his books for kitchen tools. He attended the London branch of the Le Cordon Bleu cooking school and worked as a pastry chef, which led to the creation of his famous Notting Hill deli – the first of his six acclaimed London establishments.
His best-known book is 2012's "Jerusalem," co-written with Palestinian chef Sami Tamimi, which sparked many a conversation regarding Israeli and Arab food traditions and the definition of cultural appropriation.
While traveling the world in her research for "Salt Fat Acid Heat," Nosrat – another writer/cook-turned-cookbook author – visited Ottolenghi's test kitchen in London, which she described as a "peek" into "the magical Ottolenghi private world." She marveled at the number of countries represented among those working to help develop his recipes, including North Africans, Asians, Italians and South Americans. "It's a United Nations of food," she said.
"In this moment where everyone is talking about cultural appropriation, you have created a beautiful bubble world," she told him. "It is kind of the opposite of appropriation, where you give others credit, you pay them and give them the opportunity to share their thing. It all becomes one big work you are making together."
A simple oxymoron
Ottolenghi has built his career on collaboration. His restaurants and delis may bear his name, but they are the joint enterprise of a group of partners. "My name is the one that sounded the best," he modestly told the audience. His debut book of recipes, "Plenty" (2010), was the first and last time he developed a cookbook by working solo in his home kitchen. Since then, all his cookbooks have been collaborations, recipes developed in his restaurants-delis and, now, his dedicated test kitchen.
The book he was in town to promote, "Ottolenghi Simple," was co-written with Tara Wigley and Esme Howarth. In it, Ottolenghi takes up the challenge presented by the most common criticism of his recipes: That they are intimidatingly long, complex and time-consuming, requiring a lengthy list of exotic ingredients that aren't always easy to obtain in local markets.
With a chuckle, he acknowledged that "for a lot of people, 'Ottolenghi Simple' is an oxymoron."
But he clearly bristles at the fact that people associate his name with the philosophy that "more is more." He recounted how, when he and one of his collaborators came up with a "solid recipe" for a straightforward and delicious pea soup, others working in his test kitchen said, "It's not very Ottolenghi."
Writing in The Guardian, he explained that his new book is based on his philosophy that "there's more than one way to get a meal on the table, and that everyone has a different idea of which way is simple."
The 130-plus recipes are organized by a code he created based on the word "simple," whose letters stand for: "Short on time"; "10 ingredients or less"; "Make ahead"; "Pantry"; "Lazy"; and "Easier than you think." Each recipe displays the letters for which the principles apply.
He described writing the book as being an exploration of what simple cooking is: "There are a lot of books with 'simple' or 'easy' in the title. But easy and simple is about personality and a state of mind."
When Nosrat asked how he managed to simplify recipes without losing that "Ottolenghi-ness," he responded: "There needs to be something you haven't expected, a surprise, a tension, a feeling of 'I haven't had that before.' That is doable with fewer ingredients."
The book includes recipes the cook makes at home with his partner, Karl Allen, for their two young sons. These include fish fingers and baked potatoes – "things that nobody ever thought they would see in a Ottolenghi cookbook," he said. Ottolenghi purists need not fear, though. The book still includes Middle Eastern fare like lamb siniya.
Everything up front
On stage in California, Nosrat and Ottolenghi bonded over their distaste of fussy presentations: Food, whether in restaurants or cookbook photographs, should not be "over-organized" or "over-manicured," they believe.
They also share a fondness for restaurants that put food on display wherever possible, so it can be seen and smelled by the diners before they dig in. "There is nothing better than a restaurant with everything out front – prepared next to you or stored next to you. That connection with the food is really, really important," said Ottolenghi.
An ideal meal in a restaurant, Nosrat concurred, "is a replication of a mythical home-dining experience, sitting at a table surrounded by food."
She recalled that her first exposure to his work "was the first Ottolenghi cookbook in Britain with the displays from the restaurant, and it was so striking to me to … see those huge, inviting platters of food. I always felt a kinship with you for that: I always insist on serving 'family-style,' because I like to bring people to the table and make them talk to each other – even if it's just 'Pass me the plate.' That's the way a conversation begins."
Regarding the problematic "cultural appropriation" conversation, Ottolenghi admitted being torn between wanting to acknowledge difficult realities and transcending them through food, which for him "first and foremost is about joy and fun."
He believes the debate over ethnic ownership of certain dishes has "gone mad," and is not limited just to the Middle East. After visiting his late mother-in-law in Northern Ireland, for example, Ottolenghi dared publish his own unconventional take on Irish stew, which included orange zest, herbs "and maybe a cinnamon stick." Angry comments ensued, in which Guardian readers "insisted that a real Irish stew should be just mutton and potatoes."
The irony? "The people writing the angry notes weren't even Irish – they were Englishmen protecting the poor Irish from cultural appropriation," said Ottolenghi.
The other tension of the modern age – which both Ottolenghi and Nosrat confessed to struggling with – is social media's influence on the cooking world. On the one hand, they worry that its proliferation acts as a stand-in for real-life contact – and video editing and Instagram filters can create unrealistic expectations when it comes to food preparation and presentation. On the other, it has also acted as a catalyst for the cross-cultural interaction that both of them have clearly benefited from.
"It really enhances conversation and creates communities," he observed. "The international community of cooks that has evolved over the last 10 years is incredible. Back when I went to culinary school, chefs didn't talk to each other and they all kept their secrets in books. I remember so clearly how much of a secret the chef's recipe book was. And now it's the opposite; everything is open. People are talking to each other and interacting and having pop-ups in other people's restaurants – and it's all thanks to technology, because it's so easy to be in contact with people."
The event took place between the Pittsburgh synagogue tragedy and the U.S. midterm elections. So although politics wasn't explicitly mentioned, it still seemed inevitable when Nosrat asked Ottolenghi what he thought chefs could do to harness "the power of food to bring people together," and help heal wounds in "times like this when the world feels so divided."
Echoing the title of his latest book, Ottolenghi's reply was simple.
"There's one answer: you just cook. I remember when I started cooking professionally, what I found staggering was how easy it is to create a very good vibe with food," he said. "It's an eternal truth: A world without cooking would be one in which you really couldn't heal any fracture. Without it, people wouldn't have those moments of feeling that nothing else matters.
"Food is an international language," he concluded. "Nobody chooses not to eat, so that's really the solution."
Click the alert icon to follow topics:
ICYMI
Ken Burns' Brilliant 'The U.S. and the Holocaust' Has Only One Problem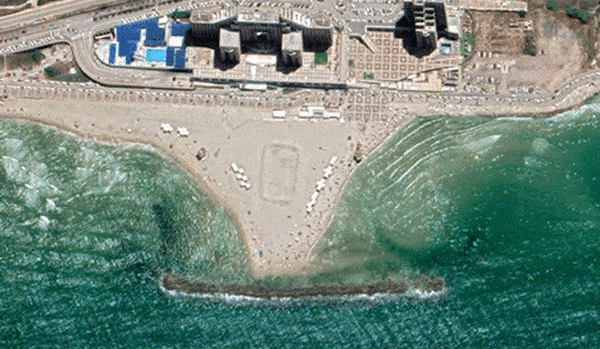 Facing Rapid Rise in Sea Levels, Israel Could Lose Large Parts of Its Coastline by 2050
As Israel Reins in Its Cyberarms Industry, an Ex-intel Officer Is Building a New Empire
How the Queen's Death Changes British Jewry's Most Distinctive Prayer
Chile Community Leaders 'Horrified' by Treatment of Israeli Envoy
Over 120 Countries, but Never Israel: Queen Elizabeth II's Unofficial Boycott