The 10 Best-kept Street Food Secrets in Tel Aviv
From the meatiest burgers to the most divine sandwiches, from the best pizzas to mouthwatering bourekas, it's the city that always eats
People stand next to Susu & sons on Rothschild avenue. The patties are meaty, juicy and tender, grilled to perfection on a red-hot surface. The additions are enjoyable, tasty and totally corrupt.
Credit: Ofer Waknin
Tel Aviv is a city for foodies. From unbelievable sandwiches in the Levinsky Market to must-try Turkish food, Israel's cultural capital is overflowing with great places to eat, be they fancy eateries or hidden street-food gems. The following are the places you have to try while you're in town.
A hamburger to die for
Vitrina
Ibn Gabirol 36
Open Sunday through Thursday 6 P.M. until the last customer leaves (and coming soon: afternoons too)
About six minutes after the doors open at the Vitrina stand on any given day, dozens of customers form an extraordinarily orderly line, pass along menus, consult, share impressions and apparently feel that a common destiny has linked them for this moment. The only way to describe Vitrina is Tel Aviv's urban temple. There are people willing to take an oath of loyalty to Vitrina's hamburger, and I wouldn't be surprised if they slept with a photo of the owner Nat under their pillow.
Supply here has trouble keeping up with demand. The showcase at the front of the stand displays the best collection of sausages in town, but the king is still the Butler hamburger served with aioli, pickles, onion jam, arugula, Gouda and blue cheese. The newest menu item justifies a return visit and transports the business far beyond New York or Los Angeles diners: Nashville dirty chicken (40 shekels, or 5 shekels with fires and a beverage).
Shawarma heads to Rothschild
Bino
73 Rothschild Boulevard
Open Sunday through Thursday 10 A.M. to midnight; Friday 10 A.M. to
6 P.M.; Saturday evening to midnight
Bino Gabso is the man behind the famous Dr. Shakshuka restaurant in Jaffa. And what do they serve at the eatery on Rothschild Boulevard in the center of Tel Aviv? Shakshuka, of course, in a pita, to eat with your hands fast. Order, pay, eat and leave.
Apart from the classic items – a half-order of lamb shawarma (20 shekels; 38 shekels for a full order) and shakshuka in a pita (22 shekels) – there are interesting possibilities; for example, mb'aer sausages (38 shekels), like merguez, only thicker.
The items in a pita at Bino are offered komplet; that is, with the Moroccan pepper spread chouma, onion and parsley salad, tahini and red-hot eggplant salad. Fries are not included. The pitas themselves aren't large but they're tasty, thick and plump. Mine even managed to contain the shakshuka without falling apart.
And just as important, it's an agreeable place. It's clean and spacious and the surrounding terrace is shaded and airy, facing one of the nicest parts of the boulevard.
A burek unto itself
Dilek's
Derekh Hahaganah 33, Tel. 054-902-1634
Open Sunday through Thursday 6 A.M. to 10 P.M.; Friday 6 A.M. to
6 P.M.
If you aren't intentionally heading for this bakery that features the best Turkish pastries in town, you might not notice it right away. It's at the edge of the Hatikva quarter – a gritty south Tel Aviv neighborhood near the central bus station. But the place itself is bright and clean and the show window is largely empty because everything gets sold out quickly.
Most of the baking is done nonstop by a woman named Dilek, with the traditional puff pastry yufka, which her rolling pin flattens into huge sheets of nearly transparent thinness that pile up and get filled and rolled before they're baked. The result is a hysterically flaky and wonderful pastry that crackles with every bite. Such was the gigantic snail of a burek filled with salty Kashkeval cheese (16 shekels), one of the best I've eaten in Tel Aviv or anywhere. The headliner here is without a doubt the su-burek, "water burekas" (60 shekels per kilo).
I recommend restraint here. The bourekas and baked goods at Dilek's aren't only huge and filled generously enough to quell your hunger, but also will make it difficult for you to proceed to the next treat. Moreover, every burek here is a world unto itself, hand-made in the purest sense of the word.
Secret street pasta
Tometomato
26 Washington Blvd.
Open Sunday through Thursday from 6 P.M. until the last client
There's nothing more fun than a section of a Tel Aviv street where food stands and eateries open for business and cluster one next to the other. Unlike your typical food-court scene, you get an interesting animal all of its own.
And we can rejoice in that there are quite a few such clusters in town, including the corner of Yermiyahu and Dizengoff, the corner of Kaplan and Ibn Gabirol, Nahalat Binyamin between Lilienblum and Yehuda Halevi, and the Great Synagogue area on Allenby.
Another star on this list is the small pedestrian mall on Washington Boulevard in the Florentin neighborhood, which has now been joined by the Tometomato pasta stand. Every evening five or six different dishes of freshly made pasta are served up with a bevy of sauces and garnishes.
In addition to a creative selection that includes pasta in sage butter with oyster mushrooms and grated lemon peel, and pasta with beet cream and St. Maure cheese, there are the regular dishes served every evening here – carbonara (44 shekels) and Bolognese (45 shekels). Incidentally, these are the two most expensive options; the other pastas range between 33 shekels and 39 shekels.
Peking pollo
Señor Chi
109 Allenby St. (the Rothschild-Allenby Market)
Open Sunday through Wednesday 10 A.M. to 2:30 A.M.; Thursday and Friday 10 A.M. to 3:30 A.M.; Saturday 10 A.M. to 1 A.M.
Food courts like the Rothschild-Allenby Market logically try to appeal to the broadest common denominator, which makes most of the food there too commercialized and banal – food that does the job but doesn't take any risks.
Señor Chi is an exception that proves the rule. Not only is it daring, it gets great marks for flavor. There aren't many places like this in Tel Aviv.
Here, where both the name of the place and the menu combine South America and Asia, whole rotisserie chickens are roasted in a tabun oven or on the grill before they're cut up or pulled apart for a sandwich. But before they meet the heat they're treated and marinated in various combinations of spices yielding a number of different versions (52 shekels to 59 shekels for half a chicken).
On this list there's Peking (soy sauce and a five-spice mix served with a Chinese pancake, vegetables and sauces like Peking duck), Gai Yang (lemon grass, ginger and soy sauce served with sticky rice and papaya salad), and Portuguese (a mixture of spices served with roasted root vegetables and lemon sauce).
To boot, there's classic fried chicken. Señor Chi also offers grilled chicken wings in various sauces like teriyaki, peanut sate or barbecue hoisin (38, 55 or 71 shekels for 12, 18 or 24 pieces).
Sandwich bursting with goodness
Yom Tov
30 Levinsky St.
Open Sunday through Thursday 9 A.M. to 11 P.M.; Friday 9 A.M. to the start of the Sabbath
For a long time now (the sign says since 1947) the Yom Tov delicatessen has been a main attraction on Levinsky Street, with an abundance of salads and special cheeses. It became a foodie favorite when brothers Yomi and Eitan Levi began to offer sandwiches made on the spot with the raw materials at hand, asking customers questions about likes and dislikes and then bashing together a sandwich bursting with goodness.
The demand side has done its job and just a few days ago the brothers opened, a few meters from the mother store, a separate sandwich shop with longer opening hours and a bar and tables. And now there's also a menu, divided into three categories – meat, fish and cheese – consisting of 17 different sandwiches, with bread options.
The Yom Tov sandwich shop itself is exactly like a good sandwich. You can write about the bread that does the hosting, praise the cheese, enthuse over the garnishes that give it a twist, but these alone don't transmit the big picture: Here you'll find the best sandwiches in Tel Aviv.
Grilled to perfection
Susu and Sons
6 Herzl St.
Open all week long from 12 noon until the last customer leaves (and in the near future: open 24 hours a day)
The Tel Aviv hamburger bubble defies logical explanation. Last year the successful young chef Amir Miller opened the Susu and Sons hamburger stand at the beginning of Rothschild Boulevard, and ever since it has been surrounded by a tumult of hungry young folks.
Interestingly, Susu's menu is one of the most complicated pieces of paper you'll encounter when eating in Tel Aviv. It offers a classic hamburger (of which the default choice is a cheeseburger) in three sizes: single (120 grams), double (240 grams) and monster (280 grams). Then there's the 20/80 hamburger, a chopped beef patty with 20 percent of its weight lamb, beef marrow, goose liver or cheddar cheese.
There's also a variety of garnishes like lobster, lamb bacon, chili jam, pineapple and egg salad. Each menu item, option and size comes with a price of its own, a puzzle of tempting but perplexing options. I've eaten there twice and even the second time I felt a bit lost. The patties are meaty, juicy and tender, grilled to perfection on a red-hot surface. The additions are enjoyable, tasty and totally corrupt.
Mozzarella and beyond
Brooklyn Pizza
276 Dizengoff St. Tel. 03-687-7748
Open Sunday through Thursday 5 P.M. to 11 P.M. (and soon afternoon hours as well)
From Brooklyn's oven emerge regular pizzas (Margarita, olives, mushroom), but most of the attention is directed at the 13 more interesting offerings, with changing cheeses, toppings like corned beef and cornichons, and various combinations of meats. The Margarita pizza is called the Queen Margaret (16 shekels for a slice, 96 shekels for a whole pie).
The pizza's circumference is larger than average, which makes for a respectable slice. The dough is terrific; neither thick nor thin and fragile but with a flexibility that allows for successful, tidy folding. The tomato sauce is rich and sweet and dotted with oregano leaves that have a piquant presence. What gives the Margarita its flavor is the cheese – not only mozzarella, which is neutral by nature, but also dominant Parmesan.
Hawaiian fare
Poké
20 Ibn Gabirol St. Tel. 03-909-4066
Open Sunday through Thursday noon to 11:30 P.M.; Friday noon to 4 P.M.
Poké is a traditional food from Hawaii, which thanks to Instagram has become a worldwide hit and is now also trying its luck in Tel Aviv. A number of kinds of raw fish are chopped into cubes (the origin of the word poké in Hawaiian) and served in a bowl atop rice with vegetables and various sauces. The result aspires to freshness, richness, beauty and sophistication.
At Poké on Ibn Gabirol you can choose among salmon (38 shekels), white fish (40 shekels) and red tuna (44 shekels) or two vegan options – tofu or Portobello mushrooms (34 shekels). From there you can go with one of the constructed poké bowls on offer or engineer your own freestyle bowl from within the spanking clean vegetable display case. There are a number of options, standard and less standard (coconut slices, mango cubes and chia seeds, for example).
The middling dimensions of the poké bowl are deceptive. It contains a tremendous amount that's more than satisfying. And above all it's delicious.
Asian
Fifi's
5 Zevulun St. Tel. 03-647-6363
Open Sunday through Thursday 6 P.M. to midnight; Friday 11 A.M. to
5 P.M.
It's a pity that Fifi's, which serves tasty, interesting and inexpensive Asian food, is open only on weekday evenings and Friday afternoons. This is a small Thai restaurant (though the variety of menu choices makes it more pan-Asian) near the Levinsky Market.
Pretty colored lights greet you at the entrance to the tiny space – you can count on two hands the number of people who can sit there. You come, you order, you scarf down the food and leave the wooden tables and chairs so people waiting in line can take a seat.
There are two kinds of soup – Taiwanese with wonton (37 shekels) or spicy hot Tom Yum (35 shekels), which also come in miniature versions (10 shekels). Fifi's also offers appetizers (stir-fried greens, pickled egg, and hot and sour watermelon salad with peanuts and more, from 14 shekels to 32 shekels). There are also three kinds of dumplings (22 shekels to 26 shekels) and two main dishes (3 shekels and 43 shekels). You'll find a quick, tasty, inexpensive, fun, colorful and interesting meal here.
And a few rules of thumb:
1. Stay away from places that show pictures of the items on the menu. This of course goes for tourists everywhere, though fortunately this practice isn't so common in Tel Aviv. Still, there are places – best avoided – like this near the beach.
2. You won't find much near the beach. The best street food in Tel Aviv is generally found around the center of the city – Ibn Gabirol, Dizengoff, Nahalat Binyamin, the Carmel Market.
3. Don't opt for the food emporia. Tel Aviv's bustling streets are filled with restaurants, diners and food stalls, where you can stop before and after other cultural activities. Don't limit yourself to the culinary centers or food courts, which tend to be more expensive and less interesting.
4. You don't have to eat the first falafel you see. Go to the places that are popular and recommended, because their reputation is usually well earned. You don't want to end up at a falafel stand that compromises on quality and hygiene, or doesn't bother changing the oil used for frying.
5. And bear in mind: Tel Aviv's street food is great, but for the most part it doesn't come cheap.
Click the alert icon to follow topics:
ICYMI
Ken Burns' Brilliant 'The U.S. and the Holocaust' Has Only One Problem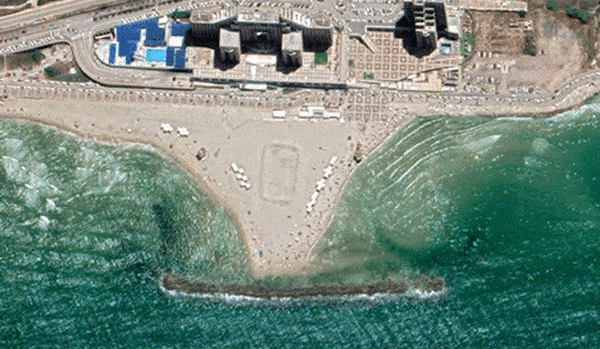 Facing Rapid Rise in Sea Levels, Israel Could Lose Large Parts of Its Coastline by 2050
As Israel Reins in Its Cyberarms Industry, an Ex-intel Officer Is Building a New Empire
How the Queen's Death Changes British Jewry's Most Distinctive Prayer
Chile Community Leaders 'Horrified' by Treatment of Israeli Envoy
Over 120 Countries, but Never Israel: Queen Elizabeth II's Unofficial Boycott