This Celebrity Chef Owns Europe's Hottest Restaurant Empire. But His Heart Remains in Jerusalem
Assaf Granit reveals how he juggles a group of successful restaurants with a TV career while trying to raise the next generation of chefs
The award-winning Palomar in London.
Credit: Helen Cathcart
A few months ago, Israeli chef Assaf Granit and his business partner Uri Nevo decided to open a restaurant in Tel Aviv. They secured "a great deal," had a prime location and a strong business plan. "But then I said to Uri, 'Something in my gut isn't letting me do this. I can't sleep because of this, and I don't know how to explain it,'" recalls Granit. They decided to move onto other ventures, with Granit admitting that although he loves Tel Aviv, he still doesn't feel comfortable opening a restaurant there.
Granit, who will be 40 next year, already has plenty on his plate. For starters, there's his flagship Machneyuda restaurant in Jerusalem, which has been satisfying diners since 2009. "This is a city that is tense even when things are calm," says Granit. "There are so many conflicts here – Jews and Arabs; secular and ultra-Orthodox; Ashkenazim and Mizrahim. It's tense all the time, there are sirens all the time, there's shouting all the time, there is something charged in this city – which is part of its magic as well as part of the difficulty. Everytime there is the shadow of a threat, the city shuts down."
Our interview with Granit is in honor of Jerusalem Day on May 24 – something he is not entirely comfortable about. "I don't like it when people say to me, 'You are the best restaurant in Jerusalem.' No, we are one of the best restaurants in the country. I don't like this attribution to Jerusalem. Jerusalem is not the boondocks, it is the capital city – even though it acts like the periphery, unfortunately."
Granit was born and raised in Jerusalem, and the city remains a huge influence on him. "I think my culinary line is rooted in my childhood in the city. Also, with respect to the raw ingredients, I will always prefer the simple – in contrast to when I was a young chef and was really attracted to complex French cuisine. I quickly realized it was the simple that spoke to me, and also speaks to me at the level of memory – smells and flavors.
"This wasn't from my home – we weren't a culinary household – but from the homes of my friends," he continues. "I grew up at a school where most of the population was Mizrahi – either Moroccans or Kurds – and when I was a latchkey kid, I ate at their homes. I fell in love with those flavors. My palate is much more Mizrahi than Eastern European."
We meet him at Machneyuda on a Tuesday afternoon, just as things begin to get lively. Eliezer, the head chef, asks one of the waiters to change the music from 1960s hits to cheerful Mizrahi music. "I don't know how people can eat with this noise," laughs Granit.
That "noise" quickly became one of the Machneyuda hallmarks and has led to a string of imitations. It also spawned a trend that became known, sometimes fondly, sometimes disparagingly, as "market restaurants."
"The location was chosen because of our love for the market and our desire to cook," explains Granit. "When we started, we were the first market restaurant. It was clear to us that we wanted a restaurant where the foodstuffs come from the market, built around the changing seasons, and around the freewheeling and almost chaotic atmosphere of the market. The noise and the way the restaurant runs also came from there – we call it organized chaos."
A lifelong love affair
Granit was enchanted by restaurants from a very young age. "My father is a tour guide, so we'd always join him for dinner with the tourists – at [high-end Jerusalem restaurants] Cavalier, Oceanus, Arcadia. As a boy, this looked like a fairy tale to me: the white tablecloths and the silver utensils to sweep up the crumbs. I felt I was in a story from the Brothers Grimm. That was the thing I most loved to do. I remember getting ready for dinner, dressing up. I'd get excited about it, but I didn't cook – at most, grilled cheese with ketchup. I only got into it after the army."
So you dreamt about a restaurant with white tablecloths and silver utensils?
"Not exactly. We talked a lot about it before we opened Machneyuda. We quit our jobs, invested all the money we didn't have in this restaurant – and we were here all day. We were with the contractor, with the renovators. We'd go to a flea market to get one bench. That was what we could afford. The night before we opened, the insurance wasn't yet in effect, so we slept outside in the car to guard the place. We'd sit and talk about the DNA of the place – about what it would be, about what was important to each of us. There were three of us [Granit and fellow chefs Yossi Elad and Uri Navo], and one of the first things Uri said was that the place had to feel like you've entered your grandmother's home. It didn't matter what kind of grandmother – Polish or Kurdish – you had to feel comfortable; something had to be familiar to you. At first, though, we didn't plan that it would be this kind of chaos."
You sound nostalgic for those days. Do you miss them?
"Sure, a lot. Machneyuda was the beginning – a state of moving from zero to one. Therefore it was also the most exciting, because you don't know what's going to happen. You have no idea, you don't know what your product is going to be, how they're going to react to you – and you're scared stiff." He recalls being in the kitchen all of the time, "and that's what I miss most of all. I'd open it, I'd work every shift. At first, all the shifts; then 95 percent of them, so I miss that a lot."
Granit laughs when asked if he remembers Machneyuda's opening. "I wasn't at the opening day! I was at a private event in Caesarea. Uri and Yossi were here; we opened the door and our parents and families came. I was there the next day. In the first few days we'd phone our families to come down, so it would look full. And then in the first week Aharoni came," he recounts, referring to celebrity chef and food journalist Yisrael Aharoni. "He wrote a double-page spread in Yedioth Ahronoth and that was it – since then, there haven't been seats for my parents! Article followed article, the place fell apart and very quickly we also opened for lunch – and that was hell, too. War every day! We didn't have a prep kitchen – that didn't exist. So then we took the space across from the restaurant to be the prep kitchen and said, 'There's a kitchen, we'll have a bar so people will drink while they're waiting in line for Machneyuda.' But if there's a bar and there's a kitchen, let's have a little menu – and that's how [sister site] Yudale was born."
The Machneyuda empire now encompasses Hasadna, Talbieh and the Wine Bar on Gaza Road – all in Jerusalem. And, of course, Granit and Navo also own the acclaimed Palomar and Barbary restaurants in London, with the cocktail bar and restaurant Balagan about to open in Paris. In addition, Granit is probably the most prominent chef on Israeli television, with a role on "Games of Chefs" and moderating "Revolution in the Kitchen."
If he's in the middle of a TV shooting schedule, he will be filming from 5:30 A.M. at least three days a week. The division of labor with his business partner is key. "Uri is in charge of the businesses in Israel, and I am responsible for the businesses abroad, development, PR, television and what we call the DNA – many of my mornings include meetings about new deals for things abroad. I do a lot of commercials, and that also takes time."
Are you concerned that this diversification will harm the businesses?
"There is someone here every day. There is Uri, who is here everyday, and there are amazing teams: Each restaurant has a chef who manages it, and these are super-talented people who have been with us for years. There is also the same model abroad, so I am not worried. I make an effort to have my presence felt as much as possible. At first, I was afraid of this, but I trust Uri a lot, so it worries me less. We've established a kind of professional standard that the teams try to reach, and this keeps us sharp and hungry all the time."
Your colleague on "Games of Chefs," Meir Adoni, just opened the Nur restaurant in New York, but a few months ago closed his flagship restaurant in Israel, Catit. Are you concerned something like that could happen to Machneyuda?
"There's a lesson we learned the hard way, which is that you mustn't grow too fast. We did the first five restaurants too quickly. That finished us mentally, physically – we were exhausted. It created a distance between us – and it also hurt us financially, because we are not a group that is underwritten by [food giant] Strauss. We finance ourselves through the restaurants and aren't people who come from wealthy homes, so you have to reinvest the money you barely earn back into the business. Now we are doing things more slowly – and doing them more correctly. I don't know what is going to happen, but in the meantime, touch wood, it's working well."
Many chefs sustain their business by opening street food stands in malls or touristy areas. Are we going to be seeing you at the Sarona Market in Tel Aviv?
"We don't go into commercial complexes; it's not right for us. We do things with a lot of creativity. If we make a brand-style fast food, then maybe – if we think about doing a line of pizzas some time, that could work."
Do you still do shifts at your restaurants?
"Rarely. Mostly at Machneyuda and abroad. Sometimes I do one at Hasadna, for the fun of it with the team, but the other restaurants don't need me because the concept is very clear."
Family matters
Granit's numerous businesses distance him not only from the kitchen but also his family. Two weeks ago, the Hebrew edition of Haaretz published an interview with his ex-wife, Moran Ifergan – a filmmaker whose documentary chronicled the difficulties she experienced after the birth of their son.
"Assaf was not present because that was exactly when his career was soaring," she said. "He started filming the reality show and went off to open the first restaurant [the Palomar] in London. And I think he didn't understand that I was depressed, because he was in one place and I was in a different one. If he had been mentally free during that period and been at home sometimes, clearly that would have helped, even if that only let me sleep – because I was up every single night for about a year. There wasn't a partner for this story."
Although the article couldn't have been comfortable reading for Granit, he insists he is still on good terms with his ex. "Moran and I are good friends. We have a child together and look out for each other. We consult each other a lot, but we didn't talk about the article beforehand. I didn't feel uncomfortable. And listen, we really did get divorced, we really did separate, she really did suffer from postpartum depression – these are things that happened."
He does voice some criticism about the interview, though. "To say I am prepared to reveal myself only in ads on billboards and on television, but not about my life? That's a bit hypocritical. I am at peace with the exposure from all directions."
So fame has a price?
"Taxes," he laughs. "Sometimes your privacy gets invaded a bit, but I will be the last to complain. Sometimes it can be annoying – you want to go out with a girl, but you can't go out in public because you don't want people to write [about it]. It's minor and all in all it's nice. It's more positive than negative and I embrace it."
How do you combine such an intensive career with being father to a young son?
"Leo is a very sociable child, and from the moment he was born he lived in the restaurants. So much so that he isn't prepared to eat at home. I have a lot of help from his mother, so that makes it easier. And I have to admit, I have made him my top priority. It's a kind of growing up. He isn't going anywhere, it's better to look after him – it will save money on psychological treatment fees later! I cook for him – I am crazy about him. That's a cliché, but it's tremendous fun. He's a child who cracks people up."
However, not everything is rosy in Granit's garden: Like most chefs in Israel, he is struggling to raise the next generation of cooks. This is especially ironic in light of the fact that he is part of a reality show that creates "instant chefs."
"I am encountering a lot of difficulty recruiting excellent young employees," he laments. "They tire very quickly, and people are a lot less ambitious. On our TV show we talk about this a lot, and don't take people like that through the [show's] boot camp. We rail a lot against this: becoming a chef in a second. People who work for us go through a long and arduous route, with a lot of hours and responsibility, and ultimately they are rewarded and become chefs in their own restaurants. But this takes time. If you look at the equation of how much these shows have advanced cooking and the public recognition for this profession, it's clear they are important for it. When I told my mother I wanted to be a chef, she wanted to sit shivah for me – 'what about university?' But today, mothers are dressing their children up as chefs on Purim – it's the new pilot or doctor."
Do you remember the moment when you stood in Machneyuda and felt: This is it, we've made it?
"Every day is like that, and every day is a war. We get a summary phone call from all the restaurants each night, even from abroad, and projections for the next day. Every day I look: 100 people at lunch; 150 at dinner, and breathe a sigh of relief. I say to myself, 'Another day!'
"I refuse to believe that we've succeeded. There's still a fear that we'll open the door and no one will come. The aspiration to improve comes from both places: We want to be good, but also we're afraid it is going to end. My ambition isn't to get rich from this – we're doing it in order to succeed. It's true that the success is financial, but in fact we're doing it so people will love us."
Click the alert icon to follow topics:
ICYMI
Ken Burns' Brilliant 'The U.S. and the Holocaust' Has Only One Problem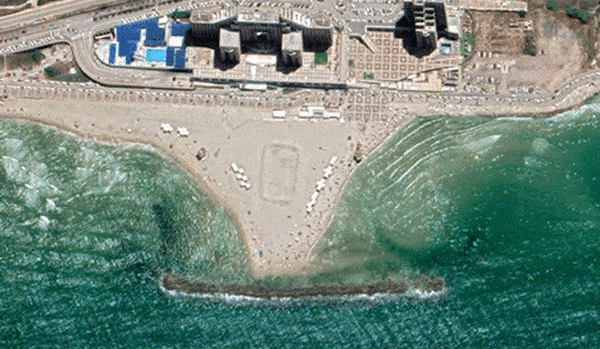 Facing Rapid Rise in Sea Levels, Israel Could Lose Large Parts of Its Coastline by 2050
As Israel Reins in Its Cyberarms Industry, an Ex-intel Officer Is Building a New Empire
How the Queen's Death Changes British Jewry's Most Distinctive Prayer
Chile Community Leaders 'Horrified' by Treatment of Israeli Envoy
Over 120 Countries, but Never Israel: Queen Elizabeth II's Unofficial Boycott