15 of the Best Places to Eat Jahnun in Israel
The Yemenite slow-cooked pastry has made the leap from Shabbat morning at home to cafes and kiosks everywhere. Here are some of our favorite places for a tasty fix.
Hajbi's Jahnun. He makes whole-wheat jahnun, too.
Credit: Mai Sidon
Jahnun is an Israeli immigrant success story. From a modest dish that the Jews of Aden would place on a hot surface just before the start of Shabbat, it has become one of the most popular foods for a typical Israeli Saturday brunch. From a poor man's bread made of the simplest ingredients and suitable for the next day's meal as well, to a place of honor alongside bourekas and hamin.
Granted, the average Israeli is often on a diet, and we don't want to get anyone down, so let's get this one little statistic out of the way: On average, one serving of jahnun contains from 600 to 1,000 calories, without the extras that go with. Well-intentioned diets notwithstanding, it's near-impossible on the weekend to drive past the rest stops, gas stations, kiosks and the rest and to resist the signs proclaiming just two little words: "Hot Jahnun."
A quick Internet search turns up hundreds of places in Israel that offer homemade jahnun, especially on the weekends. So if you'd rather avoid the frozen supermarket version or jahnun that's only been reheated at the highway rest station, here are 15 local jahnun makers worth getting to know, from the north to the south of the country:
On the way to Mount Hermon
Who hasn't had this happen to them? You're almost all the way to Mount Hermon and suddenly your stomach starts rumbling with hunger. And what better way to quiet it than with some fresh, hot jahnun? Well, you've come to the right place. For 13 years, Jahnun Vahetzi has offered freshly made jahnun at the Horshat Tal junction every Saturday morning. Also the perfect solution for those enjoying a weekend at an area bed-and-breakfast who crave some delicious and satisfying carbs instead of another "country breakfast."
What: Jahnun with s'hug (Yemenite hot sauce) and a hard-boiled egg (15 shekels)
When: Saturday from 8 A.M.
Deliveries: Free in the area on advance orders
Jahnun Vahetzi, Horshat Tal Junction, 052-5958150
Templer Jahnun
The German blacksmith who once lived in the Templer house in Moshav Beit Lehem Haglilit must be turning over in his grave now that, a century later, Levia Yellin is making jahnun there. At first she just made it for family and friends, then she turned it into a weekend-only restaurant and eventually into a full-time pub.
What: Jahnun, hard-boiled egg, fresh grated tomato and s'hug (20 shekels)
What else: Breakfast, malawah, stuffed grape leaves, hummus. On cold days, there is Yemenite soup and Sanaa-style hamin
When: Daily from 10 A.M.
Deliveries: no
Pundak Hajahnun, Moshav Beit Lehem Haglilit, 04-9832095
The best around
To many residents of the Pardes Hannah-Karkur area, Etti's is the best jahnun around, if not the best period. For more than a decade, she's been making jahnun every Saturday morning "in that special Pardes Hannah-Karkur atmosphere," and her place has become a favorite stop for bikers, hikers and locals, all of whom all feel right at home there.
What: A large jahnun, hard-boiled egg, fresh grated tomato and hot sauce (18 shekels). Coffee is on the house
When: Saturday
Deliveries: No
Etti's Jahnun, Pardes Hannah-Karkur, 050-4240952
Jahnun co-op
What does a group of 22-year-olds living together in a commune do to support themselves? Start a small co-op. Here in Netanya, Yarden Hajbi, who learned the secrets of rolling out jahnun growing up, decided to put his knowledge to practical use.
Hajbi's jahnun is sold frozen. All you do is take it home and bake it yourself. There are five types of jahnun on offer: standard jahnun (10 for 40 shekels); whole-wheat jahnun (10 for 45 shekels); whole-wheat dairy jahnun (10 for 50 shekels) and "health" jahnun with whole wheat, silan date molasses and straight tehina (10 for 60 shekels).
Hajbi's jahnun. Photo by May Sidon
When: Order three days in advance for regular jahnun, one week for the others.
Deliveries: From Netanya to Tel Aviv
The jahnun that saved me
We found Luni's jahnun thanks to a heartbreaking Facebook post about a jahnun business that was started due to financial distress. Luni Karovka found herself in serious debt she was unable to repay. After a few dark nights, hope arrived in the form of the food she makes best — jahnun. Using a family recipe, she began making and selling the doughy treat.
What: Rolled, oven-ready jahnun — so you won't miss out on the Shabbat morning experience of the aroma of baking jahnun wafting through your home. (5 shekels each)
When: Advance orders only, preferably at least 48 hours, Friday morning pickup in Petah Tikva.
Baderekh Habaita — Luni Karovka's Jahnun, Petah Tikva, 054-4401154
Jahnun in Tel Aviv's Yemenite Quarter
Brothers Johnny and Barak Peretz have racked up their share of mileage in Tel Aviv nightlife, but they missed their Shabbat morning breakfasts back in the day with their grandfather in Rehovot. So last summer they, together with a friend, Guy Tzarfati opened Jahnun Bar — and what better location than in the neighborhood where it all began, the Yemenite Quarter (Kerem Hateimanim) of Tel Aviv?
What: One order includes two jahnun, a hard-boiled egg, grated tomato, s'hug and tehina (25 shekels)
What else: Malawah, salad, and on cold days – lasis (Yemenite hamin)
When: Saturday from 8:30 A.M. until the jahnun runs out
Deliveries: in Tel Aviv
Buba Jahnun Bar, 23 Beit Yosef St., Tel Aviv, 052-4067828
Photo by Nir Keidar
Jahnun & Co.
No matter what you have planned for before or after your stop at Hasalouf Bakery, be sure not to eat anything before you get there. Like the French, the Yemenites have a fine pastry tradition. And while kubana is the flagship dish here, and certainly one of the best in Tel Aviv, the salouf, malawah and jahnun are all truly excellent too and a fine excuse to pack in some extra calories. The only dilemma: Take it home to eat it, or belly up to the wood bar and dig in right away?
What: Jahnun with a hard-boiled egg, grated tomato and hilbeh Yemenite fenugreek sauce (25 shekels)
What else: In addition to the other Yemenite breads you can choose from shakshuka, hummus, soups and salads.
When: Sunday to Friday from 7 A.M., closes at 4 P.M. on Friday
Deliveries: No
Ha'Salouf Bakery, 1 Hatikva St., Tel Aviv, 03-6886324
Just like home
The recipe perfected over the years by Ruth Brot became the center of a small family business, working daily to prepare and bake the dough. Three years ago she decided to sell her famous jahnun and it quickly became a hit in Holon and the surrounding area. Every Friday evening, the Brot family's jahnun goes into the oven, and on Saturday morning it comes out golden brown and ready to go.
What: Each serving includes two jahnun, a hard-boiled egg, grated tomato, s'hug (20 shekel). During the week you can order frozen jahnun (11 for 50 shekels).
What else: Fantastic homemade tehina
When: Saturday from 8 A.M. until the jahnun runs out
Deliveries: In Holon, Bat Yam and western Rishon Letzion. Carry-out orders too.
Jahnun Me'beit Ima, 34 Anielewicz St., Holon, 077-5344033
Bring your own pot
Sarah Cohen found out the hard way that when you ask for a jahnun recipe, you get a truckload of variations. She took recipes from her Yemenite aunt, grandmothers and neighbors and tested them all until she developed her own. She started out making it just for family and friends, but word soon got out about the woman in Modi'in and her amazing jahnun.
What: There are three options: frozen jahnun to take home, baked jahnun or, best of all, bring a pot and she'll put in everything you need. All you have to do is turn on the oven. Unbaked jahnun (7 shekels each), baked jahnun with hard-boiled egg and grated tomato (15 shekels).
What else: Terrific s'hug, and soon – kubana
When: Place weekend orders by Wednesday evening
Deliveries: No.
Sarah's Jahnun, Modi'in, 052-8838382
The word's out
Yishai's jahnun is from a recipe handed down in the family for generations. Yishai Ya'ish remembers watching his mother make the jahnun when he was a boy. After numerous attempts to replicate her perfect version, he finally hit on the formula, and discovered that the best way to make people happy was through good cooking. Once again, what began as a favorite of family and friends, in Moshav Hadid this time, soon spread far beyond. Yishai makes all the jahnun himself, by hand, preferring quality over quantity.
What: Jahnun, hard-boiled egg and grated tomato (25 shekels)
When: Saturday from 8 A.M. or any day if ordered in advance
Deliveries: Throughout the central region
Yishai's Jahnun, Moshav Hadid, 050-7203022
Jahnun in the Jerusalem Hills
Yamit Oren returned to Moshav Ora after she married. In her home kitchen she began baking cakes and cookies as well as jahnun and kubana with samna (clarified butter). The aromas spread through the moshav and the orders started flowing in. Even the Yemenite grandmothers preferred to order from her rather than go to all the trouble themselves. Yamit and her husband Tal soon decided to open a little café next to their house – and so was born Café Tal.
What: Two jahnun with hard-boiled egg and grated tomato (25 shekels), eat in or take out
What else: Everything you'd expect from a café – salads, sandwiches, cooked foods and more
When: Sunday to Friday from 7 A.M., closed Saturday. Jahnun on Friday morning only
Deliveries: No
Café Tal, 22 Hanarkis St., Moshav Ora, 052-4740562
Caribbean jahnun
If you're already in Moshav Ora and in the mood for a more adventurous jahnun experience, how about trying a Caribbean jahnun? Ora Bora is the brainchild of Roy Danin, who used to work at a big Tel Aviv advertising firm but always knew he wanted to return home to the moshav. He began by selling jahnun and other Shabbat foods on Fridays. After he put a few couches in the yard so guests could watch the 2010 World Cup, the place gradually became a bar with a Caribbean feel.
Ora Bora's jahnun. Photo by Yael Neeman
What: Homemade jahnun with all the fixings (22 shekels)
What else: The menu is as eclectic as the design – jahnun, malawah, chicken sofrito, lahma ba'ajin with meat, exotic fruit shakes (alcoholic or non), arak cocktails.
When: Jahnun on Friday morning only
Ora Bora, 116 Hayasmin St., Moshav Ora, 02-5712666
Jahnun and Jerusalem nightlife
Jahnun Bar began in Jerusalem 12 years ago, first as a hole-in-the-wall on Hillel Street that gradually grew thanks to the authentic and delicious jahnun. A second branch opened a few years ago in the Mahaneh Yehuda market and quickly became a favorite with the late-night bar crowd as well as with tourists eager to try the ethnic delight.
What: Large jahnun with hard-boiled egg and homemade s'hug (22 shekels)
What else: Shakshuka, Yemenite soups, kubana and malawah
When: The Hillel Street branch is not kosher and is open seven days a week. The Mahane Yehuda branch is closed on Shabbat.
The best jahnun in the south
In Moshav Yakhini, it's not hard to find someone whose last name is Hajbi who makes excellent jahnun and other traditional Yemenite dishes. But for the last few years, Irit and Peretz Hajbi have been selling what we believe is the best jahnun in the south. What's the trick? Well, it's probably the clarified butter that Irit uses, combined with her uncompromising perfectionism. The result — jahnun that's addictive and worth a special trip.
What: Two jahnun with hard-boiled egg and grated tomato (25 shekels, or a half portion for 18 shekels). Pareve jahnun (made without butter) is also available
What else: homemade malawah (18 shekels with hard-boiled egg and grated tomato), kubana (6 shekels) and s'hug by the jar
When: Frozen jahnun during the week, on Saturday there is fresh jahnun and you can sit and eat.
Irit's Jahnun, Moshav Yakhini, 052-8088511
Jahnun in Be'er Sheva
Anyone who ever studied at Ben-Gurion University has wondered at one time or another where to find the best jahnun in Be'er Sheva. Yes, chains such as Nafis are here as well, but when it comes to jahnun we'll always take the small places that make their own. In Be'er Sheva there are two we like. Habayit Hateimani Ha'originali is practically a local legend. Run by Natan Cohen for over 30 years, the restaurant serves all the traditional Yemenite favorites. And not long ago we also discovered Hajahnuniya at the food market in Hanegev Mall, and the taste was unforgettable. Yael makes all the jahnun herself from her own special recipe. Her stall is open every Friday and Saturday, and also delivers as far as Omer.
Natan Cohen in his restaurant. Photo by Kobi Kalmanovitz
What: Jahnun with hard-boiled egg and tomato sauce (17 shekels)
What else: Malawah for the same price
Deliveries: Hajahnuniya delivers on Friday until 4 P.M. and on Saturday until 9 P.M. No deliveries on other days
Bayit Teimani Originali, Old City market in Be'er Sheva
Hajahnuniya: 050-3500208
Click the alert icon to follow topics:
ICYMI
Ken Burns' Brilliant 'The U.S. and the Holocaust' Has Only One Problem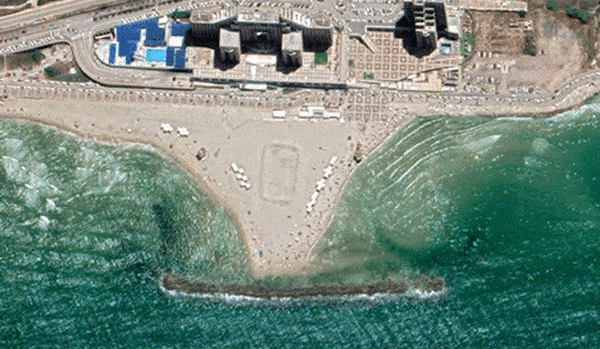 Facing Rapid Rise in Sea Levels, Israel Could Lose Large Parts of Its Coastline by 2050
As Israel Reins in Its Cyberarms Industry, an Ex-intel Officer Is Building a New Empire
How the Queen's Death Changes British Jewry's Most Distinctive Prayer
Chile Community Leaders 'Horrified' by Treatment of Israeli Envoy
Over 120 Countries, but Never Israel: Queen Elizabeth II's Unofficial Boycott