Where to Find the Best Sabich in Tel Aviv
Sabich is a simple but surprisingly versatile street snack. We map out the top five sabich joints in Tel Aviv.
In contrast to falafel, sabich has acquired the reputation of being less a street food and more a refined eating experience, even though both come under the definition "something in a pita."
The Iraqi custom is to eat sabich on weekends, using the egg and potato from the long-cooked hamin. It's clear why sabich is such a hit. After all, we do love to stuff a lot of ingredients into a pita. It is usually inexpensive and is a simple hunger-sater.
The basic sabich consists only of fried eggplant, an egg and amba (mango pickle with fenugreek), but today's interpretation has added hummus and tahina as regular ingredients.
Before we set out to find the best sabich in Tel Aviv, we tried to think how far it is possible to innovate. After all, wouldn't they all taste the same? Well, actually, they won't. We are pleased to inform you that among the dozens of sabichs we ate (and ate), we didn't bite into a single one that tasted like any other. Why? It's all a matter of quantities and variations – more eggplant or less; with a green vegetable or not; with hummus or only with tahini; and so forth. And without a doubt, a good sabich is directly connected to the hand that puts it together.
Where do you get your sabich from? Let us know in your responses. Meawhile, here are our top five for Tel Aviv, plus a few more to consider…
Worth the wait: Cheese sabich at Sabich Tchernichovsky
Remember the Soup Nazi from "Seinfeld"? Well, there are some who compare Effi at Sabich Tchernichovsky to him. Maybe it's because Effi's smile and tone of voice aren't his strong points. Or maybe it's because he works on each pita as though it were a work of art, slowly and patiently adding the ingredients. However, there's no argument on one thing: When it comes to sabich, Effi is the king in every respect.
For nearly five years now, Effi's has been a place of pilgrimage. If you intend to go there at lunchtime, consider yourself warned: You will have a very long wait.
Our choice: Cheese sabich. Sure, you may protest that this is not original sabich, but we will reply: So what? Devout aficionados will find a wonderful hummus-based sabich, but if you are open-minded and feel like something more refined, you have to taste the cheese sabich. They will never leave out the eggplant – that would be a huge mistake. The moment the eggplant comes off the heat, with the slices still hot, they put a precise quantity into a pita, and this is when the magic begins.
The hummus is replaced by goat feta cheese, which combines with an egg and boiled potato, piquant vegetable salad, lemon and garlic dressing, lettuce that adds a bit of crispness, red cabbage – and, of course, onion and tahini on top, because they are essential. The final result is an unparalleled, rare and refined sabich.
How much: NIS 18
Wet your whistle: If you are already there, try an old-fashioned gazoz (seltzer with fruit syrup).
Sabich Tchernichovsky, 2 Tchernichovsky Street, Tel Aviv
Package deal: sabich with all the trimmings at Ovadia's
As a proud Iraqi, Danny Ovadia grew up with the sabich of his ancestral home, but his plans for life did not include opening a sabich stand. However, under pressure from friends and family who tasted his interpretation, he realized he had no alternative. And so for the past 11 years he has been dishing up one of the best versions of sabich in town. With every portion, Danny will give you the rules on how to eat sabich correctly: First, take it in both hands. Then, take a bite from the right and a bite from the left, apply gentle pressure from below and then take a bite from the middle. Repeat. The truth? It works.
Our choice: Sabich with all the trimmings. Without a doubt, what make's Ovadia's sabich so successful is the right mix of ingredients. It begins with a warm pita, as soft and flexible as a Yemenite lahouh. This soaks up everything inside: homemade hummus, a bit of tahini on top of that, a great garlic and lemon sauce, a boiled potato, (dominant) onion and spring onion, salad seasoned with hot pepper, a cucumber pickle, a huge amount of parsley, plump fried eggplant slices and then the headliner – brown eggs kept in a steamer, followed by a final round of tahini, cumin and spices. You're left with a fresh and very tasty sabich with abundant vegetables.
How much: NIS 16
Wet your whistle: For another NIS 4 you will get a glass of refreshing lemonade.
Sabich Ovadia, 22 Rashi Street, Tel Aviv
Spellbound: sabich at Hakosem
Hakosem (The Magician) started out as a small falafel stand a little over 11 years ago, with every portion getting treatment worthy of a gourmet restaurant. Today, too, Arik the magician oversees a scrubbed and gleaming place, with meticulous investment over the raw ingredients. Even the workers wear white hats on their heads. The treatment of the shawarma (meat grilled on a vertical spit), the falafel and, of course, the sabich are delicate and extraordinary. Could this be why he has so many fans?
Our choice: Simple sabich. True, the falafel here is great, as is the shakshouka (eggs poached in a base of cooked tomatoes and other vegetables) – not to mention the shawarma – but note the care taken with the sabich. It starts with a pita baked on site, warm and fresh, full of strongly flavored Samaritan tahini fortified with lemon and excellent hummus (also prepared on site).
From there the eggplant steals the show: lovely thick slices, floured and fried, giving the portion an addictive crunch and flavor. The boiled potato comes as a salad with parsley, olive oil and black pepper. For the egg they use a special knife that spreads and distributes it to all parts of the pita. Is it any wonder that the result is no less than excellent?
How much: NIS 18
Wet your whistle: Don't miss the "rimonade" lemon-pomegranate beverage. Magical.
Hakosem, 1 Shlomo Hamelech Street, Tel Aviv
Where Iraq meets Paris: the croissant sabich at Sandwich
Chefs Kobi Bendelek and Ofer Almaliach (formerly of Shalev Bayaar) have a deep affection for street food – specifically, street food to which they can add a twist. They launched the soup restaurant Zuppa in Tel Aviv and have now taken the next step with Sandwich. One of the best things to have happened to Tel Aviv this past year is the variety of places providing excellent sandwiches, and that applies especially to those made by bona fide chefs. The sabich at Sandwich continues in this excellent vein.
Our choice: croissant sabich. Who says sabich can't be enjoyed in style? As befits chefs, the two have created a riff as wonderful as the original sabich. It follows all the rules of the dish (minus the onions and amba), although you have to come prepared and with an open mind.
The pita is replaced by a buttery croissant, which makes for a sabich that is at once more refined and attractive. The croissant adapts itself to the filling, which includes two types of eggplant: a kind of smoky spread of eggplant seared on the grill and, on top of that, eggplant slices fried in egg yolk. Now the traditional hardboiled egg joins in, along with fresh tomato, some homemade piquant pepper sauce and whipped tahini. In the role of scene-stealer: the pickled cucumber with star anise, which gives a sweetish counterpoint. The resultant creation is the best thing that could happen to a croissant.
How much: NIS 28
Wet your whistle: with a chaser of arak made on the premises. It's unbelievable how these go together.
Sandwich, 59 Nahalat Binyamin, Tel Aviv
Secrets and seasonings: Sabich de Luxe
At the midpoint between Rothschild Boulevard and Gan Hahashmal you'll (hopefully) find a fun and small sabich stand (did we say small? We meant minuscule) that has acquired a reputation among the cognoscenti - Sabich de Luxe. From listening to the voices of the customers standing in line, we understood that there are people for whom this is the best sabich in the whole country, never mind Tel Aviv.
Our choice: sabich with everything. From our perspective, this was a very controversial sabich. First of all, the key word here is cumin and another seasoning, about which our lips are sealed here, in a generous quantity we haven't tasted in any of the other versions we tried.
Some people will be less thrilled by the seasoning, but we thought it was a stroke of genius. Without doubt this is one of the best interpretations we tasted, thanks to a generous pita - which did an excellent job of soaking up all the sauce that dribbled downward - and the eggplant slices with crispy edges, which endowed the sabih with a pleasing sweetness. The bottom line: sabich heaven.
How much: NIS 18
Wet your whistle: with grape juice, of course. Nothing else crossed our mind.
Sabich de Luxe, 2 Harakevet Street, Tel Aviv
Other interpretations you have to taste…
Kubbeh Grill - One of the versions closest to the original, at a great price (NIS 10 before 12:00 noon), and also tremendously tasty. They'll suggest you take your sabich like the original – that is, without hummus – but if you really want hummus, no one will say no. Moreover, there are crunchy eggplant slices here without a hint of bitterness, vegetables in a quantity that succeeds in balancing the hummus (if you must), and a hardboiled egg that spent the whole night marinating. The real star is the amba. Even if you aren't a fan, this is sweetish, deeply redolent of many flavors and like nothing we have seen elsewhere. The portion is topped off with a sprinkle of cumin, which will put a nice seal on your pita.
Kubbeh Grill, 30 Schocken Street, Tel Aviv
Sabich Komplet - Another pilgrimage-worthy temple of excellent homemade food, but the name testifies to the main point: sabich. Everything sabih needs, without too many frills or slow-motion dramas. Why did we love it? Thanks to airy tahini and velvety amba. Also, a thick eggplant slice that felt more roasted than fried, and hot pepper sauce that is nothing less than a piquant treat felt in all parts of the pita. The plump pita is handmade and personified everything we thought about this version: completely great sabich. The price is NIS 16.
Sabich Komplet, 99 Ibn Gabirol Street, Tel Aviv
Sabich Frischmann - Before Effi from Sabich Tchernichovsky left to open a place of his own, this was where he began, so you won't have difficulty finding the same identifying signs here (sabich with cheese or baby salad leaves). We know this place has a host of enthusiastic fans, and it's possible to see why. However, you need to factor in that if you make it past the long waiting line, you'll find very good but not perfect sabich. While the eggplant was excellent, it got a bit lost in the sea of vegetables. The brown egg – at long last! - tasted like an egg, but it was best enjoyed in the places where the tahini didn't overwhelm it. And, hey, even baby salad leaves are a kind of innovation (controversial, but an innovation). Bottom line: sabich for the masses at NIS 19.
Sabich Frischmann, 42 Frischmann Street, Tel Aviv
Sabich Miznon Yisraeli - Where Herzl Street diverges from Florentine into the auto-repair precinct, the mix of street-food restaurants changes from cafes to workers' restaurants. Between Shmulik Cohen's Jewish food and Mordoch's home cooking, Sabih Miznon Yisraeli fits right in. There is sabich here, of course, but you will also find schnitzel and couscous, and the rest of the pita hit parade.
As for the sabich, some parts of it are successful and others less so. An excellent, plump pita does a good job of containing the juices, while the successful hot pepper sauce and a marinated brown egg completed the best part of the sabich. The rest was good but not excellent. Good sabich has to have a kick in the seasonings, the tahini and vegetables, and this happened only partially here. A bit more fortification in the flavor and this would be a truly winning sabich. The price is NIS 16 in a pita and you can also get sabih in a baguette.
Sabih Miznon Yisraeli, 107 Herzl Street, Tel Aviv
Sabich Hasharon - If this name sounds familiar to you, you have presumably seen it on the streets of Hod Hasharon or Ramat Gan - or maybe because of the familiar sign on Nahalat Binyamin: "Original sabich only – the rest is nonsense." The secret of the sabich here lies in two factors. First, the handmade pita; and then the eggplant. We've already said it's all a matter of quantities, and at Sabich Hasharon the balance tips in the direction of the eggplant. That is, these are slices of eggplant baladi (or du pays, as they would say in other culinary realms), fried to a golden crispness and in a significantly larger quantity than usual. This is tasty but, at some point, is just too much. Alongside the eggplant are a small potato and all the usual suspects: hummus, brown egg, salad, onion and parsley. Notable in its absence: cumin. The bottom line is this is sabih for eggplant lovers who want to go the distance. The price: NIS 17.
Sabich Hasharon, 68 Nahalat Binyamin, Tel Aviv
Click the alert icon to follow topics:
ICYMI
Ken Burns' Brilliant 'The U.S. and the Holocaust' Has Only One Problem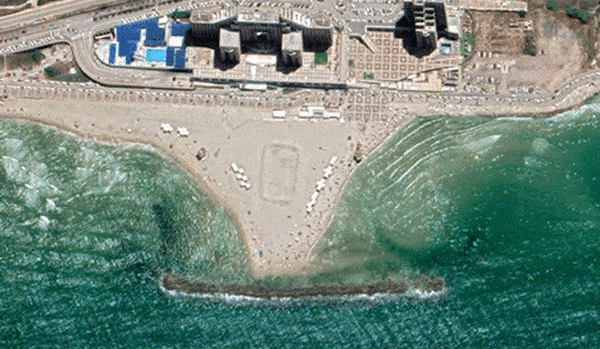 Facing Rapid Rise in Sea Levels, Israel Could Lose Large Parts of Its Coastline by 2050
As Israel Reins in Its Cyberarms Industry, an Ex-intel Officer Is Building a New Empire
How the Queen's Death Changes British Jewry's Most Distinctive Prayer
Chile Community Leaders 'Horrified' by Treatment of Israeli Envoy
Over 120 Countries, but Never Israel: Queen Elizabeth II's Unofficial Boycott