Haaretz Magazine |
A Brief History of Prehistoric Art and Why Israel Doesn't Have Any
From a hominin scratching on a clam half a million years ago to Neanderthals spraying ocher, art is hard to define. So far, sapiens is the only figurative artist in history. Why is another matter
Images of animals in a wall painting in the Lascaux Cave, Vezere Valley, France.
Credit: thipjang / Shutterstock.com
Hundreds of thousands of years ago, Og squatted inside the fissure in the rock he called home and admired his bedding – a pile of leaves. Studying the mass intently, he moved one leaf to the right and found the effect aesthetically pleasing.
Something like this could have happened. Archaeologists can identify signs of prehistoric violence, though accident can be hard to distinguish from intention. A hole in the skull or spear in the ribs are good examples.
But if prehistoric human variants found symbolism or artistic value in perishables, we will never know. Archaeology can identify a pile of leaves hundreds of thousands of years old that may have served as a prehistoric bed, but it can't tell if somebody thought that was beautiful.
Complicating the debate is the question: What is art? In the 1970s, many were scandalized to learn that the Tate Gallery in London had paid serious money for Carl Andre's "Equivalent VIII" (1966), aka "The Bricks." Underlying the outrage was the perception that any anal-retentive with 120 bricks could have made it. In 2016, an art blogger for The Guardian agreed it was an "artwork," but suggested that its sin was being dull. But the fact is, no future archaeologist would have recognized it as art.
In other words, a creation may be art in the sense that somebody was trying to convey an inner vision (Francis Bacon) or mirror the observed world (Andy Warhol) or abstraction (Mark Rothko), but we beholders may not know art when we see it.
The painter and the pig
Perhaps the most striking example of "art?" is zigzags scratched onto a clam in Indonesia half a million years ago – apparently by a Homo erectus, but 100 percent certainly not by a sapiens because we didn't exist yet. Hominins in Asia may have had the cognitive power and physical ability to engrave, but was it art, per se? Did it have meaning to convey?
That was a one-off, so far at least. But there is more recent evidence of systemic ocher preparation and use, including 285,000 years ago at a site identified with Homo erectus in Kenya and 250,000 years ago in the Netherlands.
Preparation and use of ocher as a pigment is taken as evidence of behavioral complexity, and possible symbolic thinking abilities. If hominins painted images using ocher back then, we don't know about it. We do know that ocher fulfilled practical functions such as preserving pelts and a component in prehistoric glues. Ancient hominins could have, theoretically, painted their bodies with it, as some modern folk still do; the pigment also appears in some prehistoric burials.
The "Red Lady" of Goat's Hole, Wales, was actually the body of a man whose bones were soaked in red ocher about 33,000 years ago.
Ditto for zigzags found in South Africa from over 70,000 years ago (carved into ocher rocks!) and a "hashtag" carved into the rock in Gorham Cave, Gibraltar, about 39,000 years ago. Questions remain over who was engraving what and why, let alone what it may have meant. Given the paucity of such finds, one might secretly suspect the meaning is short of intent and long on bored hominin.
The case seems clearer for the ladder-shapes, dots and hand stencils found on the walls of El Castillo cave in Spain, reportedly dating to more than 65,000 years ago (some demand more proof of the date). The images are assumed to have been created by Neanderthals, mainly because no other hominin species is known to have been in that area at that time. Homo sapiens isn't known to have reached Spain by that time, though exits from Africa began at least 200,000 years ago. But this non-figurative wall decor is more clearly art than the hashtags – though if it had meaning, it's lost and will probably stay that way.
Yet from an erectus perhaps idly scratching on a bivalve half a million years ago to human variants spitting chewed-up ocher at hands pressed onto a cave wall or carving lines onto bedrock, and a host of other indirect evidence – one could argue that symbolic thinking likely goes far, far back. For instance, one sign of possible early symbolic thinking could be a swan wing that was defeathered 420,000 years ago in what is today Israel. Prof. Ran Barkai of Tel Aviv University points out that a swan wing would yield precious little meat: The effort devoted to cutting at the thing with stone tools smacks of coveting its beautiful feathers, possibly to emulate the bird or to honor its being.
But no one with eyes could mistake the earliest known figurative manifestation for anything but what it is: a painting of three pigs done at least 46,500 years ago. It's elaborate enough to name the species, warty pig, suggesting this wasn't humankind's first brush with personal expression.
Nor does anybody question the assumption that this painting was made by sapiens. As for what it meant, it is anybody's guess – a portrait of the animal eaten the night before? Wishful thoughts about the animal we want to eat tonight? Appreciation? Nay, adoration? Veneration, or venality? Like a Rorschach inkblot, one may read into the picture of the pig what one wishes.
The bottom line is that if other human variants made art, we don't know it. And we don't know when symbolic thinking began to emerge. Don't get distracted by reports of captive elephants painting pictures. Maybe early humans created gorgeous constructs out of perishables; maybe Neanderthals had their own prehistoric Tate; maybe Denisovans carved portraits in wood; maybe all had cognitive and spiritual capacities far beyond what we suspect. The only proof of figurative art production is in sapiens. Some think a structural change in the sapiens brain around 60,000 years ago, before the successful exit from Africa, was key; Barkai suspects the change lay in our reactions to the world and wonders around us.
Painting in the dark
One of the great mysteries is why some ancient humans – sapiens, mind you – painted in the dark: deep inside caves, where nary a sun's ray penetrated. Torchlight would be needed to illuminate one's work, and for the subsequent observation of one's work. Why would anyone in their right mind do that?
Because they sought and achieved altered consciousness, suggest Yafit Kedar, Gil Kedar and Barkai. Working deep underground where airflow was poor, oxygen consumption would have been exacerbated by torches consuming even more oxygen, and the hypoxia-addled ancient artisans may have experienced an otherworldly transformation. Perhaps, the team suggests, these people felt they were drawing not for their fellows (who couldn't see the drawings anyway unless they went for trips with torches themselves), but for supernatural denizens of a chthonic realm who could only be reached through this environment.
Different peoples in different areas at different times would plausibly have had different motivations, but possible support for the theory of the baked artisan appears in Pinwheel Cave, California. In 2020, archaeologists suggested that proto-Californians were buzzed when decorating their cave space around 500 to 100 years ago, based on finding quids of chewed-up datura fiber rammed into crevices in the cave ceiling. If taken sparingly, datura is hallucinogenic (and if taken more than sparingly, it can kill). Not quite a smoking bong, but pretty indicative.
Okay. Other theories associate some rock art with early shamanism and postulate that the depictions on cave walls show visions that they were experiencing. Leaving contemporary beliefs out of it, archaeological evidence supporting prehistoric shamanism might include a woman's grave in Israel, buried 12,000 years ago with an eagle's wing, a leopard's pelvis, a leg of pig (popular animal, that), a cow's tail and more.
Some rock art may depict actual events. This could be the case of portraits of lumps found in Chauvet Cave, southeast France, from about 36,000 years ago. Initial perplexity about this particular frisson of artistic spirit, which appeared in the same context as animal depictions (and hand stencils), developed into a theory that the artist was drawing a volcanic eruption 35 kilometers (22 miles) away in about (very roughly) the same time frame. "It is very likely that humans living in the Ardeche river area witnessed one or several eruptions," said the relevant paper in 2016, proposing this as the earliest depiction of a natural disaster.
Or maybe like some art today, the ancient craftsmen were showing their interpretation of longing.
The evidence of absence
Looking at the expressive cave art in Indonesia, from almost 50,000 years ago, and the gorgeous portrayals in prehistoric France and Spain – one wonders why no prehistoric cave art worthy of the name has ever been found in Israel and precious little has been found in Turkey. (One caveat. There are rock art images in the Negev whose dating is enigmatic, but they aren't tens of thousands of years old.)
One possibility is that there had been rock art in caves in Israel. But because of the climatic conditions and the type of local rock, the pictures are gone, suggests Prof. Israel Hershkovitz of Tel Aviv University.
Barkai has a different theory, which ties into his holistic theory of human evolution: We ate the subject, and then it was gone. Rock art showing megafauna in Europe and Asia may not have been painting the animals living around them; they were showing the animals that once lived around them – bison, mammoths, cave lions, giant sloths.
Barkai and his team have demonstrated that in the past 1.5 million years, the average body size of animals had diminished by 98 percent. Say the average size at the start of that period was "elephant" weighing 4 tons. By the end of that period, the average size was Labrador retriever. Or Indonesian pig.
Sometimes, the case of us hunting the big animals to extinction is clear; sometimes we were not involved. But when we were, Barkai suspects the muse was megafaunal decline.
The megafauna disappeared: That was the trigger. They were painting what isn't there anymore," he speculates.
This could explain why there is no prehistoric cave art in Israel: modern humans were definitely here during the same ages that beautiful paintings and carvings were being made from southeast Asia to Europe, from 50,000 years ago, roughly speaking. By then, any animals bigger than deer in Israel had long gone extinct.
Click the alert icon to follow topics:
ICYMI
Ken Burns' Brilliant 'The U.S. and the Holocaust' Has Only One Problem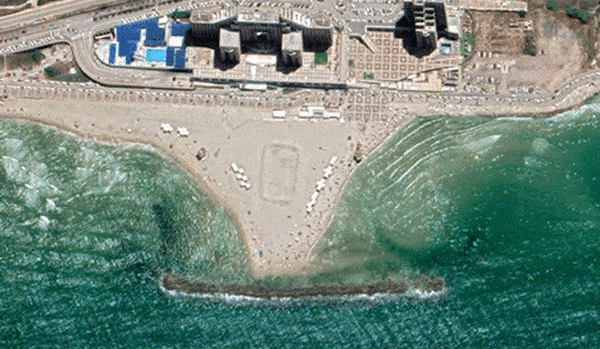 Facing Rapid Rise in Sea Levels, Israel Could Lose Large Parts of Its Coastline by 2050
As Israel Reins in Its Cyberarms Industry, an Ex-intel Officer Is Building a New Empire
How the Queen's Death Changes British Jewry's Most Distinctive Prayer
Chile Community Leaders 'Horrified' by Treatment of Israeli Envoy
Over 120 Countries, but Never Israel: Queen Elizabeth II's Unofficial Boycott