Before Stonehenge: Whispers of Sanctity From 9,000 Years Ago
A new study sheds light on the environmental conditions at Stonehenge at the dawn of humanity in Britain, on signs of cultural mixing – and one has to wonder about those weird pink rocks
Stonehenge in southern England. What was there 5,000 years ago?
Credit: ADRIAN DENNIS / AFP
Stonehenge isn't the oldest prehistoric stone circle in the world, it isn't the biggest and it isn't the most ornate. Yet it grips the global imagination like no other stone circle. And now the question is being asked: What was at that site in Amesbury before Stonehenge was built?
Was it really forest dense enough to preclude group inhabitation, as is generally thought? Or was there continuity from the earliest occupation of the British Isles? Could it be that the builders of Stonehenge elected to erect their monument at the site because it was already considered sacred?
The first Stonehenge circle arose about 5,000 years ago, and the fourth and last phase was built about 3,500 years ago. Older stone circles must begin with Göbekli Tepe and 11 other tepes in Turkey built more than 11,000 years ago. There are stone circles in the Sahara aged more than 7,000 years and the Carnac Stones in France have been dated to 6,500 years ago. Orkney, off the coast of northern Scotland, also has monuments that predate Stonehenge.
Southern England's Stonehenge, however, has become the stuff of folklore and fantasy, and sticks out from today's landscape like a sore thumb. Much research has gone into investigating the monument itself, its imported bluestones, and the possible rationale behind its construction.
But the question asked in new research published Wednesday in PLOS One by Samuel Hudson of Britain's University of Southampton and colleagues is what came before Stonehenge. The thinking has been that the area was thick forest, unsuitable for intense occupation.
That is not so, according to environmental reconstruction of the conditions in Blick Mead – a settlement of pre-Neolithic hunter-gatherers at the edge of what would become Stonehenge, by a spring.
Analyses of pollen, plant spores, DNA in the sediment (a very new technique) and animal bones indicate that Blick Mead wasn't in dense forest: it was partially open woodland that would have been perfectly suitable for herbivorous megafauna like the apparently toothsome aurochs and deer. Which would have rendered it perfectly suitable for hunter-gatherers to live there at least 10,000 to 9,000 years ago, and they did.
Staggered migrations
Peering into the Mesolithic (pre-Neolithic) past of Blick Mead begs the question: who are the British today? Recent studies have delivered startling results.
Less than 1 percent of today's Britons descend from the aboriginal inhabitants who reached the islands from the continent when the glaciers retreated around 11,000 years ago. (Wondrously, there are still traces of some of these early settlements – for instance, the remarkable Mesolithic site of Star Carr in Yorkshire, which may date to as much as 11,000 to 10,000 years ago.) These aboriginal Britons all but went extinct, it seems.
Today's British descend mainly from yet more immigrants from the continent. About 6,000 years ago there was a huge influx of early European farmers, who in turn descended from early Anatolian farmers. They replaced the indigenous population. Then, 4,500 years ago, there was another massive influx from central Asia; ditto. Then, around 3,000 years ago, there was yet another influx of descendants of early European farmers. Each such immigration was disruptive.
In short, the first phase of Stonehenge was built – according to Prof. David Reich of Harvard and his stupendously large team – by descendants of early European farmers who in turn had descended from early Anatolian farmers. Subsequent phases may have been built by the descendants of other immigrants or some mixture of the above.
Indeed, the new paper in PLOS One does not suggest genetic continuity, lead author Hudson stresses. It argues for continuity in human occupation of the site as of 9,000 years ago.
Continuity in this context means continued use of the landscape in that particular area by both hunter-gatherers and early farmers, Hudson elaborates: "The repeated occupation of this one area over thousands of years suggests that there were elements of the environment that made it attractive."
One attraction might have been that the area was relatively open, making it easier to farm and to construct large monuments, Hudson explains.
Signs of the sacred
Is it possible that another key attraction was that the site had religious significance prior to Stonehenge? Theoretically it's possible. "Reuse of holy sites through cultures and periods is common," remarks Israeli archaeologist Prof. Aren Maeir, who isn't connected with this research.
In such cases, archaeologists may find an ancient temple atop another one, or at least repurposed bricks and stones. At Blick Mead, no evidence whatsoever has been found, to date, that might support Neolithic-to-Bronze Age worship or ritual.
Which doesn't mean that people 9,000 years ago didn't have beliefs. Note that the Yorkshire village of Star Carr, which dates to about 11,000 years ago, certainly does have evidence suggesting ritual: most strikingly, deer skulls that anthropologists suspect were used as masks or headdresses.
There is no proof that the skulls were shamanistic accoutrements worn during trance dances or some other observance. Some speculate that the skulls were a Late Stone Age equivalent of camouflage: worn by hunters to blend into the environment, though one must wonder what sort of environment has dead, defleshed deer walking about. One is challenged to imagine that a deer breakfasting on the sward would see that skull bipedally creeping up and think "Oh, alright, fine."
Back at Blick Mead, it cannot be ruled out that the earliest Mesolithic history of the area may have been known – at least to some degree – by later farming populations, Hudson says.
There is one possible intriguing find that may indicate the site was held to be sacred early on. Smack by Stonehenge, a mere 1.4 kilometers (0.8 miles) from the circle, archaeologists unearthed the so-called Coneybury Anomaly.
It is basically an ancient garbage pit (which had not been observable on the surface) containing bones from both wild and domesticated animals – deer and cows, and a lot of other objects, including pottery from the Neolithic, and stone tools of both Mesolithic and Neolithic style, all mixed up together. That's the anomaly – Mesolithic predates Neolithic, usually, but here we seem to have representation of it all in one spot.
Let us be clear: the Coneybury Anomaly is not associated with the earliest occupants of Blick Mead. It dates to the early Neolithic, between 6,000 to 5,500 years ago. It predates Stonehenge.
What happened at Coneybury? Were there feasts there over the ages? One group of researchers suggested in the Proceedings of the Prehistoric Society a far more interesting case: that Coneybury contains the remnants of a great communal banquet during the Early Neolithic period. Coneybury was where people hailing from different areas and cultures met, each bringing their own dinner animal – one group brought wild deer, others brought domesticated bovines.
In other words, hunter-gatherers and farmers living cheek by jowl broke proto-bread together at a great big banquet at the site where Stonehenge would arise centuries later.
Thus, this garbage of mixed provenance could attest that the site had some early significance. Apropos the pottery found at the Coneybury Anomaly, the fragments are large. One thought is that it was ritually smashed after that one single mass barbecue – held by two different cultural groups.
Then there is the story of the pink flint. As said, the Mesolithic settlement at Blick Mead arose by a spring, which hosts a rare form of algae called Hildenbrandia rivularis. That plant causes stones taken out of the spring, after some hours, to turn bright pink.
One may assume that the local denizens of this bucolic spot noticed that and, given that rocks do not normally turn pink when removed from water, it may have been taken for magic. Maybe the entire ethos of Stonehenge, culminating in latter-day druids making pilgrimages during the summer solstice, began with a humble water plant, unusual geochemical conditions and some wild leaps of the imagination.
Another find in what is today the Stonehenge car park – three pits that had, science has elucidated, contained giant timber posts 10,000 years ago – could also hint that the area had some significance to the hunter-gatherers. One does not erect giant poles using stone tools and sheer grit for no reason. But we don't know how significant, Hudson spells out: We cannot say whether Mesolithic feelings for the site went beyond simple practical use of a favorable location for hunting.
So what do we have? There just isn't evidence dating from the Mesolithic to suggest that, as a whole, the area was held to be ritually important before Stonehenge, Hudson sums up. For all the human penchant to build a temple where there had been a temple, for all the pinkening of the spring rocks at Blick Mead, for all the giant poles in the modern-day car park – there is no solid reason to think that Blick Mead was in some way a predecessor to Stonehenge.
Click the alert icon to follow topics:
ICYMI
Ken Burns' Brilliant 'The U.S. and the Holocaust' Has Only One Problem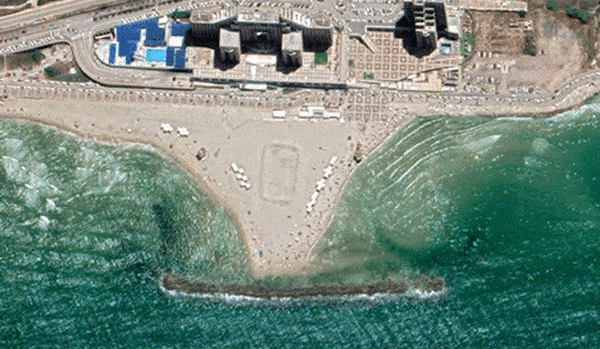 Facing Rapid Rise in Sea Levels, Israel Could Lose Large Parts of Its Coastline by 2050
As Israel Reins in Its Cyberarms Industry, an Ex-intel Officer Is Building a New Empire
How the Queen's Death Changes British Jewry's Most Distinctive Prayer
Chile Community Leaders 'Horrified' by Treatment of Israeli Envoy
Over 120 Countries, but Never Israel: Queen Elizabeth II's Unofficial Boycott