Paleo-feng Shui |
Pre-Neanderthals in French Cave Planned Exactly Where to Place Their Fire
Analysis of smoke dispersal 170,000 years ago in Lazaret Cave shows the hearth had been perfectly positioned, and other activities had been designed around it
Reconstruction of meat roasting on a campfire at the Lazaret Cave, France. Early humans placed the hearth at the optimal location in their cave – for maximum benefit and minimum smoke exposure.
Credit: De Lumley, M. A. . nandertali
The early humans occupying Lazaret Cave in southeastern France around 170,000 years ago placed their hearth in the perfect spot to take advantage of their lovely fire without choking on the smoke, according to a new analysis by researchers from Tel Aviv University.
Moreover, the early humans dwelling in Lazaret were consistent about the location of the hearth over tens of thousands of years, the researchers say in a paper published Tuesday. That does not smack of coincidence but of planning.
The time was likely cold, not that we know how sensitive Neanderthals and other early human types were to chill. In any case, it is plausible that the hearth would have been a focal point for early human activity in the cave. They would likely congregate around the fire for warmth, for protection, to cook, to haft their stone tools and to socialize.
The point is, Yafit Kedar, Gil Kedar and Ran Barkai argue in Scientific Reports, that the spatial organization inside the cave was not random. The interior design was planned, from the starting point of positioning the fireplace optimally. This casts on the ability of early humans to realize the implications of smoke exposure and to optimize use of their cave space, they suggest.
No, the Tel Aviv researchers didn't visit Lazaret Cave. This is not an auspicious time to travel. But for the purposes of their air circulation study, they didn't need to. Lazaret Cave has undergone exhaustive archaeological study, starting in the 1950s, and has been thoroughly mapped – in three dimensions no less – Barkai explains.
All finds in its 28 archaeological levels were meticulously recorded and the activity in the various areas of the cave has been reconstructed. "Also, the cave is in great condition; it's still intact," Barkai explains when asked why they didn't simply carry out a smoke-dispersal simulation analysis on a cave in Israel, which is riddled with caverns occupied since time immemorial. "At Qesem, for instance, the ceiling collapsed so it's hard to deduce how the smoke from the hearth dispersed," he adds.
Also, Lazaret has only one hearth (identified as a circle of charcoal) at the archaeological level they focused on, UA25. Their choice of Lazaret was a gamble, he adds – and "it paid off, because it is perfect. The truth is, our nose told us this was the place to start. One must listen to one's nose."
Words to live by. Also, crucially, their French colleagues were helpful. "There are no boundaries in prehistory," Barkai says. "We do intend to replicate the analysis of smoke dispersal indicating prehistoric spatial planning in caves in Israel. This study is just the opening shot."
Cold and the Neanderthal
Lazaret Cave, or Grotte du Lazaret, overlooks the Mediterranean Sea by Nice. Around 40 meters (131 feet) deep, up to 15 meters high and up to 15 meters wide, the cave had been occupied by successive early humans from about 230,000 years to 37,000 years ago. Sometimes it served as a temporary camp and sometimes for prolonged occupation, prior studies have deduced.
Served whom? The research on Lazaret generally refers to early humans, specifically pre-Neanderthals. The skeletal remains are sparse: just 20 fragments. Some, bits of cranium dating to about 200,000 years, are of a half-grown child who seemed to be a mix of Homo heidelbergensis and a Neanderthal.
In any case, Lazaret is related to Neanderthals somehow; certainly the place was inhabited well before Homo sapiens reached these parts, Barkai says.
The UA25 layer on which the new paper is based dates to around 170,000 to 150,000 years ago, and was the best preserved and mapped out of the 28 defined layers in Lazaret, Barkai explains. The mapping identified specific areas in the cave for tool-making, butchering animals such as the red deer and ibex, on which the occupants doted; an area by the hearth for drying and smoking meat; a dining area and another for dumping the bones; and a spot for sleeping at the rear of the cave, where previous work has tentatively identified bedding made of plant matter. (Note that separate studies suggest the identification of bedding from 200,000 years ago and around 50,000 years ago in South Africa, and 185,000 years ago in Misliya, Israel, for instance.)
As said, UA25 had only one hearth. Other layers show multiple hearths but always one in that ideal location, which was 13 meters from the cave mouth and roughly in the center of the cave.
By the way, prehistoric spatial organization, or separate spots for food preparation, cooking, tool-making, has been recognized before – for example, at the 800,000-year-old site of Gesher Benot Yaakov.
Back at Lazaret: "Here we show that the organization of space in the cave depended on the location of the hearth: it was optimally placed and the rest of the space was built around it," Barkai says. "It seems first they decided where to place the fire and then it seems as if they planned: Let's do the butchering here, hang the meat to dry here, and sleep there."
Apropos placing the hearth, how did the pre-Neanderthals' fire come to be?
The use of fire is a heated topic in academic circles, Yafit Kedar acknowledges. At what point in evolution did various homo lineages learn how to use fire? At what point did they learn how to control it – meaning, ignite it at will, as opposed to harvesting it from wildfire ignited by lightning? When did it become de rigueur in one's cave? What about Neanderthals who occupied deep caves: did they have torches?
Some postulate that somebody had control of fire as much as 350,000 years ago on Mount Carmel. Some postulate that's hogwash and only Homo sapiens could actually control fire.
"Some even doubt that Neanderthals controlled fire at all," Barkai explains. And why is there doubt? Because there are some sites in Europe that were surely very cold, yet there's no evidence that the Neanderthals there had fire, as late as 100,000 and 70,000 years ago, he says.
Absence of evidence is not evidence of absence, of course, and preservation is an iffy thing. That Neanderthals used fire is not argued; how they achieved it is very much argued. Possibly in some places they achieved control of fire, and in some they didn't.
Barkai for one believes Neanderthals controlled fire, everywhere, if they chose to. He qualifies however that we have no idea how resistant Neanderthals or any other alternative humans were to the cold; we weedy sapiens may be relatively sensitive to it – certainly the females among us. Even among sapiens, some are more cold-resistant than others.
A separate study published in Nature last December found that the ancient people of Tierra del Fuego had genetically adapted to the cold, and lived in extreme conditions sans clothing.
The sweet spot
Clearly, the location of a fire in a cave is crucial to the dispersal of its smoke. Locating one's fire unwisely makes the eyes burn and chokes the inhabitants, forcing them to douse it out or leave.
Hearth location impacts the height of smoke in a cave and thus affects activity inside, Yafit Kedar, Gil Kedar and Barkai explain.
The trio performed a range of smoke dispersal simulations for 16 hypothetical hearth locations inside the cave. For each hypothetical hearth, they analyzed smoke density throughout the 290-square-meter cave by means of thousands of simulated sensors placed 50 centimeters apart from the floor up to a height of 1.5 meters – almost 5 feet. (Neanderthals were usually 1.5 to 1.6 meters tall.)
And lo, the actual location of the hearth in UA25 and analysis of the ensuing smoke density in Lazaret shows the inhabitants chose the perfect locations for their fire, according to the Tel Aviv team's estimates.
The smoke densities in the various areas of the cave were designated according to the definitions of the World Health Organization and the Environmental Protection Agency, the team explains. They found that because of its location, the air near the hearth was breathable and suitable for long-term occupation.
In short, what we seem to have is advanced planning by early humans.
"Our study shows that early humans were able, with no sensors or simulators, to choose the perfect location for their hearth and manage the cave's space as early as 170,000 years ago – long before the advent of modern humans in Europe. This ability reflects ingenuity, experience and planned action, as well as awareness of the health damage caused by smoke exposure," Barkai says.
What can be said about the archaeological layers featuring multiple hearths in Lazaret? It could be that different hearths were used at different times of the year, as season is one of the parameters affecting air circulation and smoke dispersal in the cave. This has yet to be explored but explore it they will, the team promises.
Click the alert icon to follow topics:
ICYMI
Ken Burns' Brilliant 'The U.S. and the Holocaust' Has Only One Problem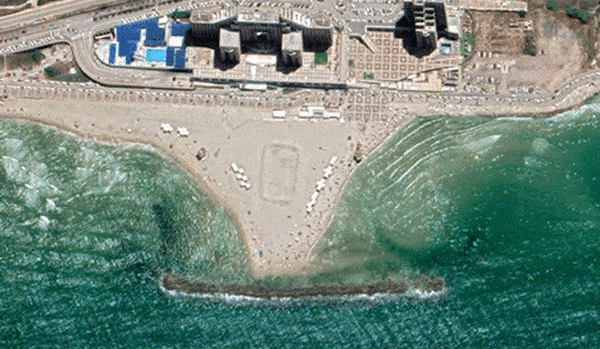 Facing Rapid Rise in Sea Levels, Israel Could Lose Large Parts of Its Coastline by 2050
As Israel Reins in Its Cyberarms Industry, an Ex-intel Officer Is Building a New Empire
How the Queen's Death Changes British Jewry's Most Distinctive Prayer
Chile Community Leaders 'Horrified' by Treatment of Israeli Envoy
Over 120 Countries, but Never Israel: Queen Elizabeth II's Unofficial Boycott