A Prehistoric Ballerina and Other Human Evolution Stories of 2021
Who walked upright in Crete 6 million years ago? What on earth was that hominin in Tanzania doing 3.6 million years ago, a coupé jeté? And who are we, really – the epitome of evolution or hybrids?
A war scene is shown in one of the cave paintings in Bhimbetka
Credit: PRAKASH HATVALNE / AP
Be not proud, Homo sapiens. The truth is out there, beneath cave floors, buried in the soil and in the sea, and thanks to the extraordinary innovation in recent years of obtaining and analyzing ancient DNA, the truth is in our genes. And what is that truth? That depends who you ask. Here are some of the stories about human evolution published in Haaretz in 2021, roughly in the order of our evolution.
We began as little ratty arboreal animals named Purgatorius in the sunset of the dinosaurs and spread like weeds, likely driven by a combination of curiosity, wanderlust and hunger, until we were the only remaining human species and had conquered the world.
En route, as we evolved from swinging between the trees and knuckle-walking to bipedalism and beyond, we became the alpha: possibly the smartest animal alive (not getting into dolphins, octopi, et al.). We became the top predator, the gracile, agile, cultural being that created breathtaking art tens of thousands of years ago – and killed almost everything in our path.
In the beginning, we split from the chimp oh maybe 7 million years ago; it's hard to say, really. In April we learned that at least some of our Australopithecine ancestors (maybe) who lived 2 million to 4.2 million years ago could walk on two legs but still had apelike shoulders suitable for tree-swinging. A report from 2018 even suggested the australopith kiddies stayed in the trees until they were older, based on their foot morphology.
Then in October, fossil footprints in Crete, made by a being walking on two feet, were redated to 6 million years old. The researchers think the seaside stroller was a hominin, an early human ancestor, not an ape. Others don't agree. Talk about a monkey wrench in the works. Uproar ensued. About the only thing that can be said categorically is that the track maker didn't have claws, so a bear it was not.
That isn't even the craziest fossil footprint story. The cigar goes to the hominin whose track in Tanzanian volcanic ash was so bizarre that the archaeologists concluded it was an unknown species and had been cross-stepping like a ballerina.
We may not know what it was, but we may have an inkling as to what it ate, or didn't eat. No, in contrast to some gauzy theories, our earliest (putative) ancestor did not subsist on nuts, seeds and flowers.
Sure we gathered some stuff and probably wouldn't turn down a nice raw egg, but we ate a lot of meat – and one study suggests that at some point at least, we were dead fussy about where our prey came from.
Moving on a few million years, in April researchers found the oldest home in human history, by which they mean a cave in which early humans began to live 2 million years ago. That isn't even the weirdest part of the story – the rock collection is. Yes, half a million years ago some early human type was collecting pretty crystals, which seems to have been a thing during human evolution. With all respect to hardy flint for our hand axes, we had a thing for pretty rocks.
The denizens of that earliest home probably had chopping tools, an implement that has had archaeologists racking their brains. The thing is, choppers appeared about 2.6 million years ago and stayed in fashion for about 2 million years, during which time we evolved. A lot. But the choppers didn't.
How did that happen, and what on earth were they used for? Israeli researchers believe they have solved the mystery. It's a bit grisly, but we didn't gain supremacy by being shrinking violets armed with other flowers.
That isn't even the only case of baffling "technological persistency" – another forever tool was the hand ax.
En route to gaining supremacy, it's becoming clear that over the last 300,000 years or so, about the time frame of Homo sapiens, our ancestors didn't cavil at sex with other human species. Non-Africans have traces of Neanderthal and Denisovan DNA – in fact Negritos in the Philippines have so much Denisovan DNA that their ancestors are thought to have undergone an "extra" interbreeding event. There are even traces suggesting mixing with archaic hominins. That story is from 2020, and yes, if there are viable offspring, this indicates (by some measures) that we were all one species.
Perhaps the most interesting thing that can be said about our speciation is that Homo floresiensis and other island hominins in Southeast Asia may not have been a branch of Homo sapiens but of erectus. And it may have coexisted with the earliest modern humans in Southeast Asia, about whom we can say that one may have ruined his teeth by using them to make rope.
Apropos art, caves and weirdness, six grooves carved onto an aurochs bone in prehistoric Israel gave rise to speculation that it had meaning.
But it's a bit hard to say. It's easier to say is that the earliest cave painting ever done (so far as we know) was found in Indonesia, and what did the prehistoric artisans of Southeast Asia depict? Their passion, presumably – a pig. Yes, pig is good. The oldest painting in the world, done at least 46,500 years ago, is specifically of a warty pig. Whether divine swine or fondly remembered meal, we do not know.
South of there in Australia the oldest known painting is of a fat kangaroo – there's quite the theme here.
One mystery bedeviling the scholarly set is why some art was done in the pitch-black bowels of caves. Israeli researchers have resolved that one. We know how – they had to have been using torches. But why? Read on.
Yet as we evolved and became spiritual (or just wasted), we killed and killed and killed. It turns our that the average body mass of animals shrank by more than 98 percent (!!) during the last 1.5 million years, and now a meta study has proved that this not due to vagaries of climate and ice age swings.
It was our fault. We ate the megafauna. And in parallel with creating art beautiful enough to make one weep, we met the dog and it helped us hunt even more.
And we killed each other, using some absolutely horrific stone tools. We can be in awe of some of our achievements – not least, how on earth did we boil soup before we had pots?
But proud, maybe we should not be. It seems rather apposite that we began as a tree-dwelling mongoose-like creature named Purgatorius, named for its home in Montana's Hell's Creek.
Click the alert icon to follow topics:
ICYMI
Ken Burns' Brilliant 'The U.S. and the Holocaust' Has Only One Problem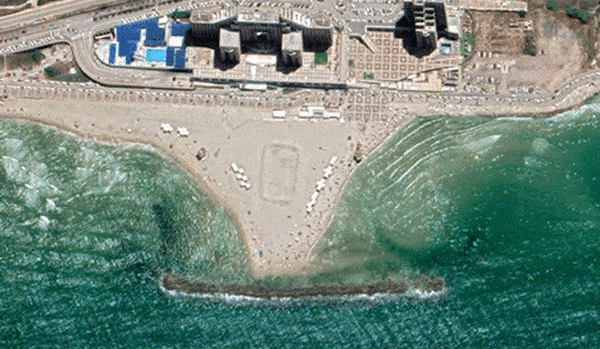 Facing Rapid Rise in Sea Levels, Israel Could Lose Large Parts of Its Coastline by 2050
As Israel Reins in Its Cyberarms Industry, an Ex-intel Officer Is Building a New Empire
How the Queen's Death Changes British Jewry's Most Distinctive Prayer
Chile Community Leaders 'Horrified' by Treatment of Israeli Envoy
Over 120 Countries, but Never Israel: Queen Elizabeth II's Unofficial Boycott