Six Archaeological Sites on Israeli Army-controlled Land (And One in a Prison)
Some of these sites on Israeli navy, air force and other bases can be visited, if arranged in advance and probably only on the weekend when the firing zones aren't active
Prisoners helped excavate the church beneath Megiddo Prison
Credit: יותם טפר
Versatility with land management is the name of the game in a small country like Israel. One upshot is an unfortunate juxtaposition between archaeological sites and army bases, training sites and firing zones. Visiting some of these sites, if one can, one may see not only wonders from the past but spent shells, glow sticks on paddles for target practice, bullet-perforated barrels and other signs of military operations. Listed north to south, here are some archaeology sites now inside Israeli army, air force, navy bases and firing zones.
Rujm el Hiri: 'Wheel of Ghosts'
In a military training zone in the Golan Heights is one mysterious archaeological site. Referred to by many as the "Stonehenge of Israel," five concentric circles surround a rock pile that some postulate is a burial chamber, though no human remains have been found. Its Arabic name is Rujm el Hiri, after the giants mentioned in the Bible and it's in an Israeli army firing zone. It's also near Israel's border with Syria, about 8.5 kilometers, and is adjacent to old mine fields.
It's a hike from a dirt parking lot for visitors, and is open to visitors on the weekend or holidays, when the military isn't firing or training.
There is a small chamber underneath the massive central rock pile: The entrance to the 5,000-year-old structure was apparently aligned with the sun for the summer solstice, which may, if so, theoretically could have been related to ceremonial practices. The site has inspired many theories in the realm of fringe archaeology, including giants, supernatural energy fields, and even – strangely specifically – a healing center manned by a priestess named Nogia Nogia, according to a psychic who visited the site.
A possibly less mystical theory suggests that the Chalcolithic people who built it used the site for sky burials, which involves leaving the corpses on a mound, tower or otherwise exposed for vultures to eat. Archaeologist Rami Arav has compared the Rujm el Hiri mound to "towers of silence" found in Iran and India. Not a definitive narrative for the site, but more likely than Nogia Nogia.
Château Pèlerin: Look, don't touch
Dominating a small peninsula just south of Haifa is a massive Templar fortress, built during the Fifth Crusade. It is one of the largest fortifications still standing from that time, including its church, stables, baking ovens, gates, and bathhouses. The site also possesses a relatively intact Crusader cemetery, with more than 1,000 burials and some grave markers, remnants of the military force that set out to reconquer the Holy Land from the Muslims, ultimately to fail.
However, access is restricted because the fortress is inside an Israeli naval base, used for amphibian commando training. Visitors can however enjoy pleasant sunsets with a view of the fortress and army base from the other side of the peninsula. Since the military commandeered the fortress and beach, excavation has been limited.
There has been a push to open the site to visitors, that started with protests over a decade ago, whether to generate tourism income or simply in principle, on the grounds that it's a cultural resource to which the public should have access. Meanwhile, the military has reportedly put more effort into preserving the fortress. They allegedly used to shoot the walls for target practice.
Tell Yona: Aerial view only
Lying west of Rishon Lezion in central Israel, the 40-meter-tall Tell Yona lies within a firing zone, but it must be added that much of its past riches, including mosaics, hailing back to the Persian period 2500 years ago, at least, seem to have been stolen over the years. In this case it isn't that the tell is "within" a military zone: the army built a small base smack on top of it. You can't visit it, period, but then there isn't much to see on the sandy surface. While its history was rich, today its main purpose is a topographical navigation point for pilots. It is also nearby a popular beach helpfully known as "Tell Yona beach".
Don't confuse it with "Givat Yona" or Yona Hill in Ashkelon, which contains the remains of an Iron Age stronghold that tradition identifies as the burial place of the mythical biblical figure Jonah, and which is not within an area controlled by the military.
Tel Malhata: Traces of empire
On Nevatim Airbase in the Jordan River Valley, is an elliptical mound known as Tel Malhata, supposedly Moladah from the Bible. The site has artifacts from the Chalcolithic to the Byzantine period, including inscriptions in Hebrew, Edomite and Aramaic, some inked ostracas and some incised. It is thought the site was an administrative agricultural center for this section of the Jordan Valley. From the Byzantine period, archaeologists found stunning mosaics, as well as dozens of cist tombs.
Other finds include Iron Age stamp seals, cylinder seals, Egyptian and Phoenician scarabs, anthropomorphic and zoomorphic figurines, and scale widths. The scale weights are thought to be from the 8th-6th centuries B.C.E. and to attest to the functional mathematical systems used in Judea. They may have served in trading with neighbors since this is considered a border region settlement.
The Egyptian and Phoenician scarabs were found associated with a destruction layer, maybe caused by conquest. Minimal excavation and access to the site make it difficult to draw conclusions, but a Neo-Assyrian cylinder seal was also found – proving that at the very least, Tel Malhata was a magnet for the stray empire trinket. Archaeologists even found carbonized remains of wood furniture, including lathe-carved cylindrical table or chair legs.
Horvat Qitmit: Where the Edomites worshipped
Also on the grounds of Nevatim Airbase, 5 km from Tel Malhata, are two piles of rocks marking an Edomite shrine. This site, Qitmit, was located between the theorized regions of Edom, Moab, and Judah and has no evidence of habitation. It seems to have been exclusively a worship center. The two-structure site is one of the richest troves of cultic artifacts associated with Edomites ever found in Israel.
Among these cultic objects are what appears to be an altar, and a three-horned head assumed to be of a god, who seems to be the main focus of the site. Among other finds are multiple figurines thought to depict pregnant individuals and other anthropomorphic statues now housed in museums. The discovery of the goddess and pregnancy figurines caused some archaeologists to surmise the site may have been associated with a fertility cult.
Since all of the artifacts were produced locally and the other sites nearby are associated with the ancient Israelites, another theory is that it was a shrine for people who wanted to practice this cultic religion associated with Edom while living in Israelite communities. It could have been used by nomads migrating from Edom and then settling, converts among the Israelites, or both.
Either way, it depicts a culture supposedly descended from Esau that was negatively depicted in the Bible. Edomites in this region supposedly were subject to the Kingdom of Judah and their rights to practice religion are not fully understood, but likely ended badly with Josiah's Reforms which tried to obliterate all cultic religions. This site was only used for a short period during the Iron Age II, a prosperous time for the Edomites. However, sad to relate, the site can't be visited since it is only a stone's throw from an Israeli Defense Force airbase.
Har Karkom and Moses' Exodus rock etchings
Deep in a restricted military firing zone and inaccessible save by rugged 4x4 when the military deems it necessary to close Route 10 on the Israeli-Egyptian border is a dusty Negev mountain of flint and ancient rock art. This ancient art gallery can be reached by normal cars when Route 10 is open, but it's often closed for military drills.
Tens of thousands of pictographs decorate the rocks across Mt. Karkom. The images include ibexes, eyes, snakes alongside staffs, scorpions, and abstract images that keep archaeologists speculating. The site also has some of the most impressive geoglyphs in Israel and abundant archeological evidence for occupation going back not tens but hundreds of thousands of years.
Karkom has shrines, altars and upright stones (masseboth) suggesting ceremonial activities as well as abstract and zoomorphic petroglyphs theorized to be symbolic. Nothing is known about these putative ceremonies and the rock art cannot be dated. Despite the lack of evidence for concrete dates or ceremonial proceedings, the site's lead archaeologist, Emmanuel Anati, thinks Karkom may be the biblical Mt. Sinai. That is not a widely accepted view despite the "burning bush" effect created by light on the canyon wall, and the rock art potentially depicting a snake next to a staff and grid "commandment" checkerboards.
Visiting the open air rock gallery and projected burning bush is possible, but the military's control of Route 10 dictates whether or not you need to bring the jeep.
Armageddon: When prisoners dig for a good reason
A part of the Jezreel Valley is crowded by the archaeological remains of a proto-church and Roman camp, the site of the prophesied apocalyptic battle between God and Evil, according to Christian tradition, and a modern prison that is slated to be moved, at vast cost. At some point.
The British-built Megiddo Prison was supposed to be moved for the sake of creating an archaeological park encompassing one of the earliest-known Christian places of worship, a proto-church if you will. This house of worship was in the Jewish/Samaritan village of Othnay and was excavated with the help of the inmates. Among other things the excavations unearthed an extraordinary mosaic with an inscription dated to the year 230 explicitly calling Jesus "God."
Right by that is Legio, the biggest Roman encampment in Israel, excluding Jerusalem. It is presently covered up again and there is almost nothing to see there but wheat fields, but looking closely, the land is littered with fragments of ceramic roof tiles, glass and more from that time. When the church was found, archaeologist Dr. Yotam Tepper speculated that some members of the Roman Legion's encampment may have been Christian, a speculation that could change the way many people think the Romans treated Christianity.
Look up from the prison and camp: towering overhead is Tell Megiddo, supposedly where Armageddon will occur. These three sites are supposed to be the attractions in an archaeology park. Challenges for the creation of the park include the cost of moving Megiddo Prison, a plan which is currently on hold, and building a new intersection for Highway 66, which threatens to cover much of Legio for the sake of commuter convenience.
Click the alert icon to follow topics:
ICYMI
Ken Burns' Brilliant 'The U.S. and the Holocaust' Has Only One Problem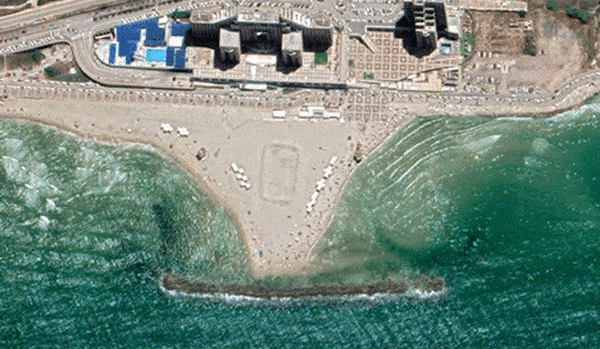 Facing Rapid Rise in Sea Levels, Israel Could Lose Large Parts of Its Coastline by 2050
As Israel Reins in Its Cyberarms Industry, an Ex-intel Officer Is Building a New Empire
How the Queen's Death Changes British Jewry's Most Distinctive Prayer
Chile Community Leaders 'Horrified' by Treatment of Israeli Envoy
Over 120 Countries, but Never Israel: Queen Elizabeth II's Unofficial Boycott