A 12,000-year-old Addiction: Archaeologists Identify Earliest Tobacco Use by Humans
Burnt seeds found in a prehistoric site in Utah desert suggest Native Americans were chewing on tobacco 12,300 years ago – some 9,000 years earlier than previously thought
An archaeologist digging the hearth at the prehistoric Wishbone site in Utah's Great Salt Lake Desert.
Credit: Daron Duke
The discovery of a prehistoric site on a desert U.S. Air Force base in Utah has led archaeologists to place the oldest known use of tobacco by humans at 12,300 years ago, some 9,000 years earlier than previously believed.
The four charred tobacco seeds unearthed in a prehistoric hearth on a windswept desert plain, now used as a military testing site, suggest that one of the earliest human cultures to populate the region had developed a habit of chewing on dried tobacco, the researchers conclude.
The study, published Monday in the journal Nature Human Behavior, sheds light on the history of tobacco use and its domestication – by suggesting that humans have been prone to nicotine addiction pretty much since we first encountered this plant in the Americas.
The research was led by Daron Duke, an archaeologist with Far Western Anthropological Research Group (a company that performs archaeological surveys on federal lands). During a 2015 survey on the Utah Test and Training Range, located west of Salt Lake City, Duke and his team uncovered what was once an open-air camp for prehistoric hunter-gatherers, complete with remains of a hearth, animal bones and stone tools.
The camp was named Wishbone site because the archaeologists unearthed hundreds of bones of waterfowl, which were probably the main sustenance for the inhabitants.
Radiocarbon-dated to around 12,300 years ago, the site held the oldest open-air hearth uncovered in the Great Basin region, making it an important find in its own right. But the researchers were surprised to find among the ashes of the ancient fire four burnt tobacco seeds that seemed rather out of place.
"It was a completely-out-of-nowhere find," Duke says in an interview. "It's very uncommon to find tobacco seeds, even at later sites: they are really small and they are not food, so they don't occur very often."
Until now, the earliest evidence of tobacco use comes from nicotine residue identified on a 3,300-year-old smoking pipe unearthed at a site in Northern Alabama. It is quite possible that Native Americans were smoking tobacco much earlier, as the record of pipes in the southeastern United States goes back 5,000 years, but we don't have the nicotine residue to be sure.
Smart ducks
In any case, the evidence from Wishbone site goes back to much earlier days. The question, though, is whether those tobacco seeds could have ended up in the fire due to natural causes or for a purpose other than nicotine use.
Today, the Great Salt Lake Desert is a desolate plain that is mostly used to race super-fast cars and test bombs. But, as its name suggests, this windswept plain is actually the bottom of what used to be a huge prehistoric lake. At the end of the last Ice Age, as the climate warmed, the lake started withdrawing and for a few millennia the area was a lush marshland that provided ideal living conditions for prehistoric hunter-gatherers, Duke explains.
Tobacco, however, wouldn't grow in such a humid environment. It would have occurred in the wild only on drier heights that are up to 24 kilometers (15 miles) away from the Wishbone site, he says. While the plant's seeds are small, they are not small enough to be spread so far by winds, he adds. So the tobacco had to have been transported to the marshes by someone.
The researchers even considered that the seeds may have been part of the stomach contents of some of the ducks that were roasted on the fire. But, possibly because they are smarter than humans, ducks don't eat tobacco.
"Theoretically, it is possible a duck could nibble on a tobacco plant, but that duck would have to avoid hundreds of square kilometers of its typical diet, go up a rocky mountain range, which they don't do, and eat a fairly uncommon plant," Duke says.
It is also unlikely that the plant was used for fuel because, like most weeds, tobacco lacks any woody part and burns very quickly. Besides, there was better and more accessible fuel in the marshlands in the form of willow trees, which in fact is what the researchers report was used for the fire.
Add to this that the seeds found at Wishbone belong to Nicotiana attenuata, the species of wild tobacco with the highest content of nicotine – second only to the amount found in the domesticated varieties, which of course didn't exist back then.
So, the most probable explanation for the presence of tobacco seeds in the hearth is that they were part of discarded quids, wads of vegetable material that are placed between gum and teeth to chew or suck on, Duke and colleagues conclude. Smoking is also a possibility, but since no remains of pipes were found, it is less likely.
Tobacco seeds themselves do not contain nicotine, but the leaves, which are the addictive part of the plant, are sticky and can easily capture a few seeds that end up being wrapped into a quid. Discarded tobacco quids are found at later Native American sites in the area, and "dipping" – as this traditional form of chewing tobacco is called – is still common today, Duke notes.
Stoned artists
Based on the form of their tools, the people of Wishbone site belonged to the so-called Haskett culture. This was a stone tool complex that developed around 13,000 years ago, contemporaneously or slightly later than the better known and more widely spread Clovis culture. The Clovis people were once believed to have been the first humans to reach North America from Eurasia, through the Beringia land bridge some 14,000 years ago. Recent research has pushed back the date for the arrival of the first humans in America by thousands of years – but Clovis and its sister cultures remain some of the earliest and most important ancestor groups of modern Native Americans.
We don't know what exactly the Haskett people used tobacco for. It is becoming increasingly clear that prehistoric people had a quite clear understanding of the medicinal and non-medicinal uses of certain plants. For example, discarded centuries-old quids of the hallucinogenic datura plant found in California have led researchers to suggest that Indian Americans may have used the drug to induce altered states of consciousness as they created spectacular rock art.
As for the tobacco at Wishbone, it may have had ceremonial value, as it would have later in many Native American societies, or it may simply have been enjoyed for the energy and focus that a stimulant such as nicotine could provide to exhausted hunter-gatherers.
"It's also addictive, so in the end it would probably become part of your everyday life," Duke says.
The backdating of humanity's relationship with tobacco helps explain why Indian Americans eventually invested in domesticating what is essentially an inedible, toxic weed – a process that may have begun 6,000 to 8,000 years ago in the Andes.
"We ask ourselves what were the factors that brought tobacco, a nonfood plant, to become part of the domestication process at the beginning of agriculture," Duke says. "The answer lies in thousands of years of previous experimentation and use: it was already part of their culture."
After the Europeans reached the Americas, tobacco cultivation and trade became a major driver for the global economy, he notes. Since then, this humble weed has spread far and wide across the world, becoming one of the most used, and abused, substances of modern times.
When it comes to the history of our relationship with this addictive plant, perhaps we should ask a question that is more frequently raised about cats: did we domesticate tobacco, or did tobacco domesticate us?
Click the alert icon to follow topics:
ICYMI
Ken Burns' Brilliant 'The U.S. and the Holocaust' Has Only One Problem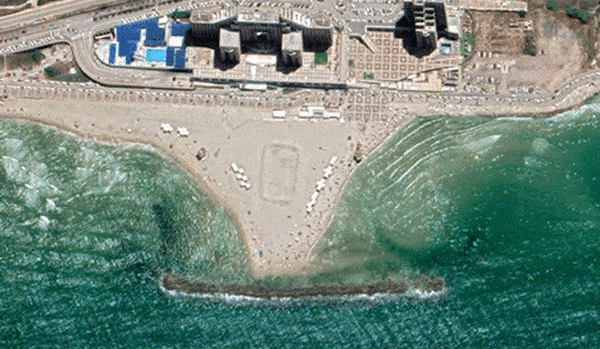 Facing Rapid Rise in Sea Levels, Israel Could Lose Large Parts of Its Coastline by 2050
As Israel Reins in Its Cyberarms Industry, an Ex-intel Officer Is Building a New Empire
How the Queen's Death Changes British Jewry's Most Distinctive Prayer
Chile Community Leaders 'Horrified' by Treatment of Israeli Envoy
Over 120 Countries, but Never Israel: Queen Elizabeth II's Unofficial Boycott