Proto-Canaanite Inscription Found in Israel Has Experts Squabbling Over Its Meaning
New support for Chris Rollston's reading of the inked clay fragment as 'Jerubbaal' in wake of criticism that it could actually say 'Azarbaal'
Looking closely at a 3,100-year-old pottery sherd foung at Khirbet el-Ra'i
Credit: Dafna Gazit, Israel Antiquities Authority
Interpreting a message written in a proto-alphabet in a long-dead language is a fraught enterprise. There is room for disagreement, especially when the inscription is incomplete. Now argument has arisen over a fragment of pottery found in an ancient food silo in the Canaanite-period mound of Khirbet el-Ra'i in southern Israel, featuring some letters inked in the early Canaanite alphabet.
The question is, which letters. The renowned epigraphics expert Christopher Rollston of George Washington University was consulted by the excavating team led by Israeli and Australian archaeologists and suggested the writing is apparently equivalent to the letters YRBA'L, which suggests the name Jerubbaal.
That in turn suggested to some, such as Sa'ar Ganor of the Israel Antiquities Authority, that the clay pot could refer to, or may even have belonged to, the biblical judge Gideon ben Yoash, critic of pagan worship and scourge of the Midianites:
"Therefore on that day he [Gideon] was called Jerubbaal, saying: Let Baal contend against him, because he hath broken down his altar" (Judges 6:32).
Never before has any inscription with that name been found; the question is whether one has been now. The right-most (i.e., first) letter in the inscription is incomplete and the original inscription may have been longer, the archaeologists who found it stressed.
In the opinion of theology professor David Vanderhooft of Boston College, reading it as "Jerubbaal" is problematic. The problem is that first broken letter – is that the proto-Canaanite equivalent of a yod, or is it not?
"The orientation of the individual graphs is slightly difficult for a variety of technical reasons, but the conclusion that the two partial parallel lines on the right conform with the traces of a yod in this period is difficult (perhaps unlikely)," Vanderhooft explains to Haaretz, adding, "It is possible. My own instinct would be to reconstruct a zayin."
Rollston stands by his reading. As with most inscriptions, there can be discussions and differences of perspective, he tells Haaretz. "As for this inscription, the resh, bet, ayin and lamed are all, as you know, clear and fully preserved. The letter before the resh is mostly, but not fully, preserved," he begins. "The morphology of the preserved traces are consistent with those of an Early Alphabetic (Proto-Canaanite) yod, hence Yerubba'l." I.e., Jerubbaal.
Z is for Zerbaal?
And if the first letter was a zayin, not a yod? Then the word would be ZRBA'L, which doesn't lead to Jerubbaal but to something like Zerbaal. Or, Vanderhooft points out, there could have been additional letters further to the right that are now missing.
"If the sequence ZRBAL was preceded by one or more letters, it may have been another ayin, yielding the well-known personal name Ezerbaal, and other options could be reconstructed," he says.
Alternatively, if that putative letter zayin was instead reconstructed as an aleph, then one would have a sequence aleph, resh, bet, ayin (arba) and then lamed, which could be understood as "four, belonging to," Vanderhooft says. "The editors did not consider this option, and I would not suggest it is necessarily correct, but one must entertain all reasonable options," he adds.
Or maybe it is a yod, as originally postulated by Rollston: "The option YRBL is also legitimate, but the letter on the right is, as the editors note, problematic," Vanderhooft says.
Theoretically that enigmatic first letter could indeed be a zayin, Rollston concurs, and theoretically there could have been an ayin before that.
"But this is quite speculative, as restorations often are. As for me, I read a yod before the resh, and thus, read Yeruba'l [Jerubbaal], and I don't need to restore some hypothetical letter," he tells Haaretz.
"In short, yes, when a new inscription is found, there will normally be debates about any number of things regarding it. And this new inscription is no different in that regard," Rollston adds. "But as for me, I work heavily in this script, and so I'm very comfortable with the way that we are reading it.
Leave it to Baal
Which brings us to the crux of the matter. The archaeologists reporting on the find – Khirbat er-Ra'i is being excavated by Yossi Garfinkel of the Hebrew University of Jerusalem, Sa'ar Ganor at the Israel Antiquities Authority, and Kyle Keimer and Gil Davis of Macquarie University in Sydney, Australia – date the sherd to the time of the judges, about 3,100 years ago.
Based on that timing, te antiquities authority further postulates, tentatively, that the sherd may have come from a vessel that belonged to none other than the biblical figure Gideon, who was reportedly nicknamed "Jerubbaal." According to the biblical narrative, Gideon locked horns with the cult surrounding the pagan god Baal. The infuriated townspeople demanded Gideon's head, but his father Joash suggested that Baal be left to defend himself – which, as we know, did not happen: According to this interpretation the name Jerubbaal derived from the root RV– rav, or, "fight with Baal."
Or, still as Jerubbaal, the name could be construed as adoring Baal. Or it could have been Jerubbaal the Canaanite shepherd or sandal-maker, we really have no idea.
"To move from a problematic reading to the possibility that we have a rendering of the secondary name of a biblical figure who is alleged to have been active in an entirely different region, well, this could be offered as an unlikely option, but it is hardly probable. I would consider Ezerbaal or some other name more probable," Vanderhooft tells Haaretz. Ezerbaal (or Azarbaal) would also indicate adoration of Baal.
Prof. Doug Petrovich, an expert on ancient Hebrew epigraphy and the alphabetic script of the second millennium BC from Bible Seminary in Katy, Texas, comes down on the side of the Rollston interpretation, supporting the reading "Jerubbaal".
"Of the two attested uses of zayin (originally ze'ah, for eyebrows) from Egypt's MK (Middle Kingdom) and the five-plus uses from the New Kingdom, in none of these uses was the zayin/ze'ah written vertically," he tells Haaretz. "All of those uses feature the letter with horizontal pitch, as with the English 'equals sign' (=). Yet Vanderhooft would have us believe that the initial visible letter on the Jerubbaal Inscription is a vertical zayin/ze'ah. This thought/option, even if well intended (to explore all options) is palaeographically fallacious. All of this is to say, yod (originally yad) is the correct reading of the letter, as Rollston has suggested."
Garfinkel too supports the original Rollstron reading of the first letter as yod, and hence the reading of the inscription as "Jerubbaal," though he stresses that still doesn't necessarily mean it has anything to do with the biblical figure.
"That is the most reliable reading," he tells Haaretz. "[Rollston] is the leading epigrapher in this field." This isn't a crossword puzzle where any combination of letters might do, Garfinkel adds. Suggesting the inscription originally read "Ezerbaal" requires reconstitution of two letters, while in Jerubbaal, only part of one letter would be missing.
Also, he notes, in the 11th century B.C.E. – to which the shard is dated – names like Ezerbaal or Erbaal did not exist, while the name Jerubbaal is known from that time. In short, the jury remains out.
Click the alert icon to follow topics:
ICYMI
Ken Burns' Brilliant 'The U.S. and the Holocaust' Has Only One Problem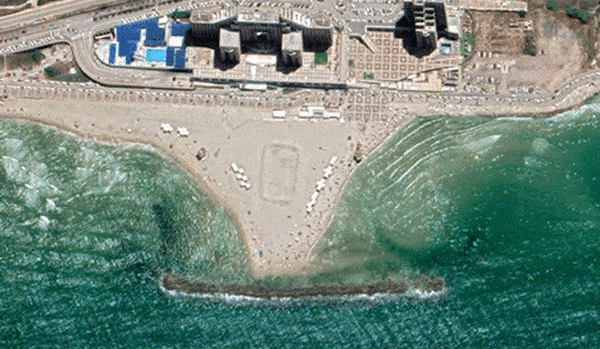 Facing Rapid Rise in Sea Levels, Israel Could Lose Large Parts of Its Coastline by 2050
As Israel Reins in Its Cyberarms Industry, an Ex-intel Officer Is Building a New Empire
How the Queen's Death Changes British Jewry's Most Distinctive Prayer
Chile Community Leaders 'Horrified' by Treatment of Israeli Envoy
Over 120 Countries, but Never Israel: Queen Elizabeth II's Unofficial Boycott