A Prehistoric Saudi Arabian Loved a Dog 6,000 Years Ago
Dogs joined households in the Levant well over 12,000 years ago, but this crippled canine is the earliest evidence of dog domestication in the Arabian Peninsula
Collective tomb made of basalt slabs in the Alula badlands, in which adults and children were buried about 6,000 years ago. And a dog. Saudi Arabia
Credit: Royal Commission of Al-Ula
Dogs were domesticated thousands upon thousands of years before any other animal, definitely over 15,000 years ago and possibly double that or more. Now archaeologists have found a dog in a monumental collective tomb in the northwest Arabian Peninsula dating to 6,000 to 6,200 years ago.
This wasn't just any dog. It seems to have been an old one with arthritis. One may surmise that to survive in that condition in that environment, the animal was cherished.
A description of discoveries by the Aerial Archaeology in the Kingdom of Saudi Arabia project, known as AAKSA, and its find of the earliest-known domestic dog in the peninsula appears in the Journal of Field Archaeology. It's far from the earliest dog in the Middle East or region, but it's the oldest such find in the culturally isolated prehistoric Arabian Peninsula by over a thousand years.
Some people think their dog understands everything they say. That's unlikely but there's no question that a unique relationship has developed between caninekind and humankind, which may partly be because it goes back farther than our relationship with any other animal. Other than parasites, that is. We've had time to get to know each another, though it could be the other way around – they came for our garbage, some ineffable affinity attracted us, and we developed our advanced relationship from there.
A new theory suggests dogs were first domesticated in Siberia 23,000 years ago; in any case it's clear that by the Natufian prehistoric period that predated agriculture, domesticated dogs had reached the Levant.
In Israel, joint human-dog burials have been found from the Natufian period around 12,000 years ago. In prehistoric Jordan, dogs were helping people hunt over 11,500 years ago. Now we find that they spread to isolated communities in the Saudi peninsula by about 6,000 years ago and likely much earlier.
A few years ago, starting from satellite images, AAKSA identified two monumental tombs. At least one served for collective burials over the ages. The tombs were dated to about 5,000 to 7,000 years ago in the peninsula's Al-Ula county, a period of transition from the Neolithic to the Chalcolithic (copper age).
The two tombs, both above ground, are in the Saudi kingdom's northwest but are 130 kilometers (81 miles) apart. The Harrat Uwayrid site is in the upland volcanic land and the other is in the eastern sandstone badlands, writes the team – Hugh Thomas of the University of Western Australia and his colleagues.
Sadly, the tombs have been looted, both very recently and in antiquity, it seems. But enough evidence of similarity could be gleaned to indicate a wide culture and cohesive funerary tradition – not least monumentality in burial structures – which the authors believe is connected with territoriality. They also note that the evidence from before the first millennium B.C.E. suggests that the region's cultural horizon was "overwhelmingly local" in origin, which is quite the contrast with the rest of the heaving prehistoric Middle East.
Yet the culture of dog appreciation seems to have spread to this austere region as well.
Enter the dog
Harrat Uwayrid seems to have been in use for burial for over 600 years, starting in 4300 B.C.E., which in and of itself astonished the researchers.
"What we are finding will revolutionize how we view periods like the Neolithic in the Middle East. To have that kind of memory, that people may have known for hundreds of years where their kin were buried – that's unheard of in this period in this region," said Melissa Kennedy, assistant director of the AAKSA project.
The site is abundant in prehistoric evidence, including funerary monuments from simple cairns to tower tombs, and pendants, built over standing stone circle structures that could consist of one circle or two concentric ones surrounding a central standing stone or stones. (Israel has its own mysterious stone circle too.)
At Harrat Uwayrid, the archaeologists counted no less than 27 standing stone circles that apparently date to about 7,000 to 8,000 years ago.
And at the western edge of the Harrat Uwayrid site, the archaeologists identified a very recently looted stand-alone monumental cist tomb, built of large basalt slabs, which unfortunately was robbed very recently (and also, it seems deep in antiquity). The latter-day looters left behind the bones, which despite the difficulty in dating skeletons baked in the desert could be dated to the fourth millennium B.C.E.
Insofar as could be ascertained at this point, the cist tomb contained three men, three women, a teenager and four children ages 3 to 12. All the bodies were disarranged, the study says.
The archaeologists also identified sheep, goat and cow bones, with butchery marks.
And they found the body of a dog. Unlike the other animals, its bones show no butchery marks; it seems to have lived at the other end of our emotional rainbow, based on the conclusion that it was not only adult, it was a senior, with lesions on the bones suggestive of arthritis. The likely conclusion is that this was a beloved animal.
The team's zooarchaeologist, Laura Strolin, identified it as a dog, based on measurements and comparison with other possible species such as the golden jackal and Indian wolf. Even though the Arabian Desert was home to wolves, rather small ones, this was a dog, medium to large in size going by today's dogs – in keeping with other dog remains from roughly that time in Mesopotamia and elsewhere in the region.
"In terms of the canid remains, archaeological context is fundamental for interpretation: in all likelihood, the remains represent an entire dog buried with the deceased," the archaeologists write.
They note that it's not the first prehistoric dog to be found in the eternal embrace with its prehistoric humans; there are several in Israel, and one was found in Bahrain dating to the third millennium B.C.E.
Was it a pet? Probably not like today's Pomeranians or Shi Tzus. Rock art from the Neolithic period depicts dogs joining humans in hunting and herding.
But ask yourself how nimble you'd be at bounding over rocks and sand to catch an ibex with arthritis. These people seem to have cherished the dog enough to sustain it into its dotage, and lay it to rest with the family.
Click the alert icon to follow topics:
ICYMI
Ken Burns' Brilliant 'The U.S. and the Holocaust' Has Only One Problem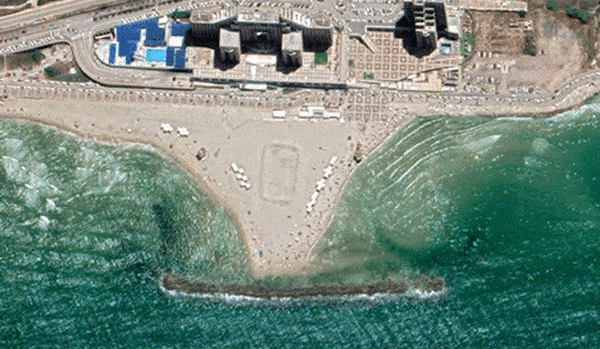 Facing Rapid Rise in Sea Levels, Israel Could Lose Large Parts of Its Coastline by 2050
As Israel Reins in Its Cyberarms Industry, an Ex-intel Officer Is Building a New Empire
How the Queen's Death Changes British Jewry's Most Distinctive Prayer
Chile Community Leaders 'Horrified' by Treatment of Israeli Envoy
Over 120 Countries, but Never Israel: Queen Elizabeth II's Unofficial Boycott