Footprints Show Humans Reached Saudi Arabia Almost 120,000 Years Ago – or Did They?
The fossil evidence doesn't show any other Homo species around at the time but there's very little of that fossil evidence and Neanderthals were in Israel then
First human footprint discovered at the Alathar ancient lake
Credit: Klint Janulis
Footprints found in the heart of the Nefud Desert in Saudi Arabia dating to 112,000 to 121,000 years ago were apparently made by Homo sapiens, an international team of archaeologists reported Friday. The revelation that humans existed in the Arabian interior at the time supports the theory that early modern humans left Africa via the Horn of Africa well before the consensus estimate of 60,000 to 50,000 years ago.
The discovery was reported by a team led by Prof. Michael Petraglia of the Germany-based Max Planck Institute, with lead authors Mathew Stewart also of Max Planck and Richard Clark-Wilson of the University of London, in the journal Science Advances.
Driven by need or curiosity, the Homo genus got about. Homo erectus began leaving Africa around 2 million years ago and spread throughout Eurasia. Our common ancestor with Neanderthals evolved in Africa, possibly from Erectus descendants who stayed behind. The forefathers of the Neanderthals reached western Eurasia and evolved there while our modern human line continued to develop in Africa.
At some point early modern humans left Africa too. Among the unanswered questions are when and by what route or routes.
The general consensus is that every living person today arose from humans who left Africa some 50,000 to 60,000 years ago. But a growing body of evidence shows that modern humans began roaming the world much earlier than that, and met with other hominin species outside of Africa.
The peoples of these earlier exits went extinct, leaving us extremely rare remains in the Levant and Greece, and now, possibly, footprints in Saudi Arabia.
Today the site where the prints were found is hyperarid, receiving only 60 to 90 millimeters (3.5 inches) of rain a year, Stewart told Haaretz. Dominated by sand dunes, no hominin in its right mind would have gone there if it was like that then, but it wasn't. It was green.
The climate of North Africa and the Arabian Peninsula is cyclic, fluctuating between arid and wet, depending on the Earth's tilt toward the sun – which affects the North African monsoon – and other parameters. And when it was wet, the desert of Arabia was transformed into a teeming grassland with rivers and lakes.
Asked about the periodicity of the Arabian greening, Stewart notes that the green periods seem to coincide with interglacial phases – warm hiatuses between ice ages. But not all interglacials are equal.
"The last interglacial 125,000 years ago was a particularly wet one," he says – and grasslands spread across the Sahara and Arabia. As the land turned lush, animals and, we see, humans also spread. Whether they walked alone is another question.
Where Neanderthals roamed
The footprints were found at the Alathar ancient lake deposit in the western Nefud Desert, together with prints identified as elephants, horse-type animals and bovidae – the likes of antelopes, goats and cows. The lake surface is heavily trampled, the writers note, possibly because in the dry season the animals would congregate around the diminishing water.
Altogether, the researchers found 376 prints and identified 177 of them, some more confidently than others.
About the human track, the team has little doubt, on the grounds that it has the hallmarks of modern humanity and because there were no Neanderthals in the Levant at this time, Stewart says.
Or were there? Israel Hershkovitz, a professor of biological anthropology at Tel Aviv University (who did not take part in the study in question), says there certainly were. Indeed, most of the Neanderthal remains found in Israel date to about 50,000 to 70,000 years ago; for example, specimens found at Amud and Kebara. But older Neanderthal remains found at Tabun Cave near Haifa date to more than 160,000 years ago, based on new dating, Hershkovitz adds.
"Neanderthals were here all the time," he says. "If they were here they could have been here, in Saudi Arabia and Africa and anywhere. When peoples migrated, it was bidirectional, not just out of Africa but back to it as well."
Okay. Were modern humans in today's Saudi Arabia 120,000 years ago?
Evidence has recently accrued that modern humans were dispersing out of Africa over 200,000 years ago. A flint tool technology apparently unique to early modern humans has been found in Israel's Negev Desert. A modern jawbone (not all accept the identification) found at Misliya Cave near Haifa and an early human presence on what is today the Greek island of Naxos date to roughly that time. (Back then Naxos was apparently part of a land bridge.)
Nor is this the first evidence of a modern human presence in Saudi Arabia, it's the second. In 2018, a fragment of finger bone dated to 85,000 years ago was found at Al Wusta, also in the Nefud, and was identified as belonging to Homo sapiens.
"This isn't the only evidence for people," Stewart adds. "There is a very extensive stone tool record dating back hundreds of thousands of years. We know people were there [in the Nefud] quite frequently, mostly when conditions got wet enough, but we don't have that much fossil evidence to identify which groups of hominins were making these stone tool assemblages. The first evidence was the finger bone. This is the second."
And, again, when stature and mass estimates of early Homo sapiens are compared with Neanderthals, albeit based on skeletal remains, the prints seem to more closely resemble Homo sapiens, Stewart says.
How long the green phase?
Homo sapiens or otherwise, these folks would have lived well. "I like to think that during the more humid periods when Arabia was a big open grassland, and had permanent lakes and rivers and large mammals like elephants and hippos and antelopes, this area would have been quite attractive to humans dispersing out of Africa," Stewart says. That does sound alluring, though hippos aren't quite the amiable giants that some people seem to assume.
It's difficult to deduce how permanent this heavenly paleo-lake was, Clark-Wilson says. The researchers identified the ancient lake deposits using satellite imagery followed by fieldwork – going there and surveying, analyzing the hydrological history and seeking stone tools and fossils. This one seems to have been a freshwater lake that was more or less permanent, seasonally getting lower and even drying out.
Based on dating sediments underneath, the lake didn't exist a quarter-million years ago. But it seems to have been semipermanent when the human footprints were made.
A separate study of cave formations – stalactites, stalagmites and the like – in Egypt indicated that during the last interglacial, when rainfall was high, the desert turned green for somewhere between 790 to 3,000 years.
Not a long time. However, according to that study, the synchrony of this stalagmite and stalactite development with archaeological events in the Levant and Morocco indicate that the Sahara route played a key role in early humans' dispersal out of Africa.
"This could perhaps be used as a very rough analogue for how long the green phase in the Nefud Desert lasted," Clark-Wilson says. "But ultimately, I would say it is difficult to answer the question as to how long the green phase lasted in the Nefud."
Still, while wet, Arabia would have been a lovely route to take out of Africa and it seems Israel's new ally the United Arab Emirates was on the route too. No ancient human bones have been found in the UAE but archaeologists have found stone tools similar to toolkits found in Africa that are attributed to Homo sapiens, Stewart says. That's the only evidence but it's not nothing.
As for the routes out of Africa, several have been hypothesized: "a coastal route, inland or even ocean crossings, whether by boats or drifting," Stewart says. Perhaps all applied, but he adds: "As far as we can tell from this region, the inland routes were perhaps possibly the best way for people to get around."
They were? "At this point in time there is only scanty evidence for people being very well adapted to exploiting coastal resources. This comes in slightly later," he explains. "There is some early evidence for it in South Africa, but really, it's in a later period of the Pleistocene that we see strong evidence for coastal resource exploitation."
On the other hand, the human line has been eating animals for some 2.6 million years. We know how to do that. We were very well adapted to the terrestrial way of life, and it makes all the sense in the world that we would gravitate to the lush pastures of paleo-Saudi Arabia.
Click the alert icon to follow topics:
ICYMI
Ken Burns' Brilliant 'The U.S. and the Holocaust' Has Only One Problem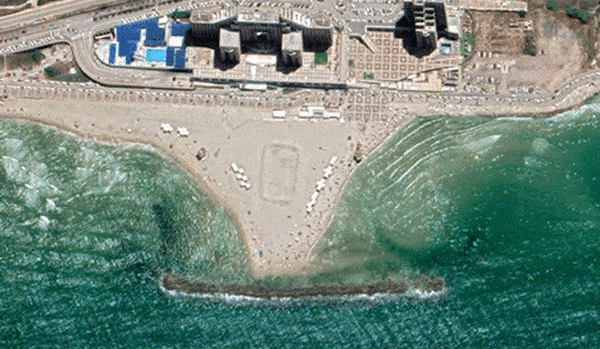 Facing Rapid Rise in Sea Levels, Israel Could Lose Large Parts of Its Coastline by 2050
As Israel Reins in Its Cyberarms Industry, an Ex-intel Officer Is Building a New Empire
How the Queen's Death Changes British Jewry's Most Distinctive Prayer
Chile Community Leaders 'Horrified' by Treatment of Israeli Envoy
Over 120 Countries, but Never Israel: Queen Elizabeth II's Unofficial Boycott