Did Neanderthals Ritually Bury Their Dead? New Evidence Found in Iraq
Discoveries at 'Paleolithic cemetery' in Shanidar Cave tilt towards mortuary rites among Neanderthals, and loving care of the sick as well
Ribs and spine of the Neanderthal emerging from the sediment in Shanidar Cave.
Credit: Graeme Barker
Argument has raged for half a century over a cache of Neanderthal remains found in a cave in Iraqi Kurdistan, and whether some or all were ritually buried. One may have even been interred with a floral wreath, its discoverer suggested decades ago. Now, fresh excavation of Shanidar Cave using modern techniques has shed fresh light on the finds from decades ago and supports the theory of Neanderthal mortuary practice, says the paper's lead author, Emma Pomeroy of the University of Cambridge.
The paper on the latest finds, including the missing bottom half of one of the roughly ten Neanderthals found there, was reported Tuesday by Pomeroy and colleagues in the journal of Antiquity (published in partnership with Cambridge University Press).
Thanks to new technology and techniques, the archaeological team could nail down the timing of the Neanderthal occupation of the cave in the Zagros Mountains, how they died and – possibly – how they were interred.
"About" ten? The archaeologists are now fairly confident there are 10 Neanderthals at the site. It's hard to tell because some are very incomplete, Pomeroy explains. Three were infants younger than 2 years old: one was found with adults; one on its own, she says. Of the third baby, a partial leg and foot were noticed in the early 2000s while researchers were analyzing animal bones that had been collected at Shanidar by its original excavator, Prof. Ralph Solecki – the author of "Shanidar: The First Flower People" who died in March 2019 at 101.
Say it with flowers
Regarding the famous "flower burial," Pomeroy says she has gone from being a skeptic to being open-minded to the possibility.
Pollen from eight species of flower was detected in the "flower burial." Solecki reported on the flowers theory in 1975; so too did French pollen specialist Arlette Leroi-Gourhan the same year. Solecki identified the remains as a male who had been buried with two females and a baby. "The association of flowers with Neanderthals adds a whole new dimension to our knowledge of his humanness, indicating that he had 'soul,'" Solecki wrote. He added that the botanical species comprising the prehistoric posy still exist in Iraq. No pollen was discovered with the other Neanderthals in the cave.
Part of the reason Shanidar needed reinvestigation stemmed from Solecki's realization that the bones were delicate, and extracting them in the field risked destroying them. He made the not unprecedented decision to extract the whole block of sediment in which the flower burial was embedded for excavation in the lab.
First off, when removing that block, it seems one of the dead Neanderthals below the flower burial was cut in half, leaving behind the bottom half. Now the new team has apparently found it; final identification is in works, Pomeroy explains.
Secondly: the block of sediment, Neanderthals inside, was placed on the roof of a taxi and, lo, it did not travel well. Thus, the precise stratigraphic relationships between the remains of multiple Neanderthals inside (two more adults and a baby) became disrupted.
The new study was able to determine that Neanderthals apparently lived at Shanidar during two main spans of time: about 45,000 years ago, and 70,000 years ago. The flower burial and associated cluster is in this older group.
If Neanderthals lived in or about the cave for so long, and buried their dead, why were so few bodies found in the cave? The low number, 10, suggests isolated burials over the millennia.
"Actually, the evidence we have for when they were living in the cave is relatively sparse," Pomeroy says. Some Neanderthal sites are littered with hearths all over the place, but in Shanidar they found only the odd fireplace here and there. Maybe the cave was rarely used, visited only every few years, decades or generations. They did find some stone tools and bones of butchered animals, so some habitation did happen. But they may not have lived there intensively.
"They were quite mobile, moved around a lot. Maybe this was on the edge of where they lived," she suggests. And/or maybe they used other burial grounds as well.
Apropos how they lived, the state of the remains in Shanidar Cave has led to speculation not only about their disposal of the dead, but their loving care of the living.
"Some Neanderthals have evidence of arthritis, including [the individual dubbed] Shanidar 1. He was probably blind in one eye, mostly deaf in both ears, had a paralyzed right arm and the left one was lost or amputated above the elbow," Pomeroy describes, adding: "He had an infection in the collar bone, arthritis in his legs, and broken bones in his feet that had healed." Analyzing trauma among the Shanidar Neanderthals, Erik Trinkaus and M. R. Zimmerman wrote in 1982 that they thought the injuries happened in his late teens and he lived to be about 50.
How he survived for decades in a hunting-gathering group is hard to imagine if he wasn't cared for, Pomeroy says. "There is no evidence that he was particularly malnourished or unhealthy," she says, adding unsuspected new horizons to the term "healthy." Or, he may have contributed to the group in other ways, she suggests.
Other indications of apparent Neanderthal nurture include the male discovered in La Chapelle-aux-Saints, France, who died aged 25 to 40 and "suffered from extensive tooth loss and severe, chronic periodontal disease; temporomandibular joint arthritis; severe osteoarthritis in lower cervical and upper thoracic vertebrae, and moderate to severe degeneration of lower thoracic vertebrae; osteoarthritis in both shoulder joints; a rib fracture in the mid-thoracic region; degeneration in the fifth proximal inter-phalangeal joint of the right foot; and severe degeneration and likely chronic osteomyelitis in the left hip," Penny Spikins of the University of York and colleagues wrote in the journal of World Archaeology in 2018.
So, how does the new excavation sit with the memorial bouquet theory?
A jird in the hand
Not everybody embraced the theory of a Neanderthal burial bouquet. In 1999, Jeffrey Sommers suggested that flowers had been introduced to the cave previous by a jird – a delightful desert-dwelling rodent about 6 inches (15 centimeters) in length with a long tufted tail. It burrows and will bring, among other things, flowers to eat in its lair.
Jirds also thrive in Israel's Negev desert and have been central to archaeological theories before.
The new excavation found some rodent burrows: one went straight through the individual dubbed Shanidar 5. But no evidence was found of burrowing by the flower burial or in its archaeological level, Pomeroy says, though they did find burrows 20 to 30 centimeters below it. She too had suspected the jird, or exposure of the skeleton leading to contamination by Solecki's team tramping pollen in on their shoes. "But both in the original work and our new work – we found mineralized plant remains in the sediment around the bones and some pollen. It suggests these kinds of remains were being preserved and could be ancient," she says.
Also, Leroi-Gourhan (who did the original pollen work) had thoroughly tested other places in the cave and noted that the amount of pollen in this one area was remarkable, Pomeroy notes. Also, if pollen contamination had happened, it wouldn't likely be in just one place. Finally, Leroi-Gourhan made other arguments in her correspondence with Solecki, such as the fact that some of the flowers in question are atop long stems and jirds can't reach them, Pomeroy adds.
Four of the Shanidar Neanderthals had been thought to have been killed by rockfall inside the cave, by the way.
"I believe that all Neanderthal burials were deliberate," Hebrew University's Prof. Erella Hovers, a world expert on Neanderthals, tells Haaretz. She qualifies this doesn't mean that all Neanderthal skeletal remains we find were necessarily buried: "Whether they were buried with ritual or not is another question, and somewhat less clear. I believe that, in some cases, we could argue that they were."
Did we shoot Shanidar 3?
These days, it begs asking if there is any morphological signal that the Shanidar Neanderthals may have been hybrids, post-introgression with anatomically modern humans. We know interbreeding happened in the region: a hybrid population was discovered in Manot Cave, Israel.
No signal has been seen in the Shanidar Neanderthals as yet, Hovers says. Trinkaus, as the world expert in Neanderthal morphology, wouldn't likely have missed it when studying the Shanidar skeletons: he noticed "mixed" features in other cases before the interbreeding with Homo sapiens was even known, she adds.
Yet they may have met Homo sapiens after all. "Shanidar 3" suffered what seems more like a projectile point injury than a stab wound in the ninth rib. Speculation arose that we did it. "Given the potential temporal overlap of Shanidar 3 with early modern humans in western Asia, and the possibility that the latter were armed with projectile weapon systems, this case carries more than simple paleoforensic interest," Steven Churchill et al wrote in the Journal of Human Evolution in 2009.
Sad.
And the verdict on Neanderthal mortuary practice? Emma Pomeroy is leaning toward it, also backed by discoveries – albeit some controversial – in countries including Syria, Israel and France. Some were excavated as much as a century ago, when archaeological technique was in its infancy. But with modern technology and analysis, archaeologists can deduce exactly how the bones originally lay and how they related to sediments in their surroundings. And at Shanidar Cave, they have a unique individual in situ, albeit accidentally cut in half decades ago. Now they can throw all of modern science at it.
Click the alert icon to follow topics:
ICYMI
Ken Burns' Brilliant 'The U.S. and the Holocaust' Has Only One Problem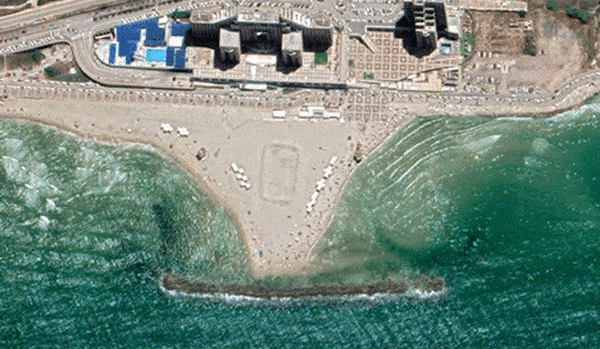 Facing Rapid Rise in Sea Levels, Israel Could Lose Large Parts of Its Coastline by 2050
As Israel Reins in Its Cyberarms Industry, an Ex-intel Officer Is Building a New Empire
How the Queen's Death Changes British Jewry's Most Distinctive Prayer
Chile Community Leaders 'Horrified' by Treatment of Israeli Envoy
Over 120 Countries, but Never Israel: Queen Elizabeth II's Unofficial Boycott