Did We Sicken Neanderthals to Death?
Modern humans and Neanderthals mixed and matched but they died out and we didn't: Maybe we didn't outsmart them, just sneezed on them
Child looking at reconstruction of a Neanderthal, Human Evolution Museum, Germany
Credit: Martin Meissner,AP
What happened to the Neanderthals? Although it has been blithely assumed that their decline was caused by being out-competed by the "brainier" Homo sapiens, we have no reason to believe that Neanderthal cognitive qualities were lower (or higher) than ours. That theory has been abating with discoveries that may attest to Neanderthal symbolic abilities, there are other theories, including climate change to which they didn't adapt, demographic factors that were not in their favor, and many others.
And all may have truth in them. But what if, whatever else may have happened - when we met, we simply made them sicker than they made us, and we survived, while they didn't? Thus postulates a new paper published in Nature Communications by Gili Greenbaum, Noah Rosenberg and Marcus Feldman of Stanford University, Wayne Getz of the University of California Berkeley, and Erella Hovers and Oren Kolodny of the Hebrew University.
The Levant was likely a crucial region, where modern humans leaving Africa first encountered resident Neanderthals; the two met, and may have made each other ill; the out-of-Africa migration ground to a halt for tens of thousands of years; but ultimately, in an immunological arms race, modern humans prevailed. We overcame disease burden inflicted upon us by Neanderthals, and they did not overcome ours. Once the disease barrier was lifted, we migrated explosively around the world.
Modern humans began their rapid expansion into Eurasia, on the expense of Neanderthals, some 50,000 thousand years ago. However, archeological evidence indicate that they left Africa, entering the Levant, maybe even Greece, tens of thousands of years earlier, 120,000-180,000 thousand years ago.
What happened between modern humans leaving Africa until they began expanding? Dr. Kolodny tells Haaretz: "I think we have quite convincing archaeological evidence and some genetic hints that AMH and Neanderthals were in the Levant for a really long time, so it's interesting to ask why, specifically."
Also arguing against our superiority complex is the fact that the technologies of the late Neanderthals and early humans in the Levant are indistinguishable. "The fact that the two cultures in this period in this region can't be told apart is also an important point that requires some explanation," Kolodny says. "It's another piece of the puzzle that got us focused on the Levant specifically."
Kissing cousins
We know for sure that anatomically modern humans and Neanderthals met and interbred, and this article is not about whether or not they should be described as a single species or "merely" different populations. Call it what you may, today's people everywhere but sub-Saharan Africa retain a shred of Neanderthal DNA from those prehistoric mating events, typically 1% to 3% of our genomes.
The crux of this argument is that when we mixed and matched, we exchanged not only genes but also fluids and diseases.
Various studies have shown that the Neanderthal genes persisting in modern humans are not entirely random. A significant portion is related to disease resistance - the immune system.
The logic is straightforward. Who would better weather, say, smallpox – a population exposed to the virus for millennia or people exposed for the first time? The former. Our immune systems evolve in keeping with the germs in our environment.
Separate research suggests that populations inhabiting tropical regions are exposed to many more pathogens than those in temperate climates. Which means: the modern humans, having co-evolved with many tropical diseases, would have been carriers of a wider range of pathogens, to which they themselves were largely immune, but not so the Eurasian Neanderthals.
Neanderthals, evolving outside of Africa, in the colder, less germ-ridden environment of Europe, would have been carriers of a smaller assortment of pathogens.
When humans and Neanderthals first met and mixed, according to this theory, both would have been sent reeling by the others' diseases. Over time, through mating, genes conveying immunity to the foreign diseases would have gradually reduced disease burden, on both sides. But the humans coming out of Africa with their broader immune systems (and larger number of pathogens to which they themselves were not vulnerable) would have overcome the barrier of diseases sooner.
As the researchers call it – "asymmetries between the species in the characteristics of their associated 'pathogen packages' could have generated feedback" that enabled modern humans to overcome the disease burden sooner than the Neanderthals.
Maybe we didn't outsmart the Neanderthals with our modern ways and artistic prowess. Maybe all we had to do is sneeze on them.
With the Neanderthal diseases out of the way, the barrier to modern human expansion was removed, and modern humans burst into what had been the Neanderthal's fief – Europe. Moving deeper into Eurasia, modern humans encountered Neanderthals that were even more naïve to modern human diseases than those in the Levant. They could have spread diseases wherever they went, the Neanderthals collapsed, and anatomically modern humans burst out and spread like weeds.
What about the Denisovans, offshoots of the Neanderthals and prehistoric denizens of eastern Asia? Stay tuned.
ICYMI
Ken Burns' Brilliant 'The U.S. and the Holocaust' Has Only One Problem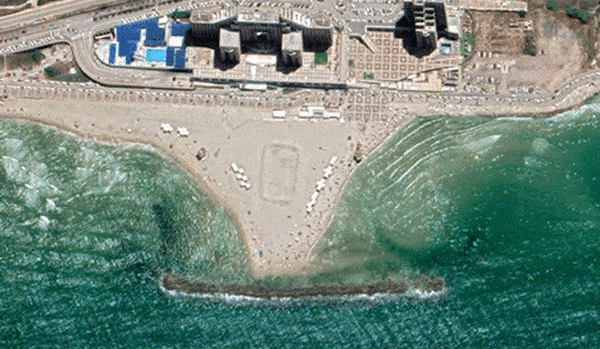 Facing Rapid Rise in Sea Levels, Israel Could Lose Large Parts of Its Coastline by 2050
As Israel Reins in Its Cyberarms Industry, an Ex-intel Officer Is Building a New Empire
How the Queen's Death Changes British Jewry's Most Distinctive Prayer
Chile Community Leaders 'Horrified' by Treatment of Israeli Envoy
Over 120 Countries, but Never Israel: Queen Elizabeth II's Unofficial Boycott