Modern Humans Reached Europe 150,000 Years Before We Thought, Oldest Homo Sapiens Skull Found Out of Africa Shows
Skull of modern human was found near a much younger Neanderthal skull in the same cave – proving that our ancestors were roaming outside Africa much earlier than had been thought
Modern human looking at reconstruction of a Neanderthal garbed in a suit.
Credit: Martin Meissner,AP
The rounded fragment of a skull found in Greece dated to 210,000 years ago has provided the long-sought proof that anatomically modern humans reached Europe much earlier than previously thought and also suggests they started having sex with Neanderthals earlier than we had thought.
Back in 1978, two fossilized skulls were dug up from the bottom of Apidima Cave, on the southern coast of Greece. The skulls were fragmented and completely embedded in rock, making them difficult to isolate and analyze. Further frustrating researchers, no flint tools or other archaeological evidence that could help date the bones or provide a context for them were found.
The original researchers tentatively dated the skulls to between 100,000 to 200,000 years ago and wrote them off as early examples of Neanderthals – the group of hominins then believed to have been the sole human inhabitants of Europe during that period of prehistory.
Now an international team of experts has reexamined the enigmatic skulls using advanced dating techniques, CT reconstruction and morphological analysis, and has come up with a result that is bound to shock the scientific community and rewrite an important chapter in the story of human evolution. One of the Apidima skulls turns out not to have been a Neanderthal after all, but an early modern human that lived some 210,000 years ago, according to the team's report published Wednesday in the journal Nature.
That skull, called Apidima 1, is the oldest modern human specimen found outside Africa. It means that Homo sapiens reached Europe more than 150,000 years earlier than previously thought. It also confirmed other recent discoveries that have shown there were multiple dispersals of humans out of Africa, rather than a single relatively recent event some 70,000 years ago.
"Our results show that an early dispersal of Homo sapiens out of Africa occurred earlier than previously believed, before 200,000 years ago, and also reached further geographically, all the way to Europe," says Katerina Harvati, a paleoanthropologist from Tübingen University in Germany and the lead author on the study.
The Apidima 1 skull was dated by measuring the radioactive decay of uranium naturally found in the bone and the concretions that covered it. The cranium has a combination of modern human and ancestral features, including a rounded back of the skull, a characteristic unique to modern humans, Harvati says.
The second skull, Apidima 2, did indeed belong to an early Neanderthal and was dated to around 170,000 years ago, some 40,000 years later than its sapiens counterpart.
Based on differences in the isotopes of the fossilized specimens, the experts believe the skulls were initially deposited in two separate places, before being washed down by heavy rain or other natural phenomena to the bottom of the cave.
"It's a fantastic coincidence that you have these two skulls together thirty centimeters apart," says Rainer Grün, a professor at Griffith University in Queensland, Australia. "In all of Greece you have one more skull in that time frame, that's it. So it's a wonder of nature that you find them together."
There and back again
The fact that the Neanderthal skull was much more recent than the Homo sapiens one suggests that this early modern human population in Greece did not survive, and was eventually replaced by the Neanderthals. These, in turn, would go extinct just as another wave of Homo sapiens reached to Europe around 40,000 years ago, Harvati posits.
This sequence of events jives with recent discoveries on human evolution and dispersion from Africa.
Genetic studies tell us that all humans alive today descend from a group of people who left East Africa starting some 70,000 years ago. But Homo sapiens has been around for much longer than that – at least 300,000 years – and for some time now researchers have suspected that there were earlier migratory waves out of Africa. This was confirmed last year thanks to the discovery of a human jawbone, dated to nearly 200,000 years ago and found at Misliya Cave, in northern Israel.
The discovery in Greece now suggests that this early "out of Africa" event was not a small, localized foray out of humanity's ancestral home into the Levant, but was a significant migration that reached deep into Eurasia.
"In hindsight it's not actually a very surprising result," says Harvati. "We do have this documented early dispersal prior to 100,000 years ago in Israel, so it's not so unimaginable that some of these populations would have occasionally expanded their range to reach southeast Europe."
The human skull at Apidima predates the Misliya jawbone by a few millennia, technically giving it the crown of the oldest human remains found outside of Africa. But experts agree that the human settlement in what is today northern Israel likely preceded the one in Europe. That is not only because, geographically, populations migrating from Africa would have reached the Levant first, but also because the Misliya bone was found in archaeological layers, rich in flint tools and other finds, that date as far back as 274,000 years ago – much older than the Apidima skull.
"Misliya could be the source population for the Apidima people," says Harvati, though she adds that it is difficult to compare the two finds morphologically because different fragments of the skull were preserved in the two fossils: a jawbone and the back of the skull, respectively.
Making Neanderthal-sapiens babies
We do not know why these early "out of Africa" sapiens did not survive in Eurasia and were – at least temporarily – replaced by Neanderthals. Perhaps the end of the interglacial period, which had created fairly mild conditions in southern Europe and the Middle East pushed them back toward Africa. Or perhaps it was the Neanderthals themselves who put pressure on the sapiens populations, Harvati hypothesizes.
What we do know is that somewhere, sometime, the first humans in Eurasia came into very close and personal contact with the early Neanderthals. We are fairly certain of this because a couple of years ago scientists managed to extract DNA from a 120,000-year-old Neanderthal bone found in Germany. This individual's genome showed that at some point more than 220,000 years ago, his ancestors had interbred with a sapiens-like population from Africa.
To be clear, this introgression happened well before a later mixing of sapiens and Neanderthals, a process already well known to geneticists, that occurred some 50,000 years ago after the last big migration out of Africa – and which resulted in all non-African humans alive today sharing a small percentage of DNA with our extinct evolutionary cousins.
How exactly that earlier miscegenation happened was unclear, since no Neanderthals have been found in Africa and, until the Apidima discovery, most researchers believed sapiens did not tread on European soil until much later.
But now the Apidima 1 skull, confirms that early Neanderthals and sapiens coexisted in southern Europe for thousands of years, giving them plenty of opportunities to have sex.
Is it really sapiens?
Not all researchers agree that the Greek find can be positively identified as a specimen of early Homo sapiens. A separate study, published earlier this year by French paleoanthropologist Marie-Antoinette de Lumley, identified both the Apidima skulls as Neanderthal and dated them to 160,000 years ago.
In a news conference ahead of the publication of the study in Nature, Harvati dismissed those conclusions, saying that her colleague had used "a relatively old-fashioned approach" that did not avail itself of the advanced scanning and dating methods used by her team.
Other scholars remain skeptical. "There are several, serious problems with the paper" published in Nature, says Israel Hershkovitz, a physical anthropologist from Tel Aviv University and one of the discoverers of the Misliya jawbone.
The lack of any remains of material culture accompanying the skulls makes it hard to confirm their origin and context, he says. More importantly, there is not enough evidence to conclusively identify the crucial Apidima 1 skull as modern human, Hershkovitz asserts.
"Only the back of the skull was preserved and this part has very few diagnostic features, so there is no way to be sure that this is Homo sapiens," he says. "It could well be that both individuals were Neanderthal."
Whether or not Apidima 1 was really a sapiens, Hershkovitz does agree it is very likely that early modern humans who emigrated from Africa did not stop in the Levant and expanded into Europe as well.
"Europe was around the corner with large herds of big animals they could hunt," he says. "So it makes sense that they would move there very quickly."
ICYMI
Ken Burns' Brilliant 'The U.S. and the Holocaust' Has Only One Problem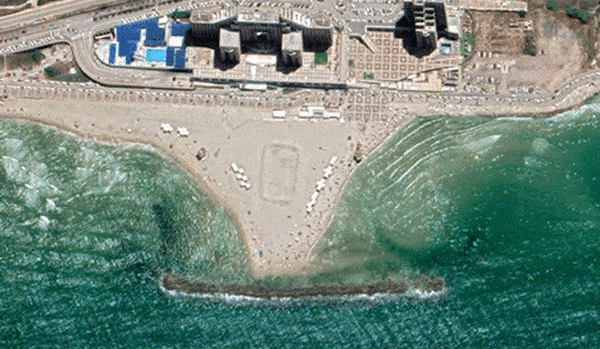 Facing Rapid Rise in Sea Levels, Israel Could Lose Large Parts of Its Coastline by 2050
Lapid to Haaretz: 'I Have Learned to Respect the Left'
The Mossad's Fateful 48 Hours Before the Yom Kippur War
As Israel Reins in Its Cyberarms Industry, an Ex-intel Officer Is Building a New Empire
How the Queen's Death Changes British Jewry's Most Distinctive Prayer