Neanderthals Were Alpha Predators, Study Shows
The Neanderthal predilection for meat had been strongly suspected; now molecular study shows similarities to wolves
A reconstruction of a Neanderthal, who looks decidedly apres-mammoth
Credit: Tiia Monto
Neanderthals subsisted mainly on meat, it has long been suspected, but not categorically proven. Now, a new study published Monday in PNAS provides molecular support for the theory of their carnivorous predilection.
It even postulates that Neanderthals were among the apex predators in their sphere, even after anatomically modern humans began to arrive among them.
The earliest ancestors of humans are believed to have subsisted on plants – much like the greatest of apes today, the gorilla. However, the early vegetarians among the hominin set petered out and went extinct, while the meat-eaters carried on to this day.
Omnivory seems to have become a thing by the time of the diminutive australopithecines, who lived 3 to 4 million years ago and ate everything that moved or didn't move. Scavenging from dead animals brought down by other predators seems to have been very much their practice.
By the time of much taller Homo erectus, the taste for meat was firmly entrenched, though it isn't sure these early hominins cleverly trapped or stabbed their supper. They may have scavenged, not hunted, big game too, it bears adding.
It is pretty clear that after a couple of million years, the ancestral hominin to Neanderthals and modern humans had become an omnivore with a craving for meat, so it would follow that both of us would continue that habit.
The question is, what proportion of the diet was meat? Now the latest study indicates that for the Neanderthal, that proportion was indeed "very big."
Dead mammoth or mushroom?
Until recently, the evidence has tended to the crude side. For instance, bones of butchered animals (as they say in the argot, "zooarchaeological evidence") were found in Neanderthal domains.
A recent study postulated that the Neanderthal developed a thickened thorax – compared with us gracile Homo sapiens – to accommodate their enlarged livers and kidneys because of their protein-heavy diet. Weapons the Neanderthal used, presumably to hunt dinner rather than each other or vicious carrots, have also been identified. A recent study even suggests they might have developed spears they could throw from afar, as opposed to just sticking the spear into their prey from up close.
But the latest, crucial evidence comes from molecular analysis of nitrogen isotopes found in collagen, a protein, which in turn was found in two Neanderthal sites in France: Les Cottés and Grotte du Renne. That isn't much of a sample size, statistics-wise, but the results match nicely with the other evidence.
Isotopes are variants of an atom that have different weights because they have different numbers of neutrons. For instance, proteins – which contain nitrogen – can have nitrogen-14 and heavier nitrogen-15 (with an extra neutron). The proportions of the two nitrogen isotopes can be informative.
The ratios of nitrogen-14 and nitrogen-15 in Neanderthal bones were found to be similar to those of today's big carnivores, such as wolves. That strongly suggests, say Klervia Jaouen of the Max Planck Institute for Evolutionary Anthropology and the international team, that the Neanderthal ate mainly meat with a little veg on the side.
It bears qualifying that Neanderthals existed for several hundred thousand years, and there was a range of morphologies and, likely, a range of behaviors. Note, for instance, among modern humans the morphological differences between Kalahari bushmen and northern Europeans, and the dietary differences from country to country.
A different study from 2014 that examined Neanderthal coprolites (fossilized feces) didn't argue about the meat habit, but stressed the plant element of the Neanderthal diet: The scientists found stigmastanol B5 in the poo, which could only have gotten there from eating the likes of roots, berries and nuts.
The bottom line is that Neanderthals were evidently omnivorous, like us, but placed a much greater emphasis on meat than we tend to.
So, what animals were the Neanderthals eating, based on the isotopes?
Previous studies have suggested that mammoth meat and freshwater fish produce high nitrogen ratios. So does eating rotten meat, baby animals, cooked food (there is a raging argument over whether Neanderthals could control fire, as opposed to just using fire they came across) – and mushrooms. It seems that eating mushrooms can also lead to high nitrogen isotope values.
The team adds that the archaeological evidence supports reindeer hunting but not fishing, and one of the two sites they checked didn't whiff of mammoth cuisine: "Nitrogen isotope results supported the position of Neanderthals within the food web as consumers of herbivores, and the high isotope ratios in bulk bone collagen could be explained by herbivore consumption alone."
In short, we don't know what exactly they ate, and this study is not categorical proof. But it does reinforce the position that vegetarian the Neanderthals were not, and they wolfed down a lot of meat – as much as 80 percent of their diet, some scientists postulate. If they ate plants, it was the side dish by the steak.
ICYMI
Ken Burns' Brilliant 'The U.S. and the Holocaust' Has Only One Problem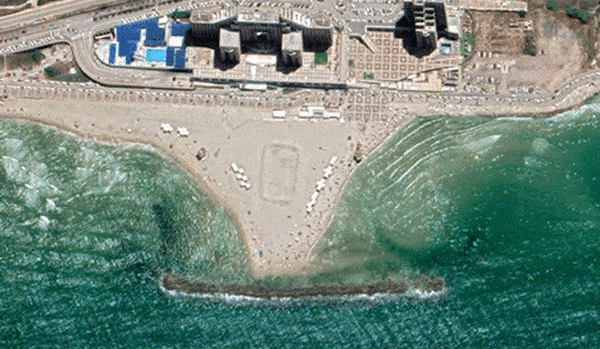 Facing Rapid Rise in Sea Levels, Israel Could Lose Large Parts of Its Coastline by 2050
As Israel Reins in Its Cyberarms Industry, an Ex-intel Officer Is Building a New Empire
How the Queen's Death Changes British Jewry's Most Distinctive Prayer
Chile Community Leaders 'Horrified' by Treatment of Israeli Envoy
Over 120 Countries, but Never Israel: Queen Elizabeth II's Unofficial Boycott