Homo Sapiens Prevailed Over Others Because He Went Boldly Where They Didn't
Early humans went boldly where their kissing cousins couldn't, from mountain peak to deserts, and thrived, new paradigm suggests
We dared.
Credit: Alon Ron
Why did Homo sapiens survive and all other archaic hominins die out? Theories range from the sheer wonderfulness that is us, to Neanderthals giving themselves kuru brain-rot disease through cannibalism. We could converse, and our arty, amiable beings could plan how to kill and eat everything else, goes the superiority-cum-culture theory. Now, an international team of scientists is suggesting an ecologically-focused theory.
Rather than obsessing over our artistic or lingual or technological abilities – which are incredibly hard to demonstrate, let alone prove – the team suggests that being "human" meant going boldly where no hominin had ever gone before: conquering challenging environments, and thriving there.
The others couldn't sustainably inhabit extreme environments, and we prevailed, according to the theory published Monday in Nature Human Behaviour by scientists from the Max Planck Institute for the Science of Human History and the University of Michigan, led by Dr. Patrick Roberts.
The evidence for any theory of human evolution is scanty in the extreme. The Denisovans are known from a handful of peripheral bones, we don't know completely where Neanderthals really ranged or when (or why) they died out – and the less confidently said about the "hobbit" of Flores Island, the better. Everything said below could be refuted by the next discovery.
The new theory is that humans ranged, from an early point in their evolution, into extreme environments, whether because they were curious, or stressed, who knows, but the point is, they survived there, and populations even specialized in these settings for millennia. We have evidence of early humans spreading and living in challenging conditions, and no evidence of other hominins being able to inhabit these environments over the longer-term, Prof. Roberts of Max Planck explains to Haaretz.
Paint me a river
Are they suggesting that, with all due respect to the "Mona Lisa" and Shakespeare, the ability to adapt to the environment mattered more? Sort of. "So much focus has gone into finding the next artwork, the next fossil, that in the search for a sort of 'modernity; as it is often put – other fundamental elements were neglected," Roberts says.
He then explains the many ways in which using art or language as a defining trait for "human" is a problem.
For one thing, "art" – we know it when we see it – didn't seem to appear together with the emergence of our species a quarter-million years ago. Sure, maybe we didn't find the evidence. But, more likely, it didn't. So that's one flaw in the traditional argument of modernity: anatomical and behavioral advances were apparently not in tandem. Archaeologists cannot identify this turning point, so if that's how one defines Homo sapiens, that's a problem, Roberts says.
Also, if evolutionary advantage is ascribed to a trait, well, it has to contribute something to the being's well-being. Even if only Homo sapiens made art, Roberts asks: "What is art going to contribute to? You can produce a painting, but that doesn't mean you can compete."
One might argue that evidence simply hasn't been found. There is thinking that Neanderthals were (after all) capable of producing art, based on cave paintings found in Spain dating to 64,000 years ago. We know Neanderthals existed in the area at the time; we do not know if anybody else did. Hence the theory that this was Neanderthal art.
Or maybe Neanderthals thought a pile of leaves was artistic. We will never know if they did. That said: Given that there is absolutely no other evidence of symbolic behavior in any hominin but us folks, and given the mounting evidence that Homo sapiens actually left Africa at least 120,000 years ago, not 60,000, possibly that painting proves not that Neanderthals could draw but that modern humans got to Spain earlier than thought.
But instead of pointlessly tormenting ourselves with what-ifs, we can look at what-we-have-in-hand.
Neanderthal in the bush
Our own origins are shrouded in mystery. A new paradigm for our evolution (published earlier this month) is that Homo sapiens and Neanderthals split from their common ancestor about half a million to 750,000 years ago. Then, somewhere between 300,000 to 200,000 years ago (a time called the Middle Pleistocene), Homo sapiens began to take on the form we know.
That didn't happen to one group in one place, according to the new paradigm. Our forefathers were in northern and eastern Africa, or all over the continent, running after ancestral antelopes and whatnot, and mixing with other hominin species (what they call a "mosaic" process), Roberts explains.
While spreading beyond the home continent to Eurasia, Homo sapiens continued to mix and match with others – Denisovans, Neanderthals and, possibly, a bunch more.
(Where did these kissing cousins come from? "Homo erectus left Africa around 2 million years ago," Roberts explains. That would explain why its remains are all over Eurasia. Some believe the tiny Homo floresiensis evolved from Homo erectus that became isolated on that small Indonesian island of Flores around 800,000 years ago.)
Anyway, the Neanderthal lineage diverged from the Homo sapiens lineage around 750,000 to 550,000 years ago, Roberts says, and Neanderthals spread across Europe and the Levant from about 400,000 years ago – at which point they and the Denisovans diverged.
There is a snag with claiming that we climbed the mountains and dived into the lakes, crossed the glaciers and strangled the neighbor with proto-rope. Given the paucity of evidence, we cannot be sure how other hominins lived.
"It has been argued that Homo erectus and the 'Hobbit,' or Homo floresiensis, used humid, resource-scarce tropical rainforest habitats in Southeast Asia from 1 million years ago to 100,000 and 50,000 years ago, respectively. However, the authors found no reliable evidence for this," they write.
But we know that sapiens lived at high elevations in Lesotho and Ethiopia as long as 80-50,000 years ago, to give one example. Deserts in southern Africa also have tentative indications that humans also thrived there in arid times.
And while humans could dwell and thrive everywhere from deserts to rainforests to mountain peaks to the Palaeoarctic, the others seem to have inhabited only grassland and woodland environments – no, the Neanderthal apparently didn't evolve its barrel body because of slogging through snow.
Let's not get hung up on the Denisovans, of whom the entire body of evidence consists of some teeth, a finger bone and a small bone fragment, found in Siberia. We know absolutely nothing about these hominins, except that they were big and we had sex with them. They left traces in our DNA, the highest proportion being in modern Melanesians. "We have no idea about its environmental thresholds, its technology or its behaviors," Roberts admits.
Describing the flexible sapiens who lived in a vast range of environments, the authors coined a new ecological niche: the "generalist specialist."
"A traditional ecological dichotomy exists between 'generalists,' e.g. raccoons, who can make use of a variety of different resources and inhabit a variety of environmental conditions, and 'specialists,' e.g. the panda, who have a limited diet and narrow environmental tolerance," Roberts explains. "Homo sapiens furnish evidence for 'specialist' populations, such as mountain rainforest foragers or Palaeoarctic mammoth hunters, existing within what is traditionally defined as a 'generalist' species."
And maybe being able to paint bison and sing of love helped. Ecological ability may have been aided by cooperation between unrelated early humans, argues Dr. Brian Stewart, co-author of the study. "Non-kin food sharing, long-distance exchange, and ritual relationships would have allowed populations to 'reflexively' adapt to local climatic and environmental fluctuations, and outcompete and replace other hominin species," Stewart suggests.
For now, every single environmental record associated with non-sapiens hominins indicates they lived in woodland/grassland environments, usually by rivers and lakes. We did, too, but ventured further. The others didn't. And the others died.
ICYMI
Ken Burns' Brilliant 'The U.S. and the Holocaust' Has Only One Problem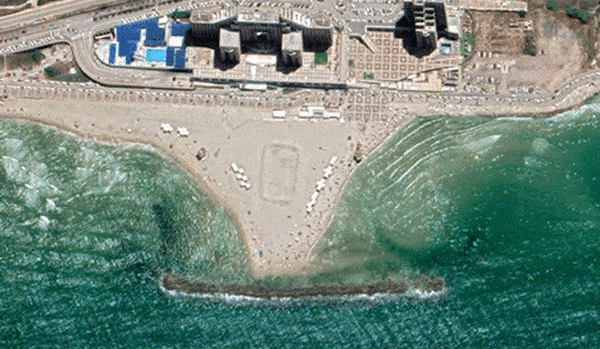 Facing Rapid Rise in Sea Levels, Israel Could Lose Large Parts of Its Coastline by 2050
Lapid to Haaretz: 'I Have Learned to Respect the Left'
The Mossad's Fateful 48 Hours Before the Yom Kippur War
As Israel Reins in Its Cyberarms Industry, an Ex-intel Officer Is Building a New Empire
How the Queen's Death Changes British Jewry's Most Distinctive Prayer