Earliest Wine in World Found in 8,000-year-old Neolithic Georgia
Prehistoric Caucasians may also have invented huge, oddly unsteady ceramic jars to hold the wine – but the Chinese may have made mixed sweet wine much earlier
A woman holding grapes in a vineyard during harvest season, October 2017.
Credit: Cesare Abbate/AP
About 8,000 years ago, as the Near Eastern climate warmed and rain increased after the Ice Age, somebody in the Neolithic Georgia hills was making the earliest-known wine in Europe and possibly the world, say scientists, based on analysis of residue in newly discovered pottery jars.
The prehistoric Caucasus villagers didn't mix, mull or monkey with their wine, it seems, but drank it straight, as we do today, say the archaeologists in their paper, "Archaeologists find earliest evidence of winemaking."
In fact, the prehistoric Chinese were also fermenting an alcoholic beverage involving the grape a thousand years earlier, says Prof. Davide Tanasi, an archaeologist from the University of South Florida who wasn't involved in the Caucasus study. But the Georgian tipple represents the oldest pure grape wine known so far in Europe, as it is dated to 6000-5800 B.C.E., explains Prof. Patrick McGovern of the University of Pennsylvania and co-author of the study.
Dating to around 9,000 years ago, the Chinese drink is the oldest alcoholic beverage known so far, but it wasn't a wine per se. It was a sort of Neolithic cocktail.
The Neolithic Caucasian wine on the other hand was clearly a real wine – that is, fermented grape juice – biomolecular archaeologist McGovern told Haaretz. However, it apparently lacked the tree resin that would be widely used as a preservative by later winemakers in the region.
"We don't know why this very early wine lacked a tree resin, especially since the discovery of its antioxidant properties for keeping wine was probably discovered very early," McGovern says. "For example, grape vines grow up trees, and in the process of making wine from wild grapes, some tree resin might well have been mixed with the wine and its preservative properties empirically observed."
So when did early vintners discover the properties of tree sap? "The oldest example of resin added to grape wine is dated to 5400 to 5000 B.C.E. and it was identified in a sample from a container found in the Neolithic settlement of Hajji Firuz Tepe in Iran's northern Zagros Mountains," Tanasi told Haaretz.
As the weather warmed, the people in the south Caucasus who made this wine, and the jars housing it, had already transited from a hunting-gathering lifestyle to living year-round in settlements. They were farming, growing barley, wheat and chickpeas, and seem to have been indulging in the grape, which, the archaeologists have demonstrated, was growing all over the place.
Can't stand it
The Georgian wine jars (known as qvevri) are the earliest examples of pottery found in the Near East, where pottery-making seems to have begun to develop around 9,000 years ago, say the researchers.
Even so, the prehistoric Caucasians in Khramis Didi Gora and the environs do not seem to have invented ceramics. People may have been shaping and firing clay tens of thousands of years ago. There are, albeit controversial, discoveries of early ceramics, including figurines found in the Czech Republic that date back over 30,000 years, Chinese ceramics that some date to around 18,000 years ago, or pottery in Jomon sites in Japan which some believe date to over 10,000 years ago, and so on.
Possibly, pottery-making developed relatively late in the Caucasus region – or they had been making pottery for a long time but we haven't found it. "Thus far and surprisingly, the Near East has not yielded any pottery, even sporadically like the Czech finding, earlier than the early 7th millennium B.C.E.," McGovern says.
The Georgian pots seem to have been fired on open flames, not inside closed kilns. (Pottery fired low on open fires is more friable than kiln-baked pottery fired at high temperatures.)
In any case, based on the sheer dimensions of the Georgian jars – which could be a meter tall – they probably served as combination fermentation, aging, and serving vessels, suggest the scientists. One, for example, had a capacity of more than 300 liters (nearly 80 gallons); the prehistoric Georgians would hardly have troubled to pour the contents of one giant jar into another just for kicks.
Not unlike clay jars in the Middle East with their weirdly conical bases, these Georgian vessels had unsteady bases, such as flattened or low disks or low pedestals, which "seem inadequate to independently support a vessel full of liquid," as McGovern and co-author Prof. David Lordkipanidze, general director of the Georgian National Museum, put it.
Indeed. Since they could not stand, maybe these jars were fixed, buried in the ground, with exposed shoulders and mouths. Or perhaps the bases were supposed to be decorative in some fashion, like their upper parts, which did bear crude embellishment.
"Large jars similar to the Neolithic vessels, still used to make wine in Georgia today, are a strong indication that the region's wine culture has deep historical roots and strong continuity," Lordkipanidze told Haaretz. "We started to make wine in ancient times and we continue to do so."
Gobekli Tepe: First in fermentation, too?
Whether the ancient Georgians invented wine, let alone pottery, is debatable. It is true that the earliest-known winemaking in Italy, for example, dates back "just" 6,000 years, according to the University of South Florida, but the Chinese may have significantly predated that, producing honey-wine about 9,000 years ago.
"The combination honey, hawthorn tree fruit and grape wine from Jiahu in the Yellow River Valley is the earliest chemically confirmed 'wine' in the world thus far," McGovern told Haaretz. "But the [Chinese] grape was derived from a different species from the Eurasian grape (Vitis vinifera). Although China has many species (up to 40), some of which are quite sweet in the wild and suitable for wine, none were ever domesticated so far as is known. Moreover, unlike the Georgian grape wine, the Chinese combined several ingredients, including rice beer, into a mixed or extreme fermented beverage."
Biomolecular analysis of the pottery found chemical evidence of tartaric, malic, succinic and citric acids, all biomarkers of the Eurasian grape – Vitis vinifera.
This Eurasian grape accounts for 99.9 percent of the world's wine today: it was domesticated and made into wine only in the ancient Near East, says McGovern. Tastes may not have changed much: From the earliest stage of viniculture, about 8,000 years ago, the Neolithics were making unmixed wine, like we are accustomed to today, he says.
It is also possible that the grape was first domesticated in eastern Turkey or elsewhere in the Near East, which includes northern Israel – where humans coming out of Africa would have first seen the wild Eurasian grape, says McGovern.
And it is possible that the ancients were making wine well before they invented the convenience of pottery jars.
Would Neolithic wine have been very different from today's? "It's a fact that in antiquity wine was usually mixed with resins or fruit juice to alter the taste, or mixed with water in order to slow down effects of drunkenness," Tanasi tells Haaretz. "So from this standpoint, our wine can be somehow different."
However, as each ancient civilization had different drinking practices, one cannot generalize more, he adds.
Could the area also have birthed the first beer? Tanasi points out the earliest-known beer has been identified in the site of Godin Tepe in Lower Mesopotamia, dated to the end of the 4th millennium B.C.E.
McGovern and Lordkipanidze point out that three basic crops – einkorn wheat, chickpea and bitter vetch (a rather revolting pea) – seem to have been domesticated in southeastern Anatolia, Turkey, which is home to the extraordinary prehistoric sites of Gobekli Tepe and Nevali ori. Some speculate that the monumental figurative carvings on the Gobekli hilltop are the world's earliest temple. It has been mooted that at these spots, wheat may have been fermented into beer in limestone vats, and drunk out of stone cups, write McGovern and Lordkipanidze.
Maybe these sites on the windswept hills going back some 11,000 to 12,000 years, to the dawn of human settlement, will eventually prove to be the mother of wine as well.
Click the alert icon to follow topics:
ICYMI
Ken Burns' Brilliant 'The U.S. and the Holocaust' Has Only One Problem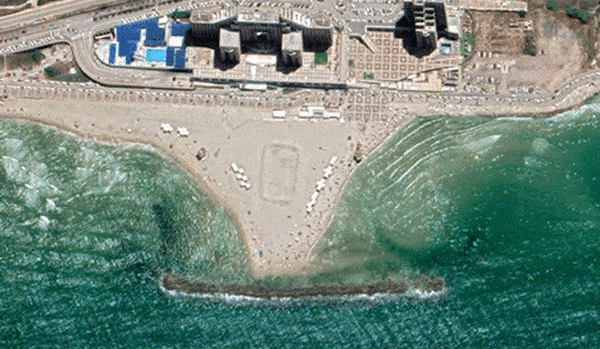 Facing Rapid Rise in Sea Levels, Israel Could Lose Large Parts of Its Coastline by 2050
Lapid to Haaretz: 'I Have Learned to Respect the Left'
The Mossad's Fateful 48 Hours Before the Yom Kippur War
As Israel Reins in Its Cyberarms Industry, an Ex-intel Officer Is Building a New Empire
How the Queen's Death Changes British Jewry's Most Distinctive Prayer