2,000-year-old Sundial Changes Perception of Ancient Rome
One Marcus Novius Tubula apparently ordered the sundial to mark his noble appointment as tribune of Rome itself, say archaeologists after finding it in ancient town of Interamna Lirenas
The sundial ordered by Marcus Novius Tubula
Credit: Faculty of Classics, Cambridge University
One day around 2,000 years ago, a Roman named Marcus Novius Tubula ordered an elaborate sundial, University of Cambridge researchers report after finding it intact two millennia later during excavation in the Roman town of Interamna Lirenas, near Monte Cassino, in Italy.
Dig into the world of archaeology – subscribe to Haaretz
Carved in limestone and 54 centimeters in width, the sundial's concave face was engraved with 11 hour lines intersecting three day curves. Thus the device could give indicate the season: the winter solstice, equinox and summer solstice, the archaeologists say. Its gnomon (pointer) was mostly gone, but a bit of it survived under lead fixing.
The sundial is one of less than 100 of its type that have survived, say archaeologists.
Its even rarer inscription, in Latin, tells us about the man who commissioned it, say researchers from the University of Cambridge.
Conveniently for history buffs, the official had his name and status engraved on the sundial's base. Marcus Novius Tubula noted that he was the son (filius) of another Marcus. His office, the sundial states, was Plebeian Tribune (Tribunus plebis). It even states that he paid for it with his own money.
>>Are 4-million-year-old stone-knife marks on bones a croc?
Given that Tubula went to the trouble to inscribe the sundial with his avowal that he had paid for it, it implies a gift for the benefit of others, Cambridge University archaeologist Alessandro Launaro told Haaretz: Tubula was stating that he hadn't had it made using public resources to which he had access by virtue of his office.
"Civic munificence was expected of prominent members of any Roman community and the notation 'de sua pecunia' (which is very common) was meant to signify precisely that," Launaro adds.
>>Archaeologists startled to find remains of pregnant woman buried in King Solomon's Mines
Cui bono
Students from the Cambridge Faculty of Classics found the timepiece lying on its face while digging at an entrance to a theater. The sundial wouldn't likely have been situated in the theater itself, because that was roofed, Launaro points out, so it wouldn't have worked. Nor would it have been affixed to one of the theater walls because this kind of sundial requires a specific orientation, with the gnomon pointing south. The theater had no appropriate walls.
"The sundial would have featured on top of a pillar or column in an open space, like the forum , meaning the main public square, which lay about 50 meters away from where the sundial was found."
>> Divorcing the Diaspora: How Netanyahu Is Finally Writing Off U.S. Jews
Or perhaps he had his own benefit in mind: "People looking at it to check the time would have been reminded of Tubula's political success," Launaro adds.
Upgrade from 'Latin colony'
Though Interamna Lirenas was in the area now known as "Italy," it had been set up by Rome as a "Latin" colony in 312 B.C.E., Launaro explains: "As such, its inhabitants were not considered Roman citizens, but citizens of a formally independent community, bound to Rome by a treaty of close political and military alliance. Following the so-called Social War ('war with the allies', from 91 to 88 B.C.E., Interamna was granted the status of a Roman municipium and its inhabitants became Roman citizens."
While still having a large degree of administrative autonomy, its inhabitants would have then been entitled to vote in Rome's assemblies and even run for public office, he explains.
Various considerations, including the lettering style, place the sundial's inscription after the good people of Interamna had already been granted full Roman citizenship. And thus our Marcus Novius Tubula of Interamna Lirenas could have proudly have been elected to the position of a Plebeian Tribune of the great Rome, as opposed to a plebeian tribune of their local community.
Latin pre-Romanized colonies had their own officials, who were parallels to the Roman ones, Launaro explains: had the lettering style and name of the individual on the inscription suggested a date before the Social War, Tubula would have been a Plebeian Tribune of Interamna Lirenas.
He adds, "The sundial would have represented his way of celebrating his election in his own hometown."
Marcus Novius Tubula was here
Other inscribed sundials from the era of ancient Rome also similarly reported information about the people who commissioned the object, Launaro says. "They made for an ideal benefaction as people would have looked at the sundial - and relative inscriptions - repeatedly during the day."
Remarkably, there had been another artifact found at Interamna and engraved with the very same name - M(arcus) NOVIUS M(arci) F(ilius) TUB(ula) Q(uaestor), Launaro told Haaretz.
"It was a semi-circular stone basin, possibly part of a fountain," he says – but the piece was last seen in the late 19th century has since, unfortunately, been lost. So it cannot be dated).
"If this individual was the same as the one mentioned in the sundial (which seems likely), the fountain would have been another gift by Tubula to the citizens of Interamna, probably in order to advertise and celebrate his election to the office of Questor in Rome (another step in his successful political career in the center)," Launaro speculates.
Ultimately, the discoveries about Tubula have led the archaeological community to change its views of Interamna Lirenas. "Given the lack of visible archaeological remains, it was traditionally interpreted to be a backwater, sleepy, somewhat declining community, very much placed at the margins of what was going on in Rome and Italy However, we had no idea that anyone hailing from Interamna had ever held an important office in Rome (Plebeian Tribuneship)."
The discoveries also drove home the thought that people from the periphery could rise high in Rome, and provides a meaningful counterpoint to the level of involvement that very prominent figures from Rome itself displayed at the local level, Launaro says: "For example, as recent research by the Cambridge team has further confirmed, in 46 B.C.E. Julius Caesar himself had become patronus (i.e. protector and political ally) of Interamna Lirenas, and Interamna is not by any means the only case."
What makes Interamna very interesting is that there is no reason to believe that this town was in any way special, Launaro sums up: "That is exactly what makes it a potentially informative case-study about conditions in the majority of cities in ancient Rome 2,000 years ago."
The 2017 excavation, directed by Dr Launaro of the Gonville and Caius College and Prof. Martin Millett of Fitzwilliam College, in partnership with Dr Giovanna Rita Bellini of the Italian Soprintendenza Archeologia, Belle Arti e Paesaggio per le Province di Frosinone, Latina e Rieti, is part of a long-standing collaboration with the British School at Rome and the Comune of Pignataro Interamna and has been funded by the Isaac Newton Trust and Antonio Silvestro Evangelista.
ICYMI
Ken Burns' Brilliant 'The U.S. and the Holocaust' Has Only One Problem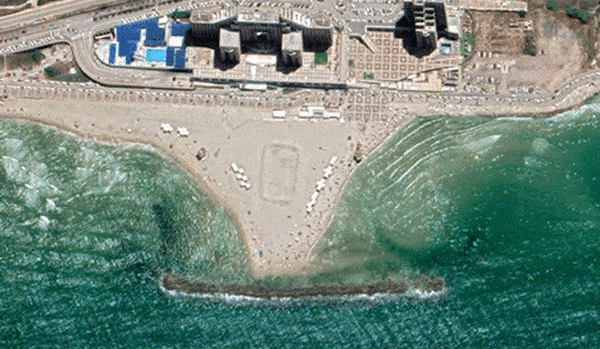 Facing Rapid Rise in Sea Levels, Israel Could Lose Large Parts of Its Coastline by 2050
Lapid to Haaretz: 'I Have Learned to Respect the Left'
The Mossad's Fateful 48 Hours Before the Yom Kippur War
As Israel Reins in Its Cyberarms Industry, an Ex-intel Officer Is Building a New Empire
How the Queen's Death Changes British Jewry's Most Distinctive Prayer