How Many Human Species Did Our Ancestors Have Sex With?
Maybe a lot, says Prof. Svante Pääbo, father of paleogenetics and Dan David laureate, who also explains what 'You have 2% Neanderthal DNA' actually means
Left is the skull of Homo floresiensis, next to a Homo Sapiens skull. Scientists suspect a dwarfed species of Homo erectus evolved in isolation on Flores.
Credit: AP
Man may not be all it's cracked up to be. Homo sapiens, it turns out, had sex with other hominins: Neanderthal and Denisovan, certainly, and possibly a whole host of others. We just haven't found their remains yet, explains Prof. Svante Pääbo, father of paleogenetics and the first to fully sequence the Neanderthal and find some of him lurking in our genes.
It's all the rage to have our genes analyzed and share our personal percentage of Neanderthal DNA on Facebook. Among all non-Africans tested so far, about 2 percent of the genome is Neanderthal. Homo sapiens mated with them after leaving Africa, very possibly in Israel.
Asians have yet more genes from a second extinct human species, the Denisovans. Certain Pacific Islanders have a genetic signal from a third, and there may be yet more unknown human species lurking in our ancestry.
Visiting Israel to receive the 2017 Dan David prize in the category of Past Time Dimension (as opposed to Present and Future), with fellow paleogeneticist Prof. David Reich, Pääbo told Haaretz about how one extracts DNA from a human, mammoth or blade of grass that's been dead for tens of thousands of years; why one does that; and what one can and cannot learn.
We never will get T. rex or Neanderthal DNA from a fossil mosquito. In the course of a being's decay and fossilization, its DNA is destroyed. But DNA can be extracted from preserved – not fossilized – tissue, bones, teeth, or even the dirt of caves in which ancient humans once lived.
How do we know we have archaic genes?
How do scientists get DNA, a fragile molecule, out of a bone from a being that's been dead for eons?
The quest starts with finding preserved primeval bones, which are extremely rare, Pääbo explains. Even if one is found, its chance of having any shreds of DNA are vanishingly small.
Now, say the preserved tissue had DNA. After extraction, what our vial actually contains is a vanishingly tiny bit of ancient DNA and multitudes of DNA from modern microbes, pollen, a passing fly, your research assistant. You have to correct the sample for these contaminants and for chemical changes caused to the DNA over the centuries, which can cause errors in sequencing.
Also, any surviving DNA will have been broken up into tiny segments. Restructuring them into the actual sequence is done with the help of overlapping sequences. It's a painstaking process. Then, after restructuring overlapping sequences, we may end up with a stretch of archaic DNA.
This helps explain why Homo floresiensis – a miniature hominin that lived until some 50,000 years ago in Indonesia – hasn't been sequenced. The very few remains discovered of this weird being are incredibly precious. They are not casually handed over to scientists for analysis that would destroy the sample and probably lead nowhere.
"We did try to extract DNA from a tooth eight years ago with the techniques available at the time, but couldn't get any," says Pääbo. Maybe DNA can be found in the cave sediment, he adds.
Ditto Red Deer Cave Man, a species that went extinct in China as little as 10,000 years ago. "We were not able to sample that yet," notes Pääbo.
Okay, the Neanderthal and Denisovan were sequenced. Lovely. How do we know for sure that a stretch of our DNA is of Neanderthal or Denisovan (or other) origin?
The answer is that if a long sequence of genes is found in Europeans and Asians but not in Africans, it is Neanderthal in origin, Pääbo explains. The DNA of Asians contains long sequences that appear in Denisovans but not in other ethnic groups, Pääbo adds.
Tribesmen on islands in the Bay of Bengal have sequences from an entirely unknown source, a postulated extinct hominin, separate research has shown. Or, Pääbo shrugs, they could simply have a local genetic divergence.
Denisovans, Denisovans everywhere, but not a bone to sequence
Sometimes, the science of human origins has to rely on common sense. Take the Denisovans – a mysterious, hulking species from whom we have exactly four bones, all from one cave in Siberia. Yet archaeologists suspect Denisovans lived all over Asia because of signals of their DNA in Asians nowadays. A recent paper postulates that a cranium found in eastern China is not a Neanderthal variant but a Denisovan.
Our ancestors weren't the only human horndogs. "We have some evidence of gene flow from Neanderthals into Denisovans," says Pääbo. "We also find something much earlier, that diverged more than a million years from the human line, in Denisovans but not in Neanderthals."
Bottom line, he says: Modern humans apparently rapidly crossed across Asia and Europe. Homo sapiens seems to have mixed with Neanderthals, probably in the Middle East, 50,000 to 70,000 years ago.
That fits with the discovery that Aborigines reached Australia some 50,000 years ago, after their forefathers had mixed with Neanderthals. En route to Australia, their ancestors also evidently met Denisovans in southeast Asia, Pääbo says. Today's Aborigines have 2 percent Neanderthal DNA, like Europeans and Asians, and about 5 percent Denisovan DNA.
"It may well be that Africans also have components from extinct archaic groups in Africa! But we don't have these old genomes, so we don't even know," Pääbo points out.
While on the topic of interspecies hanky-panky, it's early days to talk about rewriting the history of man based on the discovery of yet another unknown early human, Homo naledi, in a cave system in South Africa. It may have been a human ancestor; it may not. It may have buried its dead. It may have had a weird predilection for spelunking. We don't know. We have a remarkable cache of skeletons of this extraordinarily early human species, but no preserved bones. Even if any are found, they're unlikely to have any preserved DNA.
The inner beast
Second only to posting one's Neanderthal component on Facebook comes obsessing over what those genes have done to us. It seems they didn't make us more stalwart. So much for hybrid vigor.
Mixing with Neanderthals may have weakened us genetically – not least because as they died out, they became inbred and some of still carry remnants of "bad genes."
It bears noting that we don't all carry the same archaic genes. It's like you and your sister may have the same mother and father, but each got different genes from each parent.
"If we go over two genomes, you will find that in one place in the genome I have a piece of Neanderthal DNA and you don't, and somewhere else you have a piece that I don't. Some pieces are shared, but there is nothing 100 percent fixed," says Pääbo.
That's a convenience for archaeogeneticists. "We can put together about half the Neanderthal genome just jumping from person to person," Pääbo smiles. "Half the Neanderthal genome is walking around on two legs!"
There are variants from Neanderthals that make us more susceptible to diabetes, Crohn's disease and even tobacco addiction, but not all of us carry these deleterious Neanderthal variants.
Note, though, that we have whole stretches in our DNA that are devoid of Neanderthal signals. That, says Reich, corecipient of this year's Dan David prize with Pääbo, indicates that the Neanderthal version of the genes there didn't work in humans – in fact, Reich suspects the two species were almost biologically incompatible, like a horse and donkey.
So if they're practically walking around among us, what did Neanderthals look like? We don't know.
"It's a dirty little secret of genomics that it is incredibly bad at predicting anything about what the phenotype would look like, let alone how they might think," says Pääbo: You can look at a sequence and still won't know anything about what the person will look like. Even regarding eye and skin color. "Our predictors that work in Europeans don't work anywhere else! Much less so would they work on Neanderthals," he adds.
Ultimately, the fact is that Homo sapiens survived. Denisovan and Red Cave Deer Man and Homo floresiensis and lord knows who else went extinct.
Why did Neanderthals go extinct? Probably because they were inferior, that's why.
At the end of the day, Neanderthals existed some two to three times longer than humans – present thinking is that the two species diverged 500,000 to 600,000 years ago. Hominins have been making stone tools for millions of years, when their brains were still around the size of an orange. Neanderthals made stone tools, too, but only experts can tell the differences between early Neanderthal tools and late ones. Modern humans have been around for about 100,000 years, give or take, and it doesn't take an expert to see the technological advance in that time, Pääbo says. In other words, Neanderthals lost the competition for resources to the more advanced Homo sapiens.
Another theory – which doesn't negate the first – is that the Neanderthal was done in by inbreeding. They lived in small groups to begin with and as they were outcompeted and grew sparser, they would necessarily be reduced to intragroup mating, which would have weakened them genetically.
Never mind reports that Neanderthals used toothpicks. "There was something very special with modern humans that made all this possible; that made it possible to start developing technology very rapidly. It may not be that we are individually more intelligent. It may have something to do with sociality. The fact is, we spend the first third of our lives learning what previous generations have learned," says Pääbo. "Then we spend the last two-thirds of our lives expanding on that knowledge." Humans, with their sociality and learning abilities, ratcheted improvement over generations. The Neanderthals lived twice as long as we did but, judging by the remains of their technology, did not do that. And then they were gone.
With the help of our ratcheted knowledge, can we resurrect the Neanderthal? Should we?
"The idea is stupid and ridiculous," says Pääbo. "We should not create a human being to assuage scientific curiosity. Anyway, it's technically impossible," he adds, correcting a popular misapprehension. "A third of the genome is repetitive sequences and we would need to know the exact arrangement of these repeats. We don't. We know they are important for genomic function, and we will never be able to get an exact genome of a Neanderthal."
Okay, so not Neanderthals. What about resurrecting the mammoth? "One can imagine that you find a gene for hairiness and put that variant into an elephant," Pääbo answers. "All you get is a hairy elephant masquerading as a mammoth. But it's an elephant with hair."
Click the alert icon to follow topics:
ICYMI
Ken Burns' Brilliant 'The U.S. and the Holocaust' Has Only One Problem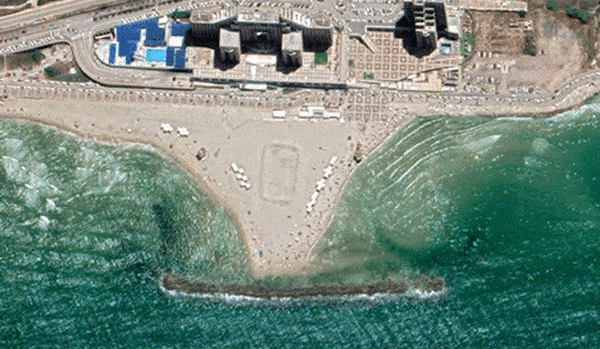 Facing Rapid Rise in Sea Levels, Israel Could Lose Large Parts of Its Coastline by 2050
As Israel Reins in Its Cyberarms Industry, an Ex-intel Officer Is Building a New Empire
How the Queen's Death Changes British Jewry's Most Distinctive Prayer
Chile Community Leaders 'Horrified' by Treatment of Israeli Envoy
Over 120 Countries, but Never Israel: Queen Elizabeth II's Unofficial Boycott