Archaeological Shock: Humans Reached Americas 130,000 Years Ago
If not, who used strategically placed blows to break mastodon bones found in Southern California?
Is it possible that some species of human arrived in North America 130,000 years ago, more than 100,000 years earlier than researchers had previously thought? And if not, who used strategically placed blows to break mastodon bones found in Southern California?
Whoever it was, though, it can't have been Homo sapiens.
The authors of a study published in the April 27 issue of the journal Nature determined that the bones of a mastodon found in San Diego had been broken by rocks that people used as hammers. The problem is that the bones are estimated to be 130,000 years old, give or take 9,400 years.
That is 115,000 years older than the earliest known presence of humans in the Americas.
The study is expected to spark debate. Should further research confirm its findings, the discovery will revolutionize everything known about human settlement in the Americas.
Researchers from the San Diego Natural History Museum discovered the Cerutti Mastodon in 1992 during excavations to pave a new road, not far from the city's beach. Hundreds of fossilized bones were found from the mastodon, which was identified as a young male.
Led by lead author Steven R. Holen, co-director of the Center for American Paleolithic Research, the team reexamined the bones and concluded that the breaks could only have been made by humans.
The researchers conducted experiments, breaking elephant bones with various stone tools, and found that only intentional blows using man-made tools could cause the kind of cracks found in the mastodon bones.
They ruled out the possibility that another animal broke the bones. It could not have been caused by hyena teeth, nor could a certain primate have used rocks because there were no known great apes living in North America, they say.
Furthermore, some of the bones were also found to have had the marrow harvested from them. Bone marrow was a rich food source for prehistoric man. There are also a number of relatively large stones at the site, for which there is no reasonable natural explanation of how they got there.
The researchers postulate that there is a connection between the stones, which appeared to have been used as hammers and anvils, and the bones.
Prof. Erella Hovers, of the Hebrew University of Jerusalem's Institute of Archaeology, read the paper before its publication. "If they had found it without the individual stones it would have been harder to prove human activity," she said. "Even if they had found many stones it would have been problematic because it could have been caused by a flood or natural processes, but precisely the fact that they found a handful of stones, surrounded by dirt, right next to the bones, makes it hard to write it off as a coincidence."
Hovers admits that she also had a hard time accepting the article's conclusions at first. "When I received it, my eyebrows were raised to my ears, but they answered every comment that was raised. And there is a very strong body of work here that deserves publication and debate about it," she said.
The scientific consensus is that the first humans reached North America via the Bering Strait around 15,000 years ago. Some scholars, most prominently Louis Leakey, have claimed to have found evidence of earlier human activity in the Americas. He claimed to have found prehistoric stone tools, tens of thousands of years old, in South America. After a great archaeological debate, most researchers agree today that the stone "tools" were created by geological processes.
"I think it will be harder to knock this down," Hovers said. "They did their preparation. They did stringent dating of the bones and conducted experiments in which they examined the bones. It will be hard to refute their claim."
University of Michigan paleontologist Daniel C. Fisher, a co-author of the Nature paper, said in a statement released by Nature that the findings from the site match other sites in which mastodons were discovered. He says he was involved in excavations of 30 mastodons in the area, and that it is very rare to find any hints of human activity.
"It's this sort of work that has established how fractures like this can be made," said Fisher. "And based on decades of experience seeing sites with evidence of human activity, and also a great deal of work on modern material trying to replicate the patterns of fractures that we see, I really know of no other way that the material of the Cerutti Mastodon site could have been produced than through human activity," he said.
Fisher says the different pieces of evidence dovetail with one another. "We don't know how this animal died. We don't know whether humans were part of that death," he said. "All that we know is that humans came along some time after the death, and they very strategically set up a process involving the harvesting of marrow from the long bones and the recovery of dense fragments of bone that they could use as raw material for producing tools."
"There's no doubt in my mind this is an archaeological site," added Holen, the lead author. "The bones and several teeth show clear signs of having been deliberately broken by humans with manual dexterity and experiential knowledge. This breakage pattern has also been observed at mammoth fossil sites in Kansas and Nebraska, where alternative explanations such as geological forces or gnawing by carnivores have been ruled out."
Who dunnit?
The possibility that the mastodon bones were broken by humans raises a host of difficult questions about who these people were, how they reached Southern California and what happened to them.
The climate was hot during this period, which means that the Bering Strait was flooded and could not be crossed by foot. But it is known that groups of nomads did reach North America from Asia and Europe during this period, presumably by hopping from island to island.
Another possibility is that they reached the continent earlier, when the strait was frozen.
The researchers also don't know the species of the humans that broke the bones of the mastodon found in San Diego.
The only species that has been discovered so far in North America is the modern human Homo sapiens, but 130,000 years ago Neanderthals and more ancient species of humans were roaming large parts of the globe.
Recently published genetic research on native South Americans suggests that there were a number of waves of prehistoric migration to the continent, and that it is likely that the same prehistoric group mixed with the humans that arrived in the migration waves 15,000 years ago, becoming the ancestors of modern native Americans.
ICYMI
Ken Burns' Brilliant 'The U.S. and the Holocaust' Has Only One Problem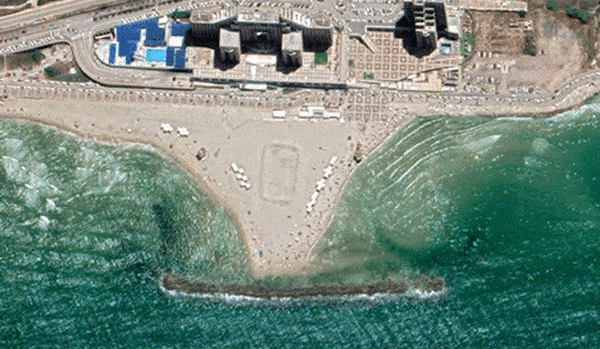 Facing Rapid Rise in Sea Levels, Israel Could Lose Large Parts of Its Coastline by 2050
Lapid to Haaretz: 'I Have Learned to Respect the Left'
The Mossad's Fateful 48 Hours Before the Yom Kippur War
As Israel Reins in Its Cyberarms Industry, an Ex-intel Officer Is Building a New Empire
How the Queen's Death Changes British Jewry's Most Distinctive Prayer