Archaeologists Find Grim Proof of Man's Earliest War
Yet some believe prehistoric man was largely amiable: Hunter-gatherers could simply move on.
Excavation of two victims of violence, featured in the Early Egypt room at the British Museum. The pencils point to weapon fragments mixed with the bones.
Credit: Wendorf Archive
Cultural clashes leading to war are evidently as old as man himself. Now archaeologists studying human remains in the Sudan believe they have found evidence of the world's first outright, large-scale war, some 13,000 years ago - and it seems to have been about race.
This Mesolithic-era battle could also have been one of the world's first water wars, as the region was undergoing a process of desertification which would have spurred competition over resources.
Fresh analysis of fossil remains first found half a century ago indicates that one group consisted of locals, the ancestors of black Africans. The identity of those on the other side remains unclear, but they seem to have originated in the Mediterranean Sea basin, according to a recent report in The Independent. Wherever they came from, the people on both sides clearly looked different.
The locals involved in the ancient battles in Jebel Sahaba by the Nile River were tall with relatively short torsos, projecting features and broad noses. The other group was shorter, had longer torsos and flatter faces. Certainly compared with today's couch potatoes, both were in terrific physical shape, the archaeologists report.
New analysis using modern scanning techniques has found that many of the dozens of buried bodies unearthed at the site – not only of men, but of women and children, too – bear marks of unhealed trauma caused by arrow injuries, an interpretation supported by the new discovery of flint fragments (see the picture). The archaeologists postulate that the fighting went on for some time, possibly years, in this meeting place of peoples, and that Jebel Sahaba presents the oldest-known evidence of true war. It also is the earliest formal burial ground found in the area.
Jebel Sahaba consists of three prehistoric burial sites: The remains found there were determined to be between 13,000 to 14,300 years old, associated with a pre-agrarian society. Back then, the climate was changing, shifting from an era where there was savanna with goodly rainfall to a drier, hotter period, though the area hadn't reached the condition of stark desert it features today. In any case, the war at the site may have been caused by competition over who would dwell by the fresh-water (and crocodile-infested) Nile.
The ancient battlefield and graveyard were first discovered in 1964 by the American archaeologist Fred Wendorf, an expert on the Saharan region. At one of the sites, known as "Cemetery 117," 59 bodies were found, of which 24 were women and 13 were children. Almost half had clearly died of violence, Wendorf reported: Signs of injury by arrow or spear showed no scarring, indicating the wounds had been mortal.
Now using modern technology, a group of scientists from Bordeaux University in France are finding among the human remains a slew of injuries not noticed before, which further back Wendorf's theory.
Back to the chimps
The concept of prehistoric warfare refers to conflict in the era before writing, and signs that man did not smile upon his brother – and sometimes even ate him – go back eons. Some archaeologists even theorize that internecine violence, and the development of stone weapons, is one of the reasons prehistoric populations began to spread worldwide, though there is no clear evidence to support that postulation. While plenty of primitive cave art, for example, shows man hunting animals with weapons, none shows man hunting man.
Proponents of the man-is-animal-to-man theory point out that there is proof that even chimpanzees, our closest genetic cousins, have committed murder that bears all the hallmarks of premeditation, provoked by nothing whatsoever, not even competition over a mango. They certainly are masters of ganging up on rival gangs of their own species. (Of course, bonobo chimps seem to live in a perpetual daze of hypersexualized bonhomie, but they seem to be the exception to the rule.)
Cemetery 117 is usually cited as the earliest-known, clear-cut example of an actual man-versus-man war. Another site, the so-called "Talheim Death Pit" located far away in Germany, is half the age of the Nile site: The mass grave there dates to about 7,000 years ago. Analysis of evidence of the 34 bodies found there point toward organized violence in Neolithic Europe: All the skeletons showed signs of significant trauma, much of it unhealed, indicating that the injuries had been mortal. These individuals seem to have had a predilection for slamming axes on the head.
Being the only land bridge between Africa and Europe, the area in which modern-day Israel is located has been a clashing point since the dawn of history, and presumably before that, too. Certainly, violence in the biblical era is legion – from battles between local tribes to wholesale, shattering war between civilizations, which culminated among other things in the Jewish exile from the land of Israel.
Archaeological evidence of this millennia-long carnage is oddly lacking, however. Part of the reason is that remnants from destroyed villages, such as stone bricks, get recycled when new towns are subsequently built on the same sites.
ICYMI
Ken Burns' Brilliant 'The U.S. and the Holocaust' Has Only One Problem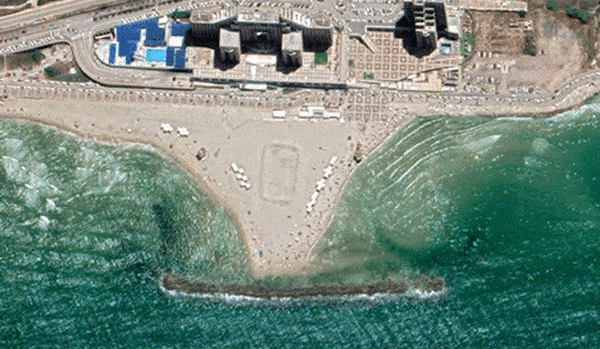 Facing Rapid Rise in Sea Levels, Israel Could Lose Large Parts of Its Coastline by 2050
As Israel Reins in Its Cyberarms Industry, an Ex-intel Officer Is Building a New Empire
How the Queen's Death Changes British Jewry's Most Distinctive Prayer
Chile Community Leaders 'Horrified' by Treatment of Israeli Envoy
Over 120 Countries, but Never Israel: Queen Elizabeth II's Unofficial Boycott