Lying About Leviathan: Archaeologists Find the Earliest Fish Tales
Fishing has been a mainstay of human cuisine going back millennia. Archaeologists can show us how the ancients fished and cooked their catch.
One of the earliest graphic depictions of fishing is in the tomb of an Egyptian overseer named Ti, dating back to the middle of the third millennium BCE.
The ancient Egyptians also show us that fish tales are no modern invention either. Perhaps the earliest ever of these whoppers appears in an Egyptian work going back about 3,500 years called "The pleasures of Fish and Fowling," where a fisherman says: "The fish is before the spear. I kill again and again, there being no end for my (harpoon) shaft. I shall fill bags with white Nile perch."
The Bible tells us that the Israelites longed for Nile fish on their wanderings in the desert (Num 11:5). Pharaoh wasn't giving the Hebrew slaves time off for backyard fish-fries, but experts tell us that people were cooking fish long before long before his time, and long before the Egyptians, for that matter.
At a now-submerged Mediterranean site west of Atlit-Yam, going back about 11,000 years, a heap of gray triggerfish bones was discovered by a joint team from Tel Aviv University and the Israel Antiquities Authority. Their analysis indicates that the fish were gutted, sorted by size and stored for later consumption – as fishermen still do with this fish, for example, in Ghana.
This find also explains how 8,000 years ago, fish bones reached such sites as Jerusalem, and Gilgal in the Jordan Valley, which are nowhere near the sea.
Whale of a tale
Probably due to their abundance, fish became a biblical symbol of fertility, with Ezekiel the prophet promising that fish would even fill the fatally salty Dead Sea (Ezek: 47:9–10). One group of far-seeing Bible literalists, by the way, was selling future fishing licenses to the Dead Sea a few years ago.
And for more on the one that got away – among the frequent mentions of fish in early rabbinic literature is this whale of a tale from The Babylonian Talmud (Baba Bathra 74a): "Once we travelled on board a ship and we saw a fish that raised its head out of the sea. It had horns on which was engraven: 'I am a minor creature of the sea, I am three hundred parasangs [in length] and I am [now] going into the mouth of Leviathan."
According to recent archaeological finds fish even reached Jerusalem. Careful sifting of excavated soil from the City of David produced 10,600 fish bones, 90% of them bream and mullet from the Mediterranean.
Because of the long distance the fish traveled, we can imagine that they were dried, salted or smoked, postulates Ronny Reich in his book "Excavating the City of David."
The redactor of the Mishnah, Judah HaNasi, is said to have once imported 300 barrels of pickled fish. By the way, Rabbi Judah also left us this riddle of a recipe for cooking fish (Moed Katan 11a): "Broil the fish with its brother, plunge it into its father, eat it with its son…" To break the code: "brother" means salt, "father" is water, and "son" is sauce.
Fish sauce was a common condiment by Judah HaNasi's time: Called garum, it was produced by pickling small fish in large vats. A distinctive type of plate, which archaeologists have unearthed in many digs, was used to serve the sauce with fish. It was round and flat, on a pedestal, with a small depression in the center of plate designed to hold oil or sauce.
Suspect tilapia
The fishing stories of the New Testament are many, and the fish most popular with tourists at Sea of Galilee restaurants – tilapia – is called St. Peter's fish after one such story (Matt. 17:24–26) in which Peter caught a single fish with a shekel in its mouth. Well, okay, but tilapia feed on plankton and therefore, wouldn't take a worm on a hook. Tilapia have to be netted and one typically nets dozens or hundreds, not one.
Mendel Nun, the late fisherman-Sea of Galilee lore expert from Kibbutz Ein Gev, used to say that most of the fish Jesus fishermen-disciples were catching were probably sardines. But tilapia are much more attractive as lunch for tourists at his kibbutz's fish restaurant.
Sardines were probably the fish salted – by the ton – at Magdala, the hometown of Mary Magdalene which was called in Greek Tarichae, a word that means preserving. Recent excavations at Magdala have unearthed shops with pools where people could also buy fresh fish.
Mosaic mystery
Various kinds of fish, real and imaginary appear on a magnificent mosaic from a 3rd-century CE wealthy home, unearthed in Lod some years ago. But the best-known fish mosaic in Israel is the one depicting two fish and a basket of loaves, recalling the story of Jesus feeding 5,000 people with five loaves of bread and two fish (see picture above).
Strangely, the depicted fish probably did not hail from the Sea of Galilee, as they have two dorsal fins, while all species known from that lake have only one.
Be that as it may, in Jesus' day - Second Temple times, there were three types of nets: the dragnet, or seine, the cast net and the trammel net. The dragnet, was like a netted wall – it was 100 feet long and 12 feet high and had ropes at each end and was operated by two teams. Its bottom was weighed down by sinkers. A shore-based team would hold one end of the net and the boat carrying the rest would sail out, around, and back to the shore at a distance that allowed the net to be spread entirely.
A smaller net was called a cast net, which was used from the shoreline (perhaps what Simon and Andrew were using when Jesus found them (Mark 1:16). This was circular about 20 feet in diameter and would be thrown from shallow water, spreading like a parachute and sinking. To retrieve it, the fisherman had to jump into the water, which is probably why the New Testament notes that Peter was working naked when he spotted Jesus on the shore (John 21:7) and quickly got dressed.
A third type of net was the trammel net – two large mesh walls with a finer mesh net in between. The trammel was dropped from a boat, which then circled the net around. Fish trapped within the net could make it out of the first larger mesh net, but were then trapped in the smaller mesh. Fishermen cleaning this type of net are also mentioned in the New Testament (Matt 4:21) and can be seen by anyone strolling in the fishing ports of Jaffa or Acre to this day.
But how did the ancients cook their fish, of whatever size? Here's one recipe from yore.
A fine kettle of fish in wine sauce
Here's a recipe for fish in wine sauce from Apicius, a collection of Roman recipes thought to have first been recorded in the 4th or fifth centuries CE. The following recipe appears in John Edwards' 1984 version of "Apicius"
1 kg (about 2 lbs) uncooked fish fillets
1 C fish stock
1 C boiled white wine (this means bringing to boil 2 cups of white wine and simmer until it is reduced to 1 cup)
1 tbs olive oil
2 heads of leeks, sliced
1 tsp coriander
½ tsp ground pepper
1-2 tsp celery seed
2 egg yolks
Chop fillets into pieces and put in stewing pot. Add stock, boiled wine, olive oil, leeks coriander, pepper and celery seed. Bring to boil and simmer for 10–15 minutes. Then thicken the liquid by adding the well-beaten egg yolks little by little.
Serve with a sprinkling of pepper.
Click the alert icon to follow topics:
ICYMI
Ken Burns' Brilliant 'The U.S. and the Holocaust' Has Only One Problem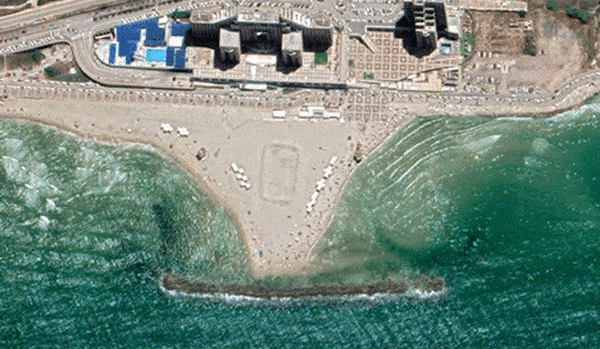 Facing Rapid Rise in Sea Levels, Israel Could Lose Large Parts of Its Coastline by 2050
As Israel Reins in Its Cyberarms Industry, an Ex-intel Officer Is Building a New Empire
How the Queen's Death Changes British Jewry's Most Distinctive Prayer
Chile Community Leaders 'Horrified' by Treatment of Israeli Envoy
Over 120 Countries, but Never Israel: Queen Elizabeth II's Unofficial Boycott