Israel Says She's a 'Major Terrorist.' The Charges? Possession of Two Firebombs and Planning a Summer Camp
Following the murder of an Israeli teen in the West Bank, the Shin Bet has decided to crush the Popular Front, arresting dozens of Palestinians – many totally innocent – and even torturing a few. The saga of Mays Abu Ghosh
Mohammed Abu Ghosh, at home this week.
Credit: Alex Levac
Mohammed Abu Ghosh says that his daughter's arrest has been even more difficult for him than his son's death. He casts a wistful glance at a huge photo of Mays' pretty face and falls silent. A pendant in the shape of Palestine is hanging around her neck. Mays, his eldest, has been in Israeli custody for five months.
Mohammed has known his share of suffering: His son Hussein was killed at the age of 17 after perpetrating a stabbing attack in the settlement of Beit Horon in which Shlomit Krigman was killed in 2016. Mohammed's nephew, also named Hussein, was killed at the age of 19 on the first anniversary of his son's death, in a car-ramming attack in the settlement of Ma'aleh Mikhmash. And Mohammed's son Suleiman, now 17, was twice arrested last year and held in administrative detention – incarceration without trial – for four months each time.
Now Mays is in prison and, according to her lawyers and other sources, she has been tortured during her interrogations. The five counts of the indictment against her sound serious and terrifying, but are for the most part revealed as ridiculous when the details are known.
The "unlawful association" that Mays, a fourth-year student in the media department at Bir Zeit University, is accused of belonging to is the left-wing students' organization, Qutub. Israeli authorities claim that Qutub is affiliated with the outlawed Popular Front for the Liberation of Palestine, but the student group denies any such connection.
"Bearing, possessing and manufacturing weapons" boils down to filling two bottles with sand at a gas station and inserting pieces of cloth into them, which to her interrogators indicated that she might have been making a Molotov cocktail. "Contact with an enemy" apparently involved participating in a conference about the Palestinian return in Lebanon, speaking on a radio program about her dead brother and intending to prepare a report on Hadeel al-Hashlamoun. Hashlamoun was an 18-year-old woman from Hebron who, in 2015, was seen to be holding a knife, was wounded by Israeli forces and, while lying on the ground, was shot to death. "Conspiring to bring in funding from enemies" means planning to open a bank account to support one of the student organizations she was active in.
Paragraph 2.4 of Mays' charge sheet is particularly serious: "In August 2019, or a proximate date, the accused spoke with Kutzi Masalmeh, Lian Elkaid and Samah Gradath about holding a summer camp for the organization [Qutub], and wondered how to go about it in the light of the detention of a number of people."
Fortunately for Israel, the malicious and perilous plan to organize a summer camp was thwarted in time, thanks to the Shin Bet security service.
To date, about 50 Palestinians, most of them students, have been arrested all over the West Bank since the murder on August 23 of Rina Shnerb at a spring near the West Bank settlement of Dolev – as explained in a headline in Israel's government-mouthpiece media that screamed: "Shin Bet uncovers: Rina Shnerb's murderers part of terror infrastructure of 50 terrorists."
The 50 arrested "terrorists" including Mays – almost none of whom are suspected of having anything to do with the murder, not even indirectly – are accused only of membership in the Popular Front for the Liberation of Palestine. A few have been released, some are in administrative detention, most have had indictments filed against them.
The charges are largely political in nature, creating the impression that this is perhaps an act of Shin Bet vengeance for Shnerb's murder, in keeping with a possible decision to eradicate this ideological organization, which has in any case shrunk in size over the years in the West Bank, where almost every political entity is prohibited by the laws of the occupation.
One of the accused in the murder of Shnerb, Samer Arbid, was reportedly almost tortured to death in the course of 30 hours of questioning, during which the interrogators broke 16 of his ribs and damaged some of his organs. Arbid was hospitalized, unconscious, in critical condition, sedated and mechanically ventilated, and is recovering.
According to the Palestinian Committee for Prisoners' Affairs, Mayes Abu Ghosh has also been tortured, and at length. In her home in the Qalandiyah refugee camp, her father describes the painful positions – nicknamed "banana" and "frog" – in which she was questioned, and says she also suffered sleep deprivation and was denied access to toilet facilities. All this for a young woman accused of preparing a Molotov cocktail and organizing a summer camp.
Her lawyers, Sahar Francis and Mahmoud Hassan, are considering filing a lawsuit against the authorities for torturing Abu Ghosh and for the way they extracted information from her. Hassan notes, moreover, that the interrogators who almost beat Samer Arbid to death continued to serve in their capacity after his hospitalization, as though nothing happened – and apparently also took part in Abu Ghosh's interrogation.
The Qalandiyah camp was bustling early Monday evening when we visited. Situated outside Ramallah, it's one of the largest refugee camps in the West Bank, with a population of about 15,000. The Abu Ghosh home is in the upper part of an alley, not far from the camp's entrance, in a multiple-story building that is also home to other members of the extended family. The apartment, on the fifth floor, is in ruins – the Israel Defense Forces demolished it in the wake of the terrorist attack perpetrated by Mays' brother Hussein. Since then the family has lived on the third floor.
Mohammed receives us in the garage, a bone-chilling space. Photographs of the two dead young men from the family – the son and nephew – are affixed to the walls. His son Suleiman was recently released from prison: He was incarcerated for four months without trial last year, then freed for four months, then held again for four months without trial, and now he's back home. He and his father both work in an office-supplies store in Ramallah.
Mohammed, 49, displays impressive restraint. Today, after Hussein's death, he and his wife, Najwa, have four sons and three daughters.
Mays was arrested by the Yamam, the Border Police's counterterrorism unit, on the night of August 29. She'd been studying late for an exam. At around 4 A.M., she heard a noise in the stairwell. She and her siblings roused their father, who quickly turned on the light at the entrance to their apartment, so the Yamam officers would not blow up the front door. They smashed the door down anyway, using heavy tools. Mohammed recalls that there were about 10 male soldiers, three female soldiers, a Shin Bet agent in plain clothes, and a dog. Those wearing uniforms had masks. They herded the members of the family into the living room, pulling the youngest of them, ages 3 and 5, out of their beds and carrying them into the living room.
The Shin Bet agent, who called himself "Captain Hussam," went up directly to Mays and identified her. Her surprised father says he was more taken aback by that than during the previous arrests in his family.
Mays did not reply to the captain's questions and refused to give him her cell-phone which she said was being repaired. Afterward, when he found the device, she refused to tell him the password. He asked Mays' father for the password, and the latter replied, "Do you know the password of your daughter's phone?" The man replied that he did.
The Yamam officers searched Mays' room and the rest of the apartment, ransacking everything. Hussam told Mohammed that he had to arrest his daughter, to which he responded, "She is a girl, and you want to take her? I will bring her to wherever you want in the morning" – but Mays was taken away.
Two weeks later, Captain Hussam called Mohammed and told him that his daughter's interrogators wanted to meet with him at the Ofer military base, near Ramallah. Mohammed was worried something bad had happened to his daughter. An interrogator code-named "Nura" was waiting for him. "First of all, I want to tell you that Mays is thinking about you and only you all the time, and is concerned for your wellbeing," "Nura" told him. Mohammed says he decided earlier not to cooperate or answer any questions about his daughter.
"I brought you here to tell you that I have been an interrogator for many years and have never met a girl as strong as Mays," said the interrogator. She struck us. Your daughter is a major terrorist. She is Hezbollah. Hezbollah and the Popular Front. I want you to talk to her."
Mohammed refused. "Why? Are you angry at her?" came the rejoinder.
Mohammed says "Nura" threatened that Mays would spend 20 years in prison. "She will lose her life," she said, adding that someone wanted to marry his daughter: Qassam Barghouti, one of the accused in the attack on Shnerb. "Nura" asked Mohammed what he intended to do. His reply, he says, was, "They can both go to jail for 20 years and be married there." He adamantly refused to take part in the interrogator's attempts to manipulate him.
Their meeting lasted for about two hours, Mohammed says, during which he was repeatedly asked, "What will you do about your daughter's relationship with Qassam?" And "Is this how you raise your children?" And "You need to cut Qassam's head off."
Mohammed – who says his daughter knows Qassam from university – understood that the interrogator's aim was to drive a wedge between him and his daughter. When he got home, he told his wife that he was certain that she would be summoned to a similar session and that she must not cooperate.
A few days later, "Captain Hussam" called and ordered both parents to report to the Ofer base. They saw another man there, but did not realize that he was Abdel Karim Barghouti, Qassam's father. They were told not to converse with the stranger.
Afterward, Mays' parents were taken to downtown Jerusalem, to the Shin Bet's offices in the Russian Compound. Mays was brought into the room.
"That is a moment I will never forget," Mohammed tells us. "I will raise my 3-year-old son in light of that moment. When I saw Mays I thought at first: This is not my daughter. After a few seconds, I realized that this was my daughter. But something had happened to her. As though she had been given electric shock treatment for a mental disorder. She was broken. I was about to cry out, 'What have you done to my daughter?' but a few seconds later she smiled, and I calmed down a little. She was bound, could barely walk, with small steps, maybe because of the shackles.
"I got up and embraced Mays. I whispered to her: 'We love you. We are behind you. We are proud of you.' I wanted to tell her something about Qassam, but her mother took her from me and embraced her. She was very thin. Before we parted, she suddenly asked me, 'Did Qassam call you?' This is the first time I have told this to anyone. When she was taken from the room I saw tears in her eyes. My wife managed to control herself and not cry. We had to look strong for Mays, because they threatened her by saying they would arrest us too, and she was very concerned about us."
After the brief meeting they were taken to the Qalandiyah checkpoint and made their way home, at which point Mohammed called Khader Deibas, the attorney who was representing his daughter at the time. He asked him to try to meet soon with Mays and to tell her, "You can love whomever you want and my wish for you is to love whomever you want." The interrogators, he understood, were trying to give Mays the impression that her parents were furious with her because of her ostensible relationship with Qassam and were threatening to ostracize her, and he wanted to erase that false impression immediately.
In a visit at Damon Prison on Mount Carmel a month ago, he asked her through the glass wall that separated them: "What did they do to you?" Mays replied, "I don't want to answer you now," and her eyes welled up with tears.
Click the alert icon to follow topics:
ICYMI
Ken Burns' Brilliant 'The U.S. and the Holocaust' Has Only One Problem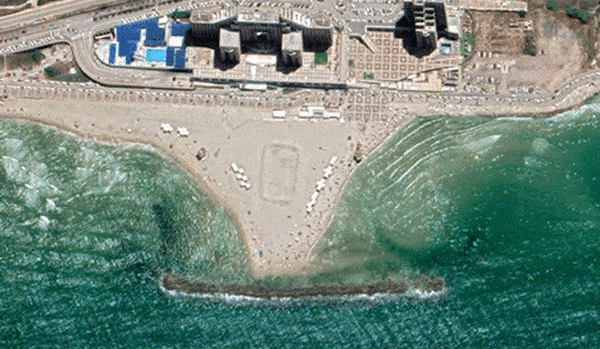 Facing Rapid Rise in Sea Levels, Israel Could Lose Large Parts of Its Coastline by 2050
As Israel Reins in Its Cyberarms Industry, an Ex-intel Officer Is Building a New Empire
How the Queen's Death Changes British Jewry's Most Distinctive Prayer
Chile Community Leaders 'Horrified' by Treatment of Israeli Envoy
Over 120 Countries, but Never Israel: Queen Elizabeth II's Unofficial Boycott