Meet Kim Jong-un, a Moody Young Man With a Nuclear Arsenal
Once dismissed as a figurehead, North Korea's young leader has used purges and crafty moves to exert firm control over his country and its expanding nuclear arsenal
North Korean leader Kim Jong Un visits war graves 64th anniversary of the armistice which ended the Korean War, in a photo released on July 28, 2017 by the Korean Central News Agency in Pyongyang.
Credit: KCNA/REUTERS
Choe Sang-Hung, The New York Times
Seoul, South Korea
Choe Sang-Hung, The New York Times
Seoul, South Korea
In China, the man threatening to fire missiles at the United States is often derided as a chubby brat. In the United States, a senator recently referred to him as "this crazy fat kid." President Trump once called him "a total nut job."
But the target of all that scorn, Kim Jong-un, the 33-year-old leader of North Korea, has long been underestimated.
Kim was the youngest of three sons yet leapfrogged his brothers to succeed his father, Kim Jong-il. Many analysts dismissed him as an inexperienced figurehead when he took power at 27; some predicted he would never last. But almost six years later, there is little doubt he is firmly in control.
Now, against long odds, Kim is on the verge of making his isolated, impoverished nation one of very few in the world that can hit the United States with a nuclear missile — defying not only the Trump administration but also international sanctions and North Korea's traditional allies in Beijing.
Some have urged President Trump to open negotiations with him. But it is unclear whether Kim is interested in talking, or what if anything he might demand in exchange for freezing or abandoning his nuclear program. He has made building a nuclear arsenal a top priority, arguing that it is the only way the North can guarantee its security and develop its economy.
His ultimate motives, like many details of his life, are uncertain. Since taking power, Kim has yet to travel abroad or host a visit from another head of state. Only a few people outside North Korea have been allowed to meet him, among them the former basketball star Dennis Rodman, a Japanese sushi chef and the vice presidents of Cuba and China.
What little is known of Kim's record suggests ruthlessness — and some ideological flexibility.
South Korean intelligence officials say Kim has executed scores of senior officials, including his own uncle, a wily power broker who had been seen as his mentor. He is also assumed to have ordered the assassination of his half brother, who was poisoned by VX nerve agent at the Kuala Lumpur International Airport in Malaysia in February.
Yet Kim is also credited with loosening state controls on the economy and engineering modest growth, and regaining some of the public confidence that the dynastic regime enjoyed under his grandfather and lost under his father, whose rule is remembered for a devastating famine.
"Smart, pragmatic, decisive," Andrei Lankov, a North Korea expert at Kookmin University in Seoul, said of Kim. "But also capricious, moody and ready to kill easily."
One subject on which Kim has not wavered is the nuclear program. His father held out the possibility of scrapping the program in return for economic aid and security guarantees and even struck a deal with the Clinton administration, though the North later violated it. But Kim has taken a more aggressive approach.
Three of North Korea's five nuclear tests have come under his watch, and there are signs that the country is preparing for another one. North Korea has also conducted about 80 missile tests under Kim, more than twice as many as under his father and grandfather combined.
The nation crossed a major threshold with the last two missile tests, on July 4 and July 28, which analysts said demonstrated intercontinental ballistic missiles capable of hitting Alaska and, in the most recent test, the mainland United States.
North Korean state media showed Kim present at both tests, wearing a suit with a Mao-style collar, surrounded by soldiers and smiling broadly.
A Mysterious Heir
Kim first appeared in North Korean state media in September 2010, little more than a year before he succeeded his father as supreme leader. The reports said that he had been appointed a four-star general and that the ruling Workers' Party had elected him vice chairman of the Central Military Commission.
Until then, it was not clear whether he would succeed his father. The outside world had never even seen a photograph of him as an adult.
The elder Kim, who ruled North Korea from 1994 until his death at the end of 2011, had three wives and at least six children. His first wife delivered a son in 1971 but fell out of favor and died in exile in Moscow. His second wife gave birth to two daughters but no son. His third wife, Ko Yong-hui, a Japanese-born Korean singer and dancer, had two sons and a daughter.
Despite his mother's departure, the eldest son, Kim Jong-nam, was widely considered the heir apparent until 2001, when he was caught attempting to visit Tokyo Disneyland on a false passport. He later appeared to go into exile, living in Macau and surfacing occasionally with mild criticism of the regime, before his assassination in Malaysia in February.
Kim Jong-il's second son, Kim Jong-chol, was seen at an Eric Clapton concert in London in 2015, but little else is known about him and it is unclear why he was passed over for succession. One of the only clues comes from Kenji Fujimoto, the Kim family's former sushi chef, who wrote in a memoir published in 2003 after he escaped North Korea in 2001 that the elder Kim considered the child too "effeminate."
But Kim Jong-il adored his third son, Kim Jong-un, and saw his own domineering attitude and other leadership qualities in the boy at an early age, according to Fujimoto, who was one of the few to predict Kim Jong-un's rise to power.
After a basketball game, for example, Kim Jong-chol would leave the court immediately but Kim Jong-un would linger and gather his teammates for postgame analysis, the chef wrote. Fujimoto also recalled how Kim Jong-un sometimes hurled board-game pieces at his brother when he was losing.
On his eighth birthday, Kim Jong-un was given a general's uniform as a gift, and from then on, generals paid their respects to him by bowing before him, according to his aunt, Ko Yong-suk, who defected to the United States in 1998.
"He learned how power works from early age," said Koh Yu-hwan, a professor of North Korean studies at Dongguk University in Seoul.
North Korean state media have swaddled Kim's childhood with mythmaking, portraying him as an excellent marksman and a "genius among geniuses" who loved to drive fast cars. At age 16, he is said to have written a research paper analyzing his grandfather's leadership during the Korean War.
From 1996 until at least 2000, Kim is believed to have studied in public schools in Switzerland disguised as the son of a North Korean diplomat. The classes were taught in German, and Kim struggled with the language. A video recorded at the time shows him uncomfortably tapping a tambourine in a music class.
"We weren't the dimmest kids in class but neither were we the cleverest," a classmate, Joao Micaelo, told a British tabloid in 2011.
Micaelo and others have said Kim was a quiet teenager who loved James Bond films and playing basketball. But he stood out because he had expensive sneakers and gadgets, including a Sony PlayStation, and enjoyed the services of a cook, a driver and a private tutor.
One classmate, Marco Imhof, recalled how he once scolded a servant for serving cold spaghetti. "I was surprised because it was not how he normally was," Imhof said in an interview published in 2010.
There is evidence that Kim's time as a youth in Europe, and perhaps other countries, left an impression. In his memoir, Fujimoto recalled conversations with Kim as a teenager in which the future leader expressed frustration with power shortages at home and marveled at overseas department stores.
"Japan was defeated by America, but they've greatly reconstructed the country. The shops were full of goods. What about our country?" Fujimoto quoted the young Kim as saying. Later in the conversation, Kim suggested that North Korea should learn from China's market-oriented economic policies, Fujimoto wrote.
Such accounts have left some analysts hopeful.
"When the time comes, Kim Jong-un is expected to adopt policies that will ease his country's isolation and embrace good things from the West," Paik Hak-soon, a North Korea expert at the Sejong Institute, a think tank outside Seoul, said in a paper on Kim's leadership published in February.
'Reign of Terror'
But first came what South Korean officials have called a "reign of terror."
After returning to Pyongyang, North Korea's capital, Kim graduated from the Kim Il-sung Military University in 2006 and was put on a fast track into the nation's military leadership. Recent state propaganda footage has shown him inspecting military units in the years after graduation. In one scene, he is seen welcoming his father home from an overseas trip and shaking hands with him as an equal.
After his father's death, though, Kim's hold on power is believed to have been precarious. He had completed his university education only five years earlier and was surrounded by experienced military leaders and party officials. Outside North Korea, many assumed he was the supreme leader in name only, with real power in the hands of Jang Song-thaek, his uncle and regent.
Jang appeared to help his nephew carry out a systematic purge, replacing many of the nation's most powerful generals and bureaucrats, according to South Korean intelligence officials.
But two years into his rule, Kim moved against his uncle, too, arranging for him to be arrested by uniformed officers during a Politburo meetingwhile hundreds of party delegates watched. Jang was executed on charges that included clapping "halfheartedly" when Kim entered the room and plotting to overthrow him.
The purge continued with a new focus on rooting out those loyal to Jang. Many were executed with antiaircraft machine guns after members of the ruling elite were brought in by trucks to be witnesses, South Korean intelligence officials said.
Cheong Seong-chang, an expert on the Kim family at the Sejong Institute, said high-level North Korean defectors told him that Jang had as many as 20 children and that Kim had them all killed.
In total, since taking power, Kim is believed to have executed more than 140 senior officials.
"He moved quickly and ruthlessly," said Daniel A. Pinkston, a Seoul-based professor of international relations at Troy University. "I think most people did not expect a man so young to be so proficient at managing his dictatorship."
Analysts say Kim has restored the authority of the Workers' Party apparatus and uses it as his main vehicle for governing, in contrast with his father, who put the military first, rarely convened formal party meetings and made decisions in secretive, late-night sessions of his cronies. That, some say, has added a degree of institutional predictability to his rule.
But Kim has not abandoned his father's use of hagiography in the state news media, which portrays him as all-powerful, with even the party's second-ranking official, Vice Marshal Hwang Pyong-so, fawning over him in recent photos.
Rodman, the former professional basketball player, has described going to a stadium packed with 150,000 people during the 2013 visit to Pyongyang where he was allowed to meet Kim. "People were standing for a half-hour, just clapping," he told an audience at West Point in March. "They were crying for this man."
In a departure from his father's style, though, Kim has sought to cultivate a folksy, man-of-the-people image. He is shown throwing his arms around soldiers, visiting workers at home and cradling babies in hospital nurseries. He is also sometimes accompanied to events by his fashionably dressed wife, Ri Sol-ju, a break from the secrecy that shrouded his father's marriages.
Rodman was even allowed to hold Kim's baby daughter, the first confirmation for much of the world that he had a child. (South Korean officials believe that Ms. Ri had a second child last year, a son.)
Analysts say Kim seems to be trying to tap into nostalgia for his grandfather, Kim Il-sung, who ruled North Korea from its establishment in 1948 until his death in 1994 and is still revered as a godlike figure. Kim Jong-un appears to have adopted his grandfather's slow gait, beaming smile, closely cropped hair and even his way of holding a cigarette. Some suggest Kim even gained weight on purpose to mirror his grandfather's stocky build.
"When North Koreans first saw him, we thought Kim Il-sung was reincarnated," said Baek Yu-min, a North Korean defector.
'Parallel Advance'
During much of Kim Il-sung's rule, North Korea's economy was bigger than South Korea's. But today, per capita income in the North is less than 5 percent what it is in the South. That chasm poses perhaps the greatest threat to Kim Jong-un's political legitimacy.
Kim's answer has been to pursue a policy of "byungjin," or parallel advance, which calls for the simultaneous pursuit of nuclear weapons and economic development. Only with a nuclear deterrent, Kim contends, will the North be secure enough to focus on growth.
Kim has improved access to food and goods by allowing more market activities. He has also launched a building boom in Pyongyang, where the most loyal citizens are allowed to live. Despite decades of sanctions and international isolation, the economy has lately shown surprising signs of life.
But conditions remain dismal outside the showcase capital, and further growth may require an end to the sanctions that limit the North's ability to trade with the world. And that would mean giving up the nuclear program.
Kim, however, appears to see the problem differently. More than 30,000 North Koreans have fled since the famine of the 1990s, and defectors say he must keep the country isolated because he is afraid of it being swallowed by the South.
That is where the nuclear arsenal comes in. His government has argued that it needs nuclear arms to protect itself from being toppled like others who gave up weapons of mass destruction; the state news media has pointed to Col. Muammar Gadhafi and Saddam Hussein.
But the North has also said it hopes to use nuclear arms to force the world, including the United States, to accept it as a full member of the international community on its terms — just as Washington eventually recognized China after it became a nuclear power.
"Kim Jong-un is here to rule for decades, playing the long game," said Koh, the Dongguk University professor. "Over time, he believes that the world will have no option but to accept his country as a nuclear power."
Analysts say it may be difficult for Kim to back down in the face of foreign pressure, especially on the nuclear issue, given how closely he is associated with the program.
The state news media has highlighted what it claims is his military daring, especially in dealing with the United States. One recent propaganda film reported that Kim persuaded his father to approve the test firing of a long-range rocket in 2009, when he would have been about 25.
If the Americans intervened, he was said to have argued, the North should go to war.
Makiko Inoue contributed reporting from Tokyo.
Click the alert icon to follow topics:
ICYMI
Ken Burns' Brilliant 'The U.S. and the Holocaust' Has Only One Problem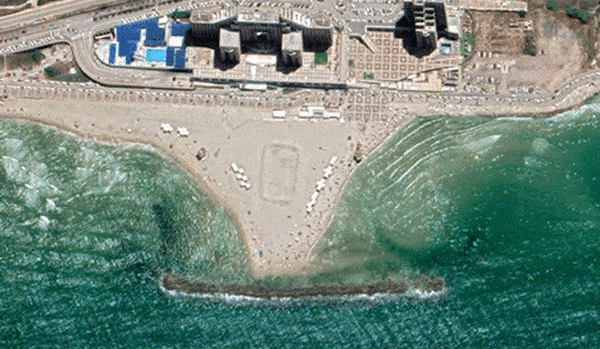 Facing Rapid Rise in Sea Levels, Israel Could Lose Large Parts of Its Coastline by 2050
As Israel Reins in Its Cyberarms Industry, an Ex-intel Officer Is Building a New Empire
How the Queen's Death Changes British Jewry's Most Distinctive Prayer
Chile Community Leaders 'Horrified' by Treatment of Israeli Envoy
Over 120 Countries, but Never Israel: Queen Elizabeth II's Unofficial Boycott