Haaretz Investigation: Israeli Corporations Gave Millions to West Bank Settlements
From energy giants to makers of chocolate spread, documents show public and private Israeli companies have donated millions of shekels to settlements beyond the Green Line.
An illustrative image showing some of the industries that donate to the settlements in Israel.
Credit: Bloomberg, Reuters, Dreamstime, Tomer Appelbaum
In Israel, whether you are buying milk or chocolate spread, talking on the phone or using banking services, you may be unknowingly making a small contribution to Jewish settlements in the West Bank and East Jerusalem, a Haaretz investigation has found.
Documents analyzed by Haaretz reveal the extent to which private and publicly-held Israeli companies donate to Jewish communities across the Green Line, with contributions amounting to millions of shekels over the last decade.
Donors so far have ranged from corporate giants like the dairy conglomerate Tnuva, cellular carrier Cellcom and Bank Hapoalim to smaller companies like chocolate manufacturer Hashachar Ha'ole and Leo Shachter diamonds.
The Israel Securities Authority obliges all public companies to report their donation policies, but there is no obligation to divulge the identity of the recipients, making it difficult to calculate the total amount of corporate money gifted beyond the Green Line.
However, Haaretz has obtained a partial but clear picture – reported here for the first time – by perusing the files of dozens of non-profit groups that collect donations in support of the settlements. Israeli law requires not-for-profit organizations, including those that operate across the Green Line, to report all donations received in excess of 20,000 shekels (just over $5,000).
Energy tycoons fuel Itamar
The "Non-profit group for the advancement and development of Itamar" does precisely what its name suggests. According to its report from 2013, the group invested money in the construction of a synagogue in the settlement, which is located southeast of the Palestinian city of Nablus. Last year, the group posted a short video on social media, showing the construction of what it describes as "an amazingly scenic path overlooking Mount Gerizim and Mount Eival, which will link the residents of the southern neighbourhood with the new synagogue."
The group raised more than three million shekels in 2013, most of it from overseas, with Israeli non-profit groups acting as conduits. But Israeli companies also contributed. The Delek Fund for Education, Culture and Science, a non-profit established by Yitzhak Tshuva's Delek energy conglomerate to support charities in education, medicine and culture, gave Itamar 30,000 shekels in 2013.
Also in 2013, Lapidoth-Heletz, a public company dealing in oil and gas exploration, gave Itamar 35,000 shekels. A similar amount was donated by the private company Lapidoth Israel Oil Prospectors Corp. Ltd. Both companies declined to comment, while the Delek Fund responded by saying that it "donates to a wide range of groups and individuals every year, working to advance community projects that benefit welfare, education and health, including projects that promote the conservation of Jewish heritage."
Also receiving Israeli corporate donations is the Ateret Yerushalayim Yeshiva, which was established in the Muslim Quarter of the Old City in Jerusalem 30 years ago. According to the yeshiva's website "it is the supportive pillar of a community numbering a thousand people who live in the heart of the Old City, in the Muslim Quarter (the under-renewal Jewish Quarter)."
The Ateret Yerushalayim non-profit, welcomes donations but prefers to keep its donors secret. In 2012, the organization asked Israel's Registrar for Non-profit Organizations to allow it not to disclose the identities of its donors for reasons that included preventing the information from reaching "undesirable elements," such as "other non-profit groups and the media."
The Haaretz investigation revealed that one of the Ateret Yerushalayim donors in 2011 was the publicly-owned Israel Petrochemical Enterprises, which gave 20,000 shekels. The company declined to comment.
Leo Shachter diamonds donated 37,000 shekels to the yeshiva. It also donated tens of thousands of shekels to a pre-military yeshiva called Bnei David in the settlement of Eli. The company responded to questions by stating that "Leo Shachter is a private company. We therefore have no intention of sharing information regarding its affairs. Asking about the recipients of our donations is an invasion of our privacy."
Among the other private donors to the Bnei David Academy is Sela Logistics, which operates logistics centers and runs a fleet of trucks. Between 2011 and 2013 the company donated 275,000 shekels to the yeshiva. General manager Menahem Greenbaum said that "we think they are doing good and important work and we support them, as we do other organizations. We don't publicize the names of the groups we support. We systematically support many organizations and non-profits since we believe in taking action."
The Od Yosef Chai yeshiva in Yitzhar is considered one of the most extremist institutions operating on the West Bank, with its leaders having been questioned, but not prosecuted, by authorities in the past over allegations of incitement and racism.
None of this has stopped it from receiving hefty donations from private donors. Between 2011 and 2013, construction and waste removal company Zvi Cohen and Brothers donated more than 1.8 million shekels. Owner Zvi Cohen told Haaretz that his support was not politically motivated, but intended to provide supplementary income for yeshiva students who both study and work. The company has recently stopped supporting the yeshiva, he said, declining to explain why.
Another company that donated money to the same yeshiva is Barak Hass, which deals in financial planning and mortgages. It gave the yeshiva 30,000 shekels in 2013. The company did not return calls seeking comment. In 2013, the yeshiva also received 413,000 shekels through the Jewish National Fund. The actual donor remained anonymous and the JNF declined to reveal his identity or to answer questions about donations it receives. Spokeswoman Dikla Cohen said the "non-profit group is registered and the donor chose to give it money – we don't reveal the names of donors."
Belief in 'Greater Israel'
One of the key non-profits operating in the territories is the Fund for Promotion of the Zionist Idea, which is located at the same address as the settlement organization Amana and directed by Amana head Zeev Hever. The fund supports the settlement of Itamar, the Ateret Yerushalayim yeshiva in the Old City of Jerusalem, a seminary in Elon Moreh and other settlement institutions.
One of the fund's donors is chocolate spread manufacturer Hashachar Ha'ole, which donated 50,000 shekels in 2013. "Our company donates 6 percent of its revenue a year," says CEO Moshe Weidberg. "This is a family business; each of us gets an amount to donate and chooses where to give it. I believe in a Greater Land of Israel, which you call 'the occupied territories,' and I wish I could donate even more," Weidberg told a Haaretz reporter.
Tnuva, Israel's largest food manufacturer, also donated to the fund, giving 164,500 shekels in 2007. Last year, Chinese food conglomerate Bright Foods bought a controlling stake in Tnuva, which in response to a query said: "That donation was made in 2007, according to information you have, and the present management doesn't know the reasons the previous owners and management had for making that donation, if indeed it took place. Tnuva contributes to a wide variety of non-profit groups in Israel every year, according to an orderly policy. It doesn't donate to groups with a political orientation." Also in 2007, Elbit Ultrasound, a manufacturer of medical equipment, donated 75,000 shekels to the fund. Two years prior to that, Elbit donated 87,000 shekels to the right-wing organization Elad, which supports archaeological digs and settlement in the Palestinian neighbourhood of Silwan in East Jerusalem. The company did not respond to requests for comment.
Another registered non-profit group, the "Residents' fund of Modi'in Ilit," an ultra-Orthodox settlement between Jerusalem and Tel Aviv, received 20,000 shekels from mobile phone provider Cellcom. The company said the donation was the result of a 2011 visit to the settlement by CEO Amos Shapira, who was asked to support the establishment of a computer room to give local students better access to technology.
Scholarship programs
One of the largest fund-raisers beyond the Green Line is Ariel University. In 2012, for example, it received more than 5.5 million shekels in donations, some of it from public companies. The Ayalon Insurance Company gave 180,000 shekels and Yitzhak Sagol, one of the owners of Keter Plastic, gave 288,750 shekels for a laboratory for neuroscience research.
In response to a request from Haaretz, Sagol said his family has made much larger donations to institutions in Israel to advance the field of neuroscience.
"Smaller donations have been made to many academic institutions in Israel," he added. "These donations were awarded as part of the activities of the family to advance education and scientific research, and are without any ethnic or political consideration."
In 2010, agrochemical conglomerate Koor Industries gave the university 26,000 shekels for student stipends. Discount Investment Corporation, the owner of Koor Industries, said the donation was made as part of a scholarship program for students in the periphery, and that the funds were transferred directly to the institutions where the beneficiaries were studying, rather than to the students themselves.
In 2009, Bank Leumi donated 155,000 shekels for scholarships, as did Bank Otsar Ha-Hayal (100,000 shekels) and Bank Hapoalim (50,000 shekels,) the latter through a bank-associated non-profit group. This same non-profit also donated 20,000 shekels in 2013 to a fund for the development of the Jordan Valley.
Bank Leumi said in a statement that it has sponsored a scholarship project awarding grants to thousands of students throughout the country, adding that the list of institutions that received contributions was provided by the Council for Higher Education in Israel. Bank Hapoalim, Bank Otzar Ha-Hayal and the Ayalon Insurance Company did not respond to requests for comment.
Reporting for this story was supported by a grant from the Pulitzer Center on Crisis Reporting http://pulitzercenter.org/
Click the alert icon to follow topics:
ICYMI
Ken Burns' Brilliant 'The U.S. and the Holocaust' Has Only One Problem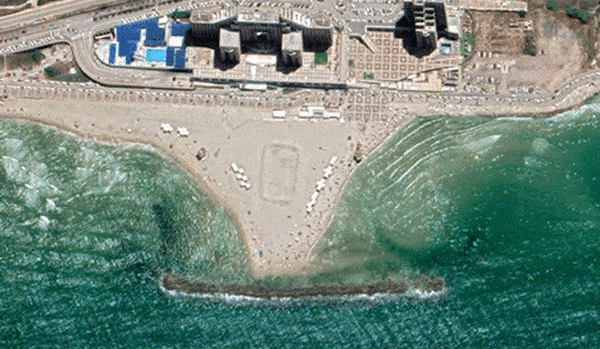 Facing Rapid Rise in Sea Levels, Israel Could Lose Large Parts of Its Coastline by 2050
Lapid to Haaretz: 'I Have Learned to Respect the Left'
The Mossad's Fateful 48 Hours Before the Yom Kippur War
As Israel Reins in Its Cyberarms Industry, an Ex-intel Officer Is Building a New Empire
How the Queen's Death Changes British Jewry's Most Distinctive Prayer