Gaza's Child Workers Bear the Brunt of a Blockaded, Failing Economy
Many children in the Palestinian territory forgo school to help feed their families; ahead of Universal Children's Day, Haaretz spoke with four of them.
From left, Jihad, Ghadeer, Jasmin and Mahmoud.
Credit: Matthew Vickery
GAZA CITY, Gaza Strip — "Coffee? Tea?" a young boy shouts out enthusiastically to passersby strolling by a main street in this city, the vast majority of whom ignore his calls and continue on their way. A hundred meters up the street, a different boy skillfully navigates a shopping cart filled with vegetables through traffic to a parked taxi. On every major street in Gaza City and its surrounding towns and villages, children as young as 6 can be seen hard at work, selling coffee or cigarettes in an attempt to scrape together some money for their families. In fields beyond the urban areas, children grow and harvest fruits and vegetables for sale in one of the busy open-air souks around the territory.
These are the Gaza Strip's child workers. They are a result of an economy that has largely been crippled by a blockade that has left the Palestinian territory with an unemployment rate of 43 percent — the highest in the world — according to the World Bank.
With a shrinking manufacturing sector, increasing poverty and exports virtually halted, particularly since the 2014 war with Israel, jobs have been lost, the economy has been squeezed, and children, who can be paid significantly less than adults, have begun to fill the gap.
Living lives drastically different from their Israeli peers just miles away, Gaza's child workers help prop up an economy that the World Bank has described as on the verge of collapse. They are among some 250 million working children aged 5 to 14 in developing countries around the world, by United Nations estimates.
In honor of Universal Children's Day, November 20, Haaretz spoke to some of the children about their work and life in Gaza, as they toiled in the streets and fields of the impoverished territory.
Name: Jihad Suboh
Age: 7
Occupation: Rubble collector
Jihad leans against the family donkey, exhausted, his eyes closed as he takes a 10-second break before straightening up and walking back to join his two brothers picking up broken bricks and concrete from the ground.
Jihad is only 7, but he already works between six and eight hours a day collecting rubble from buildings destroyed in the 2014 war. With a disabled father, Jihad and his two brothers, Wissam, 11, and Abed, 13, are the family's breadwinners. "We have to work," Jihad says with palpable fatigue. "This is our life."
Barefoot, he kneels in a wasteland littered with rubble and rubbish. He seems to avoid looking at the road as schoolchildren, many of them around his age, walk past in their matching uniforms, talking loudly and playing games.
"This is the work of death," says Abed. After collecting four carts' worth of rubble, the brothers sell their gleanings to a construction company for between 15 shekels and 20 shekels ($4 to $5). Each earns about 1 shekel an hour for his backbreaking work.
Their family's home has no furniture, and there is no bathroom. It's a struggle to put together a daily meal. "My father can't work, and we have no money. I make money and I give it to my mother for food at home. It is good to help. We have to," says Jihad.
He says that every day he worries that there will be another war. He and his family were sheltering in an elementary school in the Jabalya refugee camp during the 2014 war when the building was hit in an Israeli airstrike, killing 20 civilians. The incident is one of several in Operation Protective Edge that the Israel Defense Forces is investigating. When the work days are long, he finds it hard not to think back to that time.
Jihad has an astute understanding of the world for a 7-year-old. He is aware that the lives of children his age in the Israeli city of Ashkelon, just 20 kilometers away, are probably very different from his.
"I want to play soccer maybe, go to school every day," Jihad says when asked what he would want to do if he didn't have to work. "I don't think Israeli children do this work, I think they go to school."
Name: Ghadeer Shish
Age: 11
Occupation: Farmworker
"On a perfect day we would play this game called tak-tak-tagiya," Ghadeer says, lifting up her head, a sudden excitement in her voice. "What we do is we cover the eyes of one of our friends, and that friend then has to sing tak-tak-tagiya and run after us to try and arrest us."
Ghadeer, 11, works quietly but meticulously picking spinach in fields in the northern Gaza Strip. Her sister, mother and brother are nearby, also picking. The work is tiring, but they say they prefer it to city work. "I would also draw a lot, I like drawing trees and houses and I think I'm good at drawing them too."
"But the situation in Gaza is hard," she says, the excitement leaving her voice. "My family hardly makes money for food. We don't have a proper house."
The house next to theirs was hit by an airstrike in the last war, and half of their home was destroyed. They can't afford to rebuild, in part because the Israeli restrictions on bringing building materials into the territory — a measure aimed at preventing terror organizations from rebuilding tunnels from which to attack Israel — have greatly increased the price of the materials that are brought in, either legally through the Erez border crossing with Israel or illegally, through tunnels from Egypt. As a result, the family has continued to live in its partly destroyed home. There is no furniture, and family members barely have a change of clothing.
"But I like to help my family, I don't mind working because my family benefits from it, they don't benefit from me playing," says Ghadeer.
Away from her daughter, her mother, Saada, sighs. "Sometimes Ghadeer and her sister ask me why other children around the world can play and have fun and they can't. She's asked me, 'Why did you bring me into this world if you can't provide for me?' It's so hard to hear this."
Name: Mahmoud Safri
Age: 13
Occupation: Shopping-cart pusher
Young boys with rusted shopping carts jostle around the busy souk in the city's Sheikh Radwan district, vying to transport purchases to waiting taxis and private cars.
"I started at 6 A.M.," says Mahmoud, "Nobody in my family can get work, there's no work here; I'm the only one who can get a job. I have to work."
Mahmoud, 13, has slicked-back hair and a way of speaking that can make him seem much older than he is. After subtracting five shekels a day to rent a shopping cart, he can net between five shekels and seven shekels in a long morning of hard work.
"The idea to do this work was mine," he says with pride. "My family didn't stop me, and I can help make a little money and pay for school supplies for my younger brothers."
Mahmoud is one of the youngest delivery boys in the area. Older boys seem to get more work, being significantly louder and quicker in their pursuit of potential customers.
"I can't afford anything," he says when asked about what he does when he goes home to the city's al-Tatra district, one of the poorest in the Strip. "I can't afford a soccer ball, I would love to have one, but I do like to play hide-and-seek."
"And I enjoy learning," he tells Haaretz, leaning on his cart during a quick break on a nearby main road, away from the hustle and bustle of the souk. "But there's nothing I can do, I have to keep doing this until the situation here improves."
Name: Jasmin Kamel Ghabin
Age: 11
Occupation: Farmworker
It's midafternoon and Jasmin leaps over the rows of strawberry plants with a sudden burst of energy. "It's not playing, it's quicker this way," she shouts, pulling over the plastic and then jumping over the covered plants again.
Jasmin, 11, is ready to finish work for the day. It's been exhausting, but she feels as if she has no choice but to earn a wage.
"Life in Gaza is very difficult," Jasmin says as she finishes covering the plants. "My family has no money. The Israeli army destroyed houses, they killed many people, Gaza is like a prison for us."
Jasmin says she wants to be a doctor, "but we spend all the time working," she says about herself and her 13-year-old brother, across the field.
Jasmin says she manages to attend some morning classes at school, but fears she will fall behind because she works in the fields three to six hours a day instead of studying.
"But there is no money, so I have to help my family," she says forlornly.
Jasmin says that when she is working she looks forward to the evenings in her family's home in Beit Lahia, where her brother Kareem will tell her a story. He tries to go to the library every day to find a new tale to recount to her. She longs for the evenings during the tiring days: "I love the stories."
Click the alert icon to follow topics:
ICYMI
Ken Burns' Brilliant 'The U.S. and the Holocaust' Has Only One Problem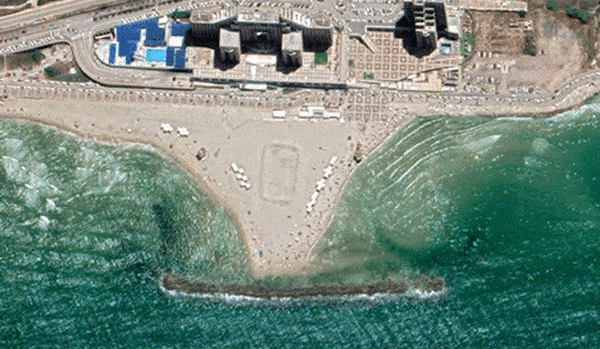 Facing Rapid Rise in Sea Levels, Israel Could Lose Large Parts of Its Coastline by 2050
As Israel Reins in Its Cyberarms Industry, an Ex-intel Officer Is Building a New Empire
How the Queen's Death Changes British Jewry's Most Distinctive Prayer
Chile Community Leaders 'Horrified' by Treatment of Israeli Envoy
Over 120 Countries, but Never Israel: Queen Elizabeth II's Unofficial Boycott