LIVE UPDATES: Multiple Terror Attacks in Jerusalem and Central Israel Leave 3 Dead
Twenty wounded in four shooting, car ramming and stabbing attacks in Jerusalem and central Israel Netanyahu convenes security cabinet dozens of Palestinians breach Gaza border fence.
Israeli police are reflected in a bullet-ridden window of a bus after an attack in Jerusalem October 13, 2015.
Credit: Reuters
Click here for Wednesday's live updates
Violent tensions between Israel and the Palestinians peaked Tuesday with multiple terror attacks reported in Jerusalem and the central city of Ra'anana, leaving at least three Israelis dead and over 20 wounded.
In the morning, a stabbing was reported in Ra'anana, followed by two separate attacks Jerusalem, followed by yet another attack in Ra'anana. Later a stabbing in took place in the north, with a Jewish Israeli man stabbing another Jewish Israeli, apparently misidentifying him as an Israeli Arab.
Click here for the full report of the Jerusalem attacks
Click here for Monday's updates
Latest updates:
3:55 A.M. U.S. Secretary of State John Kerry said he plans to travel to the Middle East to try to calm violence between Palestinians and Israelis. The trip would mark Kerry's most direct efforts to broker peace between the two sides since talks led by the United States failed last year. (Reuters) Read full story.
3:30 A.M. The security cabinet approved several new measures in attempt to combat the recent wave of terror attacks, among them authorizing police to "impose a closure on, or to surround, centers of friction and incitement in Jerusalem, in accordance with security considerations," a statement by the Prime Minister's Office said. (Barak Ravid) Read the full story.
10:39 P.M. U.S. Secretary of State John Kerry said he does not intend to blame Israel or the Palestinians for the recent wave of violence.
"I am not going to point fingers [at the culprits] from afar," Kerry said at a press conference in Washington. "This is a revolving cycle that damages the future for everybody but when I see violence like the killing of three innocent Israelis I am going to condemn it – like we condemned the settler violence against a Palestinian family [in the village of Douma]." (Barak Ravid)
10:07 P.M. U.S. Secretary of State John Kerry said at a press conference in Washington on Tuesday that he condemns "in the strongest terms possible" the terror attacks against Israelis which resulted in the murder of three civilians. "This violence and any incitement has got to stop," he said.
According to Kerry, the current situation is "too dangerous" and does not lead to a peaceful solution. Every responsible person, he said, "should condemn violence and refrain from provocative actions."
Kerry also stressed President Barack Obama's "deep concern about the escalating tensions. All side should take steps to restore calm." (Barak Ravid)
9:21 P.M. Palestinian Red Crescent reports 329 people were wounded in clashes with Israeli troops in the West Bank on Tuesday. One Palestinian, 20-year-old Moatez Zuwahara, was killed by Israeli fire near Bethlehem. The city declared a general strike and a day of mourning in his honor, to take place on Wednesday. (Jack Khoury)
7:58 P.M. A senior Jerusalem official said the security cabinet currently convened in Jerusalem is expected to discuss the option of boosting police forces with soldiers from the Homefront Command and Military Police. In addition, ministers are expected to approve roadblocks on the roads leading to the Palestinian neighborhoods in East Jerusalem: Traffic in and out of the neighborhoods will not be stopped, but suspect vehicles will be examined. (Barak Ravid)
7:21 P.M. Identity of one of two Israelis killed in a terror attack on Tuesday in Armon Hanatziv cleared for publication: Haim Haviv, 78, from Jerusalem. His wife Shoshana was seriously wounded in the attack, and was rushed to Hadassh-Ein Kerem Hospital.
Earlier it was reported that Rabbi Yeshayahu Krishevsky, 60, was the Israeli killed in a vehicular attack in Malkhei Yisrael Street in central Jerusalem. (Ido Efrati)
7:09 P.M. A 20-year-old Palestinian was killed in clashes with Israeli security forces in the vicinity of Bethlehem in the West Bank. The Palestinian was identified as Moatez Zuwahara. (Jack Khoury)
7:05 P.M. U.S. State Department Spokesman John Kirby condemned on Tuesday the terror attacks in Jerusalem and central Israel. "The United States condemns in the strongest terms today's terrorist attacks against Israeli civilians, which resulted in the murder of three Israelis and left numerous others wounded," he said. "We mourn any loss of innocent life, Israeli or Palestinian." (Barak Ravid)
6:12 P.M. Prime Minister Benjamin Netanyahu calls on Palestinian President Mahmoud Abbas to "stop lying and spreading [incitement]." "Don't turn murderers into heroes. To stop and restore the quiet and stability both people need you have to do what you must, and we must do what we must," Netanyahu said. (Jonathan Lis)
6:02 P.M. About 20,000 demonstrators gathered in Sakhnin for a solidarity rally with the Palestinians. "We've been warning for months that they're doing in Al-Aqsa will spark an intifada, and no one listened, and now everyone's asking what happened. You lie, and you hurt the mosque, and you're trying to change the status-quo with changing opening hours [to the compound]," MK Ahmed Tibi said at the rally. (Jack Khoury)
5:57 P.M. Finance Minister Moshe Kahlon gave instructions to immediately fund security for schools and kindergartens for a period of two weeks. (Yarden Skop)
5:46 P.M. IDF vehicle comes under fire on Gaza Strip border. No injuries reported.
5:43 P.M. Meretz Chairwoman Zehava Galon criticizes calls for imposing a closure on East Jerusalem. "The prime minister must call for a meeting with Abu Mazen (Palestinian President Mahmoud Abbas) to be brokered by international elements and relay a message of calm," she wrote on her Facebook page. Galon added that there's no military solution against people who "have nothing left to lose," referring to the Palestinians residents of East Jerusalem. Galon urged for measures that will "restore hope," among them an eviction of the illegal outposts in the West Bank, a freeze on settlement construction, and maintaining the status-quo on the Temple Mount.
"We must stop with the illusion that we can hold a people without rights and sovereignty, and that the desperation of these people that we step on every day won't turn into shocking hatred and violence," she wrote. (Jonathan Lis)
5:18 P.M. Approximately 30 Palestinians breached the border fence between the Gaza Strip and Israel. IDF troops are firing gas grenades and using other riot control measures. According to IDF Spokesperson, the incident is being contained. (Almog Ben Zikri)
4:47 P.M. Palestinian medical officials in the Gaza Strip report dozens of casualties in clashes with IDF troops in the Erez Crossing area. According to reports, more than 40 have been taken to Gaza hospitals.
In the Israeli-Arab city of Sakhnin, thousands are attending a rally in support of the Palestinian people. (Jack Koury)
4:11 P.M. The urgent cabinet meeting called for Tuesday afternoon in light of the terror attacks is expected to discuss several emergency measures. Among them is the possibility of calling up a small number of reserve forces to assist Israel Police. Ministers from the right are also demanding more aggressive steps such as surrounding East Jerusalem neighborhoods and imposing a lockdown. Shin Bet statistics show that out of 23 stabbings attacks and terror attacks using vehicles that have occurred since October 2, more than 80 percent of the perpetrators were East Jerusalem residents with Israeli ID cards. Therefore, it is likely that the cabinet will decide on measures focusing on East Jerusalem (Amos Harel)
1:45 P.M. Opposition Chairman Isaac Herzog has called on the government to temporarily close the flashpoint Temple Mount to visits in wake of Tuesday's deadly terror attacks. Herzog also said the government should impose a lockdown on Jerusalem's Arab neighborhoods and fight what he called "online incitement" by Islamists. He made the comments on Facebook.
1:22 P.M. Education Minister Naftali Bennett will demand the government put Palestinian communities in the West Bank and East Jerusalem on lockdown in response to Tuesday's string of deadly terror attacks. At the emergency security cabinet meeting slated for later in the afternoon, Bennett will also urge the government to move to destroy the homes of any terrorist – not just those who killed Israelis – and move to deport those implicated in attacks that wounded Israelis.
1:15 P.M. Roadblocks set up at entrances to Ra'anana after city hit with two terror attacks in as many hours.
12:50 P.M. The victim of the stabbing attack in Kiryat Ata has been identified as a Jewish Israeli man. According to initial assessments he is the victim of a failed revenge attack by another Israeli Jew who assumed he was an Arab because of his Middle-Eastern appearance.
Initial reports said two were wounded in the attack that took place near the local IKEA store. Paramedics treated to a 22-year-old in moderate condition with a knife wound to his upper torso. (Noa Shpigel) Read full story.
12:45 P.M. Agriculture Minister Uri Ariel joined the calls to impose restrictions on residents of East Jerusalem, as well as a closure on the West Bank.
"The security forces must take resolute action in the East Jerusalem neighborhoods The residents of East Jerusalem must understand that they cannot lead a normal life while terrorism continues on the streets of Israel." (Barak Ravid)
12:30 P.M. Police confirm an additional attack has taken place Tuesday, with a stabbing being reported in Kiryat Ata, near Haifa.
12:01 P.M. An Israeli man has died of the wounds he sustained in the vehicle ramming attack on Malchei Yisrael Street in Jerusalem; five others were wounded in the incident, which took place while two terrorists stormed a bus in the Armon Hanatziv neighborhood, killing two.
12:00 P.M. Public Security Minister Erdan is holding an emergency meeting in wake of Tuesday's string of deadly terror attacks and is mulling immediate steps, including imposing a closure on East Jerusalem neighborhoods and easing gun-control regulations.
11:49 A.M. A witness who saw the attack on the Jerusalem bus said that "one of the terrorists tried to take control of the bus and prevented people from getting off." He then claimed he blocked the bus with his car and waited for the police to arrive.
11:42 A.M. An Israeli Arab was lightly wounded after being attacked by a Jewish Israeli man in Netanya.
11:38 A.M. Prime Minister Benjamin Netanyahu will convene the security cabinet for an emergency meeting Tuesday afternoon, the Prime Minister's office said. Acting Israel Police chief Benzi Sau held a press conference and said that during the meeting the police will present a comprehensive plan to quell the recent bout of terror attacks. (Barak Ravid)
11:30 A.M. Jerusalem Mayor Nir Barkat says he has asked the defense establishment to impose a closure on the city's Arab neighborhoods.
Upon visiting the scene of the deadly bus attack at Armon Hanatziv neighborhood, Barkat says: "We shouldn't allow them to enter the lives of the residents of Jerusalem are more important than anything else."
11:15 A.M. Hunderds of Palestinians from Gaza are rioting near the security fence with Israel, not far from the Erez Crossing. A similiar incident was reported Monday, with 20 Gazans crossing into Israel. (Haaretz)
11:05 A.M. Two Israelis were killed after two suspected terrorists entered bus 78 in Jerusalem's Armon HaNatziv neighborhood. At least 16 other Israelis were wounded in the attack, which saw one assailant open fire within the bus while the other attacked passengers with a knife; at least one person is in critical condition. One of the attackers is dead, while the other is in serious condition.
10:56 A.M. Shooting incident reported near Damascus Gate in Jerusalem. (Nir Hasson)
10:42 A.M. One Israeli is seriously wounded and three others are lightly hurt in a second stabbing attack in the central Israeli city of Ra'anana. According to initial details, the assailant, a resident of East Jerusalem, took out a knife and began stabbing people in front of Loewenstein Hospital in the city.
The assailant was chased by civilians as he tried to flee. A driver who noticed the incident hit him with his car before subduing him with the help of another motorist. He was then apprehended by police and given medical care. Read full story
10:32 A.M. Two attacks reported in Jerusalem leave at least 18 people wounded; with 9 said to be in serious condition. At least one person was said to be killed.
According to the police, in one attack, two terrorists reportedly entered a bus in Armon HaNatziv, with one opening fire on travelers and the other using a knife. They were shot dead by a police officer who was at the scene.
10:20: A.M. Vehicular attack reported in Jerusalem's Malchi Yisrael St., with three Israeli wounded. The incident follows reports of a stabbing attack on a bus in the city.
10:10 A.M. A stabbing attack was reported inside a bus in Jerusalem's Olei Hagardom St in the Armon HaNatziv area, with casualties reported.
An earlier report of a stabbing in Holon was not politically motivated, the police said.
Read the latest analyses and opinions on the escalating violence throughout Israel and the West Bank: After years of calm, fear is dividing Jerusalem (Nir Hasson) | Israel's 'Mr. Security' tells nation 'it could be worse' as terror attacks multiply (Yossi Verter) | War-weathered Israelis feeling helpless in wake of 'unpredictable' attacks (Judy Maltz)
9:30 A.M. Alleged attacker from Ra'anana identified by police as 22-year-old Palestinian from East Jerusalem. According to the police, he stabbed one person before being subdued by passersby who held him down until the police arrived. Read full story
9:20 A.M. According to the spokesperson for the city of Ra'anana, the suspected attacker stabbed one person at a bus station not far from town hall before a passersby jumped on him and pushed the knife out of his hand. The alleged attacker sustained serious injuries and it was possible he was shot during attempts to disarm him.
A 32-year-old Israel was lightly wounded in the attack, sustaining a knife wound to the chest.
9:00 A.M. An Israeli was lightly wounded in a stabbing attack in the city of Ra'anana in central Israel. The attack took place on Ahuza Street, which is the city's main artery, and the terrorist sustained serious injuries after reportedly being subdued by civilians.
The incidents follow a day of violence that saw six people wounded in three stabbing attacks in Jerusalem, two of them seriously.
In Gaza, about 20 Palestinians broke through the border fence on Monday into Israel, retreating back inside only after an hour and a half of clashes with Israeli security forces.
Click the alert icon to follow topics:
ICYMI
Ken Burns' Brilliant 'The U.S. and the Holocaust' Has Only One Problem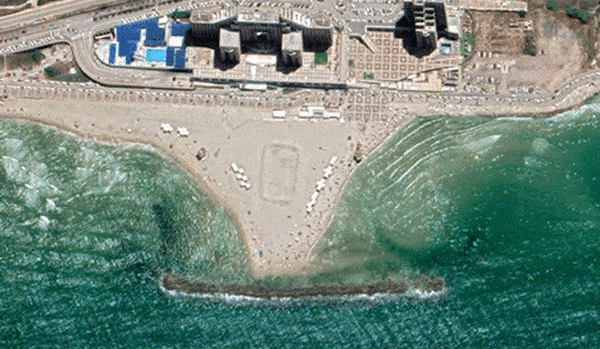 Facing Rapid Rise in Sea Levels, Israel Could Lose Large Parts of Its Coastline by 2050
Lapid to Haaretz: 'I Have Learned to Respect the Left'
The Mossad's Fateful 48 Hours Before the Yom Kippur War
As Israel Reins in Its Cyberarms Industry, an Ex-intel Officer Is Building a New Empire
How the Queen's Death Changes British Jewry's Most Distinctive Prayer