Analysis |
70 Years After WWII, Europe Still Wrestling With National Identity
Perhaps the end of the war didn't mark a new and peaceful era, only an intermission that wasn't used to address the right causes.
A migrant takes a selfie with German Chancellor Angela Merkel. September 10, 2015
Credit: Reuters
World War II, with all its pain and calamities, didn't alter man's nature; it only frightened people and made them more cautious. This caution was not directed at moderating religious and nationalistic instincts, only at concealing them.
"Germany! Germany!" cry out Syrian refugees who board trains that take them to the heart of Europe, "Germany, welcome me with open arms." Chancellor Angela Merkel is squirming and a Germany haunted by its past cannot but accept these refugees, since in the world order established after 1945, human rights and the rights of the refugee and the persecuted are paramount. For 70 years, Germany has been forcing itself to believe that identity is a marginal issue, that being German means being someone who contributes to society, living according to its rules and regulations. "We only want to work," cry the refugees, "open the gates."
The current refugee crisis is one more kink in Europe's long and twisted debate over its national identity, a question which seemed to have disappeared but which, nevertheless, is always present. The Germany of 2015 is captive to an ideal imposed on it by its rout in the war. It recovered and became a robust economy, the most significant political unit in Europe. It determines the fates of other nations — some would argue by saving them, others that it is doing so by reconquering the continent. Facing a refugee crisis which it did not foresee, Germany is confused and helpless.
The re-education that the allies imposed on Germany succeeded beyond expectations. "Never Again" is the caption of the third part of the wonderful book by Ian Buruma "Year Zero: A History of 1945," now coming out in Hebrew as well. Its message is clear: in order to prevent war in Europe one must establish a European Federation, not just on paper, but a Europe without passports, a cultural entity in which anyone can move freely. The process, which started with the modernization of France through nationalization of its economy and the supply of German coal to French factories was upgraded with the establishment of the "European Coal and Steel Community", followed by the "European Economic Community" and finally, in accordance with the vision of French economist Jean Monnet, a "United Europe in all its glory." This vision has been cracked recently; if it collapses the whole world which was built after 1945 might collapse with it.
War of ideas is alive and well
In October 1985, 40 years after "Year Zero", I was invited to the room of the don of political thought at Balliol College at Oxford University, in order to discuss the topic of my doctoral thesis. "What topic have you chosen for your thesis?" asked Prof. Steven Lukes ceremoniously. "I want to deal with the theory of modern nationalism" I said. "Interesting", he muttered to himself. "Nationalism? That's not really an acceptable topic, that is, go ahead, but who will you work with? What courses will you take? I don't know of any course at Oxford that deals with nationalism — maybe someone at the London School of Economics? Think about it."
The student who entered after me emerged quickly with a big smile on his face. He had obtained an enthusiastic and supportive go-ahead for his topic: The importance of the noun 'me.'" I sat there at a loss as to what to do next. Had it not been for the approaching Jewish New Year, I would never have met Sir Isaiah Berlin and told him about the unfolding of my quest, and I would have remained without a supervisor for my doctorate, or obliged to change topics. But Berlin listened attentively, smiled, took his gold watch from his coat pocket and looked at it, saying: "are you free for tea at five? You're invited — in my room nationalism is an acceptable topic."
In 1985, the Berlin Wall hadn't fallen yet and liberal euphoria — not yet powerful — was approaching its peak. The prevailing opinion was that in the Western, civilized world nationalism was dead, and if not quite dead than moribund, in light of the immense damage it had inflicted on the world. If there was any discussion of identity, it related to a host of personal identities, such as gender and race. The accepted assumption was that religious belief is a private matter (a typical Protestant assumption) whereas belonging to a minority group was an issue that did not require political intervention since the protection of human rights includes the right to preserve the individual culture of each and every member of the group, individually or in common.
The fall of the Berlin Wall in1989 sharpened the sense of security felt by liberals. As Buruma writes in the epilogue to his book: "For a change, it seemed that all was well with the world it was great to be young. If ever there was a moment in which there was tangible meaning to Schiller and Beethoven's hymn 'All humans are brethren,' it was on that exceptional New Year's Eve in Berlin." There were those who argued that history, in terms of a battle between great ideas, was over.
And then, when it seemed that indeed all was over, it turned out that history was on the move again. The issue of identity started creeping into the conversation, first as a means of protecting minorities. Discussions of multi-culturalism began at the periphery of the world of ideas, mainly in Canada (in which national differences had never really disappeared,) gaining momentum with researchers coming from the periphery (from India, through Israel to South America,) eventually penetrating the center of liberal discourse. Words such as culture, identity and even nationalism and the right to self-determination gradually returned to the fore.
Religious faith, which was always there, returned as a central feature as well, compelling the Christian world to admit how Christian its democratic liberalism really is, and how blind and intolerant it is towards other religions. Jewish public life was annihilated in the Holocaust and the Jews remaining in Europe kept a low profile. However, Islam percolated into Europe, highlighting the fact that the war of ideas is alive and well, touching upon every aspect of public and private life: the right to provide religious education, to wear a skullcap, a turban or a veil, to build a mosque and a minaret, to marry more than one woman, to determine the age of marriage, to perform "halal" or kosher slaughter.
Public and academic discourse returned to discussing what had seemed unworthy of discussion. Courses on identity and nationalism returned to the syllabus. In France, it was prohibited to wear "clothes with a religious characteristic"; in Switzerland the construction of minarets on top of mosques was forbidden; in England a struggle was launched against the "madrasas" (Moslem seminaries) and the death of multiculturalism was proclaimed. A fact which was so obvious to members of minority groups — that national, religious, cultural, linguistic and gender identity cannot be ignored — became common knowledge.
Recognizing the need for compromise
Karl Marx said that history happens twice: once as a tragedy and the second time as farce. He may have been wrong and the second time may turn out to be tragic as well. The big war which ended in 1945, with all its pain and calamities, did not alter human nature; it only frightened people and made them — for an indeterminate length of time — more cautious. However, this caution wasn't addressed at mitigating religious and nationalistic instincts but at sweeping them under the carpet. The new Europe was constructed on a model of human behavior which Freud once described (in a letter to Einstein) as being "beyond our psychological capability."
Europe's transition from a model of national identity to one of non-identity (or national non-identity, leaving political and civil identity intact) was wrong. As my teacher and mentor Isaiah Berlin argued, any idea which is stretched to its logical conclusion becomes dangerous. The only way we can chart a course among a plethora of identities, needs, wishes and rights is by recognizing the need for compromise. We don't have to concede any component and pretend it's not there, but we can't allow one of them to push aside all the others.
Europe didn't choose a path of compromise. It wanted to erase its past, so it's now facing it again. In 2015, 70 years after 1945, the dark side of European identity (and of humanity in general) is awakening, right wing parties are on the ascendant all across the continent and the circle of hatred between Europeans and migrants has just begun. Perhaps the end of the war wasn't the end of an era or the beginning of a new one. Maybe it wasn't a reset, only an intermission, a break that wasn't exploited to fulfill the correct needs. Europe, along with much of the Western world, became addicted to a lofty idealism instead of to sustainable compromises. Now, when a realistic arrangement is required, not utopian but concrete, it lacks the tools to deal with it. The intermission is over and the national and identity struggle in Europe has resumed. The question of whether there is anyone capable of dealing with it judiciously, measuredly and humanely is still open.
Click the alert icon to follow topics:
ICYMI
Ken Burns' Brilliant 'The U.S. and the Holocaust' Has Only One Problem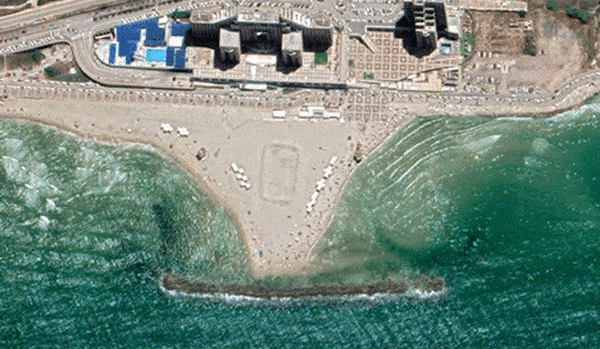 Facing Rapid Rise in Sea Levels, Israel Could Lose Large Parts of Its Coastline by 2050
Lapid to Haaretz: 'I Have Learned to Respect the Left'
The Mossad's Fateful 48 Hours Before the Yom Kippur War
As Israel Reins in Its Cyberarms Industry, an Ex-intel Officer Is Building a New Empire
How the Queen's Death Changes British Jewry's Most Distinctive Prayer