As a Pillar of Stability, the Gulf Arab States Are Starting to Look Pretty Shaky
Oil riches have kept the whole region in clover, but collapsing energy prices will cost Egypt the Gulf nations' support and millions of Arab workers their livelihood.
As oil revenues vanish, the Gulf nations have to cut back spending - on projects and war alike. And the dominoes will start to fall across the region.
Credit: Dreamstime, elaboration by Haaretz
One thing we could count on as the Middle East rumbled and quaked in the last four years was the Arab Gulf. Repressive but rich, the Gulf regimes saw off any threats to their rule by lavishing billions of dollars on jobs, social programs, infrastructure and education, while their poorer cousins in Tunisia, Egypt, Libya and Yemen went up in the flames of the Arab Spring.
The Gulf Arab kingdoms have not just been islands of stability. They have played a big role in ensuring things don't get too out of hand in the Arab countries rocked by revolution. Except in Syria, where they have done the opposite by funding a nasty civil war against the Assad regime, the Gulf powers have been the guardian of order and stability.
In Egypt, for instance, they shored up Abdel Fattah Al-Sisi's regime with more than $30 billion in aid and promises for lavish investments after he toppled the Muslim Brotherhood.
The Gulf nations also employ millions of Egyptians, Yemenites, Palestinians and Jordanians who send back tens of billions of dollars a year to their home countries, staving off even higher unemployment, supporting families and investment, and helping to keep social unrest at bay.
To the extent that Israelis think about the Gulf powers – Saudi Arabia, the United Arab Emirates, Kuwait, Qatar, and Oman – they think of them as potential allies in the contest with Iran over who will be the dominant power in the Middle East. But the Gulf powers have been a major factor in keeping the Middle East from deteriorating into an even worse state than it is.
Yet as a pillar of stability, the Gulf Arab states are starting to look pretty shaky.
The Podunk of Arabia
No one has any illusions about the source of the Gulf Arabs' power. It's not military strength, nor big populations, nor soft-power assets like an enviable political model or cultural prowess. It's oil and the money it has showered on countries that were once regarded as the Podunk of the Arab world.
So if you look at the Middle East of 2015, a good analogy would be the overused but ever useful analogy of a line of dominoes that starts with the failing price of oil, and ends with one plopping down right on Israel's border.
Oil had been very good to the Gulf, generating $2.5 trillion in accumulated sovereign assets over the last decade. That allowed them to build skyscrapers, shopping malls and universities, as well as pay Al-Sisi's bills and buy themselves a huge array of weaponry, which Saudi Arabia at least has shown more willingness to use in recent years.
But the price of oil has fallen precipitously since June 2014, to just under $50 a barrel these days - half its level just 18 months ago. It may rise again, but more likely we're entering a period of low petroleum prices like in the 1980s and 1990s. U.S. demand is being covered by a surge in domestic shale oil production, China's breakneck growth seems to have slowed and technology is constantly improving energy efficiency. Even if prices move higher, no one honestly expects them to reach three digits any time soon.
Which leads to the second domino: The popular image of oil sheikhs rolling in huge piles of dough is only half true. Living like that, and providing generous benefits to the rest of the population, is expensive. For example, the International Monetary Fund estimates that Saudi Arabia starts running fiscal deficits when the price of oil is below $87.20 a barrel. The Gulf countries can draw on their huge money reserves, but not for very long – that's supposed to be their nest eggs for the day oil runs out.
The danger of austerity
So domino No. 3 falls as the Gulf powers have to cut back spending. Austerity is a very unpleasant proposition for a democratic government, but for an autocracy it's dangerous. Cutting civil servants' wages and everyone's social benefits, or reducing the heavy subsidy on gasoline, could bring protestors out on to the streets, and from there who knows what could happen?
Kuwait tried to cut fuel subsidies last January and quickly backed down. You could curtail big infrastructure projects, but those are what drives economic growth and creates jobs. Saudi Arabia's population is big and growing fast, so it can't risk letting growth slack off.
And so Domino No. 4 begins to teeter. The Gulf countries start to reduce aid to their friends and allies while the marquis investment projects they committed to never get off the ground. Saudi Arabia and the small Gulf emirates start having second thoughts about the cost of their military adventures in Yemen and Syria. Meanwhile, the Gulf's guestworkers can't find jobs and head home to Egypt, Lebanon and Jordan where there are no jobs either. Egyptian expats alone sent back $20 billion to their families in 2013-14 alone, money the economy can't afford to lose.
Thus, the fifth domino falls as economic growth in non-oil Arab countries crashes, and joblessness and poverty grow.
While these dominos are crashing down, there are other petroleum states out of the line whose tiles aren't holding up so well either. Algeria has avoided unrest, but its deeply unpopular government needs oil receipts to keep things that way. In Iraq, the government desperately needs oil money to fights its war against Islamic State.
All this looks like good news for Iran, but it's not so simple. Iran's economy is less reliant on oil than the Gulf, accounting for just a fifth of GDP, but the rest of its economy is in parlous state and the only the only globally competitive industry it's got is petroleum. Yet, with low oil prices, it's hard to imagine foreign investors lining up to develop Iran's reserves.
The sixth domino is the one that falls when slow or nil economic growth in the non-oil Arab world, including the country's bordering Israel, leads to another round of social unrest.
Al-Sisi is already on brittle ground because his claim to power is predicated on his promise to bring political stability and a modicum of prosperity to Egypt. Jordan and Lebanon are contending with a war next door and a massive influx of refugees. How much more pressure can they take before the situation explodes? If the sixth domino indeed falls, it won't be a problem for the far-off Gulf. It will be right on our border.
ICYMI
Ken Burns' Brilliant 'The U.S. and the Holocaust' Has Only One Problem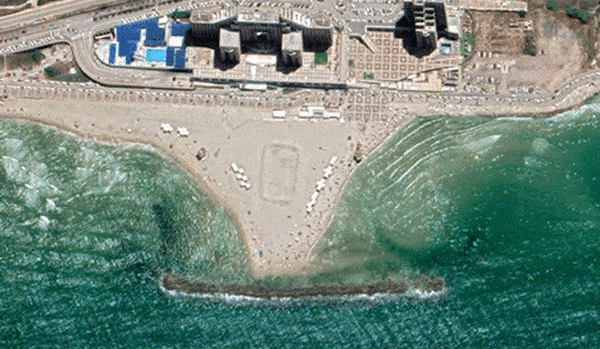 Facing Rapid Rise in Sea Levels, Israel Could Lose Large Parts of Its Coastline by 2050
As Israel Reins in Its Cyberarms Industry, an Ex-intel Officer Is Building a New Empire
How the Queen's Death Changes British Jewry's Most Distinctive Prayer
Chile Community Leaders 'Horrified' by Treatment of Israeli Envoy
Over 120 Countries, but Never Israel: Queen Elizabeth II's Unofficial Boycott